McCoy: Fans disrespecting Schiano
Updated:
October 26, 2013, 12:16 PM ET
By
Pat Yasinskas
| ESPN.com
TAMPA, Fla. -- Pro Bowl defensive tackle Gerald McCoy said Friday that some Tampa Bay Buccaneers fans have been stepping out of bounds in their treatment of coach Greg Schiano.
A local radio station bought billboards with the message "Fire Schiano'' on them, and fans chanted those same words at the end of Thursday night's loss to Carolina, which kept the Bucs winless. They had even harsher words for Schiano as he walked off the field and into the tunnel to the locker room after the game.
More From ESPN.com

Fans are calling for Greg Schiano's job following the team's seventh consecutive loss of the season. But the embattled coach was back to business on Friday and believes the team still has faith in him, writes Pat Yasinskas. Blog
"If you want to be angry about the game or what's going on, be angry because we're angry, too. But don't disrespect him as a man,'' McCoy said. "That man has a wife. He has kids at home. We have wives and kids. Just keep it to football. Don't take it outside of that. If you want to be whatever in football, that's OK. Be angry. We expect you to be angry. Nobody wants to be 0-7. But just leave everything else alone.
"Just keep it to the game. It's still just a game. We've got lives outside of football. When you disrespect a man as a person, then you're taking it too far.''
Schiano said the bashing is a natural byproduct of an 0-7 record.
"I think we all realize that it's a performance-based business,'' he said. "Players and coaches, we're paid to win. That's what it's all about. We owe it to our fans, our city, our community to win. That's what we're paid to do. When you don't win, there's consequence. We need to get our wins. I said it the other day: We'll get our share of wins, and I believe we will. Right now, there are only nine left, so it's not as many as you'd want, but we've got to get our share.''
Schiano said it's up to him, his staff and his players to put the Bucs on the right track.
"I do understand the fans' frustration,'' Schiano said. "I have some say in how to fix it. Our players have some say. The fans don't. All the fans can do is watch and take what's out there. Lately, it hasn't been good enough, so I understand their frustration totally. We've just got to give them a better product.''
ESPN Tampa Bay Buccaneers reporter
Previously covered NFC South for ESPN.com
Covered Panthers for The Charlotte Observer from 1999-2008
Began journalism career with The Tampa Tribune in 1990
THE NFL ON ESPN.COM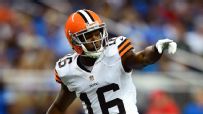 As Andrew Hawkins points out, players should be wary of wearable technology.
EDITORS' PICKS
Denver used the franchise tag on Demaryius Thomas, but there's still urgency to complete a long-term deal.
Legwold »

Clayton's mailbag: The "minimum spend" rule will make free agency interesting. Plus: AP's options and more.
Mailbag »

As wearable performance technology gets closer to becoming a staple, one player sees a major downside.
Seifert »

MOST SENT STORIES ON ESPN.COM