Phil Taylor looking ahead, not back
Updated:
October 31, 2013, 3:41 PM ET
By
Pat McManamon
| ESPN.com
BEREA, Ohio -- Phil Taylor wasn't biting Thursday when he was asked about the alleged Ray Rice spitting incident from the first time the Cleveland Browns and Baltimore Ravens played in September.
"Whatever happened in that game was that game," the Browns defensive lineman said. "I'm looking forward to this game."
Taylor drew a 15-yard penalty for retaliating as he and Rice jawed after Rice was thrown for a three-yard loss on the second play of the game. After the game, Browns players said Rice spit on the Browns defensive tackle.
More From ESPN.com

Ray Rice deserves the benefit of the doubt when he says he didn't intentionally spit at Phil Taylor, but it's not the first such accusation against a Raven, writes Jamison Hensley. Analysis
This week, Rice said he did not intentionally spit. He said he was yelling at Taylor and because he had his mouthpiece in it might have seemed like he was spitting.
Which, if it happened, would be serious business.
"You're exchanging body fluids there," running back Willis McGahee said. "That's different from trash talking."
Rice said it didn't happen.
"It looked as if I projected toward him," Rice said. "But I had my mouthpiece in."
Told Rice's words, Taylor merely said; "It is what it is. It's something we're both moving on from and getting ready for this game."
Taylor seemed so intent to let the incident go -- publicly at least -- that defensive coordinator Ray Horton said he felt no need to talk to Taylor about it.
"It's a tough game, and it's hard enough to play without the silliness," Horton said. "I think both players respect each other as football players."
ESPN Cleveland Browns reporter
Covered Browns, Cleveland sports since 1998
Previously worked at Fox Sports Ohio, AOL Fanhouse, Akron Beacon Journal/Ohio.com
Cleveland native, proud father of two daughters
THE NFL ON ESPN.COM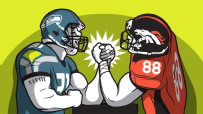 Better savor Week 3's Super Bowl rematch, it may be a while before there's another one.
EDITORS' PICKS
With the NFL floundering and in need of leadership, Roger Goodell has disappeared.
Keown »

Tampa Bay is latest team getting little bang for its buck.
Clayton's mailbag »

Pats DE Chandler Jones is among those on the verge of a breakthrough.
Clay »