NFLPA to monitor investigation
Updated:
November 6, 2013, 5:31 PM ET
ESPN.com news services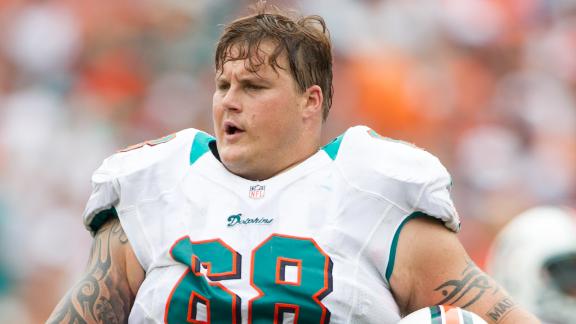 Culture Of A Locker Room
SC Centerpiece: Bill Polian, Eric Allen and Herm Edwards discuss the culture of an NFL locker room and the failure of leadership among the players in Miami.
Culture Of A Locker Room
MIAMI -- The NFL Players Association says it will insist on a fair investigation for all involved in the Miami Dolphins harassment case.
The league is investigating the troubled relationship between Dolphins offensive linemen Jonathan Martin and Richie Incognito. Martin left the team last week because of emotional issues, and Incognito was suspended indefinitely Sunday by coach Joe Philbin for his treatment of Martin.
More Jonathan Martin Coverage

Florida law could make Dolphins guard Richie Incognito pay triple Jonathan Martin's salary in damages, Lester Munson writes. Story
---

Miami's situation appears to be a systemic failure, with the older men at the top failing to police the younger men below, Tim Keown writes. Story
• Walker: Had to do it | Philbin's time
• Weinfuss: Ex-Fin Dansby offers take
• 'Wouldn't happen on my watch'
• SportsNation: Hazing problem in NFL?
• Graziano: Amukamara on hazing
• Radio: Mike & Mike | Ron Jaworski
• Radio: Cris Carter weighs in
In a statement Tuesday, the union said it is its duty to hold teams accountable for safety and professionalism in the workplace.
"We expect that the NFL and its clubs create a safe and professional workplace for all players and that owners, executives, coaches and players should set the best standards and examples," the union's statement said. "As the representative organization of all players, the NFLPA will insist on a fair investigation for all involved. We will continue to remain in contact with the impacted players, their representatives and player leadership."
The 6-foot-3, 319-pound Incognito, a ninth-year pro, is white. The 6-5, 312-pound Martin, who is in his second NFL season, is biracial.
It's unclear whether Dolphins coaches or management knew of any harassment between the players before Martin left the team. Recent talk of dissension in the locker room has included complaints by young players that they're pressured to pay more than their share when team members socialize together.
The Miami Herald reported Monday that the Dolphins plan to cut ties with Incognito.
Multiple sources confirmed to ESPN on Monday that Incognito used racial epithets and profane language toward Martin on multiple occasions. In a transcript of a voice-mail message from this past April, Incognito referred to Martin as a "half n----- piece of s---."
Sources also say Martin received a series of texts that included derogatory terms referring to the female anatomy and sexual orientation.
The usually docile Philbin became somewhat emotional while addressing the media Monday, taking the blame for the environment that was created in his locker room.
"I want you to know as head coach of the Miami Dolphins, I am in charge of the workplace atmosphere," Philbin said. "Since April 10, 2012, when players first came here. … Every decision I've made, everything we've done at this facility was done with one thing in mind: that is to help our players and our organization to reach their full potential. Any type of conduct and behavior that detracts from that objective will not be tolerated."
Information from ESPN NFL Insider Adam Schefter, ESPN.com Dolphins reporter James Walker and The Associated Press was used in this report.
SPONSORED HEADLINES
MORE NFL HEADLINES
MOST SENT STORIES ON ESPN.COM
THE NFL ON ESPN.COM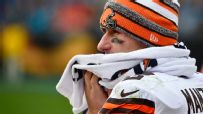 Interviews with Browns sources revealed that Johnny Manziel was a turbulent presence in '14.
EDITORS' PICKS
Who's more crucial to the Patriots' vast success - Brady or Belichick? We tap myriad experts for the answer.
Garber »

Russell Wilson's dominance vs. the NFL's lord of the rings negates his need to match their gaudy numbers.
O'Connor »

The NFL picked SB XLIX as the time to evaluate its efforts on domestic violence. Has progress been made?
McManus »