Incognito: Trying to 'weather' storm
Updated:
November 6, 2013, 11:38 AM ET
By
James Walker
| ESPN.com
Suspended Miami Dolphins guard Richie Incognito is at the center of a national controversy following accusations of harassment and misconduct toward teammate Jonathan Martin.
However, the embattled player still remains in South Florida.
WSVN Channel 7 caught up with Incognito briefly Tuesday in a parking lot in Weston for his first comments since the suspension and ugly details of his interactions with Martin became public.
Mike and Mike
ESPN Radio's Dan Le Batard shares his thoughts on Jonathan Martin's handling of Richie Incognito's conduct, the atmosphere in NFL locker rooms and more.
"You know what, I'm just trying to weather the storm right now," Incognito told WSVN Tuesday. "This will pass."
According to WSVN, Incognito refused comment when asked about his standing with the Dolphins.
"You know, no comment right now," Incognito said. "We're just gonna kinda weather the storm, and that's it."
ESPN reported the transcription of an April voicemail from Incognito that included racial slurs and physical threats toward Martin, who left the team last week following a lunchroom incident. Reportedly, Martin also was the victim of persistent harassment from Incognito since Martin was a rookie in 2012.
The Sun Sentinel, citing at least two sources, reported Tuesday that Dolphins coaches asked Incognito to toughen Martin up this past spring, after Martin missed a voluntary team workout. The sources told the Sun Sentinel that Incognito took the request too far.
The NFLPA released a statement Tuesday saying it will have a fair investigation.
"We expect that the NFL and its clubs create a safe and professional workplace for all players and that owners, executives, coaches and players should set the best standards and examples," the union's statement said. "As the representative organization of all players, the NFLPA will insist on a fair investigation for all involved. We will continue to remain in contact with the impacted players, their representatives and player leadership."
More Jonathan Martin Coverage

Florida law could make Dolphins guard Richie Incognito pay triple Jonathan Martin's salary in damages, Lester Munson writes. Story
---

Miami's situation appears to be a systemic failure, with the older men at the top failing to police the younger men below, Tim Keown writes. Story
• Walker: Had to do it | Philbin's time
• Weinfuss: Ex-Fin Dansby offers take
• 'Wouldn't happen on my watch'
• SportsNation: Hazing problem in NFL?
• Graziano: Amukamara on hazing
• Radio: Mike & Mike | Ron Jaworski
• Radio: Cris Carter weighs in
The NFL also is reviewing the Dolphins' situation independently. Miami coach Joe Philbin said Monday that team owner Stephen Ross has been in contact with the league and commissioner Roger Goodell.
"I will give my full and complete and total cooperation with the NFL," Philbin said Monday. "When that takes place, the timeline on that I don't have the specifics of. I will tell you I will be in full and complete cooperation with them. I will answer everything honestly to the best of my knowledge."
Martin's high school coach, Vic Eumont, said Martin's personality did not fit in with the Dolphins crowd, according to the Palm Beach Post. Eumont was Martin's coach at Harvard-Westlake School, a private high school in Studio City, Calif. Both of Martin's parents went to Harvard and Martin passed up on a chance to go to Harvard so he could play football at Stanford.
"Before he wasn't around Nebraska, LSU kind of guys," Eumont, a former Tulane offensive guard, told the Palm Beach Post. "He's always been around Stanford, Duke, Rice kind of players."
Eumont told the paper he hasn't spoken with Martin since he left the Dolphins last week, but he said he could see how the Dolphins might not welcome Martin back in the locker room after Incognito's suspension.
"In locker rooms full of Nebraska, LSU, Southern Cal players, Miami players, they'll look at this as a weakness," Eumont told the paper. "If he makes it through all this, and if he was encouraged to come back, he'd come back with a vengeance."
ESPN Miami Dolphins reporter
A Temple graduate and Hyattsville, Md., native who lives in Miami
Joined ESPN in 2008
SPONSORED HEADLINES
MORE NFL HEADLINES
MOST SENT STORIES ON ESPN.COM
THE NFL ON ESPN.COM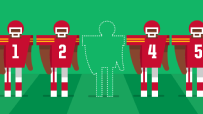 How many good or elite players away from Super Bowl contention was your favorite team?
EDITORS' PICKS
O'Connor: Poor performance can cost players money or their jobs, but those pitfalls don't exist for Roger Goodell.
Column »

Robert Kraft's insight, drive and business mind have catapulted New England's franchise into rarefied air.
Garber »

Trotter: Terrell Davis, the greatest postseason RB in history, should be a part of the 2015 Hall of Fame class.
HOF preview »