Commentary
Rookie Watch: Taylor making strides
The Browns do not run their 4-3 scheme like the majority of the defenses with even fronts.
Instead of a big, powerful guy and an upfield 3-technique, they instead want two nose tackle-type players to just totally own the middle of the line of scrimmage. They compromise interior pass rush with this philosophy, but they put a ton of beef at defensive tackle. This allows the linebackers -- particularly the middle linebacker -- to run much more freely and it also tempts the offense to run on the perimeter instead of up the middle.
Well, Phillip Taylor is absolutely perfect for this and it is showing in a big way. Going back to the preseason, Taylor has been outstanding in a Browns uniform -- and has also contributed a bit of a pass rush as well.
Ranking
Player, position (draft position)
Last week

1

Von Miller, Broncos LB (first round, No. 2)
Miller notched a sack and was a big-time playmaker once again for the Broncos in Week 2. I will catch all kinds of heat for having Miller over Cam Newton again this week, but I just really think he is slightly better at what he is asked to do right now than the Panthers' quarterback, who still needs to work on ball security.

1

2

Cam Newton, Panthers QB (first round, No. 1)
Newton has now thrown for more than 400 yards in each of his NFL starts. The Panthers lost both games, but it is sure hard to place much blame for that on the first overall pick. And, by the way, Newton led the Panthers with 53 yards rushing last week.

2

3

A.J. Green, Bengals WR (first round, No. 4)
Green is quickly building quite the relationship with fellow rookie Andy Dalton, who is also pretty impressive thus far in his own right. But Green has rare ability. And his 10-catch, 124-yard performance was the first of many great ones for this young man.

8

4

Denarius Moore, Raiders WR (fifth round, No. 148)
Moore was a nonfactor in his first NFL game, but came up huge for the Raiders in Buffalo while Oakland's receiving corps was totally shredded by injuries. Moore has big-time ability and his 146 receiving yards were not a fluke.

NR

5

Ryan Kerrigan, Redskins LB (first round, No. 16)
This is two weeks in a row now that Kerrigan has shown up big for the rebuilt Washington defense. This guy is a joy to watch play the game and has the look of a player who will consistently come up big for his squad.

6

6

Phillip Taylor, Browns DT (first round, No. 21)
Taylor was great in Week 1 and was a stalwart in the middle of Cleveland's defensive line again in Indianapolis.

NR

7

Andy Dalton, Bengals QB (second round, No. 35)
Dalton threw for 332 yards on the road. Yes, the Broncos' defense is extremely beat up -- and Champ Bailey didn't play. But Dalton didn't throw an interception and looks to be a very poised, young signal-caller.

NR

8

Nate Solder, Patriots OT (first round, No. 17)
Solder made a name for himself on national television in Week 1 against Cameron Wake. Wake got the better of him on occasion, but overall, it was a very solid first start for New England's right tackle. In Week 2, he was even better. It will be interesting to see what the Pats do when Sebastian Vollmer returns.

NR

9

J.J. Watt, Texans DE (first round, No. 11)
Watt had a solid game, but wasn't spectacular in Houston's win in Miami. Watt is an important piece of the rebuilt Houston defense, but I do still have some questions about the Texans' run defense. Watt also blocked a field goal attempt, which is something I could see him doing plenty of over his career.

8

10

Julio Jones, Falcons WR (first round, No. 6)
On Sunday night, Jones faced several of the best cornerbacks in the NFL and protection was a massive problem for the Falcons. My preseason offensive rookie of the year prediction is in danger of falling off this list. But still, I am enamored with Jones. He is capable of greatness and has shown glimpses of it over these first two games.

3
Other notables:
Mark Ingram
, Saints RB;
Marcell Dareus
, Bills DT;
Mason Foster
, Bucs LB;
Randall Cobb
, Packers WR;
Corey Liuget
, Chargers DT;
Mike Pouncey
, Dolphins C.
Scouts Inc. watches games, breaks down film and studies football from all angles for ESPN.com.
ESPN.com
Joined ESPN in 2005
Was an NFL and college scout for the Cleveland Browns
NFL WEEK 3 PREVIEW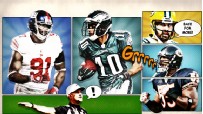 WEEK 3 PICKS
MNF: Redskins at Cowboys, 8:30 ET
HOT READ: Ndamukong Suh
FINAL WORD
POWER RANKINGS
COMMENTARY/BLOG POSTS
NFL DRAFT
ESPN FAN SHOP