Coaching tree, legacy of Paul Brown
Godfather of modern pro football has produced staggering number of disciples
Originally Published:
May 22, 2013
By
ESPN.com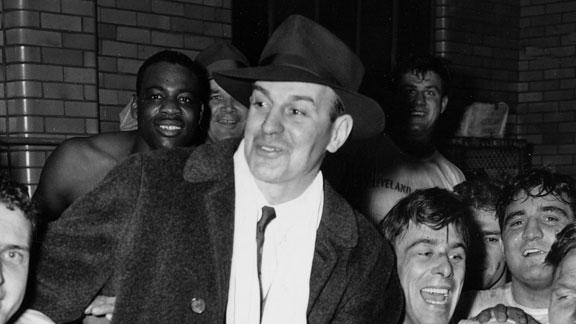 Coaching Tree: Paul Brown
Bengals owner Mike Brown and Hall of Fame coach Don Shula discuss Paul Brown's impact on pro football.
Coaching Tree: Paul Brown
ESPN celebrates the 100th anniversary of Vince Lombardi's birth with the "Greatest Coaches in NFL History" series, saluting the finest innovators, motivators, tacticians, teachers and champions ever to stalk the sidelines. Follow along as we reveal our list of the top 20 coaches of all time and document the lineage of the league's most influential coaching trees.
The Paul Brown coaching tree is documented in the chart below, followed by a feature on Brown and short biographies of his many disciples.
This package also includes a feature on the extensive Weeb Ewbank branch of Brown's tree.


Here is how it happens: An 8-year-old boy attends Cleveland Browns training camp with his father and watches -- mesmerized, really -- as the players hurry from station to station. The drills are as brisk and efficient as the man commanding them, head coach Paul Brown, for whom the team was named.
Thirty years later, after playing the game in high school and college, after refining his philosophy as an assistant with the Colts, Lions, Broncos and Giants, the kid's first NFL head-coaching job is (wait for it ...) in Cleveland with the Browns. At 39, Bill Belichick is the youngest coach in the league. Brisk and efficient -- he actually does an interview with ESPN while banging out a workout on the StairMaster -- are the tone and vibe in Belichick's first training camp in 1991.
GREATEST COACHES IN NFL HISTORY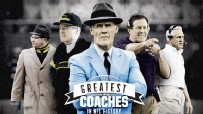 This series is a collaborative effort between ESPN TV, ESPN.com, ESPN Digital Video, ESPN The Magazine,
the Elias Sports Bureau, ESPN Radio
and ESPN Stats & Info.
Counting down to the 100th anniversary of Vince Lombardi's birth on June 11, 2013, we selected the top 20 coaches of all time, as chosen by a blue-ribbon panel of ESPN analysts and writers.
We've also traced the NFL's evolution with 14 extensive features on the league's most significant coaching trees.
In all, we've profiled 175 coaches in more than 50,000 words, a colossal project befitting the greatest coaches in NFL history.
Also see:
• Countdown: No. 6 -- Paul Brown
• Paul Brown coaching tree gallery


• "Greatest Coaches" home page
Cincinnati Bengals owner Mike Brown, Paul's son, knows the connection -- because Belichick made it a point to explain it to him.
"He has said to me in recent years that over in New England, they pretty much do the same thing that he watched my father do many, many years ago," Mike Brown said.
Today, Belichick is arguably the best coach in the NFL. Many of his methods can be traced to Paul Brown, just like those of the man whose New York Giants beat his Patriots in their two recent Super Bowl matchups, Tom Coughlin.
Brown's Cleveland Browns teams won seven championships, four with the All-America Football Conference and three as an entry in the NFL. His combined regular-season record: 213-104-9 (.672).
As spectacular as those results were, it's fair to say Brown's influence on the coaches around him -- and the coaches they would one day influence -- was even more remarkable. Five of his former assistants or players -- Don Shula, Blanton Collier, Weeb Ewbank, Bill Walsh and Chuck Noll -- won a total of 13 championships.
Shula, who holds the NFL coaching record of 347 victories, played in a college system that was based on Brown's teachings. Then, fortuitously, he was signed out of John Carroll University by Brown himself in 1951.
"I was brought up on Paul Brown football," Shula said. "When I was drafted by the Browns, it was just a continuation of the same Paul Brown system."
The Browns lost in the NFL championship in both of Shula's two seasons in Cleveland. He was traded to the Baltimore Colts in 1953, and in 1954 his head coach became Ewbank, a college teammate of Brown's at Miami (Ohio) who preceded him as the team's starting quarterback. During World War II, Ewbank and Brown were reunited at Naval Station Great Lakes in Illinois, where they coached the football team together. Ewbank got his first professional coaching job from Brown with the Browns in 1949. Five years later, Colts owner Carroll Rosenbloom made Ewbank a professional head coach for the first time. He coached Shula for three seasons, and guided the Colts to the 1958 and '59 NFL titles. When Rosenbloom fired Ewbank after the 1962 season, he made another Brown disciple his head coach -- the 33-year-old Shula.
BROWN'S FIRST LIEUTENANT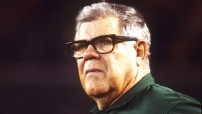 Weeb Ewbank is responsible for a large portion of Brown's coaching tree. Part 2 of this feature looks
at Ewbank's sphere of influence.
"My 33 years [as an NFL head coach]," Shula said, "that was pretty much from the Paul Brown playbook."
Brown was simply more organized and focused on detail than his peers. There was a time, back in the 1920s, when professional football was far less popular than college football. The late Giants owner Wellington Mara once said it was considered to be, believe it or not, the equivalent of professional wrestling.
Brown, perhaps more than any other coach, was responsible for putting the professional in football. He and his assistants made it a full-time job, a first in the game. His biggest innovations were practice routines that were broken down by position. Every phase of the game received individual attention. Every practice had an overarching theme and a set of opponent-specific goals that would, if executed properly, manifest themselves in the upcoming game.
Hall of Fame coach Sid Gillman once said, "I always felt before Paul Brown, coaches just rolled the ball out onto the field."
With growing concerns about head injuries today, NFL teams limit contact in practice. Similarly, Brown's practices were relatively brief -- he had read a book by a University of Illinois professor that said athletes had unusually short attention spans -- and involved little contact.
Brown, along with Gillman, was one of the first coaches to use game film to break down opponents. He created the draw play as a way to counteract a fierce pass rush, the trap play, too, and pioneered the idea of a taxi squad of spare players in case of injuries.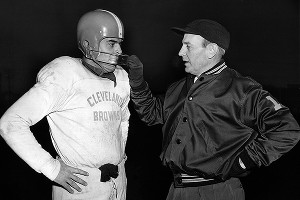 AP Photo Quarterback Otto Graham led Brown's teams to seven championships between 1946 and 1955.
In 1994, the NFL approved the use of a radio helmet to transmit play calls from the sideline to the quarterback. Thirty-eight years earlier, Brown and two Ohio inventors had collaborated on the first such model in 1956. It debuted during the exhibition season against the Detroit Lions, and Brown, who was regimented in his play calling, clandestinely radioed the calls in to quarterback George Ratterman. In the second game of the regular season, when the Pittsburgh Steelers were doing everything they could to destroy Ratterman's helmet and, not incidentally, his head -- league commissioner Bert Bell intervened, telling the Browns the only receiver they could employ was a wide receiver.
Sometimes Brown's innovations were based merely on common sense. In a 1953 game against the 49ers, Browns quarterback Otto Graham suffered a gash to the face that required 15 stitches. He was fitted with a large plastic face mask and returned to the game. Afterward, when he complained that it affected his vision of the field, Brown had a smaller version made.
"That's where the face mask came into pro football," Mike Brown said. "He learned from experience. He reacted to it, he did the sensible thing in many different areas and it made him a good coach."
Today, a number of active coaches beyond Belichick still benefit from Paul Brown's influence. Jeff Fisher, Mike Munchak, Jim Schwartz, Rex Ryan and Marc Trestman are all branches of the Paul Brown coaching tree.
The Browns won AAFC titles from 1946 to '49, but there were skeptics when they joined the NFL in 1950. In their first regular-season game, the Browns took on the reigning NFL champion Eagles -- and beat heavily favored Philadelphia 35-10.
"Thumped them," Mike Brown said. "After the game, Greasy Neale, the coach of the Eagles, said the Browns didn't really play football, that they played a form of basketball. All they did was pass and trap.
"Now we do wide-open football, but the Browns were early at it, ahead of their times, and that game was one my father was proud of. He had a niche. I think he knew that it was a significant one."
-- Greg Garber

Ewbank is the only coach to win titles in both the NFL and AFL, guiding both the Baltimore Colts and New York Jets to championships.
Ewbank, who played at Miami (Ohio) with Paul Brown, first coached at the high school and college levels. During World War II, he was reunited with Brown at Naval Station Great Lakes in Illinois, where he helped coach the base football team. After the war, Ewbank was an assistant at Brown University, where his quarterback was Joe Paterno.
THE EWBANK BRANCH
Half of Paul Brown's coaching tree falls under the umbrella of Weeb Ewbank. Part 2 of this feature
focuses on Ewbank's disciples.
• The Weeb Ewbank tree branch
• Paul Brown coaching tree gallery

In 1950, Ewbank joined Brown again, this time on the coaching staff of the Cleveland Browns. He remained there until the Colts hired him as head coach in 1954. Ewbank coached the Colts for nine seasons and won NFL titles in 1958 and '59. The Colts won the '58 championship over the Giants in the first overtime game in NFL history, a landmark event -- eventually known as "The Greatest Game Ever Played" -- that helped the league vault to new heights in popularity.
Ewbank was fired after the 1962 season and replaced by the Detroit Lions' 33-year-old defensive coordinator Don Shula, who had played for Brown and Ewbank in the 1950s.
In 1963, Ewbank began coaching the AFL's Jets, and by 1965, his quarterback was Joe Namath. The Jets' victory over the Colts in Super Bowl III is regarded as a critical game in establishing the AFL's legitimacy.
Ewbank also coached the infamous Heidi Game in 1968. NBC switched away from a Jets-Raiders game with 1:05 remaining and the Jets leading 32-29 to show a made-for-TV movie, denying the audience the opportunity to see the Raiders rally for a 43-32 victory. He died Nov. 17, 1998, the 30th anniversary of the game.
-- Shawna Seed



Saban's eclectic coaching career spanned half a century and every possible level of the game. He even took a detour into baseball in the early 1980s, when longtime acquaintance George Steinbrenner hired him to be president of the New York Yankees.
Saban played collegiately at Indiana before joining the military. During World War II, Saban was a Chinese interpreter for the U.S. Army. One of his former Buffalo Bills players, Pat Toomay, said Saban once gave an entire halftime speech in Chinese.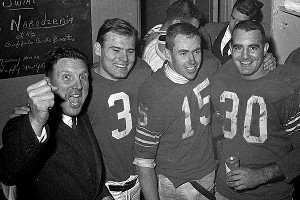 AP Photo Saban celebrates with Pete Gogolak, Jack Kemp and Wray Carlton after the Bills' 1964 AFL Championship Game victory.
After the war, Saban played for the first Cleveland Browns teams under Paul Brown from 1946 to 1949, the four seasons of the All-American Football Conference's existence. The Browns won all four AAFC championships before joining the NFL in 1950, when Saban began his coaching journey at Case Institute of Technology (now known as Case Western Reserve).
Saban rarely held the same job for more than a couple of years, but an exception was the eight-plus seasons he accumulated in two stints as head coach of the Bills (1962-65 and 1972-76). He led Buffalo to two AFL championships (1964 and 1965) prior to the merger. Future NFL coach Marty Schottenheimer played on the 1965 Bills team. A highlight of Saban's second tour with Buffalo was when O.J. Simpson became the first player to surpass 2,000 rushing yards in a season (1973).
In addition to 16 seasons as an AFL and NFL head coach with the Boston Patriots, Buffalo and the Denver Broncos, Saban held multiple high school and college positions -- including the top jobs at Northwestern, Maryland, Army and Miami (Fla.). Among his assistants were five future AFL or NFL coaches: Joe Collier, Dick MacPherson, John Mazur, Sam Rutigliano and Red Miller.
-- Kevin Stone


Collier coached the 1966 Buffalo Bills to the AFL Championship Game, but his greatest impact was as a defensive coordinator. He was the architect of the Denver Broncos' "Orange Crush" in the 1970s and coached Denver's defense in three Super Bowls.
Collier, an All-American end at Northwestern University, was drafted by the New York Giants in 1954, but chose instead to enter coaching. That career was delayed three years, however, when he was called to serve in the Army. He began coaching in 1957 as an assistant at Western Illinois under Lou Saban on a staff that also included future Broncos head coach Red Miller.
When Saban became head coach of the Boston Patriots in 1960, Collier and Miller followed him, and both men followed again when Saban took over the Bills in 1962. Miller left to join the Denver staff in 1963, but Collier remained in Buffalo, where Saban guided the team to AFL championships in 1964 and 1965.
In 1966, Saban resigned after clashing with Bills owner Ralph Wilson, and Collier was promoted to head coach and led the Bills back to the AFL title game, where they lost to the Kansas City Chiefs and missed out on a trip to Super Bowl I. Buffalo fired him two games into the 1968 season, after quarterback Jack Kemp suffered a broken leg in a preseason scrimmage.
In 1969, Collier reunited with Saban, who was coaching in Denver. Collier remained with the Broncos for nearly 20 years, also working under John Ralston, Red Miller and Dan Reeves.
After he was fired in Denver, Collier returned to the Patriots for two years as defensive coordinator under Dick MacPherson, whom he had worked with decades earlier in Denver under Saban. Also on that Patriots staff was Collier's son, Joel, who went on to coach under Don Shula, Jimmy Johnson and Bill Belichick and became assistant general manager of the Kansas City Chiefs in 2009.
-- Shawna Seed

Mazur is a former Notre Dame quarterback whose coaching career includes 19 seasons in the AFL and NFL. After several college assistant jobs, Mazur was hired as an offensive assistant for the Buffalo Bills, where he would work under Lou Saban (1962-65) and Joe Collier (1966-68). During that time, the Bills won AFL championships 1964 and 1965. They lost in the championship game in 1966, missing the chance to represent the AFL in the first Super Bowl.
Mazur joined the Patriots' staff under Clive Rush in 1969 and replaced Rush halfway through the 1970 season. In one full season and parts of two others as head coach of the Pats, Mazur compiled a 9-21 record. Mazur's running backs coach in 1971 and 1972 was future Cleveland Browns head coach Sam Rutigliano.
After leaving the Patriots, Mazur remained in the NFL as a defensive assistant with the Philadelphia Eagles under Mike McCormack and Dick Vermeil, and the New York Jets under Walt Michaels, for four seasons each.
-- Kevin Stone

Miller led the 1977 Denver Broncos to the Super Bowl, had three playoff teams in four years and never had a losing season.
Miller played at Western Illinois and later was an assistant there under Lou Saban. When Saban became head coach of the Boston Patriots in 1960, Miller followed him, spending two seasons in what would be the first of two stints with the Patriots.
He was an assistant for one season with the Buffalo Bills, three in Denver, five with the St. Louis Cardinals under Weeb Ewbank disciple Charley Winner, two with the Baltimore Colts and another four with the Patriots before being named head coach of the Broncos in 1977.
The Broncos went 12-2 in Miller's first season, losing to the Dallas Cowboys in Super Bowl XII. The 1978 and 1979 teams returned to the playoffs. The 1980 team went 8-8, and new owner Edgar Kaiser fired Miller. Miller later coached the Denver Gold of the USFL.
-- Shawna Seed

Rutigliano's tenure as head coach of the Cleveland Browns was highlighted by the 1980 division championship team known as the "Kardiac Kids" for their numerous close games that put a strain on their fans' hearts.
Rutigliano's first coaching job was at Connecticut (1964-65) under future Detroit Lions head coach Rick Forzano. He then worked under Lou Saban at Maryland for a year before following Saban to the Denver Broncos as wide receivers coach in 1967. Between 1971 and 1977, he held a variety of assistant jobs on both sides of the ball for the Patriots, Jets and Saints. Dick MacPherson and Hank Stram were among the coaches he worked for in that time.
He was the Browns' head coach for six-plus seasons starting in 1978, compiling a 47-50 record and going 0-2 in the postseason. Several of his assistants would go on to become NFL head coaches, most notably his eventual replacement, defensive coordinator Marty Schottenheimer.
Rutigliano didn't return to the NFL after the Browns fired him during the 1984 season. He had an 11-season run as head coach for Liberty University and worked several assistant jobs in NFL Europe.
-- Kevin Stone

Schottenheimer's accomplishments are seemingly overshadowed by what he didn't do -- reach a Super Bowl. His teams made 13 playoff trips in 20-plus seasons, but they were one-and-done nine times with a 5-13 postseason record.
Many of Schottenheimer's assistants ascended to become head coaches, including Super Bowl champions Bill Cowher, Tony Dungy and Mike McCarthy. His teams were known for their "Martyball" strategy of run-first offenses and aggressive, physical defenses.
SCHOTTENHEIMER COACHING TREE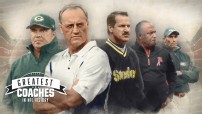 Marty Schottenheimer's sphere of influence extends to Bill Cowher,
Mike McCarthy, Marvin Lewis and many other NFL head coaches.
• Schottenheimer coaching tree
• Schottenheimer tree gallery

Schottenheimer had a six-year playing career as linebacker for the Buffalo Bills and Boston Patriots. He played for Lou Saban during his rookie year in 1965, when the Bills won the AFL championship. He got into coaching with the World Football League's Portland Storm in 1974 before becoming the New York Giants' linebackers coach under Bill Arnsparger in 1975.
Schottenheimer joined the Browns' staff in 1980 as defensive coordinator and eventually replaced head coach Sam Rutigliano, who was fired midway through the 1984 season. Schottenheimer would lead Cleveland to the 1986 and 1987 AFC Championship Games and suffer heartbreaking losses both times. First, John Elway led Denver on "The Drive" to force overtime in an eventual Broncos victory. Then, a late Earnest Byner run resulted in "The Fumble" instead of a game-tying Browns touchdown in a second Denver win.
Schottenheimer had a 10-season run with the Chiefs that included a loss in the 1993 AFC Championship Game. After one .500 season as the Redskins' coach, he moved to the Chargers in 2002 for his fourth and final NFL head-coaching job. In a microcosm of his career, he was fired after San Diego set a franchise record by going 14-2 but losing its first playoff game in the 2006 season.
After four years out of football, Schottenheimer took over Virginia Destroyers of the United Football League in 2011 and won his only pro championship as a coach.
-- Kevin Stone

Kotite had only one losing season in his four years coaching the Philadelphia Eagles and led the 1992 team to the playoffs. He later succeeded Pete Carroll as coach of the New York Jets.
Kotite had a six-year NFL playing career as a tight end and was a one-time sparring partner for Muhammad Ali. He began his NFL coaching career in 1977 with the New Orleans Saints under Hank Stram. He then was an assistant with the Cleveland Browns under Sam Rutigliano from 1978-82.
Kotite joined the Jets' staff in 1983 and became Joe Walton's offensive coordinator in 1984. In 1990, he became offensive coordinator of the Philadelphia Eagles. He was promoted to head coach the following year after the firing of Buddy Ryan.
His best year in Philadelphia was 1992, when the Eagles went 11-5 and made the playoffs. After a 7-9 season in 1994, during which the team lost its last seven games, Kotite was fired.
The Jets hired Kotite in 1995 after Carroll went 6-10 in his only season as the team's head coach. New York went 4-28 in two seasons under Kotite, and he stepped down after the 1996 season.
-- Shawna Seed

MacPherson earned his way into the College Football Hall of Fame as a coach, but that success didn't translate to the NFL. He went 8-24 in two seasons with the New England Patriots in his only pro head-coaching job.
Early in his career, MacPherson worked for six seasons at UMass and the University of Cincinnati under future Houston Oilers coach Chuck Studley. He then became an assistant at Maryland under Lou Saban in 1966, and earned his first pro experience when he followed Saban to the Denver Broncos, serving as a defensive assistant from 1967 to 1970. In Denver, MacPherson was alongside former Buffalo Bills head coach Joe Collier and future Cleveland Browns head coach Sam Rutigliano.
He moved on to become head coach at UMass for seven seasons before becoming Rutigliano's defensive backs coach with the Browns from 1978 to 1980. He returned to the college ranks as head coach at Syracuse, where he went 66-46-4 in 10 seasons (1981-90), including an 11-0-1 record and a No. 4 final AP ranking in 1987.
MacPherson left Syracuse to become head coach of New England in 1991, where Collier served as his defensive coordinator. MacPherson retired from coaching after the Patriots fired him -- and replaced him with Bill Parcells -- in 1992.
-- Kevin Stone

Also see:
"Greatest Coaches" countdown: No. 3 -- Don Shula
If they ever build a Mount Rushmore for NFL coaches, Shula's face will be on it. Until then, an expressway bearing his name in Miami-Dade County will have to do.
In an NFL head-coaching career full of highlights, he is best known for setting the career wins record (347, including postseason) and leading the 1972 Miami Dolphins to the NFL's first perfect season.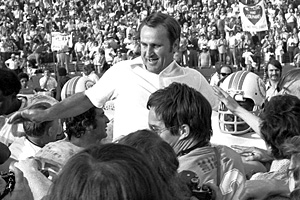 AP Photo Shula was carried off the field after the Dolphins won Super Bowl VII to complete the NFL's first undefeated season.
His 33-year head-coaching career with the Baltimore Colts and Dolphins included a record 19 playoff appearances and just two sub-.500 seasons. Shula led teams to a record six Super Bowls, with his Dolphins winning twice (1972-73), and he was the first coach to reach three consecutive Super Bowls (1971-73).
Shula cut his teeth in the NFL as a defensive back for three teams and played for the likes of coaching legends Paul Brown (two seasons) and Weeb Ewbank (three seasons). After his playing days were over, Shula worked for two seasons as a college assistant -- including one under Brown disciple Blanton Collier at Kentucky -- before becoming the Detroit Lions' defensive coordinator in 1960. In 1963, at age 33, Shula replaced Ewbank as the Colts' head coach. In the 1968 season, Shula's NFL champion Colts lost to Ewbank's New York Jets in Super Bowl III, the first AFL-NFL championship to officially be called a Super Bowl.
In the early '70s, Shula and Dolphins defensive coordinator Bill Arnsparger were at the forefront of bringing the 3-4 defense from the college ranks to the NFL. Shula's most successful assistant was Chuck Noll, who served as the Colts' defensive backfield coach and coordinator for three seasons before beginning a long, successful run as the Pittsburgh Steelers' head coach in 1969.
-- Kevin Stone

Arnsparger was head coach of the New York Giants for 2½ seasons, but he had his greatest impact in the NFL as a defensive coordinator. He coached the defenses of five Super Bowl teams, including the undefeated 1972 Miami Dolphins.
Arnsparger played for future Kentucky and Cleveland Browns coach Blanton Collier at Paris (Ky.) High School. He then served in the Marines during World War II and played tackle at Miami (Ohio) in the late 1940s, playing for Woody Hayes as a senior. After serving Hayes as a Miami assistant in 1950, Arnsparger followed Hayes to Ohio State and worked there for three seasons. He then reunited with Collier, serving as Kentucky's offensive line coach from 1954 to 1961. In 1959, a young Don Shula joined the Kentucky staff as the offensive backfield coach, foreshadowing a future alliance.
After Arnsparger toiled for two seasons as an assistant for the downtrodden Tulane program, he began his NFL coaching career in 1964 with the Baltimore Colts, under Shula. When Shula moved to the Dolphins in 1970, Arnsparger joined him. Miami reached the playoffs each of the next four seasons, winning the Super Bowl in the 1972 and 1973 seasons.
Arnsparger left to coach the Giants in 1974, and he rescued a young linebackers coach named Marty Schottenheimer from the flailing World Football League and gave him his first NFL coaching job. Arnsparger, however, was fired after an 0-7 start in 1976, and returned to the Dolphins. He was the architect of both the "No Name Defense" and the "Killer B's" defense in Miami.
Arnsparger left the Dolphins to become head coach at LSU, a job he held from 1984 to 1986. He later worked as the athletic director at the University of Florida before returning to the NFL as defensive coordinator for the San Diego Chargers under Bobby Ross. He retired from the Chargers after they played in Super Bowl XXIX.
-- Shawna Seed

Clark entered coaching after an 11-season playing career with the San Francisco 49ers, Dallas Cowboys and Cleveland Browns, and he later became a disciple of Don Shula. A successful tenure as Shula's offensive line coach with the Dolphins was followed by a mediocre run as a head coach.
Clark was the Browns' right tackle during Hall of Fame running back Jim Brown's final three seasons, including Cleveland's 1964 NFL championship campaign. Clark credits Browns coach Blanton Collier for providing the foundation he took into coaching, as well as convincing Shula to hire him.
With Clark coaching the offensive line (1970-75), the Dolphins had one of the league's most potent running attacks and went to three consecutive Super Bowls, winning twice.
Clark left Miami to become San Francisco's head coach in 1976, but a conflict with new ownership led to his departure after one season that produced an 8-6 record. After a year off, Clark took over as Detroit's head coach for an undistinguished seven-season stretch. Clark's Lions finished over .500 just twice and were 0-2 in the playoffs. Running back Billy Sims went to three Pro Bowls under Clark before suffering a career-ending knee injury in 1984, which also was Clark's final year in Detroit.
After five years out of football, Clark rejoined Miami in the front office in 1990. He returned to the sidelines for one final season as the Dolphins' offensive line coach in 1995, which was also Shula's last season.
-- Kevin Stone

Shula fell well short of his legendary father's standard. Don Shula set the NFL record for career wins, but David had the second-lowest winning percentage (.268) among coaches with at least 50 career games.
After one season playing special teams for the Baltimore Colts, Shula joined his father's staff in Miami in 1982. He coached wide receivers and quarterbacks for the Dolphins before becoming the Dallas Cowboys' offensive coordinator and quarterbacks coach under Jimmy Johnson in 1989.
He became Cincinnati's wide receivers coach in 1991, and the Bengals made him one of the NFL's youngest head coaches ever, at age 32, the next year after they fired Sam Wyche. They failed to reach .500 in four-plus seasons under Shula, and he was fired after a 1-6 start in 1996 with a 19-52 overall record.
He later became president of his father's restaurant business.
-- Kevin Stone

Collier became an NFL head coach fairly late in life, taking over the Cleveland Browns in 1963, when he was 57 years old. The Browns won their most recent NFL championship under Collier, but he may be most notable for the number of coaches he influenced in his long career, and his association with Paul Brown.
After graduating from Georgetown College in Kentucky, where he played football and basketball, Collier took a job coaching football and basketball at Paris High School, his alma mater, in Kentucky. Among the students he coached was future NFL defensive mastermind Bill Arnsparger.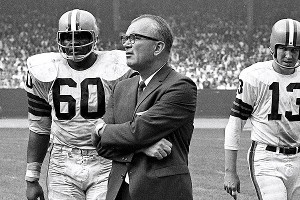 Paul Tepley/Diamond Images/Getty Images Collier succeeded Paul Brown as Cleveland's head coach in 1963 and led the Browns to their most recent championship a year later.
During World War II, Collier was assigned to Naval Station Great Lakes in Illinois, where he met Paul Brown, who was coaching the base football team, and his assistant, Weeb Ewbank. When Collier was discharged from military service, Brown hired him as an assistant with the Cleveland Browns of the new All-America Football Conference.
When Bear Bryant left the University of Kentucky for Texas A&M after the 1953 season, Collier was hired to replace him. Collier coached eight seasons at Kentucky but failed to reach a bowl game and was fired after the 1961 season. Collier's staff at Kentucky included future NFL head coaches John North, Howard Schnellenberger, Don Shula, Chuck Knox and Arnsparger. Schnellenberger and future Falcons coach Leeman Bennett also played for Collier at Kentucky.
Collier returned to the Browns as an assistant in 1962 and became head coach a season later when owner Art Modell fired Brown. Collier took the job only after Brown gave his blessing. The Browns made the postseason five times in Collier's eight years and won the NFL title in 1964.
Collier announced his retirement in 1970; he had suffered hearing loss and believed he could no longer communicate effectively with his players during games. Modell unsuccessfully tried to convince Collier to remain as coach, but he did remain with the Browns as a special assistant until 1976.
-- Shawna Seed

Schnellenberger's tenure as an NFL head coach didn't last long, but it was just a blip in a coaching journey that spanned half a century. He was offensive coordinator for the Miami Dolphins' perfect season in 1972 and on the staff of four NCAA champions.
Schnellenberger played for Bear Bryant and Blanton Collier at Kentucky and coached on the Wildcats under Collier in 1959 and 1960. He then joined Bryant as an offensive assistant at Alabama. The Crimson Tide won three AP national championships in Schnellenberger's five seasons there (1961-65).
He left Alabama for the NFL and worked four seasons (1966-69) for George Allen's Los Angeles Rams. Then Schnellenberger started a partnership with Don Shula in Miami. He worked under Shula for seven of the next nine seasons (1970-72 and 1975-78), going to two Super Bowls (including the perfect season). The stretch was split by 17 games as the Baltimore Colts' head coach, where he succeeded Weeb Ewbank disciple Don McCafferty. The Colts went 4-10 in 1973 then fired Schnellenberger after starting 0-3 in 1974.
Schnellenberger served as head coach at the University of Miami from 1979 to 1983 and won a national championship there in 1983. He left Miami for the USFL, but the deal fell through and he became head coach at Louisville (1985-94) and Oklahoma (1995). After being away from the game for several years, he returned to start the program at Florida Atlantic, where he coached for 11 seasons (2001-11).
-- Kevin Stone

Trestman, a quarterbacks guru and proponent of the West Coast offense, bounced around among the college, NFL and CFL ranks for three decades before being hired as the Chicago Bears' head coach in 2013.
After playing quarterback at the University of Minnesota (where he backed up Tony Dungy) and Minnesota State Moorhead, he got into coaching as a volunteer for two seasons while attending law school at the University of Miami. He became the team's quarterbacks coach under Howard Schnellenberger in 1983, when the Hurricanes won the national championship.
His first of many jobs as an NFL assistant came in 1985 as the Minnesota Vikings' running backs coach under Bud Grant. His first offensive coordinator job came in 1989 with the Cleveland Browns under Bud Carson. He also worked as coordinator for the 49ers (1995-96), Cardinals (1998-2000), Raiders (2002-03) and North Carolina State (2005-06).
Before the Bears hired him, Trestman spent five seasons as head coach in Montreal, where he led the Alouettes to Grey Cup championships in 2009 and 2010.
-- Kevin Stone

North was among the five members of Kentucky's 1959 staff who became NFL head coaches, although he was the least heralded of the bunch.
North played three years for the original Baltimore Colts franchise as a receiver and defensive back before working as an assistant for Tennessee Tech, Kentucky and LSU. The 1959 Kentucky staffers who would become NFL head coaches were head coach Blanton Collier and assistants Don Shula, Bill Arnsbarger, Howard Schnellenberger and North.
North moved to the NFL as an assistant with the Detroit Lions in 1965. He joined the New Orleans Saints as offensive coordinator, but wound up as their head coach instead when J.D. Roberts was fired during the 1973 preseason. The Saints went 5-9 in each of North's first two seasons, and he was fired after a 1-5 start in 1975.
He concluded his NFL coaching career as the Atlanta Falcons' running backs coach. Running back William Andrews went to three Pro Bowls in the early 1980s under North, who also spent a year as quarterbacks coach for the New Orleans Breakers of the USFL before getting out of coaching.
-- Kevin Stone

Speedie was a star player for Paul Brown with the Cleveland Browns before getting into coaching, although the two had a tumultuous relationship.
After serving in the Army, Speedie was one of the best receivers of his era during the Browns' first seven years of existence (1946-52). He led the league in receptions four times, three in the All-America Football Conference and once after Cleveland joined the NFL. The Browns won five championships and reached the championship game two other times before Speedie left to finish his playing career in Canada, where he could make more money. His departure rankled Brown, who has been blamed for keeping Speedie out of the Hall of Fame even though he was a finalist in 1970, 1972 and 1983.
Speedie started coaching as an assistant to ex-Browns teammate Lou Rymkus with the AFL's Houston Oilers in 1960 and 1961. He moved to the Denver Broncos as an assistant under Jack Faulkner in 1962 and became head coach during the 1964 season, when Faulkner was fired after an 0-4 start. Speedie won his first game as head coach, but his team would win just five more times. He resigned two games into the 1966 season with a 6-19-1 career record.
-- Kevin Stone

Johnson spent more than four decades in the NFL and was the man who followed the legendary Paul Brown as the Cincinnati Bengals' head coach in 1976.
Brown selected Johnson as his replacement instead of fellow Bengals assistant Bill Walsh. Johnson lasted less than three seasons as Cincinnati's head coach, while Walsh went on to a Hall of Fame career with the San Francisco 49ers.
Johnson played center for San Francisco from 1948 to 1956 and earned two trips to the Pro Bowl. He stayed on as an assistant for the 49ers before joining Brown's staff in 1968 as Bengals offensive line coach in the team's inaugural season.
Johnson went 18-10 in his first two seasons as Bengals head coach. But he was fired after an 0-5 start in 1978 and never held another job as head coach.
Johnson then spent time as an assistant for the Tampa Bay Buccaneers (1979-82) and Detroit Lions (1983-84) before returning to the Bengals for six seasons to complete his career as tight ends coach under Sam Wyche.
-- Kevin Stone

Walsh, considered an offensive genius and father of the West Coast offense, turned the San Francisco 49ers into a dynasty in the 1980s. In 10 seasons under Walsh, the 49ers won six NFC West titles and three Super Bowls.
WALSH COACHING TREE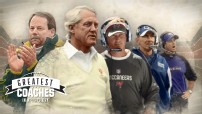 Bill Walsh's sphere of influence extends to Mike Holmgren, George Seifert, Dennis Green and many
other NFL head coaches.
• Countdown: No. 2 -- Bill Walsh
• Bill Walsh coaching tree
• Holmgren: Mentor to Gruden, Reid
• Walsh/Holmgren tree gallery

The offensive philosophy that Walsh subscribed to was the Sid Gillman passing attack, which Walsh adopted from Gillman disciple Al Davis as a Raiders assistant in 1966. Walsh's big break, however, came in 1968, when he joined the staff of football pioneer Paul Brown with the expansion Cincinnati Bengals after considering quitting football in favor of law school. In Cincinnati, Walsh modified Gillman's system and incorporated a heavy dose of short passes, creating what ultimately would become known as the "West Coach Offense" in San Francisco.
The relationship between Walsh and Brown was icy and often punctuated by friction. Walsh felt constricted by Brown and believed his boss was holding him back from becoming a head coach. After eight seasons in Cincinnati, Walsh left the Bengals after being passed over to succeed Brown as head coach. Offensive line coach Bill Johnson got the job instead, and Walsh believed Brown subsequently tried to blackball him in NFL circles.
After serving as an assistant for one season with the San Diego Chargers, where he helped develop future Hall of Fame quarterback Dan Fouts, Walsh became head coach at Stanford, where he remained for two seasons.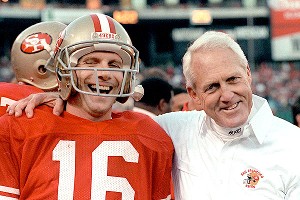 AP Photo Walsh and Joe Montana had plenty to smile about during their partnership with the 49ers.
Walsh was named head coach and general manager of the 49ers in 1979. The previous season, the 49ers had gone 2-14, winning only 31 of their last 86 games. The 1981 team won the Super Bowl, and the 1984 and 1988 teams repeated the feat.
Walsh retired after Super Bowl XXIII in January of 1989, but the 49ers -- coached by his former assistant George Seifert -- returned to the Super Bowl the following season and won.
Mike Holmgren followed Seifert as former Walsh assistants who went on to win Super Bowls. The Walsh coaching tree boasts no fewer than 25 descendants, including Super Bowl champions Mike Holmgren, Brian Billick, Jon Gruden and John Harbaugh.
-- Shawna Seed
Special thanks to the Elias Sports Bureau for research assistance in compiling this project.
GREATEST COACHES IN NFL HISTORY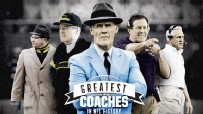 ESPN lists the top 20 coaches of all time and examines the most influential coaching trees.
Greatest Coaches in NFL History home page


EDITORS' PICKS
Keith Olbermann: The Vikings had 1.2 billion reasons to flip their Adrian Peterson decision.
Watch

Tampa Bay is latest team getting little bang for its buck.
Clayton's mailbag »

Pats DE Chandler Jones is among those on the verge of a breakthrough.
Clay »