Marty Schottenheimer coaching tree
Motivator, consistent winner produced a multitude of successful head coaches
Originally Published:
May 31, 2013
By
ESPN.com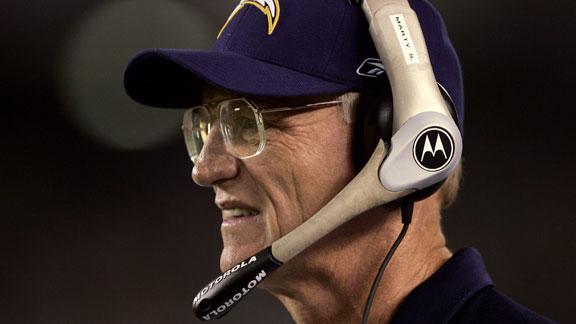 Coaching Tree: Marty Schottenheimer
Coaching Tree: Marty Schottenheimer
ESPN celebrates the 100th anniversary of Vince Lombardi's birth with the "Greatest Coaches in NFL History" series, saluting the finest innovators, motivators, tacticians, teachers and champions ever to stalk the sidelines. Follow along as we reveal our list of the top 20 coaches of all time and document the lineage of the league's most influential coaching trees.
The Marty Schottenheimer coaching tree is documented in the chart below, followed by a feature on Schottenheimer and short biographies of his many disciples.


Marty Schottenheimer really did win a championship as a head football coach. He did it in 2011, as the leader of the United Football League's Virginia Destroyers. The easy joke for his critics is that Schottenheimer had to go to an obscure, second-tier league to walk away with a title. The people who followed his career more closely will say that accomplishment proves something else about Schottenheimer: The man could win football games regardless of where he was working the sidelines.
GREATEST COACHES IN NFL HISTORY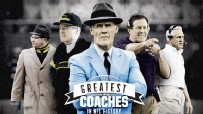 This series is a collaborative effort between ESPN TV, ESPN.com, ESPN Digital Video, ESPN The Magazine,
the Elias Sports Bureau, ESPN Radio
and ESPN Stats & Info.
Counting down to the 100th anniversary of Vince Lombardi's birth on June 11, 2013, we selected the top 20 coaches of all time, as chosen by a blue-ribbon panel of ESPN analysts and writers.
We've also traced the NFL's evolution with 14 extensive features on the league's most significant coaching trees.
In all, we've profiled 175 coaches in more than 50,000 words, a colossal project befitting the greatest coaches in NFL history.
As much as people focus on Schottenheimer's inability to reach the Super Bowl during his 21 years as an NFL head coach, nobody can question his consistency. He coached four teams -- the Cleveland Browns, Kansas City Chiefs, Washington Redskins and San Diego Chargers -- and suffered through only two losing seasons. Schottenheimer also appeared in three AFC Championship Games, claimed eight division titles and won more games (205, including the postseason) than all but six coaches in NFL history.
"People like to call Marty conservative," said ESPN analyst Herm Edwards, who served as an assistant under Schottenheimer in Kansas City. "But he knew who he was, and he knew how to win."
Those numbers don't even begin to explain Schottenheimer's impact. He was a masterful defensive tactician and a renowned motivator. It wasn't a coincidence that the famed Dawg Pound emerged in Cleveland while he was the Browns' coach or that Kansas City enjoyed a significant home-field advantage during his tenure there from 1989-98.
Schottenheimer's players competed with an unmistakable ferocity, because he knew how to fire them up. Those same players would then demand the same energy from the fans who cheered them on each week. Schottenheimer's intensity, in many ways, was contagious.
"Marty was a great motivator and he was intense. He didn't just care about winning games," said former Chiefs wide receiver Danon Hughes, who played under Schottenheimer for six seasons. "He cared about the players. And he made you think you could do things you didn't even know you could do.
"He could take players like myself [a seventh-round pick] or undrafted guys like Tony Richardson or Kimble Anders and get the most out of us. These were unheralded guys but Marty literally could brainwash players into thinking they were more than they were."
Schottenheimer's emotion wasn't a prepackaged device that he could use on demand. It was genuine. He wasn't just a fiery motivator, either. He was just as capable of lifting players up in times of need.
"I remember telling him my father died when I played for him," said former San Diego Chargers left tackle Roman Oben. "I was explaining how I was going to go home -- and Marty told me to take all the time I needed. And then he started tearing up. That's something you don't see from a lot of coaches."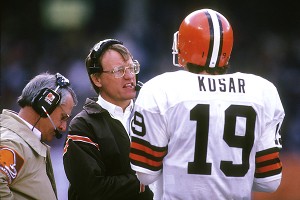 John Sokolowski/US Presswire Schottenheimer and quarterback Bernie Kosar led the Browns to consecutive AFC title games in the 1986 and '87 seasons.
Earnest Byner produced 187 yards from scrimmage and two touchdowns in the 1987 AFC Championship Game. But with a trip to Super Bowl XXII on the line, it was his fumble that memorably sealed the Browns' defeat to the Broncos.
"Marty was my biggest supporter after that game," Byner said. "He brought me into his office and told me we wouldn't even be in that position if not for me. He was a father figure in many ways. And on that day, he put his arm around me and showed me the support that I really needed."
It wasn't difficult for Schottenheimer to throw his heart into the game. This was the same man who spent six years as a rugged linebacker in the American Football League (he was an All-Star on the Buffalo Bills' 1965 championship team) and had to claw his way into the world of professional coaching. Most fans who watched Schottenheimer in his heyday don't know that he roomed with friends to find work at the 1975 Senior Bowl. Schottenheimer also broke into the NFL by writing player evaluations for the New York Giants -- a role that earned him all of $125. The evaluations were so thorough and insightful, however, that Giants coach Bill Arnsparger hired Schottenheimer as linebackers coach in 1975.
Schottenheimer built his legacy on a foundation of faith and determination. He wound up selling those same tools to the men he coached at every stop. Schottenheimer expected and exacted the same measure of commitment from his players that he gave his family when he decided coaching football was better than a more secure gig selling real estate.
"Marty's honesty always stuck out to me," Byner said. "I never had any issues with him being straight with me and he held everybody accountable. We respected him for that. Marty played in the NFL, so he knew [the players'] plight. More than anything, he knew the plight of the journeyman. He knew what drove players to be who we are and he knew how to tap into that to get the most out of us."
When the Cleveland Browns promoted Schottenheimer to head coach in 1984, he had been a respected defensive coordinator for 4½ years under his predecessor, Sam Rutigliano. Schottenheimer was the architect of a squad that ranked among the NFL's elite defensively, with star cornerbacks Hanford Dixon and Frank Minnifield locking down receivers and stud linebackers Chip Banks and Clay Matthews Sr. wreaking havoc near the line of scrimmage.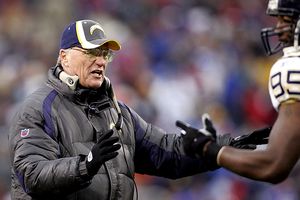 John Sokolowski/US Presswire The Chargers were the third team Schottenheimer led to the playoffs, winning two division titles.
The Browns didn't just shut down opponents. They beat them relentlessly while utilizing an offense built around quarterback Bernie Kosar and a strong running game.
Before long, Schottenheimer's style of play -- conservative offense combined with intense defense -- had been summed up in one word: "Martyball." It was a huge hit during his four full seasons in Cleveland, and it became even more popular when Kansas City hired him to resurrect its downtrodden franchise in 1989. The Chiefs went 101-58-1 in the regular season under Schottenheimer's guidance.
"He had his hand in everything -- offense, defense and special teams -- and players knew what he wanted," Edwards said. "You couldn't turn the ball over. You had to be efficient in the red zone. And you knew that if you were in a tight game in the fourth quarter, a situation where you really had to tough it out, you had the mental advantage because of him."
By the time Schottenheimer reached his final NFL stop in San Diego -- he spent the 2001 season in Washington before joining the Chargers in '02 -- he had mastered that formula for success. A team that won a total of six games in the two seasons before his arrival finished 8-8 in his first year. The Chargers won the AFC West with a 12-4 record two years later and claimed the division crown in 2006 as well, with a 14-2 mark.
These accomplishments didn't happen solely because San Diego landed future stars such as LaDainian Tomlinson, Drew Brees and Antonio Gates. They happened because Schottenheimer knew how to galvanize a team, even if a power struggle with Chargers general manager A.J. Smith led to the coach's dismissal in 2007.
That success tends to get lost when cynics talk about what he didn't do. They look at his two AFC Championship Game losses to Denver while in Cleveland and see a man who choked -- instead of one who suffered heartbreaking defeats (one because of a celebrated John Elway touchdown drive and the other as a result of Byner's infamous fumble). Schottenheimer's postseason struggles in Kansas City and San Diego are treated no differently. He had the league's best record and home-field advantage three times and endured stunning upsets against less-accomplished teams.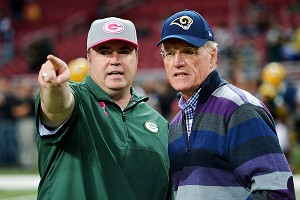 John Sokolowski/US Presswire The Packers' Mike McCarthy visits with his former boss before a 2012 game in St. Louis, where Schottenheimer's son, Brian, is a Rams assistant.
"Marty didn't lose those games because he screwed up the clock or was trying to play the percentages," Oben said. "Guys just didn't execute. As a coach, all you can do is put your players in position to win. And that's what he always did."
Schottenheimer deserves better than to be known for his failures. His list of coaching disciples is one indication of the mark he left on the game. Of the assistants who worked under him during his NFL career, eight went on to become head coaches, including Edwards, Bill Cowher, Mike McCarthy, Tony Dungy and Bruce Arians. Three of those men -- Cowher, McCarthy and Dungy -- went on to win Super Bowls.
That legacy is another reminder that Schottenheimer accomplished too much to be overlooked in the conversation of coaching greatness. Too often, championships are used as the only measure of whether a coach is considered elite, even though consistency over the course of a career means nearly as much as hoisting a Lombardi Trophy.
"Marty gets slighted because of his playoff record but anybody who was around him will tell you he was an excellent coach," Edwards said. "He won a lot of games, which is a testament to his system, but he was always true to himself. I commend him for that because it's hard to do."
-- Jeffri Chadiha

Cowher, a Pittsburgh native, followed the legendary Chuck Noll as coach of the Pittsburgh Steelers and established his own legacy of success.
The Steelers reached the playoffs in each of Cowher's first six seasons and played in Super Bowl XXX when Cowher was only 38 years old. His teams claimed nine division championships in 15 years, and the 2005 Steelers were Super Bowl champions. Cowher retired from the Steelers after the 2006 season at the age of 49.
Cowher played linebacker at North Carolina State. In the NFL, he played for the Cleveland Browns and Philadelphia Eagles, mostly on special teams. In 1983, future coaching rival Jeff Fisher, then with the Chicago Bears, suffered a season-ending broken leg when Cowher tackled him on a punt return.
Cowher went directly from playing into coaching. Marty Schottenheimer, who had been defensive coordinator when Cowher played in Cleveland, hired Cowher to coach special teams for the Browns in 1985. Cowher became Cleveland's defensive backs coach in 1987 and followed Schottenheimer to Kansas City to become the Chiefs' defensive coordinator in 1989. He stayed in that role until the Steelers hired him as head coach in 1992.
Cowher's late wife, Kaye, played basketball at North Carolina State, and their three daughters also played college basketball. Their daughter Meagan is married to NHL player Kevin Westgarth.
-- Shawna Seed

Capers was the first head coach of two expansion teams, the Carolina Panthers and the Houston Texans.
He played safety and linebacker at Mount Union College in Ohio and subsequently coached 12 seasons at the collegiate level, working at Kent State, Hawaii, San Jose State, California, Tennessee and Ohio State.
Capers is more closely aligned with Jim E. Mora but also bears a three-season affiliation with Bill Cowher. Capers coached under Mora in the USFL and followed Mora when he became head coach of the New Orleans Saints. Capers spent five seasons with the Saints before joining Cowher's Pittsburgh Steelers staff as defensive coordinator in 1992. He remained there until he was hired by Carolina in 1995.
In just their second season, the Panthers won their division and advanced to the NFC Championship Game. But that would be their only winning campaign under Capers, who was fired after the 1998 season.
Capers was defensive coordinator in Jacksonville for two seasons before becoming the Texans' first head coach. He was fired after Houston failed to post a winning record in four seasons (2002-05).
He subsequently worked on the coaching staffs of the Miami Dolphins, New England Patriots and Green Bay Packers.
-- Shawna Seed

In his six years as head coach of the New Orleans Saints, Haslett won an NFC West title and posted a winning record twice.
Haslett was drafted by the Buffalo Bills out of Indiana (Pa.) in 1979. He played linebacker for seven seasons for the Bills and finished his playing career with the New York Jets.
He then became a coach, working for the University at Buffalo and the Sacramento Surge of the World Football League. He was on staff with the Raiders, Saints and Steelers, under Bill Cowher, before New Orleans hired Haslett as head coach in 2000.
Haslett was named Coach of the Year in his first season after leading the Saints to their first playoff berth since 1992. But the team failed to make the playoffs in five subsequent seasons under Haslett, who was fired after a 3-13 season in 2005.
He later worked as the St. Louis Rams' defensive coordinator -- and interim head coach after Scott Linehan was fired in 2008 -- head coach of the UFL's Florida Tuskers and defensive coordinator of the Washington Redskins.
-- Shawna Seed
Lewis made his name by turning the Baltimore Ravens into a defensive powerhouse before settling in for a long run as the Cincinnati Bengals' head coach, bringing much-needed stability to a struggling franchise.
He started his coaching career in 1981 working with linebackers at Idaho State, his alma mater. He also was the linebackers coach at Long Beach State, New Mexico and Pitt before making it to the NFL in the same role with Bill Cowher's Pittsburgh Steelers (1992-95).
As the Ravens' first defensive coordinator (1996-2001), Lewis provided balance for offensive-minded head coaches Ted Marchibroda and Brian Billick. Baltimore's defense improved each year until it was ranked second in the league in 1999. In 2000, the Ravens set NFL records for fewest rushing yards and points allowed in a 16-game season on their way to a victory in Super Bowl XXXV.
Lewis was Washington's defensive coordinator in 2002 under another offensive-minded head coach, Steve Spurrier, before taking over the downtrodden Bengals in 2003. Cincinnati hadn't been to the playoffs since 1990, but after a pair of .500 seasons, Lewis led the Bengals to an AFC North championship in 2005. He also led Cincinnati to playoff berths in 2009, 2011 and 2012.
-- Kevin Stone

Jackson served one year as Oakland Raiders head coach, leading the team to an 8-8 record in 2011 and a three-way tie for the AFC West lead. The Raiders lost the tiebreaker, however, and missed the playoffs.
Jackson, who played quarterback at Pacific, coached in the college ranks for several years and spent one year in London on the staff of the Monarchs of the World League. At USC, he was offensive coordinator from 1997 to 2000 and worked with quarterback Carson Palmer.
Jackson landed his first NFL job with the Redskins in 2001. He worked under Marvin Lewis as wide receivers coach of the Cincinnati Bengals from 2004 to 2006 and later worked in Atlanta, Baltimore and Oakland before the Raiders promoted him in 2011. After his one season as head coach, he returned to Cincinnati as an assistant coach.
-- Shawna Seed


Mularkey's knack for getting the most out of his personnel served him well as an offensive coordinator, but success as a head coach has eluded him.
He was a tight end for the Minnesota Vikings (1983-88) and Pittsburgh Steelers (1989-91) and spent one season (1993) as offensive line coach at Concordia College in Minnesota. He got his first NFL coaching job under Sam Wyche in Tampa Bay (1994-95) before joining Bill Cowher's staff in Pittsburgh (1996-2003), first as tight ends coach, then as offensive coordinator. With Kordell Stewart and Tommy Maddox as their primary quarterbacks, the Steelers ranked in the top five in offense two of the three seasons Mularkey was coordinator.
Buffalo hired him as head coach in 2004, and the Bills produced their only winning record of the 2000s that year. After a 5-11 season in 2005, Mularkey resigned in a surprise move. He moved on to the Miami Dolphins, where he was Nick Saban's offensive coordinator in 2006 and Cam Cameron's tight ends coach in 2007.
He became Atlanta's offensive coordinator under Mike Smith in 2008. The Falcons were 29th in scoring the year before Mularkey arrived but finished in the top 10 in four of his five seasons. The Jacksonville Jaguars hired him as their head coach in 2012 but fired him after a 2-14 season.
-- Kevin Stone

Whisenhunt led the Arizona Cardinals to their first Super Bowl appearance and provided a period of stability for a team known for churning through coaches. When he was fired after the 2012 season, Whisenhunt held the franchise coaching records for games, wins and losses.
After a nine-year career as an NFL tight end, Whisenhunt coached tight ends and special teams at Vanderbilt and with the Baltimore Ravens, Cleveland Browns and New York Jets before working under Bill Cowher in Pittsburgh for six seasons (2001-06). He was the Steelers' tight ends coach for three seasons before becoming their offensive coordinator in 2004. The Steelers won Super Bowl XL the next season, and Arizona hired him as head coach in 2007. A year later, the Cardinals broke a nine-season playoff drought and made a surprising run to Super Bowl XLIII, where they lost to the Steelers.
A highlight of his college days at Georgia Tech came when he was a walk-on freshman and injuries forced him into action at quarterback against undefeated No. 1 Notre Dame. He led the 1-7 Yellow Jackets on their only scoring drive in a 3-3 tie.
-- Kevin Stone

Cunningham is a longtime college, CFL and NFL defensive specialist who had just one chance as a head coach in his 40-plus-year career. He had a .500 record in two seasons (1999-2000) as the Kansas City Chiefs' head coach.
The Chiefs fired Cunningham so they could hire Dick Vermeil. Cunningham then worked three seasons as an assistant for the Tennessee Titans before being rehired by Kansas City as Vermeil's defensive coordinator in 2004. He was also the Chiefs' defensive coordinator before becoming their head coach, working under Marty Schottenheimer (1995-98). He also has worked for the Colts, Chargers, Raiders and Titans and currently serves as defensive coordinator of the Lions.
Cunningham, the NFL's fourth foreign-born head coach, is a native of Germany who became a naturalized U.S. citizen in 2010.
-- Kevin Stone

Edwards was known as an intense motivator during eight seasons as head coach of the New York Jets and Kansas City Chiefs, a style that's served him well in his post-coaching career as an ESPN analyst.
He led his teams to the playoffs four times, and his 2004 Jets could have advanced to the AFC Championship Game if not for two missed field goals in the final two minutes of an overtime loss at Pittsburgh.
Edwards got into coaching after a 10-year NFL career as a cornerback. He worked under defensive-minded head coaches Marty Schottenheimer and Tony Dungy before taking over the Jets in 2001, bringing Dungy's Cover 2 defense with him. The Chiefs hired him in 2006, and he took Kansas City to the playoffs in his first season there. He was fired after the Chiefs won just six games over the next two seasons.
As a player, he is remembered for recovering an ill-timed fumble by New York Giants quarterback Joe Pisarcik and returning it for the Philadelphia Eagles' winning touchdown in the final minute of a 1978 game. The play became known as the "Miracle at the Meadowlands." At San Diego State, Edwards played alongside future Panthers and Broncos head coach John Fox in the same secondary in 1976.
-- Kevin Stone


Marrone, hired as head coach of the Buffalo Bills in 2013, played offensive line at Syracuse and had a brief NFL career with the Miami Dolphins (under Don Shula) and New Orleans Saints in the late 1980s. He had a string of coaching jobs at small colleges before holding several positions under George O'Leary at Georgia Tech (1995-99). He then worked a year each at Georgia (offensive line) and Tennessee (tight ends/offensive tackles) before entering the NFL ranks as the New York Jets' offensive line coach under Herm Edwards (2002-05).
He moved to the Saints as offensive coordinator for Sean Payton's first staff in 2006. New Orleans had the NFL's top-ranked offense twice in Marrone's three seasons there. He parlayed that success into the head-coaching job at his alma mater in 2009. In 2012, Syracuse set multiple school offensive records, tied for first in Big East and beat West Virginia in the Pinstripe Bowl.
-- Kevin Stone

McCarthy is a quarterback guru who helped Aaron Rodgers blossom into a star after the Green Bay Packers moved on from Brett Favre after the 2007 season. The move was controversial at the time, but McCarthy looked like a genius when Rodgers quickly became one of the NFL's top passers.
Rodgers led the Packers to victory in Super Bowl XLV in his third season as starter and was named NFL MVP the following year after Green Bay went 15-1.
McCarthy uses a West Coast-style offense he learned from longtime mentor Paul Hackett. McCarthy's first paid coaching job was as an offensive assistant under Hackett at Pitt (1989-92). McCarthy followed Hackett to the NFL in 1993, joining Marty Schottenheimer's staff in Kansas City. McCarthy spent six seasons as an assistant under Schottenheimer with the Chiefs, the first five while Hackett was offensive coordinator.
Before the Packers hired McCarthy as their head coach in 2006, he spent time as offensive coordinator for New Orleans (2000-2004) and San Francisco (2005). He also served as the Packers' quarterbacks coach under Ray Rhodes in 1999.
Green Bay went 8-8 in McCarthy's first season but reached the NFC Championship Game in his second season.
-- Kevin Stone

Cameron is a longtime offensive coordinator who went 1-15 in his only season as an NFL head coach, 2007 with the Miami Dolphins.
He ran a version of "Martyball" as Marty Schottenheimer's offensive coordinator in San Diego for five seasons (2002-06). The peak came in 2006 when the Chargers went 14-2 and led the NFL in scoring, with running back LaDainian Tomlinson setting a single-season record with 31 touchdowns.
Cameron got his coaching start under Michigan legend Bo Schembechler and later worked five seasons as head coach at his alma mater, Indiana. He got his NFL start as Norv Turner's quarterbacks coach with the Washington Redskins (1994-96). After the Dolphins debacle, he became John Harbaugh's offensive coordinator with the Baltimore Ravens.
-- Kevin Stone

Arians was a longtime offensive assistant before his historic interim stretch with the Indianapolis Colts helped him land his first NFL head-coaching gig. He comes from a run-first background -- he even was a wishbone quarterback at Virginia Tech -- but isn't averse to airing it out when the personnel and situation call for it.
He became the first interim coach to win the NFL's Coach of the Year honors after leading the Colts to a 9-3 mark while Chuck Pagano was treated for leukemia during the 2012 season. It was Arians' 20th season as an NFL assistant and paved the way for the Arizona Cardinals to make him their head coach in 2013.
Marty Schottenheimer gave Arians his first NFL job as Kansas City's running backs coach (1989-92). Arians also worked, and won Super Bowls, under Bill Cowher and Mike Tomlin with the Steelers (2004-11). In two stints with the Colts (1998-2000, 2012), he was Peyton Manning's first quarterbacks coach and Andrew Luck's first offensive coordinator.
Arians also worked for the Saints (1996) and Browns (2001-03). His college coaching experience includes two seasons (1981-82) as Alabama's running backs coach under the legendary Bear Bryant and six seasons (1983-88) as Temple's head coach.
-- Kevin Stone

Chudzinski grew up a Browns fan in Toledo, Ohio, and had two stints on Cleveland's staff before being hired as the team's head coach in 2013. He has displayed an innovative offensive mind and willingness to be flexible depending on his personnel.
Although Chudzinski is more closely aligned with former Browns coach Butch Davis, he also bears a two-season affiliation with Schottenheimer.
Before jumping to the NFL as the Browns' tight ends coach under Davis in 2004, Chudzinski spent 10 seasons (1994-2003), six of them under Davis, as an assistant at his alma mater, Miami. He bounced between the Browns (2004, 2007-08) and Chargers (2005-06, 2009-10), where he worked first under Schottenheimer and then Norv Turner, before heading to the Carolina Panthers for two seasons (2011-12) under Ron Rivera, whom he worked alongside in San Diego.
In Chudzinski's first season as their offensive coordinator, the Panthers set franchise records for total yards and first downs a year after setting franchise lows in those categories. The read-option offense Chudzinski developed for quarterback Cam Newton has been co-opted by other teams with dual-threat quarterbacks.
-- Kevin Stone
Special thanks to the Elias Sports Bureau for research assistance in compiling this project.
SPONSORED HEADLINES
MORE NFL HEADLINES
MOST SENT STORIES ON ESPN.COM
GREATEST COACHES IN NFL HISTORY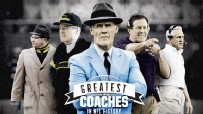 ESPN lists the top 20 coaches of all time and examines the most influential coaching trees.
Greatest Coaches in NFL History home page