Belichick: Lieutenant turned general
Defensive mastermind ultimately eclipsed success of former boss Bill Parcells
Originally Published:
May 29, 2013
By
ESPN.com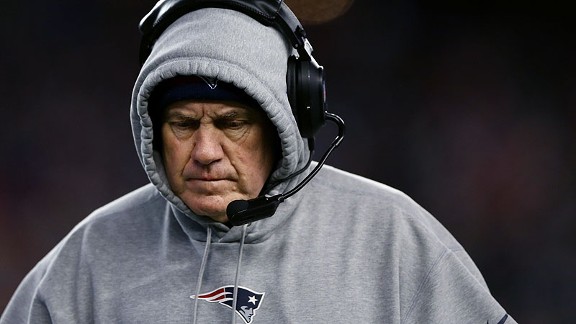 Elsa/Getty ImagesOften in his trademark hoodie, Bill Belichick has been roaming the Patriots' sideline since 2000.
ESPN celebrates the 100th anniversary of Vince Lombardi's birth with the "Greatest Coaches in NFL History" series, saluting the finest innovators, motivators, tacticians, teachers and champions ever to stalk the sidelines. Follow along as we reveal our list of the top 20 coaches of all time and document the lineage of the league's most influential coaching trees.
ESPN.com explores the coaching impact and influence of Bill Belichick in the feature below, followed by short biographies of his assistants who went on to become NFL head coaches.

New England Patriots coach Bill Belichick decided against wearing his trademark hoodie with the sleeves cut off, instead going with a suit and tie. He admitted he was out of his element, far away from his comfort zone of swinging his whistle on a practice field or breaking down practice film with his players. On this rainy Thursday morning, Belichick was delivering the keynote address at the symposium Sports Medicine and the NFL: The Playbook for 2013.
Call it one of the early upsets of the 2013 season: the coach who loathes injury reports, refers to almost every banged-up player as "day to day" and often says, "I am not a doctor," when questioned about injuries, addressing a group of athletic trainers, doctors and the like.
The keynote address was called "Building a Champion," which is something Belichick knows a thing or three about, having directed the Patriots to Super Bowl titles in the 2001, 2003 and 2004 seasons. He is the only coach in NFL history to win three in a span of four years and is one of nine NFL coaches to win three or more championships since the league began postseason play in 1933.
GREATEST COACHES IN NFL HISTORY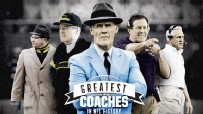 This series is a collaborative effort between ESPN TV, ESPN.com, ESPN Digital Video, ESPN The Magazine,
the Elias Sports Bureau, ESPN Radio
and ESPN Stats & Info.
Counting down to the 100th anniversary of Vince Lombardi's birth on June 11, 2013, we selected the top 20 coaches of all time, as chosen by a blue-ribbon panel of ESPN analysts and writers.
We've also traced the NFL's evolution with 14 extensive features on the league's most significant coaching trees.
In all, we've profiled 175 coaches in more than 50,000 words, a colossal project befitting the greatest coaches in NFL history.
Also see:
• Countdown: No. 7 -- Bill Belichick
• ESPN Boston: Top Pats draft picks


• "Greatest Coaches" home page
Belichick shared his "three P's" -- passionate people, preparation and performance -- that serve as the foundation for the Patriots' program. They have spread across the NFL and college football as his assistants have moved on over the years and those not connected to the Patriots have attempted to model their clubs after the Patriots' sustained model of success. He explained why mental toughness is so important to him, and the crucial role of leadership.
For a coach often described as tight-lipped, it was a revealing peek behind his Patriots curtain. It's a view team owner Robert Kraft has seen up close for the past 14 years. And when Kraft considers the challenges of building a consistent winner in the modern NFL, it's something he believes puts the 61-year-old Belichick -- who has final say over personnel and is heavily involved in managing the salary cap -- at the top of the all-time coaching ledger.
"I feel he probably is the best [coach of all time]," Kraft said of Belichick. "The bulk of his coaching has been during the free-agency period, and a lot of the coaches being considered [as the best ever] didn't have free agency. They had a personnel situation where they could build strength and maintain easier than this environment with the way free agency works."
Among his many accomplishments, Belichick is the first head coach in NFL history to record 10 or more victories in 10 consecutive seasons. He has directed the Patriots to five Super Bowl appearances, tied with the Cowboys' Tom Landry for the second-most in NFL history -- behind only Don Shula, with six. And his career winning percentage of .653 (205-109) ranks third all-time among head coaches with 150 or more wins, trailing only Hall of Famers George Halas (.682) and Shula (.666). His 18 postseason victories trail only Landry (20) and Shula (19).
When it comes to his legacy, which is still evolving, Spygate is also part of it; how big a part is debated by some. The team's illegal videotaping procedures (specifically filming signals of opposing coaches from an unauthorized location) led the NFL to strip the franchise of a 2008 first-round draft choice while fining Belichick a record $500,000.
When it comes to his coaching style, ESPN analyst Tedy Bruschi -- who played linebacker for Belichick from 2000 to 2008 -- described an atmosphere in which players are encouraged to "think outside the box." When working with defensive players, for example, Belichick often taught offensive strategy because he wanted them to understand the big picture of how the opponent was attacking them.
"It's advanced levels of thinking," Bruschi said, mentioning how another staple of Belichick's coaching is "situational football" -- creating situations in practice and in the meeting room that players might encounter in a game to keep them mentally sharp. As for Belichick's delivery, "profanely blunt with a mixture of dry humor" hits the bull's-eye from Bruschi's viewpoint.
Preparation and attention to detail are hallmarks of Belichick's work and qualities that inspire his players to compete to the very best of their abilities. "I don't think there is anyone on his equal, being as focused and on his game that every 'I' is dotted and every 'T' is crossed, every punctuation mark where it's supposed to go. There can't be anybody better than that," said former longtime Patriots wide receiver Troy Brown. "He puts a lot of responsibility on his players, and there's pressure to perform. I think that's the way it should be. I'd go through a brick wall for him."
Other traits that separate Belichick from most of his peers are his ability to spot talent where others overlook it, the flexibility to shape his game plan to roster strengths and his willingness to offer specific instruction to players regardless of position.
Charles LeClaire/USA TODAY Sports Belichick's keen eye for talent has helped the Pats reload year after year without missing a beat.
"Knowing his personnel, adapting to the personnel group he has. Those little things that really matter are what drives him," said former longtime Patriots running back Kevin Faulk. "What is going to be the makeup of his team each and every year? As a football coach, you have to have a good understanding. & You have to be a real good coach to coach a team, but it takes a great coach to coach guys individually and to get them to react the way they need to react in a game."
Most transcendent coaches have prospered with a marquee quarterback, and Belichick is no exception. One can't mention Belichick's success without noting Tom Brady's role in it, as no player has been more important to the franchise's unprecedented run of success since 2001. Still, in the one season (2008) that the Patriots didn't have Brady -- the future Hall of Fame quarterback tore his ACL on the 15th offensive play of the year -- the Patriots went 11-5, as the team's depth ensured it wouldn't have the kind of collapse that befell the Peyton Manning-less Colts in 2011.
"It's the reason I hired him," Kraft said. "What's great about him is that he doesn't just know the X's and O's, but understands the economics of the game and how the salary cap works, how to evaluate talent from the point of view of having been a special-teams coach and a defensive coach.
"I think of how different the game is now versus what it was before '94 [when Kraft bought the franchise], how rosters change every year, and the turnover is incredible compared to what others dealt with [in past eras]. We're in the quality depth management business, and Bill's ability to assess value and build depth [sets him apart]. I really do think managing in this era it's so much tougher than when there wasn't free agency."
-- Mike Reiss
Saban is known much more for his college coaching accomplishments than for his short tenure as an NFL head coach. He went 15-17 without a playoff appearance in two seasons with the Miami Dolphins (2005-06).
After a decade as an assistant in the collegiate ranks, Saban entered the NFL coaching defensive backs for two seasons with the Houston Oilers under Jerry Glanville (1988-89). He took over as head coach at Toledo in 1990, but returned to the NFL one season later as Browns defensive coordinator under first-year Cleveland head coach Bill Belichick. Saban and Belichick inherited a defense that allowed the most points in the league in 1990, and by 1994 the Browns allowed the fewest points in the league.
Buoyed by that success, Saban became head coach at Michigan State in 1995, returning to the school where he had served as defensive coordinator in the 1980s. Saban guided the Spartans to four bowl appearances in five years and then became head coach at LSU for the 2000 season. He remained in Baton Rouge for five seasons, leading the Tigers to the 2003 BCS championship.
After Saban's brief tenure with the Dolphins, he resurrected the program at Alabama, winning three BCS titles in six seasons.
-- Kevin Stone

Mangini traveled a road to an NFL coaching career like no other, starting in Australia and including a detour as a ball boy for the Cleveland Browns. He eventually landed two NFL head-coaching jobs, making one playoff appearance in five seasons.
He played nose tackle at Wesleyan University, where he still holds school records for most sacks in a career and a single season, and got hooked on coaching before graduating.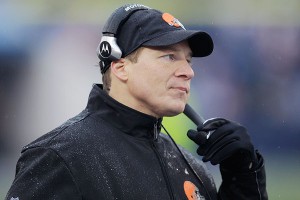 AP Photo/David Duprey Fifteen years before becoming the Browns' head coach, Eric Mangini worked as ball boy for the team.
During his junior year, he studied in Australia, where his older brother worked as an investment banker. Mangini was then recruited to be head coach of a semipro team, which he guided to a regional championship with his brother playing on the defensive line.
After that experience, he became a Browns ball boy in 1994 at the suggestion of former Wesleyan head coach Kevin Spencer, who coached Cleveland's special teams. Mangini's work ethic caught the eye of the Browns' head coach, fellow Wesleyan alum Bill Belichick, who gave Mangini his entry into NFL coaching. Mangini remained with the franchise as an offensive assistant when it moved to Baltimore in 1996, then he joined Belichick on the New York Jets' staff under Bill Parcells the following year. When Belichick became Patriots head coach in 2000, Mangini followed along. He wound up winning three Super Bowls under Belichick in New England before becoming head coach of the Jets (2006-08) and then coming full circle with the Browns (2009-10), where he succeeded another former Belichick and Parcells assistant, Romeo Crennel.
-- Kevin Stone

At age 33 and with just eight seasons as a professional coach under his belt, McDaniels became one of the youngest head coaches in NFL history when the Denver Broncos hired him in 2009. He lasted less than two seasons, going 11-17 and getting fired 12 games into the 2010 season.
McDaniels started his career with the New England Patriots and was on Bill Belichick's staff for three Super Bowl championships. He was offensive coordinator for the 2007 team that set an NFL record by scoring 589 points.
His only pre-NFL experience was as a graduate assistant under Nick Saban at Michigan State.
McDaniels served as offensive coordinator of the Rams in 2011 and returned to Belichick's staff in New England in the same role in 2012.
-- Kevin Stone
Two of Belichick's most prominent assistants, Romeo Crennel and Charlie Weis, are more significantly aligned with Parcells. Crennel coached alongside Parcells at Texas Tech from 1975 to 1977 and served as a Parcells assistant for 15 years with the Giants, Patriots and Jets. Weis, the former Notre Dame and current Kansas head coach, never became an NFL head coach. He worked as an assistant to Parcells for eight seasons and to Belichick for five seasons.
Belichick's role as a developer of talent shouldn't be minimized, though. Consider some of the personnel from his tenure as head coach of the Browns. Future NFL executives Ozzie Newsome, George Kokinis, Vince Newsome, Terry McDonough, Scott Pioli, Thomas Dimitroff, Mike Tannenbaum and Phil Savage were on staff, as were future college head coaches Kirk Ferentz and Pat Hill. Saban and Mangini, as mentioned above, were also Belichick assistants in Cleveland.
Special thanks to the Elias Sports Bureau for research assistance in compiling this project.
GREATEST COACHES IN NFL HISTORY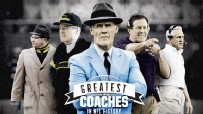 ESPN lists the top 20 coaches of all time and examines the most influential coaching trees.
Greatest Coaches in NFL History home page


EDITORS' PICKS
Many teams created buzz, but who has done the best work in free agency? Our experts hand out grades.
Sando

Mark Ingram had a breakout 2014. That's not the only reason the Saints RB is feeling blessed these days.
Triplett »

Darrelle Revis is just what the Jets' D needed. Which other '15 acquisitions will pay immediate dividends?
Williamson


MOST SENT STORIES ON ESPN.COM