George Halas' coaching tree, legacy
Longtime Bears player/coach/owner 'was the foundation of everything' in NFL
Originally Published:
May 24, 2013
By
ESPN.com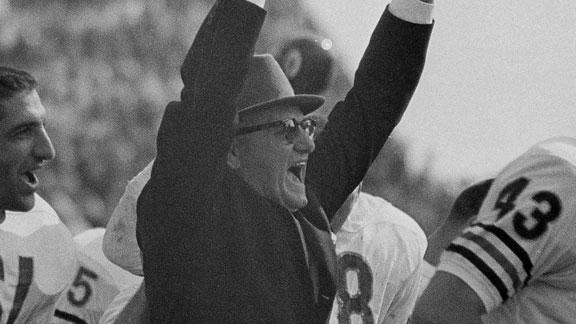 Coaching Tree: George Halas
Mike Ditka discusses the impact George Halas had on the NFL.
Coaching Tree: George Halas
ESPN celebrates the 100th anniversary of Vince Lombardi's birth with the "Greatest Coaches in NFL History" series, saluting the finest innovators, motivators, tacticians, teachers and champions ever to stalk the sidelines. Follow along as we reveal our list of the top 20 coaches of all time and document the lineage of the league's most influential coaching trees.
The George Halas coaching tree is documented in the chart below, followed by a feature on Halas and short biographies of his many disciples.
This package also includes a feature on the George Allen branch of Halas' tree.


In his 70s and 80s, George Halas still lifted weights and rode a stationary bike in his office, swished his one and only shot at the grandkids' backyard hoop from a concrete landing five steps up from the court and a good 25 feet away and even took an at-bat during one memorable whiffle ball game.
"I didn't know at the time but he was a switch-hitter with the Yankees, and I remember when he got up, he batted lefty," said Chicago Bears chairman George McCaskey, one of Halas' 13 grandchildren. "And on the first pitch, he took a strong swing and lashed one to the outfield. I can't remember if someone ran for him or he ran himself, but even when he got older, he still had a fire in his belly and a glint in his eyes."
The Halas legacy, 30 years following his death at 88 from cancer, varies depending on whom you talk to, but it is no less dominant or enduring.
"Very simply, George Halas is the father of the NFL, no matter how you cut it," said Mike Ditka, the Hall of Fame tight end who played on Halas' 1963 world champion Bears and later was hired by Halas as head coach. "He persevered in bad times and made pro football where it is today with the first television contracts, robbing Peter to pay Paul in the beginning.
GREATEST COACHES IN NFL HISTORY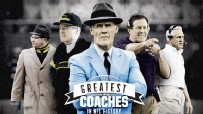 This series is a collaborative effort between ESPN TV, ESPN.com, ESPN Digital Video, ESPN The Magazine,
the Elias Sports Bureau, ESPN Radio
and ESPN Stats & Info.
Counting down to the 100th anniversary of Vince Lombardi's birth on June 11, 2013, we selected the top 20 coaches of all time, as chosen by a blue-ribbon panel of ESPN analysts and writers.
We've also traced the NFL's evolution with 14 extensive features on the league's most significant coaching trees.
In all, we've profiled 175 coaches in more than 50,000 words, a colossal project befitting the greatest coaches in NFL history.
Also see:
• Countdown: No. 4 -- George Halas
• ESPN Chicago: 50 greatest Bears


• George Allen tree branch
• Halas coaching tree gallery


• "Greatest Coaches" home page
"There were obviously others, but he's the reason, I believe, that the NFL turned out to be what it is today. I think he was the foundation of everything."
Halas simply played the role of grandfather to the kids, said McCaskey, whose mother was one of two Halas children (son George Jr., nicknamed "Mugs," was the Bears' president when he died in 1979 at age 54).
"But he had such a dynamic presence," McCaskey said. "He was one of those guys who as soon as he walked through the door you knew he was there."
Halas' life story has almost mythical qualities. At age 20, as a part-time employee at Western Electric in Chicago, he was invited to take a day trip on the SS Eastland for what was to be a picnic in Michigan City, Ind. Halas was late to the dock and missed the capsizing of the Eastland, which killed 844 passengers and crew in the largest loss of life from a single shipwreck on the Great Lakes.
"He referred to it often," McCaskey said. "He talked about how lucky and how blessed he was."
A civil engineering major and football and baseball standout at the University of Illinois, Halas played briefly for the New York Yankees before an injury ended his career. He was a Navy ensign in 1918, serving during World War I, returned to duty in 1942 and was awarded the Bronze Star for his overseas service during World War II.
But it was a job with A.E. Staley -- a starch manufacturer in Decatur, Ill., for whom he was a sales rep and member of the company baseball and football teams -- that would spur his lifelong passion. A 1920 meeting at Ralph Hay's Hupmobile showroom in Canton, Ohio, in which Halas represented the Decatur Staleys as player/coach, gave birth to the American Professional Football Association, which became the National Football League in 1922.
Halas became the team's owner early on before moving it to Chicago in 1921 and renaming it the Bears the following year. Halas played until 1928, once returning a fumble by Jim Thorpe of the Oorang Indians 98 yards for a touchdown and setting an NFL record that would stand for 49 years. But he would receive his greatest recognition for his 40 years of coaching. He won six league championships and racked up 324 career wins before retiring from coaching on May 27, 1968, at 73.
Halas was credited with helping Clark Shaughnessy develop the T-formation, which set a man in motion for the first time, laying the foundation for today's wide-open offenses. He also popularized daily practices and introduced radio broadcasts and PA systems to the game. But it was always more about what he helped implement than what he created.
"[Halas] was signing all the best players, but in [the 1930s] he recognized the NFL needed to have a player draft," said Don Pierson, who covered the Bears and the NFL for the Chicago Tribune for more than 30 years beginning in 1969. "That was the thing about Halas. He was so powerful, and with the Bears in a big market and his background, even if it was not his idea, he had to agree with things in order for them to happen.
ALLEN'S INFLUENCE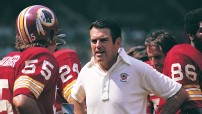 George Allen is responsible for a large portion of Halas' coaching tree. The second part of this feature looks at Allen's sphere of influence.
• The George Allen tree branch
• Halas coaching tree gallery

"[The draft] may have been [Philadelphia Eagles co-owner] Bert Bell's idea, but if Halas hadn't gone along, it wouldn't have happened. It was the same thing with sharing television revenue. It may not have been his idea initially, but they had to get him on board. He just as well could have torpedoed the league by going his own way."
McCaskey agreed, saying that while his grandfather's vision is one of his greatest gifts to the league -- "I don't know that he could have anticipated pro football would become what it is today, but he knew he had something; he just had to get America to pay attention to it." -- it was his wisdom that has the most lasting impact.
"[The NFL] is still benefiting from his determination to put the league first," he said. "He felt very strongly that what was good for the league was good for the Bears, and sometimes that meant casting a vote or backing a plan that was not necessarily in the best interest of the Bears short term but would benefit the league long term."
While the Bears and Packers have continued one of the longest and fiercest of NFL rivalries, Halas' support of Green Bay over the years was essential to keeping the franchise going. He traveled there to encourage voters to approve a 1956 referendum to build a new stadium.
"My grandfather said the NFL is like a wheel," said McCaskey's older brother Pat, who serves on the Bears' board of directors and is the author of two books on Halas. "The league is the outer rim and the teams are the spokes, and if you have a weak spoke, you have a weak wheel."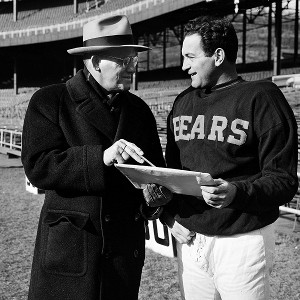 AP Photo Three of George Halas' six championships came with Sid Luckman as his quarterback.
Halas' reputation for prudent spending is still legendary after Ditka famously said the man they called Papa Bear "threw nickels around like they were manhole covers."
"That was a joke," said Ditka, who coached the Bears to a Super Bowl championship two years after Halas' death. "He was frugal or whatever you want to call it, but if he hadn't been, the league wouldn't have worked. He had to do it the way he did it."
"You hear his former players talk," said George McCaskey, "and they say he was a tough negotiator. But they will also say if you were ever in a jam he wouldn't hesitate to help you out and he was the first person they would turn to."
And those nickels he saved?
"They can now be thrown around like Frisbees -- very skillfully," joked Pat McCaskey.
Halas ran the Bears as its CEO until his death on Oct. 31, 1983, and Chicago's jerseys still bear his initials "GSH."
"When I was in the ticket office," said George McCaskey, "one of my favorite parts of the job was that people felt compelled to tell you how they got season tickets, and often it was, 'I was walking down the street and bumped into your grandfather and said, "Hey, Coach, how do I get season tickets?"' And my grandfather would say, 'Stop by my office and talk to my secretary.'
"They would tell me, 'That was 60 years ago, and the season tickets are still in my family.' But time after time, the thrust of the story was how approachable he was. For how prominent a person he was, that was one of his favorite things to do, talk to Bears fans."
--Melissa Isaacson


Stydahar was the first player ever drafted by the Chicago Bears, and he followed a Hall of Fame playing career by winning an NFL championship as the Los Angeles Rams' head coach.
The NFL held its first draft in 1936, and the Bears' George Halas selected Stydahar out of West Virginia with the team's inaugural pick, No. 6 overall. "Jumbo Joe" was a four-time Pro Bowler and three-time champion in his nine-season career, playing both ways during Chicago's original "Monsters of the Midway" days.
Stydahar joined the Rams as an assistant after he finished playing in 1946, and he became head coach in 1950. That season, the Rams lost to Paul Brown's Cleveland Browns on a late Lou Groza field goal in the NFL championship game. The Rams beat the Browns in a 1951 championship rematch, but organizational infighting prompted Stydahar's exit one game into the following season.
He landed as the Chicago Cardinals' head coach in 1953, but the team fired him after winning just three games in two seasons. Stydahar later worked for two years as an assistant for Halas' Bears, including the 1963 championship season.
-- Kevin Stone


Pool won championships as a player and assistant coach and later became a scouting pioneer.
In 1940, Pool was drafted by George Halas' Chicago Bears, who would win three of the next four NFL championships. He also was a player/coach for the Miami Seahawks of the All-American Football Conference.
He coached for the AAFC's Chicago Rockets before joining the staff of former Bears teammate Joe Stydahar with the Los Angeles Rams in 1950. The Rams won the NFL championship in 1951, but Stydahar feuded with Pool and resigned one game into the 1952 season. Pool took over and led the Rams to the playoffs. The Rams had two more winning seasons before Pool was fired amid reports of player dissension and replaced by Sid Gillman.
Pool coached the Toronto Argonauts before returning to the Rams as an assistant in 1960. When his coaching days were over, he helped start one of the NFL's earliest scouting agencies, serving the Rams, San Francisco 49ers, Dallas Cowboys and New Orleans Saints.
-- Kevin Stone

Richards won NFL championships as a player and assistant coach but lost twice as often as he won during his three seasons as the Chicago Cardinals' head coach in the 1950s.
He was a lineman for three teams in the 1930s and played under George Halas on the Chicago Bears' 1933 championship team. Richards worked as an assistant at UCLA and Pepperdine before becoming Pepperdine's head coach.
He moved to the NFL coaching ranks as an assistant under former Bears teammate Joe Stydahar with the Los Angeles Rams (1951-52), who won the NFL championship upon Richards' arrival. He worked for the Baltimore Colts in 1953, their inaugural season, then rejoined Stydahar with the Cardinals in 1954.
Stydahar was fired and replaced by Richards for the 1955 season. Richards appeared to have the Cardinals on the right track when they went 7-5 in 1956, but he resigned with a 14-21-1 career mark after they fell to 3-9 in 1957. He stayed in coaching for one more season as an assistant for Ray McLean in Green Bay but retired from the profession after the Packers went 1-10-1 in 1958.
During his playing career, Richards wrestled in the offseason.
-- Kevin Stone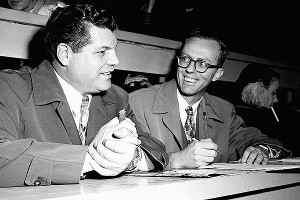 AP Photo/Ernest Bennett Gene Ronzani, left, was Packers coach for four seasons but never got them to finish above .500.
Ronzani was the second head coach/general manager in Green Bay history, succeeding franchise founder Curly Lambeau. The Packers were in decline when Ronzani took over, and he was unable to reverse their fortunes.
He was a multisport star at Marquette -- winning a total of nine letters in football, basketball and track and field -- before playing multiple positions for the Chicago Bears under George Halas. When Ronzani's playing days were done, he joined Halas' coaching staff in 1947.
The Packers hired Ronzani in 1950 after Lambeau called it quits following two seasons in which the team won a total of five games. Ronzani resigned 10 games into the 1953 season with a 14-31-1 career record. Future Buffalo Bills coach and Hall of Famer Jim Ringo was a Green Bay rookie during Ronzani's final season.
-- Kevin Stone

McLean's lone season as Green Bay's head coach was the low point in Packers history, but it also paved the way for the Vince Lombardi glory years.
McLean won four championships in eight seasons as a player for George Halas' Chicago Bears before becoming a Packers assistant coach under Gene Ronzani in 1951. After Ronzani resigned late in the 1953 season, Green Bay went 0-2 with McLean and Hugh Devore working as co-interim head coaches.
Lisle Blackbourn took over the Packers in 1954 but was fired and replaced by McLean after the 1957 season. The Packers responded with a franchise-worst 1-10-1 record in 1958, and McLean resigned.
The Packers brought in Lombardi, who had been running the New York Giants' offense, and embarked on a nine-season run that included five championships. McLean continued coaching as an assistant to former Bears teammate George Wilson with the Detroit Lions. McLean was diagnosed with cancer during the 1963 season and died in March 1964. He was 48.
-- Kevin Stone

Driscoll was a player-coach for the Chicago Cardinals in the 1920s during the NFL's fledgling stage and later coached the Chicago Bears for two seasons in the 1950s while George Halas went on hiatus.
Driscoll played at Northwestern and then for the Cardinals from 1920 until their 1925 NFL championship season. He also coached the team from 1920-22. Driscoll was traded to Halas' Bears in 1926 and played through 1929. He was a standout on offense and defense and excelled at drop-kicking field goals.
He later was the head coach at Marquette University before joining Halas' coaching staff with the Bears in 1941.
Driscoll remained as a Bears assistant for the next decade and a half. When Halas took a break from coaching in 1956 and '57, Driscoll took over as head coach and led Chicago to the '56 championship game. Halas returned as head coach in '58, and Driscoll remained on his staff through 1962.
He was inducted into the Pro Football Hall of Fame as a player in 1965.
-- Shawna Seed

Wilson's legacy includes winning NFL championships as a player and a coach, giving Don Shula his first NFL coaching job and serving as the Miami Dolphins' first head coach.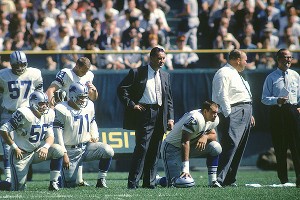 Robert Riger/Getty Images The Lions haven't won a championship since George Wilson's first season as head coach in 1957.
Wilson was a three-time Pro Bowl end and played on four championship teams in a 10-year career with George Halas' Chicago Bears (1937-46). He became an assistant coach under Halas (1947-48) before joining Detroit's staff. The Lions won two NFL championships under Buddy Parker while Wilson was an assistant.
When Parker resigned two days before the first exhibition game of 1957, Wilson became Detroit's head coach. The Lions won their third championship of the decade that season, and Wilson was named AP Coach of the Year. In 1960, Wilson hired Shula, who had been a college assistant at Virginia and Kentucky, as defensive backs coach. Shula would work under Wilson for three seasons before being snapped up by the Baltimore Colts and embarking on the winningest head-coaching career in NFL history.
Wilson resigned from Detroit after the 1964 season and was an offensive assistant for the Washington Redskins in 1965. In 1966, the AFL expansion Dolphins hired Wilson. After four losing seasons, Miami fired Wilson and replaced him with Shula in 1970, the year of the AFL-NFL merger.
-- Kevin Stone


Turner was a Hall of Fame player for George Halas' Chicago Bears during their "Monsters of the Midway" era and the last coach of the New York Titans before they became the Jets.
A first-round pick in 1940, Turner was a Pro Bowler four times in 13 seasons as a center and linebacker for the Bears. He ran once from scrimmage as a pro, against the wartime combined Steelers-Cardinals team. Chicago's running backs had been ejected for fighting, and Turner rumbled 48 yards for a touchdown. After winning four NFL championships as a player, the native Texan worked on the Baylor staff for a year then rejoined Halas' Bears as an assistant from 1952-56.
He took a break from football before being hired by the Titans in 1962 to replace Sammy Baugh, who had coached the team for its first two seasons of existence. Interestingly, Baugh preceded Turner at Newman High in Sweetwater, Texas. Turner also returned a Baugh pass for a 96-yard touchdown -- with Baugh hanging on to him for the final seven yards -- during a Bears win over Washington in 1947.
New York went 5-9 under Turner, who was replaced by Weeb Ewbank when the team was sold and rechristened as the Jets in 1963.
-- Kevin Stone


The Washington Redskins had experienced one winning season in 15 years when Allen took over in 1971. The next season, his team reached the Super Bowl. In 12 seasons as a head coach -- first with the Los Angeles Rams and then in Washington -- Allen compiled a regular-season record of 116-47-5.
CHARTING HIS OWN COURSE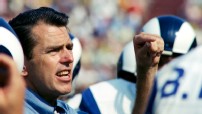 After leaving George Halas' side, George Allen left his own mark as an influential head coach. The second part of this feature focuses on Allen and his disciples.
• The George Allen tree branch
• Halas coaching tree gallery

Allen began his coaching career at Morningside College in 1948. He then coached at Whittier College for six seasons. In 1957, he joined Sid Gillman's staff as an assistant with the Rams. A year later, he worked under George Halas in Chicago as a defensive assistant. Allen served as Bears defensive coordinator for eight seasons and supervised the drafts that produced Hall of Famers Gale Sayers, Mike Ditka and Dick Butkus.
He accepted an offer to become the Rams' head coach in 1966, but Halas filed suit to keep him from doing so. Halas eventually withdrew the case, and Allen guided the Rams for five seasons, making the playoffs twice.
When he became the head coach in Washington, he adopted "the future is now" as his slogan and developed a reputation of trading draft picks for veterans who could contribute immediately. Allen spent freely on personnel, and Redskins president Edward Bennett Williams famously said, "I gave George an unlimited budget, and he exceeded it."
Allen was fired in Washington after the 1977 season. He returned briefly to the Rams as head coach, but his tenure was turbulent and he was fired before the regular season began. He would later coach in the USFL and at Long Beach State.
Allen's staffs with the Rams included Marv Levy and Howard Schnellenberger and Dick Vermeil in their first NFL jobs. Levy also worked under Allen in Washington, as did Ted Marchibroda.
-- Shawna Seed

Dooley was a lifelong member of the Chicago Bears, playing and coaching under George Halas before succeeding Papa Bear as head coach.
The Bears drafted Dooley, a receiver/defensive back, out of the University of Miami in the first round of the 1952 draft. He retired from playing before the 1962 season and became the Bears' wide receivers coach, a position he held when Chicago won the 1963 NFL championship. Dooley became the Bears' defensive coordinator in 1966, replacing George Allen, who left to become head coach of the Los Angeles Rams.
Halas ended his 40-season, Hall of Fame coaching career before the 1968 season, handing the reins over to Dooley. The Bears finished 7-7 in 1968, which would be their best mark under Dooley. He was fired after four seasons with a 20-36 record. He worked a season as the Buffalo Bills' linebackers coach before a foray into coaching with the ill-fated World Football League and then spent several years away from the sport.
He returned to the Bears in 1981 as an offensive assistant. His title became quality control coach in 1982 when Mike Ditka replaced Neill Armstrong as head coach. He remained in that role, providing scouting reports off opponents' game film, until 1990 and contributed to the Bears' 1985 championship season.
-- Kevin Stone


Ringo had a Hall of Fame playing career and coached in the NFL for more than two decades, but his head-coaching résumé is short and forgettable.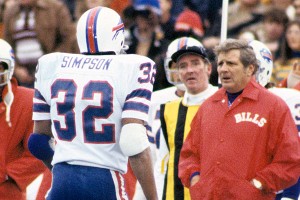 Dick Raphael/USA TODAY Sports Jim Ringo was the Bills' offensive coordinator when O.J. Simpson broke the 2,000-yard barrier and later served as Buffalo's head coach.
He went to 10 Pro Bowls, was named first-team All-Pro six times and won two NFL championships during his 15-year career (1953-67) as a center with the Packers and Eagles. He played five seasons in his prime for Vince Lombardi and was a Pro Bowler and All-Pro in each of those years.
In 1968, he was hired as the Chicago Bears' offensive line coach under Jim Dooley, who had just replaced George Halas. Ringo moved to Buffalo in 1972 to take the same role under Lou Saban. The next season, Bills running back O.J. Simpson became the NFL's first 2,000-yard rusher. When Saban resigned five games into the 1976 season, Ringo became the head coach. But the Bills lost their final nine games that year and went 3-11 in 1977, bringing an end to Ringo's head-coaching career.
He kept working as an offensive assistant for the Patriots (1978-81), Rams (1982) and Jets (1983-84) before returning to the Bills (1985-87) to finish his career.
-- Kevin Stone

Gibron was a Pro Bowl player and colorful character who became the Chicago Bears' head coach for three seasons of their lost era between George Halas and Walter Payton.
Gibron went to four Pro Bowls as a guard for Paul Brown's Cleveland Browns and also played for the Bills, Eagles and Bears (under Halas).
In his 11-season playing career, he was on three championship teams. In his 24-season career in the NFL coaching ranks, his teams won a total of one playoff game.
He spent four seasons as an assistant for the Redskins before joining Halas' staff as Chicago's offensive line coach in 1965. Halas retired before the 1968 season, and his replacement, Jim Dooley, was fired after four rocky seasons. It didn't get any better when Gibron took over in 1972, and he was fired after the Bears went 11-30-1 in three seasons. The Bears went 4-10 in Gibron's final season, putting them in position to draft Payton with the fourth overall pick of the 1975 draft.
Gibron coached Chicago's entry in the World Football League for a year before joining the expansion Tampa Bay staff in 1976, and he stayed with the Buccaneers until 1984. The surprising 1979 Bucs provided Gibron with the only postseason victory of his coaching career.
-- Kevin Stone
Special thanks to the Elias Sports Bureau for research assistance in compiling this project.
GREATEST COACHES IN NFL HISTORY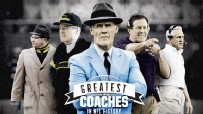 ESPN lists the top 20 coaches of all time and examines the most influential coaching trees.
Greatest Coaches in NFL History home page


EDITORS' PICKS
Denver used the franchise tag on Demaryius Thomas, but there's still urgency to complete a long-term deal.
Legwold »

Clayton's mailbag: The "minimum spend" rule will make free agency interesting. Plus: AP's options and more.
Mailbag »

As wearable performance technology gets closer to becoming a staple, one player sees a major downside.
Seifert »

MOST SENT STORIES ON ESPN.COM