Mike Holmgren's sphere of influence
Champion with Packers proved himself worthy, expanded Walsh's coaching tree
Originally Published:
June 10, 2013
By
ESPN.com
ESPN celebrates the 100th anniversary of Vince Lombardi's birth with the "Greatest Coaches in NFL History" series, saluting the finest innovators, motivators, tacticians, teachers and champions ever to stalk the sidelines. Follow along as we reveal our list of the top 20 coaches of all time and document the lineage of the league's most influential coaching trees.
The Mike Holmgren branch of the Bill Walsh coaching tree is documented in the chart below, followed by a feature on Holmgren and short biographies of his disciples.

ESPN celebrates the 100th anniversary of Vince Lombardi's birth with the "Greatest Coaches in NFL History" series, saluting the finest innovators, motivators, tacticians, teachers and champions ever to stalk the sidelines. Follow along as we reveal our list of the top 20 coaches of all time and document the lineage of the league's most influential coaching trees.

Mike Holmgren knew he had a good team in 1996. With an offense led by quarterback Brett Favre and a defense led by defensive end Reggie White, the Green Bay Packers breezed through the regular season, winning 13 games by an average of 21.3 points per game. In the playoffs, the Packers beat San Francisco by 21 points and then Carolina by 17.
And still, heading into the Super Bowl, where the Packers would face a New England Patriots team coached by the legendary Bill Parcells, Holmgren had this thought:
"Man, do belong here against this guy in this game?"
GREATEST COACHES IN NFL HISTORY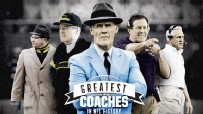 This series is a collaborative effort between ESPN TV, ESPN.com, ESPN Digital Video, ESPN The Magazine,
the Elias Sports Bureau, ESPN Radio
and ESPN Stats & Info.
Counting down to the 100th anniversary of Vince Lombardi's birth on June 11, 2013, we selected the top 20 coaches of all time, as chosen by a blue-ribbon panel of ESPN analysts and writers.
We've also traced the NFL's evolution with 14 extensive features on the league's most significant coaching trees.
In all, we've profiled 175 coaches in more than 50,000 words, a colossal project befitting the greatest coaches in NFL history.
Also see:
• Bill Walsh coaching tree
• Walsh/Holmgren tree gallery


• Countdown: No. 2 -- Bill Walsh
• "Greatest Coaches" home page

Holmgren belonged. He belonged because he was a master communicator, and because four seasons earlier, when he finally got the shot to be a head coach in the National Football League that he wasn't sure would ever come, he assembled a talented coaching staff that could effectively convey his message. Having learned the West Coast offense at the feet of the great San Francisco 49ers coach Bill Walsh, Holmgren was an innovative playcaller, a detail-oriented taskmaster, a straight shooter and a demanding leader.
Holmgren belonged because after endless meetings and countless grey hairs, he finally was able to "rein in," as he said, his young, risk-taking quarterback and get Favre to understand what it took to become a champion.
Holmgren more than belonged against a man he admired, and the Packers proved it on Jan. 26, 1997, when they beat the Patriots 35-21 to win Super Bowl XXXI. Holmgren got another shot a year later in Super Bowl XXXII against Denver with a team he felt was more talented, but he could not convince his players that the Broncos would be tough to beat. It is a game that haunts him still.
In 17 seasons as an NFL head coach, seven in Green Bay and 10 with the Seattle Seahawks, Holmgren's teams amassed a 161-111 regular-season record, a 13-11 postseason record, eight division titles and three NFC championships. He belongs in the discussion of the NFL's greatest coaches for a simple reason that Andy Reid, who was a part of Holmgren's original Green Bay staff, gave:
"I have a hard time believing anybody does it better than him," said Reid, who is entering his 15th season as an NFL head coach.
Holmgren's coaching career began at the high school level in his native San Francisco. He was the quarterbacks coach at BYU and worked with Steve Young for two seasons -- when Bill Walsh hired him in San Francisco in 1986. During his tenure as a 49ers assistant, Holmgren worked with Hall of Fame quarterbacks Joe Montana and Young. He became the offensive coordinator under George Seifert after Walsh's retirement.
In 1992, the Green Bay Packers hired Holmgren for his first head-coaching job at any level.
Holmgren took over a Green Bay team that had only two winning seasons in the previous 19 years and went 4-12 the year before his arrival. For years, he had given great thought about who he would hire for his coaching staff, and his initial staff became legendary: Jon Gruden, Steve Mariucci, Ray Rhodes, Dick Jauron and Reid, among others. Holmgren wanted teachers who understood the game and could communicate with players, because, as he said, "It doesn't matter how much I know; it's what I can get the player to do for me on the field."
That was never more true than with his quarterback. The Packers finished 9-7 in 1992, Holmgren's first season, and then made the playoffs with a 9-7 record in 1993, beating Detroit in a wild-card game and then losing to Dallas in a game in which Favre threw two touchdowns but also two interceptions.
Before the next season, Holmgren had what he called "a come to Jesus" meeting with Favre.
"Here's what I'd like to do," Holmgren told Favre. "We've got to get rid of these interceptions and play a little more controlled."
"Mike, that's how I play," Favre replied. "That's how I do things. And we got to the playoffs."
Holmgren knew Favre had a point.
"I hear you," Holmgren told Favre. "And you're right, but if you play like that, we're always going to be 9-7. We're always going to get to the playoffs, probably, and then lose. You don't want that. You want to be better than that."
Favre listened. The message resonated. About a year later, on a plane home from a game the Packers had won, Favre took the open seat next to Holmgren.
"You know what?" Favre said. "I got it."
"We became a very good football team after that," Holmgren said.
After seven seasons, three NFC Central division crowns and two Super Bowl appearances, Holmgren left what he calls the greatest coaching job in the NFL for a chance to have total control over all personnel decisions in Seattle. The Seahawks gave Holmgren an eight-year contract to be their head coach, executive vice president and general manager. Four years later in 2002, Seattle stripped Holmgren of the executive role. Two years after that, the Seahawks won their first of four consecutive division titles. In 2005, Seattle finished the regular season 13-3 and made the franchise's only Super Bowl appearance, losing to Pittsburgh.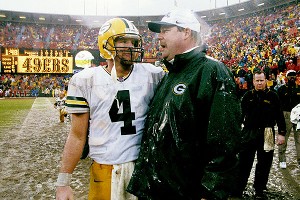 James V. Biever/Getty Images Mike Holmgren's Packers captured a pair of NFC championships with Brett Favre at quarterback.
Green Bay drafted Matt Hasselbeck in the sixth round in 1998, after the Packers' second consecutive Super Bowl appearance. Hasselbeck spent the first season on the practice squad.
"I never really knew if he knew my name," Hasselbeck said of Holmgren.
During a practice that season, rookie defensive end Vonnie Holliday ran over an offensive lineman and inadvertently hit Brett Favre. Holmgren went ballistic.
"'It's not like I don't have faith in Doug Pederson or Rick Mirer or uh, uh, uh,'" Hasselbeck remembered Holmgren saying. "He couldn't think of my name. Someone helped him. But he said, 'If No. 4 goes down, we're a .500 team at best. We're not going to wear pads, but we're going to learn how to protect the team and the quarterback.' I will never really forget that."
Nor will Hasselbeck forget how Holmgren mercilessly coached Andy Reid instead of Favre.
"He wouldn't yell at Brett," Hasselbeck said. "He would yell at Andy. It was an incredible motivational tool. A lot of times, the quarterback can handle someone yelling at him, and Brett could handle it. But when he would yell at Andy, it made you feel bad. You liked your position coach. And Mike would say, 'Andy, if Brett does that again, you're fired.'
"There's genius in that. He's a very charming guy, but on the football field he was as tough a coach as ever. As a quarterback practicing for him, the standard he set was so high and so difficult to attain that playing against a team on Sunday was no big deal."
Hasselbeck said he was shocked when Holmgren, then the coach of the Seahawks, traded for him in 2001. Of his 10 seasons in Seattle, Hasselbeck played eight for Holmgren. From 2003 to 2007, the Seahawks made five consecutive playoff appearances and reached Super Bowl XL, losing to Pittsburgh after the 2005 season.
"Probably the most beneficial piece of advice," Hasselbeck said, "and again, this is how he coaches, is he had this statement: 'Playing quarterback, you're not a blacksmith. You're an artist. It doesn't have to be a certain way. Throughout a game, you're painting a canvas.'
"I didn't understand it at first. He left the room, and I was like, 'What the heck did that mean?' I remember the moment when [Seahawks quarterbacks coach] Jim Zorn basically put it in words I could understand. He broke it down for me, again, the role of the position coach. It was like, oh. A light bulb went off. Watching cutups of [Joe] Montana or Favre or [Trent] Dilfer before me, you see them, this time they did that, this time they did something different. They're painting the canvas, and it doesn't have to be a certain way, and [Holmgren] was OK with that."
Holmgren was quick-witted and demanding as a coach, but there was more to him than just a man who was adamant that no one disturbed him in his office before a game.
"He was honest," Reid said. "He called it like he saw it. Very seldom did you go, 'What's he doing this for?' If you were on the side of the stick where you were getting ripped on, you kind of knew why. If you were being praised, you knew you deserved it."
Just like Holmgren knew, after winning Super Bowl XXXI, that he deserved it, too.
-- Ashley Fox

Mariucci, a former college quarterback, brought a strong emphasis on offense to his head-coaching jobs with the San Francisco 49ers and Detroit Lions.
After leading Northern Michigan to the 1975 Division II championship and playing briefly in Canada, Mariucci embarked on a coaching career that led him through the collegiate ranks for 14 seasons before joining the Green Bay Packers as quarterbacks coach under Mike Holmgren (1992-95).
Mariucci served one season as head coach at Cal before the 49ers hired him as head coach in 1997. He led San Francisco to the playoffs four times in six seasons but was released from his contract after a dispute with management.
He was hired as head coach of the Lions in 2003, succeeding one of his former assistants, Marty Mornhinweg. Mariucci was fired during the 2005 season after going 15-28 in Detroit. He never returned to coaching, instead becoming a television analyst.
Mariucci and Michigan State basketball coach Tom Izzo grew up together in Iron Mountain, Mich., a town of 8,000 in the state's Upper Peninsula, graduated from the same high school in 1973 and attended Northern Michigan.
-- Shawna Seed

Mornhinweg, a former college quarterback, was head coach of the Detroit Lions for two seasons before returning to the assistant coaching ranks.
Mornhinweg set 15 passing records at the University of Montana and played arena football briefly before an injury cut short his playing days. He spent 10 seasons coaching at the collegiate level, including one season alongside Andy Reid at UTEP and another at Missouri, before the Green Bay Packers added him to Mike Holmgren's staff in 1995.
After two seasons in Green Bay, Mornhinweg served under Steve Mariucci as offensive coordinator and quarterbacks coach for the San Francisco 49ers (1997-2000), where he worked with quarterbacks Steve Young and Jeff Garcia.
The Lions hired him as head coach in 2001, but he won only five games in two seasons before getting fired. He moved on to a long stretch with the Philadelphia Eagles under Reid and was hired as offensive coordinator of the New York Jets in 2013.
-- Shawna Seed

Gruden was only 35 when the Oakland Raidershired him as their head coach in 1998. Tampa Bay lured him away in 2002, and the Buccaneers routed the Raiders in the Super Bowl that season.
After starting out in the college ranks, Gruden took his first NFL job as a quality control assistant with the San Francisco 49ers in 1990 under offensive coordinator Mike Holmgren.
Larry French/Getty Images Jon Gruden took the Bucs to the postseason three times in seven seasons and won Super Bowl XXXVII.
He returned to the college level for a season, as receivers coach under Paul Hackett at Pitt, then joined Holmgren's Green Bay staff in 1992. In 1995, he became the offensive coordinator for the Philadelphia Eagles under Ray Rhodes, a position he held until the Raiders hired him.
In Gruden's first two seasons as a head coach, Oakland went 8-8. The Raiders made the playoffs the next two seasons. In 2002, Gruden moved to Tampa Bay, which had fired Tony Dungy, through an unusual trade for draft picks and cash. The 2002 Bucs went 12-4 in the regular season, defeating Gruden's former team, the Raiders, in Super Bowl XXXVII.
After the championship season, Tampa Bay made the playoffs only twice in the next five seasons. Gruden was fired after the 2008 season and subsequently began a career in broadcasting.
Mike Tomlin, who would become a Super Bowl champion head coach with the Steelers, was Gruden's defensive backs coach for four seasons in Tampa Bay.
Gruden played quarterback at the University of Dayton and later coached at Tennessee, Southeast Missouri State and University of the Pacific. Gruden's father, Jim, was an assistant coach at Notre Dame and for the Buccaneers, and his brother, Jay, joined the Cincinnati Bengals as offensive coordinator in 2011.
-- Shawna Seed

Callahan coached the Oakland Raiders for two seasons, leading the 2002 team to an 11-5 record and a trip to the Super Bowl.
Callahan played quarterback at Benedictine College in Illinois and began his coaching career at the collegiate level with stops at Illinois, Southern Illinois, Northern Arizona and Wisconsin.
His NFL career began in 1995 with the Philadelphia Eagles, where he coached the offensive line under Ray Rhodes. The Raiders hired him as offensive coordinator under first-year head coach Jon Gruden in 1998. Callahan was promoted to the top spot after Gruden departed for Tampa Bay in 2002. Marc Trestman, who had been the Raiders' quarterbacks coach, became Callahan's offensive coordinator. Jim Harbaugh joined the staff as quarterbacks coach, his only NFL assistant job prior to becoming head coach of the San Francisco 49ers in 2011.
Callahan's first team advanced to Super Bowl XXXVII, but the Raiders fell short against Gruden's Buccaneers. The Raiders tumbled to 4-12 in 2003, and Callahan was fired.
He spent the next four seasons as Nebraska's head coach before returning to the NFL as an assistant with the Jets and Cowboys.
-- Shawna Seed

At 36, Tomlin became the youngest head coach to win a Super Bowl when his Pittsburgh Steelers beat the Arizona Cardinals to cap the 2008 season. Tomlin ascended to the Steelers' head-coaching job in 2007 after five seasons (2001-05) as an assistant for the Tampa Bay Buccaneers and one season as the Minnesota Vikings' defensive coordinator.
As Tampa Bay's defensive backs coach, Tomlin learned the Tony Dungy/Monte Kiffin version of the Cover 2 defense. Tomlin took that scheme to Minnesota but not to Pittsburgh, where veteran defensive guru Dick LeBeau was retained as coordinator.
Tomlin's teams have consistently been among the league's best defensively, and he also won a championship ring with the 2002 Buccaneers. Tampa Bay intercepted five passes, four by Tomlin's defensive backs, and returned three for touchdowns in its Super Bowl XXXVII victory over Oakland.
Tomlin played wide receiver at William & Mary and was a college assistant coach at VMI, Memphis, Arkansas State and Cincinnati for six seasons before the Buccaneers hired him.
-- Kevin Stone

After learning his craft from defensive coordinator Monte Kiffin in Tampa Bay, Morris became the Buccaneers' head coach for three roller-coaster seasons.
Morris, who played at Hofstra, began coaching in the collegiate ranks at his alma mater and Cornell.
In 2002, he joined head coach Jon Gruden's staff in Tampa Bay as a defensive quality control coach. By 2004, he was coaching defensive backs in Kiffin's Cover 2 defensive scheme. In 2006, Morris left for one season to serve as defensive coordinator at Kansas State.
Morris returned to Tampa Bay in 2007 as defensive backs coach. When Kiffin left after the 2008 season to work with his son Lane at the University of Tennessee, Morris was named the Bucs' defensive coordinator. However, Gruden was fired a month later, and Morris was promoted to head coach. At 32, he was the second-youngest head coach -- behind Lane Kiffin, coincidentally -- in the NFL's modern era.
The Bucs went 3-13 in Morris' first season but bounced to a 10-6 mark in 2010. They fell to 4-12 in 2011 and parted ways with Morris, who moved on to coach the Washington Redskins secondary.
-- Shawna Seed

When the Jacksonville Jaguars hired Bradley as their head coach in 2013, it capped a rapid rise from the realm of small colleges to the top of his profession.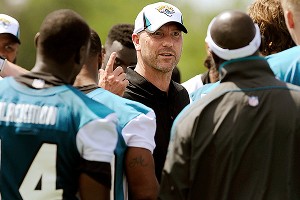 AP Photo/Stephen Morton Gus Bradley takes over a Jaguars team that hasn't finished above .500 or reached the playoffs since 2007.
For 14 seasons, Bradley worked as defensive coordinator at Fort Lewis College (1992-95) and North Dakota State (1996-2005), his alma mater. Once he reached the NFL in 2006 as Tampa Bay's defensive quality control coach under Jon Gruden, his career took off. Bradley served as the Buccaneers' linebackers coach in 2007 and 2008 while working under defensive coordinator and Cover 2 guru Monte Kiffin.
Bradley took another step up the ladder in 2009 as defensive coordinator for Seattle, under Jim L. Mora and Pete Carroll. Under Bradley, the Seahawks jumped from 27th in total defense in 2010 to ninth in 2011 and fourth in 2012. Seattle also led the NFL in scoring defense in 2012 and set franchise records for fewest points and yards allowed.
-- Kevin Stone

In 14 seasons as Philadelphia's head coach, Reid led the Eagles to six division titles, five conference championship games and one NFC championship. The Eagles won at least one game in seven of their nine trips to the playoffs under Reid.
The Eagles hired Reid who had been a Green Bay Packers offensive assistant under Mike Holmgren since 1992 -- as head coach in 1999. Philadelphia went 5-11 in Reid's debut then reeled off five straight playoff seasons that culminated in a trip to Super Bowl XXXIX, which the Eagles lost to the New England Patriots.
The Eagles fired Reid after going 4-12 in 2012. The Kansas City Chiefs hired him as head coach the next month.
Reid played offensive line at BYU and spent 10 seasons as a college assistant. He began an association with Holmgren in 1982 as a graduate assistant at BYU when Holmgren was the quarterbacks coach. At Northern Arizona in 1986, Reid worked alongside Brad Childress, who would later work under Reid in Philadelphia and become the Vikings head coach. Reid also worked at UTEP and Missouri before joining Holmgren's staff in Green Bay.
In addition to Childress, Leslie Frazier, John Harbaugh, Ron Rivera, Pat Shurmur and Steve Spagnuolo also worked on Reid's staff before becoming NFL head coaches.
-- Shawna Seed

The zenith of Childress' four-plus seasons as Minnesota's head coach was in 2009, when Brett Favre quarterbacked the Vikings to a 12-4 season and a berth in the NFC Championship Game. But with expectations high for the following season, Childress was fired after the Vikings' 3-7 start.
Childress was a student of the West Coast offense under Rod Dowhower and Andy Reid. Dowhower, a former assistant to Bill Walsh at Stanford, gave Childress his NFL job as quarterbacks coach of the Indianapolis Colts in 1985. Childress would later follow Dowhower as the Philadelphia Eagles' offensive coordinator.
Childress' 20 seasons of college coaching experience include a stretch as offensive coordinator at Northern Arizona (1986-89), where future NFL head coaches Reid, Marty Mornhinweg and Bill Callahan were among his co-workers. Childress would later work under Reid as quarterbacks coach and offensive coordinator for the Eagles (2000-2005). Reid credits Childress for developing Donovan McNabb into a Pro Bowl quarterback. The Vikings hired Childress in 2006, and he led them to two NFC North titles in his first four seasons.
-- Kevin Stone


Harbaugh is best known for being half of the NFL's first pair of head-coaching siblings and for leading the Baltimore Ravens past brother Jim's San Francisco 49ers in Super Bowl XLVII. Harbaugh is also the first NFL coach to win at least one playoff game in each of his first five seasons.
Harbaugh was a Philadelphia Eagles assistant for a decade, nine of those seasons under Andy Reid, before the Ravens hired him in 2008. He made four trips to the NFC Championship Game and one to the Super Bowl while in Philadelphia. Most of his coaching career has been as a special teams coordinator, and he's also held assistant jobs on both sides of the ball at the college level.
His father, Jack, a onetime assistant to Bo Schembechler at Michigan, gave him his first coaching job at Western Michigan. Jack and John also worked together at Pitt under Mike Gottfried on a staff which included Pro Football Hall of Famer and passing game innovator Sid Gillman as a consultant.
Harbaugh credits Schembechler and his brother, who quarterbacked the Wolverines under Schembechler, as coaching influences. Harbaugh also worked for another Schembechler assistant, Cam Cameron, for one season at Indiana. Cameron later served as Harbaugh's offensive coordinator with the Ravens.
Harbaugh played defensive back in college at Miami (Ohio), and he will be honored with a statue in the school's Cradle of Coaches Plaza in 2014.
-- Kevin Stone


After helping the New York Giants win a Super Bowl as their defensive coordinator, Spagnuolo coached the St. Louis Rams for a three-season span in which the team won a total of 10 games.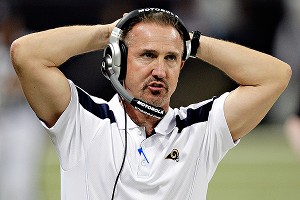 AP Photo/Tom Gannam The Rams won only 10 games total during Steve Spagnuolo's three seasons as their head coach.
Spagnuolo first coached at the collegiate level with stops at Lafayette, Connecticut, Maine, Rutgers and Bowling Green -- and in Europe. He began his NFL career in 1999 as an assistant to Andy Reid with the Philadelphia Eagles and remained on the staff for eight seasons. He was New York's defensive coordinator under Tom Coughlin in 2007, when the Giants stunned the unbeaten New England Patriots to win Super Bowl XLII, and 2008.
The Rams hired him as head coach in 2009. The team went 1-15 his first season but rebounded to 7-9 in 2010 and narrowly missed the playoffs. However, Spagnuolo was fired when the team fell to 2-14 in 2011. He served as the New Orleans Saints' defensive coordinator in 2012.
-- Shawna Seed

Shurmur was a key offensive assistant to Andy Reid in Philadelphia who was unable turn around the woebegone Cleveland Browns in two seasons as head coach.
Shurmur played center at Michigan State and stayed there as a graduate assistant (1989-99) and assistant coach (1990-97), including three seasons under Nick Saban. Shurmur worked one season as Stanford's offensive line coach before joining the Eagles in Reid's first season as head coach. With Shurmur on the staff as tight ends/offensive line coach (1999-2001) and quarterbacks coach (2002-08), the Eagles reached five NFC Championship Games and a Super Bowl.
In 2009, he left the Eagles to become the St. Louis Rams' offensive coordinator under Steve Spagnuolo, another former Reid assistant. The Browns made Shurmur their head coach in 2011 but fired him after going 9-23 over two seasons.
Shurmur's late uncle, Fritz Shurmur, was a longtime defensive coach for the Lions, Patriots, Rams, Cardinals and Packers.
-- Kevin Stone

Rivera has worked in the NFL as a player, broadcaster and coach, developing an aggressive mentality that can be traced to a pair of influential defensive coordinators, Buddy Ryan and Jim Johnson.
Rivera was an All-America linebacker at California before the Chicago Bears drafted him in the second round in 1984. He played nine seasons for the Bears and was part of Ryan's vaunted defense for the 1985 team that won Super Bowl XX. Rivera moved into TV broadcasting, covering the Bears and college football in Chicago, before getting into coaching in 1997.
He spent two seasons as a defensive quality control coach for the Bears before becoming linebackers coach in Philadelphia, where he was schooled by Johnson from 1999 to 2003. With Andy Reid as head coach, the Eagles reached the NFC Championship Game in Rivera's last three seasons with the team.
Rivera returned to Chicago in 2004 as defensive coordinator under Lovie Smith and helped the Bears win the 2006 NFC championship. He became San Diego's linebackers coach under Norv Turner in 2007 and moved up to defensive coordinator in 2008. The Chargers had the NFL's top-ranked defense in 2010, which led to the Carolina Panthers giving Rivera his first head-coaching job in 2011.
-- Kevin Stone

Frazier was a Super Bowl champion as a player and an assistant, and he built a college football program from scratch on his way to becoming the Minnesota Vikings' head coach.
In 1981-85, Frazier was a cornerback for the Chicago Bears, with which he was teammates with future NFL head coach Jeff Fisher and played for influential defensive coordinator Buddy Ryan. Frazier had 20 interceptions during a productive career that was cut short because of a knee injury suffered during the Bears' victory in Super Bowl XX.
Frazier started the NAIA program at Trinity International University in Illinois in 1988 and stayed there as head coach for nine seasons. He was defensive backs coach at Illinois for two seasons (1997-98) before joining Andy Reid's inaugural Philadelphia Eagles staff as defensive backs coach (1999-2002).
Frazier then served as Marvin Lewis' defensive coordinator with the Cincinnati Bengals (2003-04) and Tony Dungy's defensive backs coach with the Colts (2005-06). After Indianapolis won Super Bowl XLI, Frazier became defensive coordinator of the Vikings in 2007 under Brad Childress, whom Frazier worked alongside in Philadelphia.
Frazier became Vikings head coach when Childress was fired after 10 games in 2010.
-- Kevin Stone

In his six seasons as head coach of the Green Bay Packers, Sherman guided the team to the playoffs four times and three consecutive NFC North titles.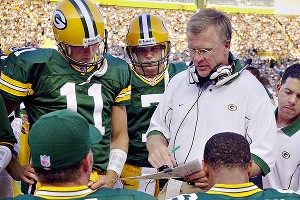 AP Photo/Morry Gash Mike Sherman took the Packers to the playoffs four straight seasons.
Sherman, who played defensive end and offensive tackle at Central Connecticut, began his coaching career in the prep ranks. He then coached at the collegiate level for 16 seasons at Pitt, Tulane, Holy Cross, Texas A&M and UCLA.
In 1997, the Packers hired him as offensive line and tight ends coach under Mike Holmgren. He followed Holmgren to Seattle in 1999 to become the Seahawks' offensive coordinator and returned to Green Bay as head coach a season later.
The Packers offense was prolific under Sherman, producing what were, at the time, two of the four highest-scoring seasons in franchise history. The Packers fired Sherman after they went 4-12 in 2005, his only losing season.
Sherman then worked as an assistant with the Houston Texans for two seasons before becoming head coach at Texas A&M, where he remained for four seasons. In 2012, he was offensive coordinator for the Miami Dolphins.
-- Shawna Seed

Philbin traveled a long coaching road to become the Miami Dolphins' head coach in 2012. He developed into a head-coaching candidate thanks to his work with the Green Bay Packers' powerhouse offense for nine seasons.
Philbin worked as an offensive line coach and/or offensive coordinator for seven colleges, ranging from Worcester Tech to Iowa over 17 seasons, before joining the Packers.
Mike Sherman, who had been Philbin's prep school English teacher in 1979 at Worcester Academy in Massachusetts, hired Philbin to be the Packers' offensive line coach in 2003. Interestingly, that same Worcester Academy staff included longtime Iowa coach Kirk Ferentz and Ken O'Keefe, the Dolphins' wide receivers coach under Philbin.
Sherman later served as Philbin's offensive coordinator with the Dolphins.
Philbin was the Packers' offensive line coach until Mike McCarthy promoted him to offensive coordinator in 2007, a position he held until he left for Miami. The Packers offense ranked in the top 10 in scoring and total yards all five seasons Philbin was coordinator. The Packers won Super Bowl XLV in the 2010 season and went 15-1 and led the NFL in scoring in 2011.
-- Kevin Stone

Zorn, best known for his 11-year career as an NFL quarterback, was head coach of the Washington Redskins for two seasons.
Zorn, who played at Cal Poly Pomona, was not drafted out of college. He joined the Seattle Seahawks and formed a successful tandem with Hall of Fame wide receiver Steve Largent during the franchise's early days. He also played for the Green Bay Packers and Tampa Bay Buccaneers, retiring after the 1987 season.
Zorn's coaching career began at the collegiate level with stops at Boise State, Utah State and Minnesota. In 1997, he joined the Seahawks as an offensive assistant under Dennis Erickson. In 1998, Zorn became quarterbacks coach with the Detroit Lions under Bobby Ross, a position he would hold for three seasons. In 2001, he settled in for a seven-season stretch as Seattle's quarterbacks coach under Mike Holmgren.
The Redskins hired him as head coach in 2008 but dismissed him after 8-8 and 4-12 seasons.
He later coached quarterbacks for the Baltimore Ravens and Kansas City Chiefs.
-- Shawna Seed
Special thanks to the Elias Sports Bureau for research assistance in compiling this project.
GREATEST COACHES IN NFL HISTORY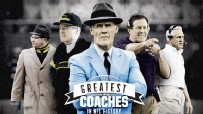 ESPN lists the top 20 coaches of all time and examines the most influential coaching trees.
Greatest Coaches in NFL History home page


EDITORS' PICKS
Odd jobs and a stint with NFL Europe's Rhein Fire prepped Jim Tomsula for his role as the 49ers' coach.
Gutierrez »

The league's extensive analysis of in-game data may yield endless possibilities for the future of the game.
Seifert »

If Adrian Peterson's court victory doesn't mean he's been reinstated, what does it mean? We sort it all out.
Seifert »
Nike Men's Alternate Limited Jersey Seattle Seahawks Marshawn Lynch #24 Shop »

MOST SENT STORIES ON ESPN.COM