Vince Lombardi coaching tree, legacy
Legendary disciplinarian captured five NFL championships during dominant career
Originally Published:
June 11, 2013
By
ESPN.com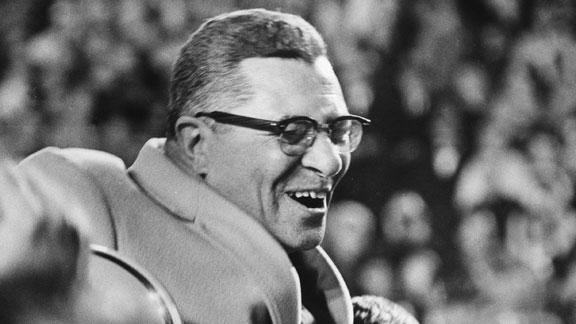 Coaching Tree: Vince Lombardi
Coaching Tree: Vince Lombardi
ESPN celebrates the 100th anniversary of Vince Lombardi's birth with the "Greatest Coaches in NFL History" series, saluting the finest innovators, motivators, tacticians, teachers and champions ever to stalk the sidelines. Follow along as we reveal our list of the top 20 coaches of all time and document the lineage of the league's most influential coaching trees.
The Vince Lombardi coaching tree is documented in the chart below, followed by a feature on Lombardi and short biographies of his many disciples.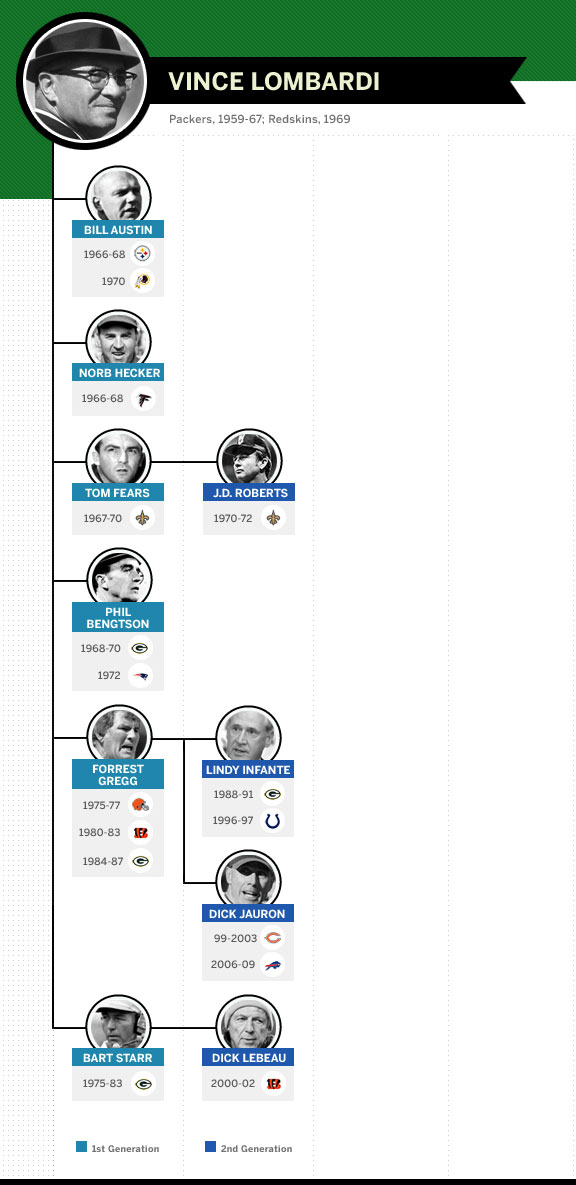 On June 11, 2013, Vincent Thomas Lombardi would have turned a century old.
His majestic, motivational words, however, are still with us:
Winning isn't everything, it's the only thing.
It's one of the most famous purely Machiavellian lines of all time -- and believed by many to be the core of the man himself -- but it wasn't original material. The quote is actually attributed to former UCLA football coach Henry Russell Sanders. A few years later, Lombardi delivered it to his Green Bay Packers on the first day of training camp in 1959.
"The thing about Coach Lombardi was that all those sayings, well, there weren't a lot of original thoughts," remembered former Packers linebacker Dave Robinson, who is part of the incoming Class of 2013 at the Pro Football Hall of Fame. "John Wayne would say a famous line in a movie, and he'd repeat it to us.
"It wasn't what he said; it was the way he said it."
GREATEST COACHES IN NFL HISTORY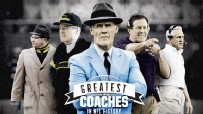 This series is a collaborative effort between ESPN TV, ESPN.com, ESPN Digital Video, ESPN The Magazine,
the Elias Sports Bureau, ESPN Radio
and ESPN Stats & Info.
Counting down to the 100th anniversary of Vince Lombardi's birth on June 11, 2013, we selected the top 20 coaches of all time, as chosen by a blue-ribbon panel of ESPN analysts and writers.
We've also traced the NFL's evolution with 14 extensive features on the league's most significant coaching trees.
In all, we've profiled 175 coaches in more than 50,000 words, a colossal project befitting the greatest coaches in NFL history.
Also see: • Countdown: No. 1 -- Lombardi
• Lombardi tree photo gallery


• Thompson: Lombardi lived here
• Lombardi championed gay rights
• Coaching countdown snubs
• Coaches primed for greatness
• Rank 'em: Greatest NFL coaches
• "Greatest Coaches" home page
Bart Starr, Lombardi's celebrated quarterback, was under center for five NFL titles and was the MVP in the first two Super Bowls.
"He was uniquely, exceptionally organized in everything that he did, and passionate, too," Starr said from his office at Starr Enterprises in Birmingham, Ala. "That's one of the reasons I couldn't wait to get to the next meeting after hearing him talk, or follow it up with a walk-through or practice."
Lombardi, Starr was told, was ranked as the No. 1 coach in NFL history by ESPN's panel of voters.
"Super, that's super," Starr said. "It doesn't surprise me at all."
Lombardi did say this: "Winning is not a sometime thing, it is an all-the-time thing. You don't do things right once in a while … you do them right all the time."
The 1958 Green Bay Packers had a difficult time doing anything right, ever. They finished the season 1-10-1, and head coach Ray "Scooter" McLean was essentially escorted from the building. Lombardi, born in Brooklyn and a fierce lineman at Fordham University, began his coaching odyssey at St. Cecilia High School in Englewood, N.J., where he worked for eight years. He then returned to Fordham as a coach for two years before succeeding Sid Gillman as offensive line coach at Army under the legendary Red Blaik.
Lombardi worked under Blaik for five seasons, then learned the professional game under New York Giants head coach Jim Lee Howell. Lombardi was the Giants' offensive backfield coach from 1954-58, while Tom Landry, who would go on to lead the Dallas Cowboys to 20 straight winning seasons, was the defensive coordinator for those seasons.
The Packers hired Lombardi as head coach and general manager on Jan. 28, 1959, but only after Iowa coach Forrest Evashevski turned down the job.
From the very beginning, Lombardi was a force of nature in Wisconsin.
"In our first session, he was so strong and dynamic and powerful," Starr remembered. "When we took our first break after 30 minutes or so, I ran down the hall and into one of the offices and called my wife back here in Alabama. I said, 'Honey, we're going to start winning.' I mean, it was that obvious."
Another Lombardism: Show me a good loser, and I'll show you a loser.
Unlike their predecessors, the 1959 Packers were not good losers. They went a respectable 7-5. The next season they improved to 8-4 and advanced to the NFL Championship Game. In 1961, Lombardi's Packers finished 11-3 and beat the Giants for the NFL title. In his nine seasons in Green Bay, Lombardi's overall record was 98-30-4, and then there were those five championships.
Lombardi was an extremely demanding coach, but there was a larger purpose to his methodology.
"He was a tough disciplinarian," Starr said, "but fair and objective. It was all about making you the quality person he wanted you to be. It got better with time because we were all being molded and brought along together."
During training camp of Robinson's rookie year, 1963, the Packers were struggling on kickoffs because Paul Hornung had been suspended and guard Jerry Kramer could only reach the 20-yard line. Lombardi, who had read Robinson's college scouting report, knew he had kicked at Penn State.
Vernon Biever/Getty Images Two coaching immortals, Vince Lombardi and "Papa Bear" George Halas, share a moment before a 1967 game at Wrigley Field.
"Why aren't you kicking for us?" Lombardi wanted to know.
"I'm trying to convert from defensive end to linebacker, playing some offensive line," Robinson said. "I'm trying to stay in the playbook and master my other positions."
Lombardi frowned and said, "Well, your best way to make this team is as a kicker."
Robinson laughed at the memory.
"Yeah," he said, "so I kicked off that year and the next."
Lombardi, like so many great coaches, carefully honed his fear factor.
"I loved my father to death, and he reminded me of my father," Robinson said. "The minute I screwed up, I knew he was going to drop the hammer. The answer is, don't screw up."
Andy Reid, the new Kansas City Chiefs head coach, spent seven seasons in Green Bay as an assistant. Lombardi's name came up almost every single day of that tenure. Reid heard the stories from those who knew Lombardi well, and he soaked up the history.
"He did it through honesty, hard work and integrity," Reid said recently. "And he instilled that in those players. The players, until the day he died [in 1970], respected him. I'm not going to tell you they loved him at that moment when they were doing all those up-downs and all the running that they did. But the end result was the man that he made out of those guys. That's what they respect the most."
Gary Kubiak, the Houston Texans' head coach, said Lombardi's Packers kept things simple.
"We're in a day and time when things get pretty complicated with the schemes and what you do," Kubiak said. "And yet some of the greatest teams you've ever seen were very simple and disciplined in what they do. So when I think of those two things, I think of Coach Lombardi."
The one thing missing on Lombardi's résumé is a large, prosperous coaching tree like the ones inspired by Paul Brown, Sid Gillman and Bill Walsh. Following Lombardi for three seasons, Phil Bengtson went 20-21-1 in Green Bay. Starr, who went on to coach the Packers from 1975-83, lost 24 more games than he won. Forrest Gregg, a Hall of Fame offensive tackle, went 25-37-1 as the Packers head coach from 1984-87.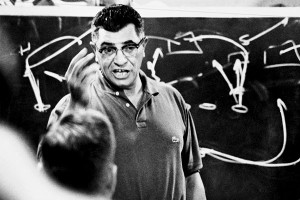 Robert Riger/Getty Images For Lombardi, teaching his players was just as important as coaching them.
Lombardi's sheer charisma, perhaps, couldn't be passed along to his players and assistant coaches. And then there is this: Many of Lombardi's best players -- and best leaders -- were African-Americans, long before that was the norm in the NFL. Back in those days, African-Americans were not considered for top coaching jobs.
"That's exactly right," Robinson said. "As the son of an Italian immigrant, he was subject to a lot of racism in New York. The Mara family told him that's why he'd never be the head coach there [with the Giants]. When he got to Green Bay, the racial makeup of the city was almost all white. He was real sympathetic to us black players long before it was politically correct. One of his first acquisitions was getting Emlen Tunnell from the Giants. He was the first African-American inducted into the Hall of Fame.
"He would have made a great coordinator, but black folks weren't getting those jobs back then."
Lombardi chose Robinson in the first round of the 1963 draft.
"He drafted Herb Adderley in the first round in '61, then he drafted me two years later," Robinson said. "I heard he told the board of directors, 'You take care of the finances; I'll run the team. The only color in Green Bay is green and gold.'"
Lombardi's former players all reference his relentless pursuit of perfection.
"He'd always say, 'You're going to make mistakes,'" Robinson said. "But he pushed us play that perfect game. I always said I was going to have a perfect game. But I never did."
And it's a tribute to Lombardi that it still bothers him. That's good coaching.
-- Greg Garber

Austin spent three seasons as head coach of the Pittsburgh Steelers and one coaching the Washington Redskins but is most notable for his connection to Vince Lombardi.
Austin entered Oregon State University at age 16 and played on the offensive line. The New York Giants took him in the 13th round of the 1949 draft, and Austin played two seasons before the Korean War interrupted his career. He returned to the Giants in 1953 and retired after the 1957 season. His association with Lombardi began in New York, with whom Lombardi became an assistant in 1954.
When Lombardi became head coach in Green Bay in 1959, Austin joined his staff. He spent six seasons with Lombardi in Green Bay and then one coaching the offensive line for the Los Angeles Rams under Harland Svare before Pittsburgh hired him as head coach in 1966.
Austin did not have a winning season in Pittsburgh and was replaced after the 1968 season by Chuck Noll, who would lead the Steelers to four Super Bowl victories. In 1969, Austin rejoined Lombardi, serving as offensive line coach in Washington. Lombardi died the next year, and Austin worked as the Redskins' head coach in 1970.
Austin held multiple offensive line coaching jobs -- including with the Giants from 1979 to 1982, when he worked alongside Bill Parcells and Bill Belichick -- until retiring from the Jets in 1985.
-- Shawna Seed

Hecker won a championship as a player, worked for two of the NFL's greatest dynasties and served as the Atlanta Falcons' first head coach.
A defensive back and receiver, Hecker played six seasons for the Los Angeles Rams and Washington Redskins. The Rams won the NFL championship in his rookie season (1951). He also played two seasons in Canada.
His first coaching job came with Vince Lombardi's Green Bay Packers, who won three championships while Hecker was there (1959-65). Hecker left Green Bay in 1966 to lead the expansion Falcons but was fired three games into his third season with a 4-26-1 record.
Hecker spent the next three seasons as the New York Giants' defensive coordinator (1969-71) before landing the same job at Stanford (1972-78). He remained with the Cardinal program for seven seasons, the last two under Bill Walsh. When Walsh was hired by the San Francisco 49ers in 1979, he brought Hecker along as a defensive assistant. The 49ers won four Super Bowls with Hecker coaching or working in the front office.
-- Kevin Stone

Fears was a Hall of Fame receiver and former Vince Lombardi assistant who became the New Orleans Saints' first head coach.
He had a nine-year NFL career with the Los Angeles Rams (1948-56) and led the league in receptions each of his first three seasons. He was All-Pro in 1950, when he set records for most catches in a game (18) and a season (84, beating the mark of 77 he set the season before). The Rams won the NFL championship in 1951, with Fears' 73-yard touchdown catch in the fourth quarter providing the deciding points in a 24-17 win over the Cleveland Browns.
He started coaching as an assistant for Lombardi in 1959 but left the next season to work under former teammate Bob Waterfield with the Rams. Fears returned to Lombardi's staff (1962-1965) in time to win two championships. He joined the Atlanta Falcons staff in 1966 for their inaugural season under another former Lombardi assistant, Norb Hecker, and was hired as the Saints' first head coach in 1967. The Saints fired Fears after a 1-5-1 mark in 1970 dropped his career record to 13-34-2.
He eventually got into scouting and worked as a consultant for movies, including "North Dallas Forty."
-- Kevin Stone

Roberts was an All-America guard and Outland Trophy winner at Oklahoma who went on to become the second coach of the New Orleans Saints.
Roberts was selected by the Green Bay Packers in the 17th round of the 1954 draft, but instead opted to sign with the Hamilton Tiger-Cats of the CFL. He played in Hamilton for one season before serving in the Marines. Then he went into coaching, first at his alma mater under Bud Wilkinson and later as an assistant at Navy, Auburn and Houston. He also spent two seasons as a scout for the New York Jets.
When the Saints began play in 1967, Roberts joined Tom Fears' staff as linebackers coach, staying for two seasons. He spent the 1969 season and part of 1970 coaching the minor league Richmond Roadrunners. When the Saints fired Fears after a 1-5-1 start in 1970, they brought Roberts back as head coach.
In Roberts' first game at the helm, he was carried off the field after Tom Dempsey kicked an NFL-record 63-yard field goal to beat the Lions.
However, the Saints experienced little success under Roberts, and he was fired during the 1973 preseason. Despite being only 40 at the time, Roberts left coaching for good with a career record of 7-25-3.
-- Thomas Neumann

Bengtson was a longtime college and NFL assistant and was Vince Lombardi's handpicked successor as the Green Bay Packers' head coach.
Bengtson ran the defense during Lombardi's entire nine-season run as the Packers' head coach. Green Bay won five championships, including the first two Super Bowls, in that time. Lombardi, wanting to focus on general manager duties, handed over the reins to Bengtson in 1968. Lombardi left the organization to coach the Washington Redskins the next season, and Bengtson inherited his GM job, too.
The Packers failed to make the playoffs under Bengtson, who resigned after going 20-21-1 in three seasons. In 1972, Bengtson served as interim head coach for the New England Patriots, going 1-4 to close the season.
Prior to joining Lombardi's staff in Green Bay, Bengtson was an assistant with the San Francisco 49ers (1951-58). Bengtson got his start as a college assistant at Missouri, Minnesota and Stanford. He played offensive line at Minnesota, where one of his teammates on the 1934 national championship team was future Oklahoma coach Bud Wilkinson.
-- Kevin Stone

A Hall of Fame player and one of the greatest offensive linemen of all time, Gregg reached one Super Bowl in an otherwise pedestrian coaching career.
Gregg was an NFL head coach for 11 seasons with three teams but reached the postseason only twice, including the strike-shortened 1982 season with the Cincinnati Bengals. His coaching high point came in 1981, when the Bengals went 12-4 and reached Super Bowl XVI, in which they lost to Joe Montana's San Francisco 49ers.
Gregg played 14 seasons for the Packers, including all nine seasons of the Vince Lombardi era, and one with the Dallas Cowboys. Lombardi called Gregg the "best player I ever coached."
As a player, Gregg won six NFL championships, five under Lombardi and one under Tom Landry. He was a nine-time Pro Bowler and was selected as one of three tackles on the NFL's 75th Anniversary All-Time Team in 1994.
He worked as offensive line coach for the San Diego Chargers and Cleveland, and the Browns gave him his first head-coaching job (1975-77). He took the Bengals to the playoffs twice in four seasons (1980-83) before being hired away by Green Bay.
The Packers never finished above .500 in four seasons under Gregg, who resigned after the 1987 season to become head coach at SMU, his alma mater, which would restart its program in 1989 after receiving the "death penalty" for committing major NCAA violations.
-- Kevin Stone

Infante was known for his innovative offensive mind -- and for unfortunate timing as a head coach.
In six seasons as a head coach, four in Green Bay (1988-91) and two in Indianapolis (1996-97), Infante reached the playoffs only once. The season after the Packers fired him, they acquired Brett Favre. The season after the Colts dismissed him, they drafted Peyton Manning.
Infante's biggest success in the NFL came as a Cincinnati assistant under Forrest Gregg. The Bengals won the 1981 AFC championship and had one of the league's most potent offenses in 1981 and '82 with Ken Anderson at quarterback. In the summer of 1983, Infante accepted an offer to become head coach of the USFL's Jacksonville Bulls for their expansion season the following spring, prompting the Bengals to fire him before the 1983 NFL season.
After the USFL folded, he returned to the NFL as Marty Schottenheimer's offensive coordinator in Cleveland (1986-87). The Browns reached the AFC Championship Game and were ranked in the top five in scoring both seasons.
-- Kevin Stone


Jauron is a longtime defensive specialist who broke .500 just once in parts of 10 seasons as a head coach.
He was defensive backs coach for the Buffalo Bills (1985) and Green Bay Packers (1986-94) before becoming the expansion Jacksonville Jaguars' defensive coordinator under Tom Coughlin (1995-98).
In Green Bay, he worked under Forrest Gregg for two seasons, Lindy Infante for four and Mike Holmgren for three. Jauron helped Jacksonville reach the playoffs in three of the four seasons he was there.
The Chicago Bears made Jauron their head coach in 1999, and they went 13-3 with the NFL's top scoring defense in 2001. But the Bears would do no better than 7-9 during the rest of his tenure as head coach. After the Bears fired Jauron, Detroit hired him as defensive coordinator under Steve Mariucci, whom he worked alongside in Green Bay, in 2004. Jauron finished the 2005 season as the Lions' interim head coach, going 1-4 after replacing Mariucci. Jauron returned to the Bills as head coach in 2006. Buffalo went 7-9 in each of Jauron's first three seasons then fired him after a 3-6 start in 2009. He worked with the Philadelphia Eagles' defensive backs in 2010 and was the Cleveland Browns' defensive coordinator in 2011 and 2012.
Jauron also enjoyed a solid career as a player. After playing running back at Yale, he moved to safety in the NFL and intercepted 25 passes in eight seasons with the Lions and Bengals.
He played his final season in Cincinnati under Gregg.
-- Kevin Stone

Starr won five championships as a Hall of Fame quarterback for Green Bay but couldn't recapture the glory when he became the Packers' head coach.'
As a 17th-round draft pick out of Alabama in 1956, Starr had limited success until Vince Lombardi came to the Packers in 1959. In 1961, the Packers won the first of five championships under Lombardi. Starr, who went 9-1 in the postseason, was the NFL's MVP in 1966 and won MVP honors in each of the first two Super Bowls.
Starr, the most accurate passer of his era, retired after the 1971 season and worked as the Packers' quarterbacks coach under Dan Devine in 1972. After two seasons as a CBS broadcaster, Starr was hired in 1975 to replace Devine, who left for Notre Dame. Starr inherited a team that had reached the playoffs only once since Lombardi's final season in 1967.
Starr was wildly popular in Green Bay from his playing days and lasted nine seasons as head coach despite limited success. His Packers never won more than eight games and reached the playoffs only once -- after going 5-3-1 in the strike-shortened 1982 season. The Packers missed a shot at the playoffs by losing the 1983 season finale, dropping to 8-8, and fired Starr the next day.
-- Kevin Stone

LeBeau has spent more than half a century in the NFL as a player and coach, during which time he served as an assistant for six AFC championship teams and two Super Bowl champions.
LeBeau enjoyed a Hall of Fame playing career as a defensive back with the Detroit Lions from 1959 to 1972. He made 62 interceptions, tied for No. 8 on the all-time list. After retiring as a player, he became a special teams coach with the Philadelphia Eagles in 1973, and he ultimately became known for his innovative work as a defensive assistant.
LeBeau joined the Green Bay Packers in 1976 as Bart Starr's defensive backs coach, a position he held for four seasons. Interestingly, LeBeau intercepted Starr seven times as a player, a feat he also accomplished against Johnny Unitas.
In 1980, LeBeau went to work for another Vince Lombardi disciple, Forrest Gregg, beginning the first of two long stretches with the Cincinnati Bengals (1980-91). As defensive backs coach, LeBeau helped implement defensive coordinator Hank Bullough's 3-4 scheme. LeBeau was promoted to defensive coordinator in 1984 and started developing the zone blitz, an aggressive version of the 3-4 that would become his calling card.
When Bill Cowher became head coach of the Steelers in 1992, LeBeau joined the Pittsburgh staff as defensive backs coach. He became the Steelers' defensive coordinator in 1995 after Dom Capers left to become head coach of the expansion Carolina Panthers.
LeBeau's second stint with the Bengals (1997-2002) included two-plus rocky seasons as head coach (2000-02) that resulted in a 12-33 record. He spent one season with the Buffalo Bills under Gregg Williams before returning to Pittsburgh in 2004 to lead a defense that regularly ranked among the NFL's best.
-- Kevin Stone
Special thanks to the Elias Sports Bureau for research assistance in compiling this project.
SPONSORED HEADLINES
MORE NFL HEADLINES
MOST SENT STORIES ON ESPN.COM
GREATEST COACHES IN NFL HISTORY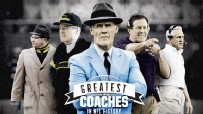 ESPN lists the top 20 coaches of all time and examines the most influential coaching trees.
Greatest Coaches in NFL History home page


EDITORS' PICKS
Julius Peppers should give Packers' D a boost.
Demovsky »

The Bucs are making the right moves for a rapid rise.
Chadiha »

Bold moves on D made Denver an early winner in FA.
Clayton »
GameWear Green Bay Packers NFL Classic Football Bracelet Shop »