Commentary
Bill Belichick could have been higher
Patriots' coach has impeccable credentials, but nemesis Giants stood in his way
Originally Published:
June 3, 2013
By
Ashley Fox
| ESPN.com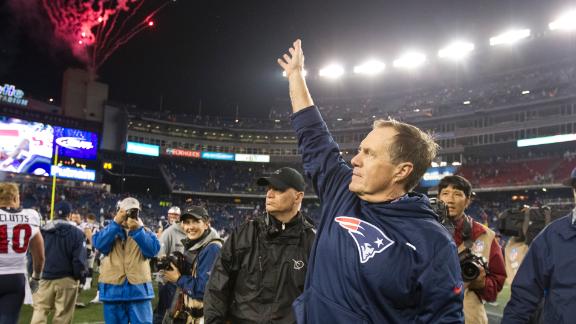 No. 7 - Bill Belichick
Tedy Bruschi, Mike Lombardi, Tom Brady and Robert Kraft discuss why Bill Belichick is one of the greatest coaches in NFL history.
Tags:
Bill Belichick
,
New England Patriots
,
NFL
,
Tedy Bruschi
,
Tom Brady
,
Mike Lombardi
,
Robert Kraft
,
Cleveland Browns
,
Greatest Coaches in NFL History
,
Greatest NFL Coaches
No. 7 - Bill Belichick
Seven is low, too low, actually. Bill Belichick isn't the seventh-best head coach in the storied history of the National Football League. He is better than that.
What other coach won three Super Bowls in four years? What other coach oversaw a decade of dominance, with 10 consecutive seasons of 10 wins or more? What other coach had sustained success in an era where, thanks to the advent of free agency in 1993, rosters turn over by nearly a third each season?
GREATEST COACHES IN NFL HISTORY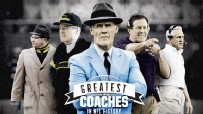 This series is a collaborative effort between ESPN TV, ESPN.com, ESPN Digital Video, ESPN The Magazine,
the Elias Sports Bureau, ESPN Radio
and ESPN Stats & Info.
Counting down to the 100th anniversary of Vince Lombardi's birth on June 11, 2013, we selected the top 20 coaches of all time, as chosen by a blue-ribbon panel of ESPN analysts and writers.
We've also traced the NFL's evolution with 14 extensive features on the league's most significant coaching trees.
In all, we've profiled 175 coaches in more than 50,000 words, a colossal project befitting the greatest coaches in NFL history.
Also see:
• Countdown: No. 7 -- Bill Belichick
• Reiss: Legacy, influence of Belichick
• Parcells/Belichick coaching tree
• Parcells/Belichick photo gallery


• "Greatest Coaches" home page
The answer: no other coach.
The NFL is built on parity. It is an essential part of the league's popularity. The worst teams get the highest draft picks. They get the easiest schedules. Every team has a chance, as long as it is managed well.
And yet, even with a system built to prevent it, Belichick built a dynasty in New England. His has been the team to beat, year after year, since 2001, when Tom Brady emerged as the Patriots' starting quarterback.
So yes, the Hoodie should be higher on our list of the 20 Greatest NFL Coaches than where he checks in at No. 7. I'd argue that he could be as high as No. 4, all things being equal.
But all things aren't equal when it comes to Belichick, New England's prickly head coach for the past 13 seasons. It isn't just about the .653 winning percentage or the five Super Bowl appearances or the 18 postseason victories. It isn't about all those division titles or the Super Bowl wins in 2001, 2003 and 2004 or the NFL Coach of the Year nods. It isn't about identifying players, year after year, and getting them to buy into his philosophy with a mix of tough love and wit. It isn't about Belichick being more right than wrong.
It is about Spygate, yes, but I'd argue two people have impacted Belichick's placement in the pantheon of coaching more than the illegal videotaping of opponents' hand signals. Their names: Coughlin and Manning.
There is no question that, with an assist from the NFL, Belichick mishandled the whole Spygate mess. He never got out in front of it, didn't explain himself until it was too late. The Patriots lost a first-round draft pick in 2008 and the league fined Belichick a whopping $500,000 for illegally taping Jets coaches' hand signals during the season opener in 2007. When the league destroyed the videotapes, it served only to fuel speculation that something even bigger was being hidden.
It was a big deal, yes, and I know plenty of former Philadelphia Eagles who feel they were cheated out of a Super Bowl victory in 2004 because of the Patriots' impropriety. But taping hand signals wasn't the reason for the Patriots' success. They went 16-0 in 2007 after the league cracked down. In the six seasons since Spygate, New England has won five division titles and 76 of 96 regular-season games.
[+] Enlarge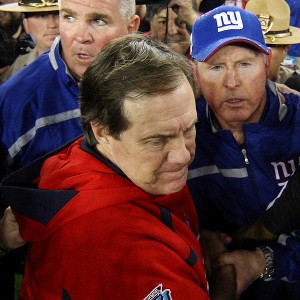 Matthew Emmons/US PresswireTom Coughlin and the Giants twice blocked Bill Belichick from a record-tying fourth Super Bowl victory.
The Patriots just haven't won a Super Bowl, and that's directly because of New York Giants head coach Tom Coughlin and quarterback Eli Manning.
If the 2007 Patriots had beaten the Giants in Super Bowl XLII, they would have gone down as the greatest team of all time. If Manning hadn't escaped three Patriots defenders and if David Tyree hadn't somehow trapped the ball against his helmet while falling down for a first down, the Giants' likelihood of scoring the go-ahead touchdown four plays later to win the game 17-14 would have greatly diminished.
Manning was outstanding that game, completing 19 of 34 passes for 255 yards and two touchdowns, including a 13-yard pass to Plaxico Burress with 35 seconds left that won the game. Manning was equally impressive four years later in Super Bowl XLVI, completing his first nine passes and 30 of 40 overall for 296 yards and a touchdown. That game, like the other, featured a fourth-quarter game-winning drive by the Giants. Manning threw five completions, including a 38-yarder to Mario Manningham, who was double-covered along the sideline. Manning put the ball where only Manningham could get it. A few plays later, Belichick let Giants running back Ahmad Bradshaw walk into the end zone so the Patriots could get the ball back with just about a minute to play to try to win the game.
New England didn't.
So that's Coughlin 2, Belichick 0, head-to-head in the Super Bowl. That Coughlin got either of those Giants teams to the Super Bowl was remarkable. That he led them to wins over the defensive genius that is Belichick is the reason Coughlin checked in on the list at No. 14.
Belichick is No. 7 because of his successes, but also because of his failures. Were it not for Coughlin and Manning, he might be tied with Chuck Noll with four Super Bowl wins or even stand alone with five.
But Belichick is stuck at three and still fighting the perception that he can't win another without cheating, when the real reason is his teams haven't been good enough to beat Coughlin and Manning.
ESPN.com NFL columnist
Joined ESPN in 2011
Has also worked at Sports Illustrated, the Philadelphia Inquirer and the Louisville Courier-Journal
SPONSORED HEADLINES
MORE NFL HEADLINES
MOST SENT STORIES ON ESPN.COM
GREATEST COACHES IN NFL HISTORY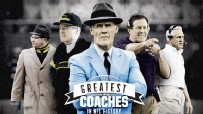 ESPN lists the top 20 coaches of all time and examines the most influential coaching trees.
Greatest Coaches in NFL History home page


EDITORS' PICKS
Shrewd roster moves helps Philly widen NFC East gap.
Ashley Fox »

Julius Peppers should give Packers' defense a boost.
Demovsky »

Will Oakland find a QB match on the FA market?
Gutierrez »
Photo File New England Patriots Tom Brady UniFrame Shop »