Should the NFL eliminate kickoffs?
Advocates point to safety concerns, while others think the proposal is heresy
Javier Arenas felt his nerves twitching and his heart racing. The din of a sellout crowd sent a jolt of energy through his 5-foot-9, 190-pound frame as his Alabama teammates braced for the opening kickoff against Arkansas. For Arenas, it wasn't the first time he'd ever sprinted downfield to chase a returner. It was, however, the first time he'd ever been asked to charge an opposing blocking wedge.
Arenas had relished the assignment ever since his coaches pulled him aside after practice and suggested it. A sophomore at the time, Arenas didn't lack for toughness. He didn't wither when he found himself face down in the Bryant-Denny Stadium turf after crashing into three blockers on that kickoff. Arenas had felt the thrill that comes with every kickoff. He couldn't wait for another chance to attack the challenge.
HOT READ: NFL WITHOUT KICKOFFS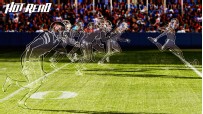 Concern for player safety in the NFL
is at an all-time high. Is it time for the
league to get rid of one of the most
dangerous plays in the game?
• ESPN The Mag: Greg Schiano's plan
• Podcast: Herm Edwards on kickoffs


• Kickoff debate chat, Wed., 1 p.m. ET
• Stats & Info: Kickoffs by the numbers
That memory made Arenas smile five years later as he stood in front of his locker inside the Kansas City Chiefs' headquarters. The third-year pro knows what kickoffs meant to him then and what they still mean to countless NFL players today. He's baffled that anyone would ponder the idea of football without them.
"The kickoff always has been a tone-setter," said Arenas, who covers and returns kicks for Kansas City. "I don't know how anybody who understands the history of this game could talk about letting something like that happen."
That's what most players say when they hear such suggestions. They understand that the NFL's recent push to increase player safety has generated an assortment of new rules and expectations for on-field behavior. But they wonder when enough is enough. They fear the league will keep tinkering to the point that their game becomes even more unrecognizable.
That was the reaction when New York Giants co-owner John Mara floated the idea of dumping kickoffs at last spring's owners meetings. In comments on the team's website, Mara said, "We had a lot of discussions about whether we should eliminate it, and if we did, what we could do in its place. There's no consensus on it right now, but I could see the day in the future where that play could be taken out of the game."
Mara's rationale is that the kickoff is one of the most dangerous plays in football.
Tampa Bay Buccaneers head coach Greg Schiano started believing the same thing while he was coaching at Rutgers. Schiano watched former Scarlet Knights defensive tackle Eric LeGrand suffer paralysis while making a tackle on a kickoff in 2010.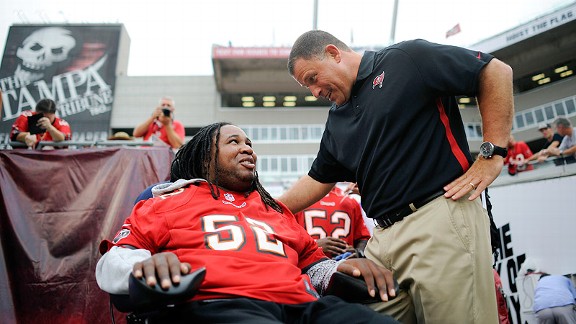 AP Photo/Brian BlancoEric LeGrand's injury at Rutgers convinced Greg Schiano that football would be safer without kickoffs.
But despite the risks, Schiano isn't likely to find many supporters among the men who play on the coverage and return units. The league already has made the three-man wedge illegal, limited the distance that tacklers can run before a kickoff and moved kickoffs from the 30-yard line to the 35-yard line last year. Those changes have made a huge impact on the kicking game. Touchbacks have nearly tripled (going from 16.4 percent in 2010 to 46.9 percent this season), and the average drive now starts at the 22-yard line (compared with the 28-yard line in 2010).
Those numbers tell players that the NFL is getting exactly what it wants: a tamer game. Players are concerned that the league's decision-makers will keep pushing.
NFL KICKOFF STATISTICS: 2001-12 REGULAR SEASONS
| Year | Kickoffs | Touchbacks | Return % | Avg. return | Avg. drive start | TDs |
| --- | --- | --- | --- | --- | --- | --- |
| 2012 | 519 | 246 | 50.9 | 24.1 | 22.4 | 1 |
| 2011 | 2,572 | 1,120 | 53.5 | 23.8 | 23.1 | 9 |
| 2010 | 2,539 | 416 | 80.1 | 22.3 | 27.9 | 23 |
| 2009 | 2,484 | 401 | 80.7 | 22.6 | 27.5 | 18 |
| 2008 | 2,576 | 370 | 82.1 | 22.8 | 28.3 | 13 |
| 2007 | 2,515 | 311 | 82.5 | 22.6 | 29.1 | 25 |
| 2006 | 2,427 | 316 | 83.9 | 22.5 | 28.2 | 9 |
| 2005 | 2,439 | 218 | 87.6 | 22.3 | 29.7 | 12 |
| 2004 | 2,453 | 205 | 87.9 | 21.7 | 29.4 | 17 |
| 2003 | 2,435 | 189 | 88.7 | 21.6 | 29.7 | 13 |
| 2002 | 2,493 | 196 | 88.4 | 21.8 | 30.0 | 17 |
| 2001 | 2,308 | 213 | 86.5 | 21.6 | 29.9 | 10 |
COMPARISON: 2011-12 (kickoffs from 35-yard line) vs. 2001-10 (kickoffs from 30)
| Span | Kickoffs | Touchbacks | Return % | Avg. return | Avg. drive start | TDs |
| --- | --- | --- | --- | --- | --- | --- |
| 2011-12 | 3,091 | 1,366 | 53.0 | 23.8 | 22.8 | 10 |
| 2001-10 | 24,669 | 2,835 | 84.8 | 22.2 | 29.0 | 157 |
-- ESPN Stats & Info
"I have mixed emotions when people talk about getting rid of kickoffs, because you change the game when you do that," said Jacksonville running back Montell Owens, who made the Pro Bowl as a special-teams player in both 2010 and 2011. "Who has the right to change the game? It's been around longer than any of us. It's like thinking about playing tennis without a tennis ball."
"A lot of people think kickoffs are more violent than they actually are," said Giants linebacker Spencer Paysinger, one of that team's core special-teams players. "They can be brutal, but there also have been a lot of things done to improve safety. Even if you just teach different techniques -- which is happening -- it helps a lot."
[+] Enlarge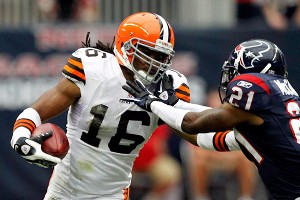 Bob Levey/Getty ImagesCleveland's Josh Cribbs ranks as the NFL's all-time leader with eight kickoffs returned for touchdowns. But do his feats come at the expense of his safety?
Paysinger acknowledges that he once saw kickoffs through the same lens as Schiano. As a high school player in Los Angeles, he'd watch the daredevils barreling into NFL blocking wedges and think one thing: I don't want any part of that. Once Paysinger found himself in the league, he realized covering kicks involved more than sheer madness. There is an art to the job, a subtle difference between turning one's body into a battering ram and using crafty moves to tackle a returner.
Even though oversized men are still running 60 yards to hit other oversized men, strategy has shifted.
"People see players flying around and throwing themselves into walls," Paysinger said. "But the four and five [the players who line up in the middle of the field on kickoffs] are usually the smartest guys on the unit. When they're running down there, they have to move and skate and bait blockers into taking them on [in order to create opportunities for other tacklers to reach the returner]. There's a lot more technique involved than people realize."
Said Miami Dolphins special-teams coach Darren Rizzi, "With all the rules changes in the blocking wedge, you're not seeing those bigger guys on the kick return units any more. It used to be that you were afraid to put too many skill guys on kick coverage unit because of the [size in the wedge]. Now the game is a lot more about speed than power. It's almost like a punt return now."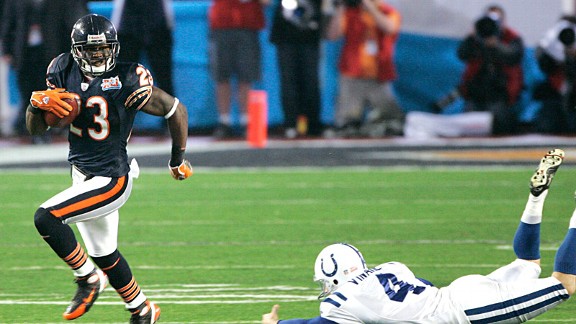 AP Photo/Mark HumphreyDevin Hester, shown returning the opening kickoff of Super Bowl XLI for a touchdown against the Colts, would see his role and ability to impact a game minimized if the NFL did away with kickoffs.
Schiano advocates taking the changes even further. Last year, he offered an idea that punts replace kickoffs because blockers and tacklers don't have running starts at one another. As for the onside kick, he proposes a rule that would allow teams to take a fourth-and-15 from their own 30-yard line. Since 2001, onside kicks have been recovered 21.4 percent of the time (125 of 583), according to ESPN Stats & Information. During the same period, teams converted fourth-and-15 attempts at a rate of 21.8 percent (17 of 78).
It sounds like radical stuff, but Schiano believes players would be grateful for such visionary changes 30 years from now.
But how would people react in real time? The kickoff is the most breathtaking moment in a game because it starts the action and creates instant momentum. As Arenas said, "If the return man breaks a big gain, then the receiving team has the edge. If the coverage team makes a big hit and pins them deep, then they have the advantage. You'd be surprised how many guys would love to run down and hit somebody on a kickoff."
As much as people delight in the big returns created by stars such as Chicago's Devin Hester or Cleveland's Josh Cribbs, Mara and Schiano aren't acting on sheer whim. In addition to LeGrand's injury in 2010, former Buffalo Bills tight end Kevin Everett suffered a career-ending spine injury while making a tackle on a kickoff against the Giants in 2007. The NFL claims that players suffered 40 percent fewer concussions on kickoffs in 2011 merely because of the five-yard change in where the ball was kicked.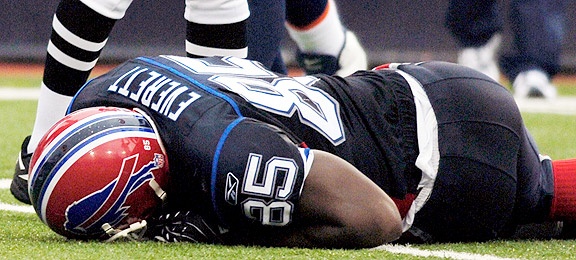 AP Photo/Don HeupelBills tight end Kevin Everett sustained a life-threatening spinal cord injury trying to tackle Domenik Hixon on a kickoff in 2007. He went on to regain the ability to walk after months of physical therapy.
The main concern for men such as Mara and Schiano is that players are becoming too big, strong and fast to continue a tradition that leaves them in precarious positions.
"The problem is that the concussions come from everywhere, from the wedge, from the crossing blocks where a guy goes from one side of the field to another, from a full-speed collision between a return guy and a tackler," Mara told the Giants' website. "So there's no one thing that you can do. It's something that we'll continue to watch as closely as possible."
GET RID OF KICKOFFS?
ESPN NFL analysts weigh in on whether the league should do away with kickoffs:

Eric Allen: No -- Kickoffs are an integral part of the game, a chance for a free agents to earn spots or for a great player to swing momentum. The NFL can modify kickoffs or start the teams closer so the contact is less brutal.



Tedy Bruschi: No -- It's too valuable to the game and to the players. You're eliminating special teams jobs and they deserve the chance to be on the roster. I'm a huge fan of the field-position game; it's a big part of the game. A struggling offense needs the special teams.



Hugh Douglas: No -- It's fun running downfield and getting a chance to blow somebody up. It's definitely an essential part of the game. I had to do kickoffs my rookie year and it was fun. I loved it.




Merril Hoge: No -- The kickoff still gives the game one of its most exciting plays. It's the start of games and drives, and it would just feel odd if it were eliminated. It would take a big piece of the game away.


Ron Jaworski: No -- Kickoff returns are still one off the most exciting plays of the game, even though there are fewer of them.




Marcellus Wiley: No -- Some of my highest emotions playing the game came from watching a touchdown off of a kickoff or watching a team get pinned inside the 5-yard line. I know injuries can occur on this play, but that's the nature of the beast, which is the NFL.



Damien Woody: No -- I love the kickoff. The kickoff is a game changer. It's one of the most exciting plays in the game. But the way it's constituted now, with the move to the 35 and all of the kickoffs out of the end zone, it almost serves no purpose anymore.

The main concern of players who make their livings on special teams is that such precautions make them vulnerable in a different way. Most of the men playing on coverage and return units are reserve linebackers, tight ends and defensive backs. Had they not stood out on special teams, they might have found themselves unemployed. Few franchises have the luxury of holding more than one spot for a player whose main value is in the kicking game. The players who are smart enough to see their limitations as starters soon understand that a paycheck is still available if they're hungry enough to chase returners.
When Chiefs wide receiver Terrance Copper was an undrafted rookie free agent with the Dallas Cowboys in 2004, head coach Bill Parcells candidly told him that he wasn't going to make the team catching passes. If Copper wanted to stay in Dallas, he needed to start covering kicks. He had never done it in his career, but he was on the Cowboys' roster when that season opened.
Pretty much every locker room in the NFL has a player with a similar story.
"My first touchdown in the league came [on a kickoff return] against New England in the last game of the 2007 season," said Giants wide receiver Domenik Hixon, who had been released by Denver four games into 2007 before the Giants signed him. "That may have been enough to keep me on the team the next year. If you're not the No. 1 or 2 receiver on most teams, they want to know what you're bringing to the table."
Said Houston Texans special-teams coach Joe Marciano: "Every team has a special-teams guy who is the top dog. If you took away kickoffs, it would be hard to justify keeping them. Most of those players aren't playing on the field goal or the field goal block unit. So there would be less opportunity for them to show value. You have to remember that most of these guys never [covered kicks or blocked for returners] before. They did it to get a job."
Coaches and players don't just believe people would miss the excitement of returns. They also fear that critics of the kickoff don't understand how much unheralded special-teams stars mean to their teams. Old-school cult heroes such as Bill Bates and Steve Tasker added a dimension that couldn't be quantified by simple numbers. More recent standouts such as Jacksonville's Owens and New England's Matthew Slater have given their teams a similar boost.
These players pride themselves on doing the little things most observers can't see. When retired receiver Sean Morey joined the Pittsburgh Steelers in August 2004, he was barely noticed until a Week 2 game in Baltimore. The 5-foot-11, 193-pound Morey spent that game blocking 6-2, 270-pound linebacker Adalius Thomas on kickoff returns. When Thomas decked Morey on the last return of the game, Morey bolted up and chased Thomas down to deliver one final blow. That play wasn't overlooked in the Steelers' film session the next day, when star receiver Hines Ward lauded Morey for his toughness.
"I used to love the fact that a lot of my teammates didn't want to do my job," said Morey, who played for four teams in nine NFL seasons. "I knew that self-preservation was an afterthought for a special-teams player, but I was happy as long as I was appreciated."
It's difficult to know how far the league is willing to go. Atlanta Falcons president Rich McKay, the chairman of the league's competition committee, has emphasized that current evidence isn't enough to justify anything extreme. The league still has other options to make kickoffs safer. It could adopt the new college rule that places the football at the 25-yard line after every touchback, although the competition committee nixed that notion after coaches suggested they'd emphasize shorter kickoffs before surrendering that type of field position.
[+] Enlarge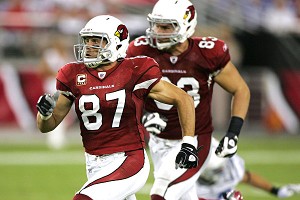 Gene Lower/Getty ImagesEliminating kickoffs will mean fewer jobs for players such as Sean Morey, who focused on special teams and was able to carve out a nine-year NFL career.
Don't be surprised if more changes come in the near future. It's also possible that Schiano -- who ironically has created his own safety controversy by having his defenders aggressively dive at New York Giants and Dallas Cowboys blockers in the midst of kneel-down plays -- might find more traction in the future. By the time Schiano left Rutgers, Georgia head coach Mark Richt was in his corner. Richt had watched one of his players, Decory Bryant, break his neck on a return in 2003. Schiano believes he'd have more supporters if more coaches and players saw first-hand the carnage that can result from kickoffs.
But the NFL is filled with young men who have a different view.
"There are guys in this league who would take offense just being asked the question of whether kickoffs should be gone," Arenas said.
Owens believes the entire discussion borders on heresy.
"Every sport comes with its own set of [possible] injuries," he said. "Don't get me wrong -- my heart goes out to those players who've been injured or have post-career effects. But if you get into compromising positions, you're going to get hurt. There are some dynamics you just can't control in this game."
ESPN.com senior NFL columnist
Reporter for ESPN TV's "E:60"
Sports Illustrated senior writer (2000-07)
Covered Raiders, 49ers for San Francisco Examiner (1996-1999)
NFL WEEK 4 COVERAGE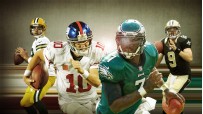 Follow the NFL on ESPN on Facebook
Fantasy Football on ESPN.com
Clayton's Last Call | NFL Nation blog
Total QBR ratings
WEEK 4 PICKS
MNF: Bears at Cowboys, 8:30 ET
On ESPN and WatchESPN.com
CLAYTON / FOX / SCHEFTER
FINAL WORD
COMMENTARY/BLOG POSTS
INSIDER ANALYSIS
FANTASY COVERAGE
STATS & INFO
SPORTSNATION
2013 NFL DRAFT

MOST SENT STORIES ON ESPN.COM