Commentary
Week 6: Seahawks let Wilson shine
Rookie QB benefits from added freedom; Jets finally get ground game on track
Originally Published:
October 14, 2012
By
John Clayton
| ESPN.com
Upsets. Crazy plays. Debatable play calls. Incredible kicks.
Week 6 had it all. It featured an incredible comeback victory by a young Seattle Seahawks team. It featured another Philadelphia Eagles meltdown in the fourth quarter and overtime. Arizona Cardinals kicker Jay Feely stunned everyone with a 61-yard field goal and then came back and blew a 38-yarder that sent the game into overtime. (Buffalo won 19-16 on a Rian Lindell 25-yard field goal.)
Game Balls
Offense: In his breakout game, Russell Wilson completed 16 of 27 passes for 293 yards and three touchdowns in a 24-23 victory over the New England Patriots. He had three completions of 46 yards or longer, including two for 50 or more.
Defense: John Abraham sacked Raiders quarterback Carson Palmer three times and hit him two other times in a 23-20 victory over the Oakland Raiders. One of his early sacks forced a fumble that defensive end Ray Edwards picked up and ran deep into Raiders territory.
Special teams: Jacoby Jones' 108-yard kickoff return for a score helped the Baltimore Ravens beat the Dallas Cowboys 31-29. He had three kickoff returns for 159 yards.
Overall, six of the 11 Sunday afternoon games were decided by three points or fewer. The margin of error continues to shrink in a season in which 57 percent of games are decided by a touchdown or less.
The Baltimore Ravens pulled out a tight win over the Dallas Cowboys, but could have lost two key defensive starters -- LB Ray Lewis (triceps) and CB Lardarius Webb (knee) -- to potentially serious injuries.
Here's what we learned in Week 6:
1. It's clicking for Carroll: Pete Carroll's unconventional approach to personnel is winning in Seattle. Critics questioned Carroll's decision to start rookie third-round choice Russell Wilson at quarterback instead of veteran Matt Flynn, who received a three-year, $19.5 million contract as a free agent. Well, Carroll is smiling with a 4-2 record and home upsets over the Dallas Cowboys, Green Bay Packers and New England Patriots. Wilson, who is only 5-foot-10 5/8, overcame a 13-point fourth-quarter deficit by throwing two touchdown passes in the final 7:21 and beat the Patriots 24-23. Wilson has the best record among the rookie quarterbacks.
"We're a young football team that knows how to hang," Carroll said.
In the first four games, the coaching staff limited what Wilson could do. During a four-week stretch, Wilson threw 25 or fewer passes a game, being limited to handoffs to Marshawn Lynch and short, safe throws. Against the Patriots, offensive coordinator Darrell Bevell opened up the offense for Wilson. Carroll said the coaching staff wanted to take advantage of Wilson's ability to run around the pocket and make plays. Wilson completed 16 passes for 293 yards and three touchdowns. He had five runs for 17 yards. His quarterback rating was 133.7.
The loss by the Patriots, though, was baffling. Tom Brady was on. He completed 36 of 58 passes for 395 yards, but Carroll said he preferred the Patriots passing instead of running. The Patriots are using some of the University of Oregon running offense, a fast tempo that wears out defenses. The Seahawks didn't get worn out. They held the Pats to 87 rushing yards on 26 carries, a measly 3.3-yard average.
"I just loved the way we rallied on both sides of the ball," Carroll said. "It was a big statement for a young team."
It was. The Seahawks are tied for the NFC West lead with Arizona and San Francisco. Now, the nation gets to see the improvements of the Seahawks in a Thursday night game against the 49ers.
2. The return of ground and pound: A 252-yard rushing day against one of the league's worst rushing defenses might not mean a lot to those on the outside, but it meant everything to the New York Jets.
"I think today represented the team that we are and the team we can be," Jets coach Rex Ryan said.
The Jets blew out the Indianapolis Colts 35-9 in a game in which running back Shonn Greene rushed for 161 yards on 32 carries. He entered the game with 217 yards in five games and a horrible 2.9-yard rushing average. Minus their No. 1 wide receiver (Santonio Holmes), and with tight end Dustin Keller and wide receiver Stephen Hill just coming off hamstring injuries, the Jets needed a game in which they could take some pressure off quarterback Mark Sanchez. He had to throw only 18 passes, completing 11 for 82 yards. He had no fumbles. He had no interceptions. It was a step forward.
"Our message has been the same," Ryan said. "And that's about staying together and building a team and keep making those steps"
At 3-3, the Jets are in a four-way tie for first in the AFC East and control their destiny over the next two weeks. They have two divisional games before their bye -- a road game against the Patriots next Sunday and then a home game against the Miami Dolphins.
3. Fourth-quarter woes: The Cowboys' fourth-quarter problems last year were well documented. They blew five fourth-quarter leads last year, including three double-digit leads. Yet I'm not sure which NFC East team is worse in that department -- the Cowboys or the Philadelphia Eagles. The Eagles blew two 10-point fourth-quarter leads in a 26-23 overtime loss to the Detroit Lions.
"I take responsibility for it," Eagles coach Andy Reid said after the game. "It wasn't good enough all the way around. We didn't get it done. ... We can't finish the way we finished."
[+] Enlarge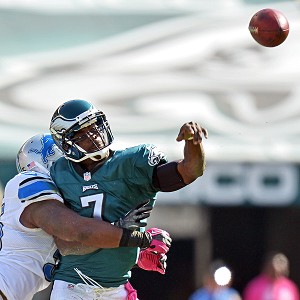 Drew Hallowell/Philadelphia Eagles/Getty ImagesMichael Vick and the Eagles are having problems closing out games.
If the trend continues, Reid might be finished after the season. Michael Vick might be in the same situation. The Lions looked like a beaten team. They had 16 penalties and are the first team to win with that many penalties since the 2005 Cincinnati Bengals, who had 18 in a win against the Minnesota Vikings.
Fans booed as the Eagles collapsed in the fourth quarter. Vick continues to commit turnovers; he had interceptions Sunday. If the season slips away and the Eagles don't make the playoffs, there could be significant change within the organization. Jeffrey Lurie isn't assuring Reid a job after this season, and it's not out of the question for the Eagles to go away from Vick because of the structure of his contract. If they keep him past this season, most of the remaining parts of Vick's contract can be guaranteed. He has $47.5 million coming to him from 2013 to 2015, and the Eagles might not want to pay that much if they remain a non-playoff team.
Back to the Cowboys. Coach Jason Garrett had the good fortune of getting an onside kick after Tony Romo hit Dez Bryant for a touchdown pass that cut the Ravens' lead to 31-29 with 32 seconds left. The Cowboys were at their 46-yard line with 32 seconds left, plenty of time to put together a field goal drive. A 20-yard interference penalty put the Cowboys at Ravens' 34 with 26 seconds left. Romo got a 1-yard completion to Bryant and the Cowboys let the clock get down to six seconds even though they had a timeout to call. They had time to run one more play but didn't. The result was a missed 51-yard field goal. Asked after the game about Garrett's end-of-game clock management, owner Jerry Jones told reporters, "I'm not going to take issue with that."
4. Home field matters: What's become apparent this year is the value of home field. Home teams are 56-33, a 62.9 percent pace that is the second best in NFL history since the merger in 1970. The best home-team season was 1985, when home teams won 64.3 percent of the time. No team benefited more Sunday than the Atlanta Falcons, and that's been the case all year. The Falcons' home-field advantage helped them survive three Matt Ryan interceptions and come out with a 23-20 victory over the Oakland Raiders. They've now won three home games by a total of 11 points.
"Our goal all week was to get through this game and get to our bye week 6-0, that was the mission," Falcons coach Mike Smith said. "Obviously, we didn't want to make it as hard as we did. We made a lot of mistakes in the ball game -- offense, defense, special teams and coaching, but we were able to overcome all of that."
Home field helped the Seahawks beat the Patriots. It helped the Ravens beat the Cowboys. In the close games, mostly the home teams are winning.
"I've played in many stadiums, but nothing is like CenturyLink," Seattle's Wilson said.
5. Giants do it again: During the week, New York Giants coach Tom Coughlin kept hearing how the 49ers might be the best team in the NFC. He blurted out how he thought no one was giving his Giants a chance. Of course people were giving the Giants a chance. Didn't they beat the 49ers in the NFC title game last year and advance to win the Super Bowl?
Sunday's 26-3 victory over the 49ers was a statement for the Giants. "I think we played smart football," Giants quarterback Eli Manning said. "We had smart drives. We had opportunities. Sometimes we had to settle for field goals too many times."
Manning had only two touchdown drives, but it didn't matter. The Giants shut down the 49ers' offense. They recorded six sacks and three interceptions. The fabled 49ers' running attack had only 80 yards.
SHORT TAKES
John Harbaugh admitted the Ravens' 31-29 victory over the Cowboys wasn't pretty, but, as he said, "We got a bunch of fighters on this team." The Ravens suffered some knockouts. Cornerback Lardarius Webb blew out an ACL, according to sources. Harbaugh thinks Ray Lewis' triceps injury isn't serious, but others in the organization are worried it is. Defensive tackle Haloti Ngata suffered an MCL knee injury. The Ravens have to be concerned about their defense. They gave up 227 rushing yards even though Dallas starting back DeMarco Murray played only a half because of a foot injury and Felix Jones was in and out of the lineup in the second half because of cramps. The Ravens have surrendered more than 200 rushing yards in back-to-back weeks. … It was a crazy day for Jets cornerback Antonio Cromartie. He had two interception returns for touchdowns but neither of them counted. One was called back because of an Aaron Maybin personal foul. The other was called back because Cromartie was called for interference. … The transition to right tackle for Dallas' Doug Free hasn't gone well. He had two penalties Sunday and now has nine for the season. … The Dolphins' Ryan Tannehill is becoming this year's Andy Dalton. Dalton, a second-round pick last year, helped take the Bengals to the playoffs in 2011 and earned a trip to the Pro Bowl. Statistically, Tannehill wasn't great in Sunday's 17-14 victory over the St. Louis Rams, but he showed surprising poise. According to ESPN Stats & Information, he was 11-of-13 for 105 yards and two touchdowns when at least five defenders rushed him. His 828 passing yards against the extra rushers is tops in football. He was smart against the Rams by throwing short. He was 21-of-29 for 185 yards. … Here is how stats can be misleading. The Rams outgained the Dolphins 294-100 in the first half. They trailed 10-6. … The Raiders entered Sunday's game against the Falcons without a defensive interception. They had three picks of Matt Ryan in the first half. … The Tampa Bay Buccaneers finally found the right balance with their offense. The key was finally using LeGarrette Blount, the big back who had only 13 carries in the first four games. Doug Martin had 13 carries for 76 yards Sunday, but Blount helped out with seven carries for 58 yards. That opened deep play-action passes for quarterback Josh Freeman, who threw for 328 yards with only 15 completions in a 38-10 blowout of the Kansas City Chiefs. … Obviously, the problem with the Kansas City Chiefs isn't just injured quarterback Matt Cassel. Brady Quinn got the start for Cassel, who has a concussion. The Chiefs used a conservative game plan and threw for only 180 yards. The Chiefs are 1-5 and their season looks lost. … The Bengals were down to two healthy running backs after losing backup Brian Leonard to a rib injury. … Kevin Kolb's rib injury suffered in the fourth quarter of the Arizona Cardinals' overtime loss to Buffalo could give John Skelton his starting job back for next week's game against the Minnesota Vikings. … The Bengals' 34-24 loss to the Cleveland Browns was the most baffling of the day. Dalton threw for 381 yards, but he's clearly having trouble in the shotgun because of bad blocking. … How bad were the 49ers Sunday? Prior to Sunday's 26-3 loss to the Giants, the fewest points the 49ers scored under Jim Harbaugh was six. … The Falcons finished 4-0 against the AFC West. … Tom Brady, Dalton, Ben Roethlisberger, Carson Palmer and Christian Ponder threw for between 352 and 395 yards and all lost in Week 6. … Robert Griffin III showed no signs of any concussion problems in the Redskins' 38-26 victory over the Vikings. … The Vikings continue to work the bubble screens to Percy Harvin, who had 11 catches for 133 yards, but the Redskins' defense didn't get burned by many of them.
NFL senior writer
Senior NFL writer and commentator
Joined ESPN in 1995
Member of the writers' wing of the Pro Football Hall of Fame in Canton, Ohio
NFL WEEK 6 COVERAGE
Follow the NFL on ESPN on Facebook
Fantasy Football on ESPN.com
NFL Nation blog | Leaders NFL Stadium Guides | QBR ratings
Last Call | Studs & Duds | MN HQ
MNF: BRONCOS 35, CHARGERS 24
COMMENTARY/ANALYSIS
INSIDER
2013 NFL DRAFT