Commentary
Week 2: Early themes emerging
Prolific QB performances and close games quickly becoming 2013 staples
Originally Published:
September 15, 2013
By
John Clayton
| ESPN.com
Big passing numbers and close games continue to dot the NFL landscape.
Roger Goodell has to be delighted in the consistent number of games being decided in the final minutes. Fantasy players must be thrilled with the individual numbers.
Game Balls
Offense: Aaron Rodgers became the second quarterback in NFL history to throw for at least 480 yards with at least four touchdowns and no interceptions. Only Y.A. Tittle did better when he had a 505-yard day for the N.Y. Giants against the Washington Redskins in 1962. Rodgers completed 34 of 42 passes in a 38-20 romp of Washington.
Defense: Mario Williams had a career day, getting 4½ sacks, six total tackles and four other hits on the quarterback in the Bills' 24-23 win over the Carolina Panthers.
Special teams: Even though Cordarrelle Patterson and Trindon Holliday had returns for touchdowns, Devin Hester had five returns for 249 yards, including an 80-yarder, in the Bears' 31-30 win over the Minnesota Vikings.
For the first time in NFL history, the league had a weekend in which three quarterbacks -- Michael Vick, Aaron Rodgers and Philip Rivers -- threw for more than over 400 yards without an interception. The 300- and 400-yard games are becoming commonplace.
Here's what we learned in Week 2:
1. Perfect timing for Packers: The Green Bay Packers didn't overreact to their season-opening loss to the San Francisco 49ers, but they responded like a mature team. Of course, it helped that they played the Washington Redskins at the perfect time. With Robert Griffin III not playing in the preseason and coming off knee reconstruction, the Redskins are getting maybe 70 percent of their second-year quarterback. I say 70 percent because he is not the threat to run -- which is wise -- and he's not a factor as a pocket passer early in the game. RG III competed six of 13 passes for 107 yards in the first half while the Redskins fell behind, 24-0.
The puzzling part of the Redskins is why the rest of the team hasn't stepped up to compensate. Tackling was horrible, and the Skins had no answer for Rodgers, who was in a zone. He completed 34 of 42 passes for 480 yards and four touchdowns. Green Bay receivers burned Washington defenders for more than 200 yards after the catch. James Jones caught 11 of the 12 passes thrown to him for 178 yards. Rodgers was 9-for-10 throwing to Randall Cobb for 128 yards and one touchdown. Rodgers, according to ESPN Stats & Information, completed 23 of 25 passes for 259 yards and two touchdowns against standard pressure.
What's important to the Packers was how they responded to adversity. In the first quarter, they lost starting halfback Eddie Lacy to a concussion on a hard hit by Redskins safety Brandon Meriweather. Later, fullback John Kuhn suffered a hamstring injury.
That put the job in the hands of James Starks, a forgotten running back who almost didn't make the team. Starks became the first Green Bay back in 45 regular-season games (since Oct. 10, 2010) to get 100 yards rushing. He had 132 yards on 20 carries. Rodgers praised the Packers' leadership for refocusing the team.
"Guys like John Jolly, B.J. Raji and Randall Cobb were bigger speakers in the locker room," Rodgers said. "Being vocal is not my forte." His forte is running the offense. On Sunday, he was flawless.
2. Cardiac Texans: After coming back from 21 points down to beat the San Diego Chargers on Monday night, the Texans rallied from a 24-16 deficit to beat the Tennessee Titans on Sunday. Comebacks such as these confirm that the Texans are legitimate Super Bowl contenders.
Still, playing from behind isn't necessarily the Texans' style. Coming into the season, Matt Schaub had only 12 game-winning drives and nine fourth-quarter comebacks during a career that started in 2004. The model for the Texans is to get a lead, pound the football with running backs Arian Foster and Ben Tate then rely on a great defense.
What's now clear is the Texans have big playmakers who can become game-changers when needed. Brian Cushing and J.J. Watt each came up with two sacks. The defense got two key three-and-outs and stopped Chris Johnson for a safety in the fourth quarter.
3. Rejuvenated Bills: Doug Marrone saved Syracuse after many long years of frustration. Now the rookie coach appears doing the same for the Buffalo Bills, much faster than anyone thought. Sunday's 24-23 victory over the Carolina Panthers was the stunner of the day. With rookie EJ Manuel at quarterback, the Bills were surprisingly competitive against the New England Patriots in Week 1. On Sunday, they beat Cam Newton, who's still trying to figure out how to win close games in his third season.
Don't minimize the importance of this win in the big picture. Manuel became only the fifth rookie quarterback since 1960 to register a fourth-quarter comeback in his first two games. Manuel rebounded from two turnovers to execute a nine-play, 80-yard drive that was capped by a 2-yard touchdown pass to Steve Johnson with two seconds left. Overall, he completed 27 of 39 passes for 296 yards.
Marrone and Manuel are instant kings in Buffalo. Ron Rivera is on a different seat. His seat is heating up. Last week, the Panthers lost by five to the Seahawks. They lost Sunday by a point to a young Bills teams. This is Rivera's third season. Under Rivera, the Panthers are 2-14 in games decided by seven points or less. If the trend continues, the Panthers won't be able to move beyond being a 6-10 or 7-9 team every year.
[+] Enlarge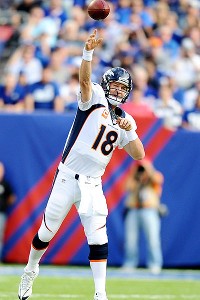 Maddie Meyer/Getty ImagesPeyton Manning was accurate and highly efficient Sunday. Younger brother Eli was neither.
4. Big brother does it again: It's looking like Peyton Manning -- not Eli -- is going to have the special season. Eli has one more Super Bowl ring than his brother, but Peyton has a 3-0 record against Eli. Unless they meet in the Super Bowl in the next few years, that is where the mark will stand. The edge Sunday was efficiency. In Denver's 41-23 victory over the Giants, Peyton completed 30 of 43 passes for 307 yards and got his eighth and ninth touchdown passes of the season. Eli threw four interceptions. In two games, the Giants have 10 turnovers, including seven picks by Eli.
Five of Denver's next eight games are against teams that had .500 records or worse last year. That gives the Broncos a great chance to be 6-2 or 7-1 by midseason. Remember, they entered the season with the easiest schedule in football. It got tougher when Von Miller got a six-game suspension. With their start, the Broncos look like a team destined for 12 or 13 wins. As for the Giants, an 0-2 start will be hard to overcome. They are looking like an eight- or nine-win team at best.
5. Chiefs and Dolphins emerging: Going on the road to beat the Indianapolis Colts was an important statement by Dolphins head coach Joe Philbin and quarterback Ryan Tannehill. This was the beginning of a four-game stretch in which the Dolphins play the Colts, Atlanta, New Orleans and Baltimore. So Sunday's win was huge from a record standpoint (they're 2-0 for the first time since 2004). It was also important for a defense that showed it can stop a quarterback of Andrew Luck's caliber in crunch time. This could give the Dolphins an edge over Indy for a wild-card spot if they end up in a tie at the end of the season.
The Chiefs beat the Dallas Cowboys, 17-16, and the presence of new coach Andy Reid is showing. Reid has an endless number of wins over the Cowboys, and his ability to make adjustments paid off Sunday. Dez Bryant burned the Chiefs' secondary for five catches for 100 yards in the first quarter. Down a corner because Dunta Robinson couldn't play because of some family issues, Reid adjusted by bringing extra pressure. The extra rusher came 19 times in the remaining 40 dropbacks for Tony Romo, according to ESPN Stats & Information. From that point, Romo completed only four of seven passes to Bryant for 41 yards.
SHORT TAKES
The thing that will hold back the Eagles will be their defense. That was easy to see in the preseason and it was very noticeable in the Eagles' 33-30 loss to the San Diego Chargers. The Eagles put up 511 yards on the Chargers, but they gave up 539 yards on 79 plays. "Couldn't get them off the field," Eagles coach Chip Kelly said. "We better make sure we can correct it." I don't know if the Eagles have the talent in the secondary to fix that problem this season. They were down cornerback Bradley Fletcher and the drop-off without him was huge. … Injuries are becoming a problem for the Colts. They've lost halfback Vick Ballard (knee) and guard Donald Thomas (quad) for the season. … Getting back to the Cowboys, they need to get better production out of halfback DeMarco Murray, who had 12 carries for 25 yards. … Even though running backs did better than the opening Sunday, it was still a tough day for them. Atlanta's Steven Jackson left the game in the first quarter in his reunion with the St. Louis Rams. As it turned out, the Falcons didn't need him. They jumped out to a 21-0 lead and held on to win, 31-24. … After getting shut out in the first week, kick returners had some success. Cordarrelle Patterson of the Minnesota Vikings and Trindon Holliday of the Denver Broncos had returns for scores. … That's twice in two weeks the Vikings lost even though they got a quick score at the start of the game. Patterson had a kickoff return for a TD on Sunday. Last week, Adrian Peterson opened the game with a long touchdown run. But once again, quarterback Christian Ponder struggled early and couldn't pull out the victory. He settled for field goals in the second half and had a pick-six in a 31-30 loss at Chicago. … X-rays on Cleveland quarterback Brandon Weeden were negative on his right thumb, but you get the idea Jason Campbell might play next week against the Vikings. The Browns are 0-2 and have scored only 16 points in two weeks. … The Ravens were optimistic Ray Rice didn't badly injure his hip during Sunday's win over the Browns, but he might not be 100 percent against the Texans next week. … The Bucs might be the most disappointing team in football. Josh Freeman remains inconsistent and the team makes too many mental mistakes. … Even though the Detroit Lions lost to the Arizona Cardinals, 25-21, they played hard on the road. "Our confidence is high," quarterback Matthew Stafford said.
NFL senior writer
Senior NFL writer and commentator
Joined ESPN in 1995
Member of the writers' wing of the Pro Football Hall of Fame in Canton, Ohio
THE NFL ON ESPN.COM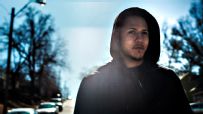 Missouri pass-rusher Shane Ray transformed himself in many ways to become a top prospect.
EDITORS' PICKS
Shane Ray transformed himself in many ways to become a top prospect.
Merrill »

The Saints are positioned to land impact players early in the draft. Who else is in a favorable situation?
Barnwell »

Darrelle Revis is just what the Jets' D needed. Which other '15 acquisitions will pay immediate dividends?
Williamson
Nike Boys' Home Game Jersey Buffalo Bills Fred Jackson #22 Shop »

MOST SENT STORIES ON ESPN.COM