Commentary
Week 7: Defenses get offensive
Not even Brady's safe from pick-six outbreak; Bengals prove they're elite
Originally Published:
October 20, 2013
By
John Clayton
| ESPN.com
The pick-six disease afflicting Matt Schaub and other quarterbacks has spread.
Jay Cutler threw a pick-six to Washington Redskins linebacker Brian Orakpo before leaving with a groin injury in the second quarter of the Chicago Bears' 45-41 loss. Nickell Robey of the Buffalo Bills had a 19-yard interception return for a touchdown against Miami Dolphins QB Ryan Tannehill in a 23-21 victory. Logan Ryan of the New England Patriots returned a Geno Smith pass 79 yards for a touchdown, but Tom Brady returned the favor by throwing a pick-six to Anthony Allen of the New York Jets. Captain Munnerlyn returned a Sam Bradford pass 45 yards for a score in Carolina Panthers' 30-15 victory over the St. Louis Rams.
Game Balls
Offense: A week ago, Bengals QB Andy Dalton completed 10 passes behind the line of scrimmage against the Bills. In Sunday's 27-24 win over Detroit, he threw only two. Dalton went downfield and completed 24 of 34 passes for a Week 7-best 372 yards and three touchdowns. He had a 135.9 passer rating.
Defense: The Chiefs' torrid pass rush ate up Texans quarterback Case Keenum. Tamba Hali had 2½ sacks, six tackles, two forced fumbles and one additional quarterback hit in a 17-16 victory.
Special teams: Even though the Bears lost to the Redskins 45-41, Devin Hester did his part to win the game. He had an 81-yard punt return for a touchdown in the second quarter. It was the 19th regular-season return touchdown of his career, tying Deion Sanders' NFL record. He had 125 return yards combined.
The San Francisco 49ers recovered a fumble in the end zone in their easy victory over the Tennessee Titans. Rams defensive end Eugene Sims tackled Atlanta Falcons running back Mike Tolbert in the end zone for a safety.
For the season, there have been 30 interception returns for a touchdown (the second-highest total through seven weeks since the merger), 14 fumble recoveries for scores and 10 safeties. Scoring is up on offense, but it's really improved on defense.
Such sloppiness is understandable. The league is going with younger quarterbacks. Older quarterback such as Schaub and Eli Manning are gambling more and staring at defenders.
It leads to some crazy twists in games.
Here's what we learned in Week 7:
1. Bengals are elite: The Cincinnati Bengals' 27-24 victory over the Detroit Lions was, as coach Marvin Lewis described it, "huge." The victory once again proved the Bengals can play with, and win over, the good teams. They've beaten Pittsburgh, New England and Green Bay at home, but they needed to show they could win a big game on the road. Sunday was the day. The much-criticized Andy Dalton passed for 372 yards against the Lions' man-to-man defense. He had five completions of at least 22 yards. The Bengals' offensive line limited Detroit's bullying defensive line to one sack and only three hits on the quarterback.
Against intense pressure inside a noisy Ford Field, the Bengals didn't flinch. In practice all year, Lewis has stressed being able to play 60 minutes of football with the offense, defense and special teams. Plus, the victory highlighted the team's depth. Cornerback Leon Hall suffered what could be a season-ending Achilles tendon injury. Defensive tackle Devon Still suffered an elbow injury that could keep him out a couple of weeks. At different points, safety Reggie Nelson, linebacker Rey Maualuga, and defensive ends Michael Johnson and Wallace Gilberry suffered injuries that knocked them out of the game temporarily. The Bengals now have the depth to handle those setbacks and not lose much off the quality of their play.
"We've got some stick-to-it-iveness," Lewis said. "It was a good example of when you lose a guy, the next guy knows he has to be ready to go."
This Bengals defensive line is deep and physical. The linebacking corps is athletic. There is plenty of depth in the secondary. Dalton may take criticism for being an inconsistent deep thrower, but he wins games. At 5-2, the Bengals are in good shape in the AFC North.
[+] Enlarge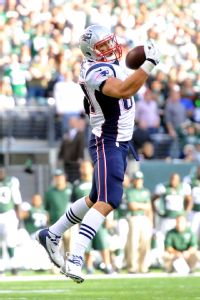 Joe Camporeale/USA TODAY SportsWith Rob Gronkowski unable to practice, the Patriots are seeking more depth at tight end.
2. Gronk's return boosts Patriots' offense: Critics will look at the Patriots' horrible 1-for-12 showing on third down as a failure in a 30-27 overtime loss to the New York Jets. Critics will look at the 295 yards of total offense as being another disappointment. Make no mistake, the Patriots are a better offense with Rob Gronkowski back at tight end. They scored 20 points against a Jets defense that won the battle at the line of scrimmage. They scored two touchdowns in two trips into the red zone, and the threat of Gronk created those opportunities.
As expected, Gronkowski was on the field for more than 50 percent of the Patriots' 70 plays. Brady made good use of him. He targeted Gronk 17 times and completed eight passes for 114 yards. That's a good start for Gronk, who missed the first six weeks. Coming into the game, the Pats had only nine completions to tight ends for 96 yards and they were one of three worst red zone teams in football.
The problem with the Patriots, though, now switches to the defense. Injuries leave New England's defense vulnerable, and that might not change. Minus Vince Wilfork and Jerod Mayo, who are out for the season (DT Tommy Kelly also missed Sunday's game because of a knee injury), the Patriots suddenly look average on defense. Jets rookie QB Geno Smith completed only 17 passes for 233 yards, but he moved the ball when he needed to.
Here is the key stat: Smith was 11-of-21 on third downs, making 10 more first downs than Brady. The Jets pounded out 177 rushing yards on 52 carries. How many times has a Patriots defense been pounded for 52 carries? The Pats should win the AFC East, but they look a little more vulnerable because of the defensive problems. The offense should get better.
3. NFC East is Dallas' to lose: The Dallas Cowboys' 17-3 victory in Philadelphia gave Dallas a huge leg up in the NFC East. The Cowboys' lead goes beyond the one-game edge they have over the Philadelphia Eagles. First, they are 3-0 against NFC East teams. Second, they exposed the Eagles for being a team that is Michael Vick or bust. Minus DeMarcus Ware, Monte Kiffin's Cover 2 defense stifled Nick Foles, who completed only 11 of 29 passes for 80 yards before leaving the game with a concussion. Kiffin pitched a shutout on deep passes. According to ESPN Stats & Information, Foles was 0-for-8 on passes that went 15 yards in the air. Only nine players in the past five years were shut out like that, according to Stats & Info. Seven of those eight throws were off target. Expect Vick's hamstring to get a lot better this week. The Eagles need him.
The NFC East has been a major disappointment. The Washington Redskins' win over Chicago was nice, but they are 2-4. The New York Giants are 0-6. As much as it is the Cowboys' division, you still wonder if they can blow it. That feeling surfaced in the third quarter. The Cowboys had a commanding 10-0 lead with 2:46 left in the quarter, but Tony Romo threw an interception on a third-and-3. All of a sudden, you're thinking, "Here we go again." But Foles got hurt on the next series and Matt Barkley isn't ready to take over.
[+] Enlarge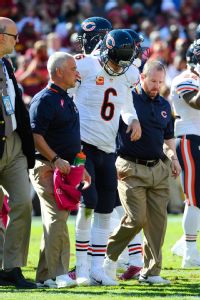 Brad Mills/USA TODAY SportsIf Jay Cutler misses significant time, the Bears' season could unravel quickly.
4. Tough day for quarterbacks: Foles suffered a concussion, but the Eagles can go back to Vick. More concerning is the groin injury to the Chicago Bears' Cutler. Redskins defensive end Chris Baker sacked Cutler with 10:09 left in the second quarter. Cutler, who didn't return, will undergo an MRI on Monday to determine the extent of damage to the area. The good news is the Bears have a bye in Week 8. The bad news is the Bears' chances to win the NFC North could go down if Cutler isn't back for the Nov. 4 Monday night game against the Green Bay Packers or the Nov. 10 game against the Detroit Lions.
With that play, Cutler became the most-sacked quarterback in Bears history. With that play, the Bears' season went into crisis mode. The Bears' defense is no longer a Monster of the Midway. Sunday's loss was the third time this season it's surrendered more than 30 points and the second time it's given up more than 40. To win, the Bears need the threat of Cutler passing. If he's not there, the Bears could end up third in the NFC North.
5. How the run saved Steelers, Packers: The Pittsburgh Steelers were in crisis mode. A loss to the Baltimore Ravens at home would have been crushing in terms of their playoff chances. But Le'Veon Bell came up with 93 yards on 19 tough carries and the Steelers rushed for 141 in a season-saving 19-16 win over the Ravens. Minus James Jones and Randall Cobb, the Green Bay Packers used Eddie Lacy for 22 carries for 82 yards in a 31-13 win over the Cleveland Browns. Two rookie runners. Two victories.
The Steelers had to figure out a way to win. The offensive line, which has been horrible, suffered another injury when right tackle Marcus Gilbert went down with a quad injury. Often, Steelers quarterback Ben Roethlisberger and offensive coordinator Todd Haley differ on running the ball. Big Ben likes the pass. Haley likes the run and screen games. The offense shifted to the Haley way and it was successful.
"The fact that they ran the ball as well as they did helped," Ravens coach John Harbaugh said. Catching the 5-2 Bengals might be tough for the 2-4 Steelers, but they are now only a half-game behind the 3-4 Ravens, who continue to struggle in close games.
The Packers figured to win against the Browns, but they knew it wouldn't be easy. Without Jones and Cobb, Browns cornerback Joe Haden could match up against the Packers' lone outside threat, Jordy Nelson. Nelson had five catches for 42 yards. Aaron Rodgers shifted his passes to Jarrett Boykin, completing 8 of 10 to him for 103 yards, and to Jermichael Finley, who caught 5 of 5 for 72 yards. The key, though, was the running game, which helped out with 104 yards on 29 carries. The Packers had balance.
SHORT TAKES
The Rams' 30-15 loss to Carolina Panthers was bad enough, but it could have cost them Bradford, who was hit along the sidelines and suffered a knee injury. He'll get an MRI Monday. The game got out of control. Defensive end Chris Long was ejected. Rams guard Harvey Dahl went after Carolina safety Mike Mitchell, who made the sideline hit on Bradford. … What has happened to Tannehill? After getting off to a good start, Tannehill seems to be regressing. He threw two interceptions Sunday, including a pick-six, and was sacked twice, bringing his season total to 26. General manager Jeff Ireland loaded up his receiving corps by re-signing Brian Hartline and signing Mike Wallace and Brandon Gibson. But Tannehill completed 19 of 37 for 194 yards against the Bills. Not good enough. … One of the best performances Sunday was by Matt Ryan of the Atlanta Falcons. Minus Roddy White, Julio Jones and Steven Jackson, Ryan completed 20 of 26 passes for 273 yards and three touchdowns. … Jake Locker had a courageous performance coming back from hip and knee injuries. He threw for 326 yards against the San Francisco 49ers. But the 49ers outlasted the Titans, thanks to 153 rushing yards. … Case Keenum wasn't bad. He kept the Houston Texans competitive in a 17-16 loss to the Kansas City Chiefs. But, like a week ago against the Oakland Raiders, the Chiefs' defense broke down the quarterback and caused numerous fourth-quarter mistakes. Keenum was 15-of-25 for 271 yards, but was sacked five times.
NFL senior writer
Senior NFL writer and commentator
Joined ESPN in 1995
Member of the writers' wing of the Pro Football Hall of Fame in Canton, Ohio
THE NFL ON ESPN.COM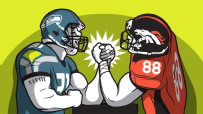 Better savor Week 3's Super Bowl rematch, it may be a while before there's another one.
EDITORS' PICKS
With the NFL floundering and in need of leadership, Roger Goodell has disappeared.
Keown »

Tampa Bay is latest team getting little bang for its buck.
Clayton's mailbag »

Pats DE Chandler Jones is among those on the verge of a breakthrough.
Clay »