Commentary
Week 12: NFC North give-away
Lions squander chance to gain separation; Breaking point for Chiefs' D
Originally Published:
November 24, 2013
By
John Clayton
| ESPN.com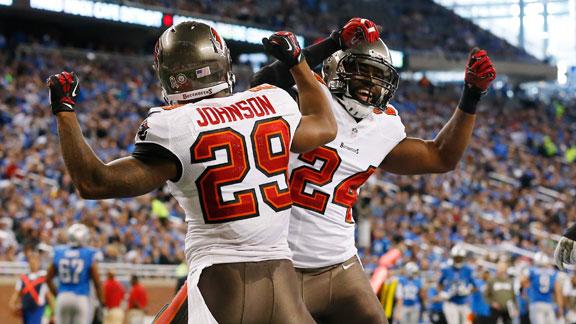 Sunday Blitz: Buccaneers-Lions Recap
Sunday Blitz: Buccaneers-Lions Recap
Apparently, teams in the NFC North have their holidays confused.
On the Sunday before Thanksgiving, NFC North teams treated the weekend as though it was Christmas. The Detroit Lions committed five turnovers, including four Matthew Stafford interceptions, in a 24-21 loss to the Tampa Bay Buccaneers at home. Inexcusable. The Chicago Bears committed three turnovers and were totally flat in a 42-21 loss in St. Louis. Unexplainable.
Game Balls
Offense: In a come-from-behind, 41-38 win over the Chiefs, Chargers QB Philip Rivers completed 27 of 39 passes for 392 yards and three touchdowns. He did not throw an interception.
Defense: Lavonte David, a tackling machine, added more big plays to his totals in Tampa Bay's 24-21 victory over Detroit. Not only did he have 12 tackles, but he intercepted a pass, forced a fumble and defended a pass. He was everywhere.
Special teams: Jacoby Jones had five punt returns for 108 yards and two kickoff returns for 38 yards in Baltimore's a 19-3 win over the Jets. His 146 return yards put the Ravens in good field position all day.
The Green Bay Packers played to a 26-26 overtime tie with the two-win Minnesota Vikings at Lambeau Field. Of course, they were going with a third-string quarterback (Scott Tolzien) until coach Mike McCarthy sparked a comeback by going to Matt Flynn in the second half. Flynn ran the no-huddle, come-from-behind offense that Tolzien wasn't equipped to handle.
Sunday's results further muddied the NFC North picture. The Lions have lost twice at home in the past month and failed to claim a division that appeared to be theirs for the taking. Their fate may be at the hands of an injury report. The Lions host the Packers on Thanksgiving and Green Bay QB Aaron Rodgers is trying to make his return from a fractured collarbone.
As it stands now, the Lions and Bears are at 6-5. The Packers are 5-5-1. And Bears QB Jay Cutler, who has missed the past two games, doesn't sound as though he'll be ready to play next Sunday against Minnesota. Cutler said last Monday he has ligament problems slowing down his recovery from a high-ankle sprain.
The Lions lost at home in Week 7 because a short punt in the final minute set up an easy field-goal drive for Cincinnati Bengals quarterback Andy Dalton. They lost in Pittsburgh last week when coach Jim Schwartz called a fake field goal that resulted in a fumble. Sunday's loss was a give-away.
"We definitely need to have a team meeting," Lions RB Reggie Bush said. "We really need to dig deep inside and find out what we're made of. And it's going to take everyone on this team -- the coaching staff, the players -- to overcome this."
Here's what we learned in Week 12:
1. Chiefs can't persevere: Every team has a breaking point when it comes to injuries. The Kansas City Chiefs found theirs when they lost linebackers Tamba Hali and Justin Houston in the second quarter of a 41-38 loss to the San Diego Chargers. For 10 weeks, the Chiefs were known as the defense that wouldn't allow more than 17 points in a game. Then the Denver Broncos put up 27 last Sunday night, which was a harbinger.
When Houston left late in the second quarter with an elbow injury, the defense parted as though Moses was parting the Red Sea. Houston and Hali have combined for 20 sacks and are so effective rushing the passer that the Chiefs usually can drop seven defenders into coverage on passing downs. Hali went out one play into the second quarter with an ankle injury. With Hali in the game, the Chiefs gave up 78 yards on 13 plays and led 7-3. Houston's day ended after a 5-yard gain by Danny Woodhead. The Chiefs led 14-3 at that point and held the Chargers to 113 yards on 24 plays.
After that, the Chiefs' defense allowed 378 yards on 43 plays along with 38 points. That's 4.7 yards per play to 8.8. Plus, the Chiefs sacked Philip Rivers only once.
"It's just that the defense wasn't as effective because you have two of the best players in the game today not on the field," Chiefs linebacker Derrick Johnson said. "At the end of the day, we still had a chance."
Chiefs coach Andy Reid is awaiting MRIs on Hali's ankle and Houston's elbow. If both can't play next Sunday against Peyton Manning, the Chiefs could give up 50 points and be on a three-game losing streak.
The victory was huge for the Chargers, who have lost four final-minute games this season. "It's one of the games you never forget," Rivers said. "It kinda sums up our season of whether we can come down and score in the final two minutes."
Rivers drove 78 yards in 58 seconds to hit Seyi Ajirotutu with a 26-yard touchdown with 24 seconds left. The Chargers are 5-6 and alive for the last wild card while the Chiefs might have to settle for the No. 5 seed if they lose to Denver in Week 13.
[+] Enlarge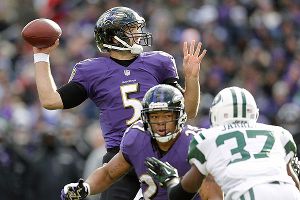 AP Photo/Patrick SemanskyThanks to Joe Flacco's ability to thrive in the cold, the Ravens are still in the playoff race.
2. Revived by cold weather: In Kansas City, it was 24 degrees. In Green Bay, it was 19. Surprisingly, 131 points were scored in those two cold-weather games, and both home teams lost. In contrast, Baltimore and Pittsburgh -- historically two of the better cold-weather teams -- were revived by the chill.
It was 20 degrees in Cleveland for the Steelers' 27-11 victory over the Browns. The Ravens baked the New York Jets, 19-3, in 33 degree temperatures. The Ravens benefited by being at home and playing a rookie quarterback (Geno Smith). Gusting winds took the wind chill to minus-6, which played into the hands of Baltimore coach John Harbaugh.
"We like to practice outside," Harbaugh said. "We prefer it. I think Bo Schembechler said, 'If you're going to play in North Atlantic …'" A reporter interrupted Harbaugh and said Woody Hayes said that.
The point is the Ravens are a good cold-weather team. Quarterback Joe Flacco is big and has big hands. He can grab the football in the cold and heave passes into the wind. He completed 17 of 26 of them for 273 yards and a touchdown. Flacco said he goes out there and doesn't think too much about the wind and cold, but he can get away with it. Smith can't. He has smaller hands and struggles in the conditions despite having a strong arm. He completed only nine of 22 passes and isn't assured of starting next week.
For Steelers QB Ben Roethlisberger, the weather was just fun. He grew up in Ohio and is now calling himself a Pittsburgher. But he's big, strong and does his best in the cold.
Roethlisberger completed six of 10 passes to Antonio Brown for 92 yards and a touchdown and hit Emmanuel Sanders in six of seven attempts for 52 yards and a score. Le'Veon Bell helped with 80 rushing yards on 23 attempts.
At 5-6, the Ravens and the Steelers stay in the race and meet in Baltimore on Thanksgiving evening.
3. Opposite ends of spectrum: The Carolina Panthers' 20-16 victory over the Miami Dolphins was a classic example of two franchises going in different directions. The Panthers came from behind to win their seventh consecutive game. The Dolphins blew another home game and have lost six of their past eight.
Early in the year, Panthers coach Ron Rivera's job was on the line when the Panthers opened with a five-point loss to Seattle and a one-point loss in Buffalo. But over the course of the season, Cam Newton & Co. learned how to win close games. The tide turned with a one-point victory at San Francisco in Week 10.
NFL Playoff Machine
Check current playoff seedings and Week 17 scenarios.

Playoff Machine | Scenarios
The Dolphins dominated the game early. Ryan Tannehill finally was hitting Mike Wallace with downfield passes. That chemistry had not been there until Sunday. But the Dolphins made the fatal mistake of settling for field goals. Nevertheless, they led 16-3 in the second quarter. Newton put together two 80-plus-yard drives in the second half and won the game with 43 seconds left when he hit Greg Olsen with a touchdown pass.
A reporter asked Dolphins coach Joe Philbin after the game if the Dolphins failed to convert opportunities. "You hit the nail on the head," Philbin said. "When you've got the ball in your hands, you've got to catch the ball. We did have good field position a couple of times and didn't capitalize."
The Miami franchise is loaded with pressure. Attorney Ted Wells concluded a week-long investigation of the team for alleged bullying tactics of guard Richie Incognito. Three starters are missing from the offensive line. Wallace hadn't been in sync with Tannehill until Sunday. Now, the Dolphins are where the Panthers were at the beginning of the season, failing to win the close games.
"We were a couple plays away from winning that game," Tannehill said. "We just have to be able to make those plays. Coach Philbin told us in the locker room, it's tough to win three-point games every single week."
The Panthers now understand that and have embraced those situations. Newton is now a good fourth-quarter comeback quarterback and Carolina's defense has the ability to close. That's why the Panthers are 8-3 and heading to the playoffs. The Dolphins are 5-6 and could be facing a lot of offseason changes.
4. Coach of the Year candidates: Bruce Arians won NFL Coach of the Year honors last season after leading the Colts to nine wins while filling in as an interim coach for Chuck Pagano, who was battling cancer. Arians might not be able to top Andy Reid for this year's honor, but he's definitely in the mix. Now head coach of the Arizona Cardinals, Arians directed a 40-11 blowout of Indianapolis to improve his record to 7-4.
If I were voting today, I would have Reid first, Pete Carroll second, Sean Payton third and Arians fourth, but Arians is rising fast. Even though the Cardinals have wins over the Lions and Panthers, those victories were early in the season and didn't excite anyone. The Lions were just starting to get hot. The Panthers were 1-2 heading into that game. Arians needed a signature win and got one Sunday over Indianapolis, a 7-4 team expected to win the AFC South.
"This was a respect game," Cardinals quarterback Carson Palmer said. "I don't think we are very well respected across the league. That's no one's fault but our own."
5. No Miracle on the Meadowlands: After an 0-6 start, the New York Giants won four straight and had life. But those four wins came against inferior or injured quarterbacks. Sunday's showdown against the Dallas Cowboys would test whether their comeback was for real. It wasn't.
Tony Romo passed for 250 yards and two touchdowns. That was enough for the Cowboys to sneak out of New York with a 24-21 victory and a 6-5 record. The Giants are now 1-3 in the NFC East and 4-7 for the season.
Giants coach Tom Coughlin talked about lessons learned after the game. "The bigger the game, the more you have to control yourself," Coughlin said about some of the mistakes and penalties that cost the Giants. "As a player, you have to find a way to settle down and play the next play. We lost it a couple of times, and it cost us."
Coughlin didn't offer a concession speech following the loss. "We lost a game," Coughllin said. "We all got excited about having a chance to win. That's gone, but we have five games to play."
For the Cowboys, it registered as another win against a team with a losing record, but it was a big win in the sense that they're now tied with Philadelphia for the NFC East lead.
SHORT TAKES
The NFC continues to take control of the inter-conference battle. Wins by the Panthers and Cardinals put the NFC at 28-24. Remember when the AFC won the first 10 of 13? The NFC is back in control. … Mark Barron's helmet hit on Lions quarterback Matthew Stafford was the 19th personal foul for the Buccaneers, which is the league's most. … Tavon Austin continues to make big plays. His 65-yard TD run less than two minutes into the Rams' 42-21 victory over the Bears made him the fourth player since 1960 to have a rushing, a receiving and a punt return touchdown of at least 60 yards in a season. ... The Rams had a weird trifecta. Guard Chris Williams, running back Zac Stacy and cornerback Trumaine Johnson couldn't finish the game because of concussions. … The Texans' 13-6 loss to the Jaguars could seal the fate of head coach Gary Kubiak. Texans QB Case Keenum has now lost all five of his starts by seven points or less. … Jaguars coach Gus Bradley, who won his second game, had one of the year's best quotes after the game. "The road to success is always under construction," he said. Brilliant. … If you are wondering why running back Packers QB Eddie Lacy could't finish the game against Minnesota, the reason was asthma problems. ... Justin Houston's injury is a subluxation. The elbow popped out. Tamba Hali's ankle injury is in the lower part of the ankle, not a high-ankle sprain. His status for the Denver game is unknown. ... Tough loss for the Raiders. They had a chance to be the No. 6 seed in the AFC, but Sebastian Janikowski missed two field goals and they let Titans backup QB Ryan Fitzpatrick drive for a game-winning touchdown in the final minutes. The Titans are the No. 6 seed for the moment. ... Despite a groin injury that left him questionable before the game, Vikings RB Adrian Peterson rushed for 146 yards and a touchdown in a 26-26 tie with the Packers. He has 9,846 career rushing yards. ... The showdown between Calvin Johnson and Darrelle Revis wasn't as good as billed. Revis couldn't finish the game because of a groin injury. Johnson caught seven passes for 115 yards.
NFL senior writer
Senior NFL writer and commentator
Joined ESPN in 1995
Member of the writers' wing of the Pro Football Hall of Fame in Canton, Ohio
SPONSORED HEADLINES
MORE NFL HEADLINES
MOST SENT STORIES ON ESPN.COM
THE NFL ON ESPN.COM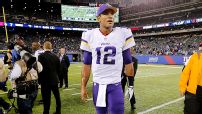 Despite his recent failures, free-agent QB Josh Freeman still has what it takes to thrive.
EDITORS' PICKS
We're tracking all the moves in free agency.
FA Wire

Our columnist lists 10 things she'd like to see in free agency.
Fox »

Fire sale? No, it's just the Saints making adjustments.
Triplett »