Concussions in sports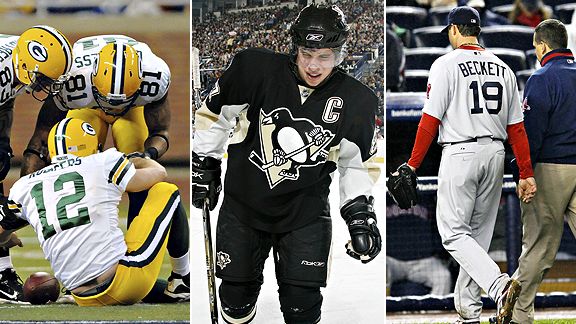 A concussion is a common type of traumatic brain injury, frequently suffered in contact sports, such as football. As more serious long-term effects of concussions have been revealed through medical studies, some professional sports leagues have revisited how they treat players who have suffered concussions.
As of 2011, all four major North American sports leagues have league-wide concussion policies, which are being studied and changed as new information comes in.
A concussion is the most common type of brain injury, frequently defined as a head injury with a temporary loss of brain function. It is most often caused by a sudden blow to the head, which can cause the brain to shake inside the skull. A concussion basically stops brain activity during the injury, though permanent brain damage is rare.
There are three grades of concussion, determined by severity. Several systems exist in defining those grades, but most are concerned with the length of symptoms and whether the sufferer loses consciousness.
A concussion can cause obvious symptoms in the sufferer -- light-headedness, fainting or nausea -- or can go rather unnoticed. The common treatment is plenty of rest, and most people recover in anywhere from a few hours to a few weeks. Occasionally a person who has suffered from a concussion can develop post-concussive syndrome, when the symptoms continue long after the original injury was suffered.
Symptoms of a concussion can include:
• Passing out
• Loss of memory
• Confusion or inability to concentrate
• Feeling light-headed
• Nausea
There is no set treatment for a concussion, as the symptoms usually go away without treatment. Most sufferers are told to get plenty of sleep at night and rest during the day until they can return to normal activities without experiencing any symptoms. Medication can be prescribed for symptoms such as dizziness or nausea, though it is not always necessary. Most patients must return for further evaluation within 24 to 72 hours after the injury in case symptoms remain or worsen.
Concussions in the NFL
The NFL has considered concussions and their effects in its players to be a significant topic for many years. In 2007, the league created its first set of guidelines on return-to-play rules, based on a medical conference held specifically to discuss concussions. That policy stated that a player could not return to a game or practice in which he lost consciousness and that a player must be completely asymptomatic and pass his neurological tests normally before returning to play.
The NFL also pledged to expand neurological testing for all players, particularly those who had suffered a concussion before. If a player suffered a concussion in the season, he would be required to undergo extra neuropsychological tests later in the year.
In August 2009, NFL executives and lawmakers joined at the House Judiciary Committee to discuss the effects of head injuries in the sport, at which they were roundly criticized for not taking more action against concussions. A new, stricter set of guidelines followed that year, which said that a player cannot return to a practice or game if he shows any of the symptoms of a concussion, not just a loss of consciousness. A player also now must be analyzed by an independent neurologist as well as his team physician after a concussion.
In the 2010 season, the NFL began to crack down on helmet-to-helmet hits in an attempt to reduce the amount of concussions suffered by players. The league issued large fines to players, particularly repeat offenders, and said suspensions would be considered for those who continued to commit illegal hits.
Following an incident where Browns QB Colt McCoy was allowed back in the game after suffering a concussion, the NFL instituted a policy that an independent trainer would observe the games and alert team training staffs to possible head injuries. The Browns had previously said that their training staff had been occupied with other injuries, and hadn't been aware that McCoy suffered a hit to the head.
Concussions in the NHL
The NHL has long placed an emphasis on concussions, as a sport that is considered one of the most high-contact in the country. The NHL and NHL Players' Association have created a joint Concussion Working Group that continually examines the issues, and owners and general managers look through studies and statistics on concussions often.
In 2009, the NHL partnered with the National Academy of Neuropsychology to create an educational video that described the effect of concussions on athletes, hockey players in particular, to show to young players, coaches, teachers or parents.
Blindside hits to the head have been banned, and there is talk of banning head shots altogether. The league also is looking into using smaller equipment and making the rink safer (particularly in regards to the glass partitions).
A new protocol was set into place after the GMs' meetings in 2011. The biggest change from that meeting was that owners decided to look into ways to slow down the game and decrease the number of accidental concussions that happen in the run of play. One new rule insists that players be examined by a doctor in the locker room after showing concussion symptoms, whereas in the past the player had only to be examined by a trainer on the bench.
Concussions in the NBA
In 2011, the NBA instituted a league-wide policy on the treatment of concussions. The league hired Dr. Jeffrey Kutcher as the director of the league's concussion program. The NBA concussion management program provides annual training to players and tam personnell, along with annual baseline testing of players. When a player is believed to have suffered a concussion, he'll undergo customized post-injury assessment, and all return-to-play decisions will be discussed with Dr. Kutcher.
According to the AP, there has been an average of nine players per season who missed playing time due to concussions since 2006.
Concussions in the MLB
Until 2011, there was no set policy for treating concussions in the MLB, but union officials,had been studying the issue in depth for years. A new set of protocols was announced in March 2011, to be implemented beginning Opening Day, March 31.
The new policy includes the creation of a seven-day disabled list for players with concussions, in addition to the normal 15-day disabled list. It also mandates baseline neurological testing for players joining a new club, as well as every player during Spring Training. While most clubs already had individual policies on tests, this provides an MLB-wide rule set.
The policy also includes new protocols for evaluating players and umpires for possible concussions and for clearing players or umpires to return to activity. Each club also must be required to designate a Mild Truamatic Injury specialist in its city to evaluate players.