Pro Bowl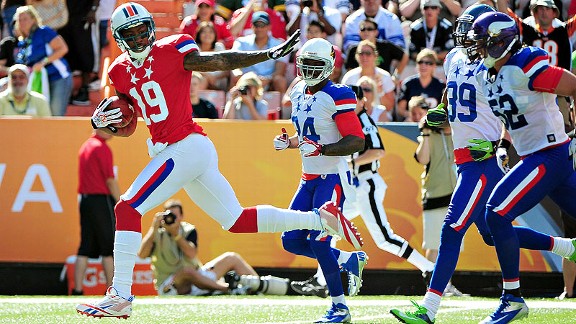 The Pro Bowl is the National Football League's annual postseason all-star game, pitting players from the American Football Conference against those from the National Football Conference. While the game has roots dating back to various postseason games in the 1930s and 1940s, the Pro Bowl as a matchup between opposing conferences has been played each year since the 1950 NFL season. Players are selected for the game based on a combination of voting from league coaches, players and fans.
Traditionally played at Aloha Stadium in Hawaii the week after the Super Bowl, the game was moved to Miami for the January 2010 game (site of that year's Super Bowl) and played the week before the Super Bowl. In 2011, the Pro Bowl was moved back to Aloha Stadium but still took place before the Super Bowl.
The origins of the NFL Pro Bowl date back to January 1939, when a postseason all-star game was contested between the newly crowned league champions (the New York Giants) and a team of NFL all-stars after the 1938 NFL season. Following that game -- won 13-10 by the Giants at Wrigley Field in Los Angeles -- the format of NFL champion versus an all-star team remained in place for the postseason game through the 1942 season, after which the annual contest was discontinued.
The postseason all-star game was revived by the NFL for the 1950 season, but rather than including the league champion, the newly named Pro Bowl pitted teams of players from the American Conference against those from the National Conference. Cleveland Browns quarterback Otto Graham scored two touchdowns in the third quarter of that initial Pro Bowl, leading the American Conference to a 28-27 win over the National side on Jan. 14, 1951, at the Los Angeles Coliseum.
The National Conference captured the next two Pro Bowl contests before the game became a matchup between players from the Eastern and Western Conferences after the 1953 season (when the NFL changed the names of its two conferences). League stars Johnny Unitas, Jim Brown and Gale Sayers each earned multiple MVP honors for their Pro Bowl performances in games played during the 1960s.
When the NFL merged with the American Football League for the 1970 season, the name of the all-star game was officially changed to the AFC-NFC Pro Bowl, as it would again be played between all-stars from the American and National conferences within the new league setup and take place a week after the Super Bowl. Among other guidelines established for the game following the merger, the Pro Bowl teams would be helmed by each of the losing coaches in their respective conference championship games.
Having served as host for each of the Pro Bowls since 1951, the Los Angeles Coliseum was also the site of the first two Pro Bowls following the merger. But after the 1972 edition, the annual game was held at various stadiums before moving to Hawaii's Aloha Stadium in 1980. Proposed as a long-term change, the move to Honolulu proved popular with league players and helped ensure that all-stars selected for the game would not mind extending their playing seasons if the game involved a trip to Hawaii in midwinter.
The NFC team won four of the first five Pro Bowl games played at Aloha Stadium, which would go on to host the annual all-star game for 30 consecutive years (through 2009). While offensive stars such as Jim Kelly, Jerry Rice and Peyton Manning each garnered Pro Bowl MVP honors during that period, defensive stalwarts Reggie White, Bruce Smith and Derrick Brooks also claimed the award for helping their conference side to victory in NFL all-star games in Hawaii.
In 1995, the selection process for Pro Bowl performers changed, as voting among fans was added to the determining factors. Before that season, only coaches and players combined to select the players invited to the all-star contest. Beginning in 1995, players have been voted into the Pro Bowl by coaches, the players themselves and fans -- with each group's tallies counting for one-third of the votes.
Another change for the AFC-NFC Pro Bowl came in 2010, when the NFL decided to move the game to the week before the Super Bowl and have it played at the same site of that year's Super Bowl. At Sun Life Stadium in Miami, the AFC team topped the NFC 41-34 to even the overall conference record in Pro Bowl games played since the merger in 1970 at 20 wins apiece.
The NFL moved the annual game back to Aloha Stadium in Hawaii for the 2011 edition, but kept it scheduled one week before the Super Bowl. The NFC won, 55-41, after roaring out to a 42-7 halftime lead. Adrian Peterson, Steven Jackson and Ovie Mughelli each ran for a touchdown, and the NFC defense recorded five interceptions, two returned for scores. Washington Redskins cornerback DeAngelo Hall was named MVP after recording six tackles and a pick-six. The AFC evened the score again in 2012, riding four Brandon Marshall touchdowns to a 59-41 victory.
Aloha Stadium is an outdoor football and multipurpose arena located in Honolulu. Home to the University of Hawaii's football team and the state's largest outdoor arena, Aloha Stadium has hosted the Sheraton Hawaii Bowl since 2002 and has been the site for the NFL's Pro Bowl 30 times.
Opened in 1975, Aloha Stadium is owned by the state of Hawaii and managed by the Stadium Authority, State of Hawaii. Improvements to the facility over the years have included replacement of the field's artificial turf as well as an increase to its seating capacity, which is currently estimated at 50,000. The stadium's construction allows for a number of movable sections to create various seating configurations to accommodate other sporting and entertainment events.
Besides being home to the University of Hawaii football team, Aloha Stadium was home field for the Hawaii Islanders of baseball's Pacific Coast League in the 1970s and in 1997 hosted a three-game, regular-season series between the St. Louis Cardinals and San Diego Padres of Major League Baseball. The stadium has been the site of many musical concerts over the years and also hosted the inaugural Pan-Pacific Soccer Championship in 2008.
Year-by-Year Pro Bowl Results
Year
Winner
Loser
Score
MVP
2012
AFC
NFC
59-41
Brandon Marshall, MIA
2011
NFC
AFC
55-41
DeAngelo Hall, WAS
2010
AFC
NFC
41-34
Matt Schaub, HOU
2009
NFC
AFC
30-21
Larry Fitzgerald, ARI
2008
NFC
AFC
42-30
Adrian Peterson, MIN
2007
AFC
NFC
31-28
Carson Palmer, CIN
2006
NFC
AFC
23-17
Derrick Brooks, TB
2005
AFC
NFC
38-27
Peyton Manning, IND
2004
NFC
AFC
55-52
Marc Bulger, STL
2003
AFC
NFC
45-20
Ricky Williams, MIA
2002
AFC
NFC
38-30
Rich Gannon, OAK
2001
AFC
NFC
38-17
Rich Gannon, OAK
2000
NFC
AFC
51-31
Randy Moss, MIN
1999
AFC
NFC
23-10
Keyshawn Johnson, NYJ
Ty Law, NE
1998
AFC
NFC
29-24
Warren Moon, SEA
1997
AFC
NFC
26-23
Mark Brunell, JAC
1996
NFC
AFC
20-13
Jerry Rice, SF
1995
AFC
NFC
41-13
Marshall Faulk, IND
1994
NFC
AFC
14-10
Andre Rison, ATL
1993
AFC
NFC
23-20
Steve Tasker, BUF
1992
NFC
AFC
21-15
Michael Irvin, DAL
1991
AFC
NFC
23-21
Jim Kelly, BUF
1990
NFC
AFC
27-21
Jerry Gray, STL
1989
NFC
AFC
34-3
Randall Cunningham, PHI
1988
AFC
NFC
15-6
Bruce Smith, BUF
1987
AFC
NFC
10-6
Reggie White, PHI
1986
NFC
AFC
28-24
Phil Simms, NYG
1985
AFC
NFC
22-14
Mark Gastineau, NYJ
1984
NFC
AFC
45-3
Joe Theismann, WSH
1983
NFC
AFC
20-19
Dan Fouts, SD
John Jefferson, GB
1982
AFC
NFC
16-13
Lee Roy Selmon, TB
Kellen Winslow, SD
1981
NFC
AFC
21-7
Eddie Murray, DET
1980
NFC
AFC
37-27
Chuck Muncie, NO
1979
NFC
AFC
13-7
Ahmad Rashad, MIN
1978
NFC
AFC
14-13
Walter Payton, CHI
1977
AFC
NFC
24-14
Mel Blount, PIT
1976
NFC
AFC
23-20
Billy Johnson, HOU
1975
NFC
AFC
17-10
James Harris, LAR
1974
AFC
NFC
15-13
Garo Yepremian, MIA
1973
AFC
NFC
33-28
O.J. Simpson, BUF
1972
AFC
NFC
26-13
Willie Lanier, KC
Jan Stenerud, KC
1971
NFC
AFC
27-6
Fred Carr, GB
Mel Renfro, DAL
1970
West
East
16-13
Gale Sayers, CHI
George Andrie, DAL
1969
West
East
10-7
Roman Gabriel, LAR
Merlin Olsen, LAR
1968
West
East
38-20
Gale Sayers, CHI
Dave Robinson, GB
1967
East
West
20-10
Gale Sayers, CHI
Floyd Peters, PHI
1966
East
West
36-7
Jim Brown, CLE
Dale Meinert, STL
1965
West
East
34-14
Fran Tarkenton, MIN
Terry Barr, DET
1964
West
East
31-17
Johnny Unitas, BAL
Gino Marchetti, BAL
1963
East
West
30-20
Eugene Lipscomb, PIT
1962
West
East
31-30
Jim Brown, CLE
Henry Jordan, GB
1961
West
East
35-31
Johnny Unitas, BAL
Sam Huff, NYG
1960
West
East
38-21
Johnny Unitas, BAL
Eugene Lipscomb, PIT
1959
East
West
28-21
Frank Gifford, NYG
Doug Atkins, CHI
1958
West
East
26-7
Hugh McElhenny, SF
Gene Brito, WSH
1957
West
East
19-10
Bert Rechichar, BAL
Ernie Stautner, PIT
1956
East
West
31-30
Ollie Matson, CHC
1955
West
East
26-19
Billy Wilson, SF
1954
East
West
20-9
Chuck Bednarik, PHI
1953
National
American
27-7
Don Doll, DET
1952
National
American
30-13
Dan Towler, LAR
1951
American
National
28-27
Otto Graham, CLE
QUICK FACTS
2013 Pro Bowl
Jan. 27, 2013, 7 ET
Stadium: Aloha Stadium
Location: Honolulu
First played: 1951
2012 winner: AFC
2012 MVP: Brandon Marshall, MIA
PRO BOWL VENUES
| Years | Stadium | City |
| --- | --- | --- |
| 1980-2009, 2011-13 | Aloha Stadium | Honolulu |
| 2010 | Sun Life Stadium | Miami |
| 1951-72, 1979 | L.A. Memorial Coliseum | Los Angeles |
| 1978 | Tampa Stadium | Tampa, FL |
| 1977 | Kingdome | Seattle, WA |
| 1976 | Louisiana Superdome | New Orleans |
| 1975 | Orange Bowl | Miami |
| 1974 | Arrowhead Stadium | Kansas City, Mo. |
| 1973 | Texas Stadium | Irving, Texas |
PRO BOWL RULES MODIFICATIONS
The Pro Bowl is played with standard NFL rules, with some modifications to account for player safety and limited practice time.
Offense
A tight end must be on the field every play
No motion or shifting
Three WR's cannot line up on the same side
Intentional grounding is legal
Defense
Must run a 4-3 at all times
No more than 4 DBs can be on the field
No press coverage except inside the 5-yard line
No blitzing
Special Teams
Cannot rush a punt, PAT, or FG attempt