Senior Bowl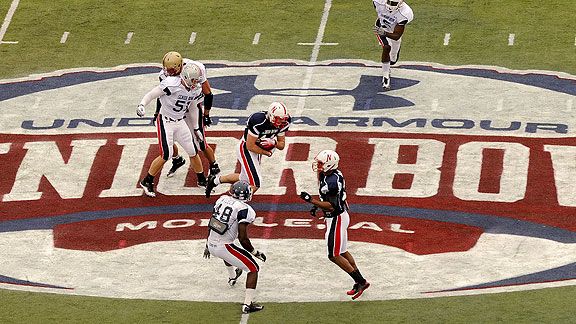 The Senior Bowl is an annual college all-star game held each January in Mobile, Ala. Rosters are comprised of the top senior NFL draft prospects in the nation.
The first Senior Bowl was held in 1950 in Jacksonville, Fla. Legendary SMU running back Doak Walker was among the first participants. The game was moved to Mobile the next season, where it has remained since.
Every year, the coaching staffs from two NFL teams are chosen to lead the North and South squads and are responsible for selecting the rosters for each. The week of practice with the NFL coaches is considered more important than the game itself from a scouting perspective, as many players are able to establish their NFL credentials against top competition.
Joe Namath, Walter Payton, Bo Jackson and Brett Favre are among the notable NFL players who have played in the Senior Bowl.
Senior Bowl Year-by-Year Results
Year
Score
Coaches
MVP
2011
South 24, North 10
Marvin Lewis, Bengals
Chan Gailey, Bills
Christian Ponder, FSU
2010
North 31, South 13
Jim Schwartz, Lions
Tony Sparano, Dolphins
Brandon Graham, MICH
2009
South 35, North 18
Marvin Lewis, Bengals
Jack Del Rio, Jaguars
Pat White, WVU
2008
South 17, North 16
Lane Kiffin, Raiders
Mike Nolan, 49ers
Matt Forte, TUL
2007
North 27, South 0
Jon Gruden, Buccaneers
Mike Nolan, 49ers
Tony Hunt, PSU
2006
North 31, South 14
Jeff Fisher, Titans
Mike Nolan, 49ers
Sinorice Moss, MIA
2005
North 23, South 13
Norv Turner, Raiders
Jon Gruden, Buccaneers
Charlie Frye, AKR
2004
South 28, North 10
Marvin Lewis, Bengals
Marty Schottenheimer, 49ers
Philip Rivers, NCST
2003
North 17, South 0
Dom Capers, Texans
Marty Mornhinweg, Lions
Larry Johnson, PSU
2002
South 41, North 26
Mike Holmgren, Seahawks
Dave McGinnis, Cardinals
Antwaan Randle El, IND
2001
South 21, North 16
Bill Cowher, Steelers
Mike Sherman, Packers
LaDainian Tomlinson, TCU
2000
North 24, South 21
George Seifert, Panthers
Gunther Cunningham, Chiefs
Chad Pennington, MRSH
1999
South 31, North 21
Jon Gruden, Raiders
Tony Dungy, Buccaneers
Cade McNown, UCLA
1998
South 31, North 8
Ted Marchibroda, Ravens
Norv Turner, Redskins
Dameyune Craig, AUB
1997
North 35, South 14
Norv Turner, Redskins
Marty Schottenheimer, Chiefs
Pat Barnes, CAL
1996
North 25, South 10
Dennis Erickson, Seahawks
Dave Wannstedt, Bears
Bobby Hoying, OSU
1995
South 14, North 7
Dan Reeves, Giants
Ted Marchibroda, Colts
Derrick Brooks, FSU
1994
South 35, North 32
Rich Kotite, Eagles
Don Shula, Dolphins
Stan White, AUB
1993
NFC 21, AFC 6
Ted Marchibroda, Colts
Bill Belichick, Browns
Eric Hunter, PUR
1992
AFC 13, NFC 10
Art Shell, Raiders
Mike Ditka, Bears
Tony Smith, USM
1991
AFC 38, NFC 28
Marty Schottenheimer, Chiefs
Jim Mora, Saints
Alvin Harper, TENN
1990
North 41, South 0
Marty Schottenheimer, Chiefs
Buddy Ryan, Eagles
Blair Thomas, PSU
1989
South 13, North 12
Dan Reeves, Broncos
John Robinson, Rams
Cleveland Gary, MIA
1988
North 21, South 7
Chuck Knox
Jim Mora, Saints
Thurman Thomas, OKST
1987
South 42, North 38
John Robinson, Rams
Don Shula, Dolphins
Don Smith, MSST
1986
North 31, South 17
Dan Reeves, Broncos
Leeman Bennett, Buccaneers
Napoleon McCallum, NAVY
1985
South 23, North 7
Jim Hanifan, Cardinals
Forrest Gregg, Packers
Paul Ott Carruth, ALA
1984
South 21, North 20
Kay Stephenson, Bills
Don Coryell, Chargers
Walter Lewis, ALA
Doug Smith, AUB
1983
North 14, South 6
Frank Kush, Colts
Bum Phillips, Saints
Dan Marino, PITT
Terry Kinard, CLEM
1982
South 27, North 10
Marv Levy, Chiefs
Chuck Noll, Steelers
John Fourcade, MISS
Steve Clark, UTAH
1981
North 23, South 10
Bill Walsh, 49ers
Red Miller, Broncos
Neil Lomax, PRST
1980
North 57, South 3
Bud Grant, Vikings
Ray Perkins, Giants
Marc Wilson, BYU
1979
South 41, North 21
Walt Michaels, Jets
Dick Nolan, Saints
Willie Jones, FSU
1978
North 17, South 14
Don Coryell, Cardinals
Leeman Bennett, Falcons
James Lofton, STAN
1977
North 27, South 24
Forrest Gregg, Browns
Don Shula, Dolphins
Tommy Kramer, RICE
1976
North 42, South 35
Chuck Fairbanks, Patriots
Jack Pardee, Bears
Craig Penrose, SDSU
1975
North 17, South 17
John Ralston, Broncos
Dick Nolan, 49ers
Steve Bartkowski, CAL
1974
North 16, South 13
Mike McCormack, Eagles
Don McCafferty, Lions
Bill Kollar, MTST
1973
South 33, North 30
Lou Saban, Bills
Weeb Ewbank, Jets
Chuck Foreman, MIA
1972
South 26, North 21
Alex Webster, Giants
J.D. Roberts, Saints
Pat Sullivan, AUB
1971
North 31, South 13
Lou Saban, Broncos
Weeb Ewbank, Jets
J.D. Hill, ASU
1970
North 37, South 37
Lou Saban, Broncos
Weeb Ewbank, Jets
Terry Bradshaw, LT
1969
North 27, South 16
Allie Sherman, Giants
Charley Winner, Cardinals
Jerry Levias, SMU
1968
South 34, North 21
Mike Holovak, Patriots
Hank Stram, Chiefs
Kim Hammond, FSU
1967
North 35, South 13
Norm Van Brocklin, Falcons
Otto Graham, Redskins
Bubba Smith, MSU
1966
South 27, North 18
Mike Holovak, Patriots
Weeb Ewbank, Jets
Howard Twilley, TLSA
1965
North 7, South 7
George Wilson, Lions
Tom Landry, Cowboys
Steve DeLong, TENN
1964
South 28, North 21
George Wilson, Lions
Tom Landry, Cowboys
Ode Burrell, MSST
1963
South 33, North 27
Tom Landry, Cowboys
Weeb Ewbank, Colts
Glynn Griffing, MISS
1962
South 42, North 7
Tom Landry, Cowboys
Weeb Ewbank, Colts
Earl Gros, LSU
Ronnie Bull, BAY
1961
South 33, North 26
Jim Lee Howell, Giants
Weeb Ewbank, Colts
Dick Norman, STAN
1960
North 26, South 7
Jim Lee Howell, Giants
Weeb Ewbank, Colts
Jacky Lee, CIN
1959
South 21, North 12
Joe Kuharich, Redskins
Paul Brown, Browns
Theron Sapp, UGA
Norm Odyniec, ND
1958
North 15, South 13
Joe Kuharich, Redskins
Paul Brown, Browns
Jim Taylor, LSU
1957
South 21, North 7
Joe Kuharich, Redskins
Paul Brown, Browns
Don Bosseler, MIA
1956
South 12, North 2
Buddy Parker, Lions
Paul Brown, Browns
Don Goss, SMU
1955
South 12, North 6
Paul Brown, Browns
Steve Owen, Giants
Bobby Freeman, AUB
1954
North 20, South 14
Paul Brown, Browns
Steve Owen, Giants
Gene Filipski, NOVA
1953
North 28, South 13
Paul Brown, Browns
Steve Owen, Giants
Harry Agganis, BU
1952
North 20, South 6
Paul Brown, Browns
Steve Owen, Giants
Al Dorow, MSU
1951
South 19, North 18
Bo McMillin, Lions
Steve Owen, Giants
Bucky Curtis, VAN
1950
South 22, North 13
Bo McMillin, Lions
Steve Owen, Giants
Travis Tidwell, AUB
TOP STORY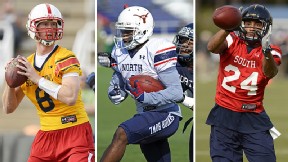 Worth Watching
Who has built Senior Bowl intrigue? Start with Mike Glennon, Marquise Goodwin and Marc Anthony. Scouts Inc.

More from Scouts Inc. on site at Mobile
SENIOR BOWL QUICK FACTS
2013 Under Armour Senior Bowl
South 21, North 16
Stadium: Ladd Peebles Stadium
Location: Mobile, Alabama
First played: 1950
Format: North vs. South
2013 coaches: Jim Schwartz (Lions), Dennis Allen (Raiders)
2013 MVP: Ezekial Ansah, BYU