Vikes cut Bryant McKinnie
Updated:
August 2, 2011, 5:51 PM ET
Associated Press
MANKATO, Minn. -- Bryant McKinnie spent nine years as the mainstay on the Minnesota Vikings' offensive line, never really becoming the dominant force he was expected to be but still giving the team almost a decade of solid performances.
When he showed up to training camp in Mankato woefully out of shape after the summer-long lockout, the Vikings decided to cut ties the former No. 7 overall draft choice and start over at one of the most important positions on the team.
Seifert: Frazier Sends Message

The release of Bryant McKinnie was surprising, but consider it a warning shot from Vikings coach Leslie Frazier, ESPN.com's Kevin Seifert writes. Blog
"This decision, while not an easy one, is in the best interests of our football team as we move forward preparing for the season," coach Leslie Frazier said in a statement issued Tuesday. "We appreciate Bryant's contributions to the Vikings and we wish him the best in the future."
The Vikings placed McKinnie on the non-football injury list at the start of training camp, and Frazier was vague about the reason for it. He hinted that McKinnie's weight had something to do with the issue and said Tuesday morning that he hoped to have the issue resolved soon.
Frazier met with team officials in the afternoon and informed McKinnie of the move, which will save the Vikings $5.4 million against the salary cap this season and help them get below the $120 million limit. The team signed free agent left tackle Charlie Johnson on Monday, paving the way for McKinnie's exit.
McKinnie's placement on the NFI also means he likely will not be paid about $750,000 in workout and roster bonuses that were included in his contract.
"Its been fun," McKinnie wrote on Twitter.
So ended an era of sorts in Minnesota. The Vikings drafted McKinnie out of Miami in 2002, picturing him as the next great left tackle in the NFL. He held out for half of his rookie season, but immediately stepped in as the starter after signing his contract.
Incredibly agile for a guy who is 6-foot-8 and over 340 pounds, he helped make things easier for Adrian Peterson and was partially responsible for six of the top eight rushing seasons in franchise history.
He was voted to the Pro Bowl after the 2009 season, but he did not show up for practices and was scratched from the game, eventually having to pay back almost $5,000 in travel expenses to the league.
It would be hard to view McKinnie as a disappointment given that he never missed a game to injury during his time in Minnesota and gave the Vikings nine years at one of the most demanding positions in the game. But there will always be the sense that the immensely talented McKinnie could have been better.
Last season he appeared to regress during a 6-10 year, and he admitted to being a little too heavy by season's end. He vowed to work hard in the offseason and return in top physical condition, but the lockout prevented him from staying in touch with coaches and doing any work at the team's facility in Minnesota.
He stayed at his home in Miami most of the offseason, working on his budding music career and tweeting prolifically about his social life on South Beach.
Now the Vikings will likely turn to the 27-year-old Johnson, who started 54 games for the Colts and protected Peyton Manning's blind side in 2008 and 2009. In Minnesota, he'll be charged with keeping new quarterback Donovan McNabb clean.
"I feel like that's what they brought me in for, was to come in and compete and try to get one of those five spots on the line," Johnson said on Tuesday morning, before the McKinnie move was announced. "So, I'm not going to sit back and try to bide my time and wait. I'm going to come in and compete and see what happens."

Copyright 2011 by The Associated Press
The NFL on ESPN.com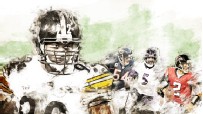 WEEK 1 PICKS
MORE NFL COVERAGE
2011 NFL PREVIEW
JOHN CLAYTON QB RANKINGS
NFL DRAFT
Harahduh2

Doug Veatch


Why become a http://t.co/1guYP61LpY General Manager? Let's start with getting AT LEAST 104 extra podcasts in addition to the regular show!
7 minutes ago

WilliamsonNFL

Matt Williamson


Dynasty: The day before the Combine, I traded 1.03 for B Cooks & 2016 2nd…who wins?
12 minutes ago

RobDemovsky

Rob Demovsky


Great piece by @bkravitz about @ButlerMBB SID Jim McGrath, one of the true pros in the business. http://t.co/iLGuNUC9Tm
17 minutes ago

taniaganguli

Tania Ganguli


RT @JeromeSolomon: What was Andre Johnson's response when the Texans told him he would catch 40 balls next year? "I just laughed at em."
19 minutes ago

taniaganguli

Tania Ganguli


Andre Johnson tells our pals McBerman: "Why sit there and be miserable when I can go somewhere else and be able to show my talents?" #Texans
24 minutes ago

taniaganguli

Tania Ganguli


An era will end with Andre Johnson's departure from the Texans: HOUSTON -- He often, good naturedly, ... http://t.co/Fgj6lq1PAn #Texans
35 minutes ago

taniaganguli

Tania Ganguli


Andre Johnson's agent, Kennard McGuire, continued: "He looks forward to challenging for a Super Bowl." #Texans
49 minutes ago

taniaganguli

Tania Ganguli


Johnson's agent, Kennard McGuire: "Time has come.It has been a great run, but as you know in the sports world there is a shelf life" #Texans
50 minutes ago

BWilliamsonESPN

Bill Williamson


@WilliamsonNFL Better effort too
about an hour ago

taniaganguli

Tania Ganguli


The runaway leader for favorite Andre Johnson moments is the fight with Cortland Finnegan. What else? #Texans
about an hour ago

WilliamsonNFL

Matt Williamson


.@nadaidea @AdamHarstad And yes, I do agree you can't compare eras
about an hour ago

taniaganguli

Tania Ganguli


Your 10 favorite Andre Johnson moments. Go. (will turn this into a post if i get good ones) #Texans
about an hour ago

WilliamsonNFL

Matt Williamson


.@AdamHarstad With all respect to Lance Alworth (& Don Hudson, etc), would you rather cover Lance for Calvin Johnson all day?
about an hour ago

MikeWellsNFL

Mike Wells


"@EthanJSkolnick: Jeff Hornacek has called his team "soft" twice" (there's something about calling your team soft when the game is in Miami)
about an hour ago

WilliamsonNFL

Matt Williamson


Moss is sick, but had some very lean years…I think when Calvin is done someday, he ranks over Randy
about an hour ago

WilliamsonNFL

Matt Williamson


I think Calvin J goes down as 2nd best WR to EVER play when he hangs it up @gunz4sale
about an hour ago

WilliamsonNFL

Matt Williamson


.@gunz4sale No, I think Calvin J goes down as 2nd best WR to EVER play when he hangs it up
about an hour ago

WilliamsonNFL

Matt Williamson


.@visorman2k I want AJ Green well over Watkins & a 2016 2nd @DynastyTrades
about an hour ago

WilliamsonNFL

Matt Williamson


.@AdamHarstad I often say Fitz & Andre J were the 2 WRs of this generation that really got screwed by QB play…both are easy HOFamers to me
about an hour ago

taniaganguli

Tania Ganguli


i said complement not compliment! :-) RT @bboydmeetsworld: @taniaganguli @Nukdabomb he seems like a very nice person
about an hour ago

MOST SENT STORIES ON ESPN.COM