Commentary
Sale could stall Browns' progress
New owner may want to bring his own management team to Cleveland
Originally Published:
July 30, 2012
By
John Clayton
| ESPN.com
Although the sale of the Cleveland Browns to Steelers minority owner Jim Haslam may be great for the future of the franchise, it couldn't come at a worse time.
Team president Mike Holmgren finally put his handprint on fixing the Browns this offseason by drafting Trent Richardson, Brandon Weeden, Mitchell Schwartz and Travis Benjamin. But if the ownership change is approved quickly, Holmgren might not be around by the start of the regular season to watch it.
QUESTIONS, PLEASE
Do you have a query for John Clayton?
Click here to send a note to his mailbag.
The timing is horrible. The Browns needed bold moves to fix the franchise, and Holmgren appeared to be the right man. Given the team presidency by owner Randy Lerner, Holmgren reshaped the front office and made the Browns a solid organization with a front-office team that could work together.
He brought in Tom Heckert to be the general manager and Pat Shurmur to be his bright, young coach. The problem was the lack of talent, a problem that was going to take years to fix. Last year's draft-day trade of the sixth overall pick to the Falcons gave the Browns four additional draft choices to make things right, but it was going to take two years to get those players on the roster.
With his background as a West Coast offense coach, Holmgren felt he got the right quarterback in Weeden. In two years, he has added Benjamin, Greg Little and Josh Gordon at receiver. Richardson should be an instant star at running back.
But going this young this year may not improve the winning ledger soon enough. In most ownership changes, the new owner likes to bring in his own leader and there is a good chance Haslam will bring in Joe Banner from Philadelphia to run the franchise if the NFL approves the sale. A bad record could put Shurmur up for review at the end of the season.
Not known is where Heckert fits in the sale.
The Browns needed stability. While Haslam eventually may bring that stability, the change could result in collateral damage at a time when the Browns appear to be going in the right direction as a franchise.
From the inbox
Q: I was wondering if I could get your thoughts on what's turning into the golden age of quarterbacks in relation to the passing records yet unbroken by current starters. Drew Brees and Tom Brady broke Dan Marino's long-standing record for most passing yards in a single season, and Brees is also on pace to break Johnny Unitas' record streak of 47 straight games with a touchdown pass. Many other young quarterbacks at the moment are fully capable of approaching and breaking such legendary records as well. In your mind, which other passing records do you believe are in danger of being surpassed?
Arnett in Auckland
A: I can see the completion percentage record for a season, set by Brees in 2011 (70.6), being broken soon. There probably will be a hot quarterback who will top Brady's record of touchdown passes in a season (50) in the near future. All passing records are subject to being broken in this passing age. Teams are throwing more and they are throwing better. You are right. It is the golden age of quarterbacks.
Short takes
Sameer in Chicago can't figure the long-term plans for Dwayne Bowe. Apparently, neither have the Chiefs. They didn't do anything to get a long-team deal done. If he has a great season, maybe they will pay him. If not, he will hit free agency and make a lot of money. … Mark in Solano Beach, Calif., loves the Chargers' offseason. I did, too, which is why I think they will win the AFC West in a close race. … Redd in Kokomo, Ind., accepts that the Dolphins' receiving corps is thin, so he wonders if Roberto Wallace, Julius Pruitt or Marlon Moore can step up to fill a void. I'd say no, but never rule out anything. Did you think Victor Cruz would explode like he did last year? You never know. … To Jeff in Buffalo, Charlie Whitehurst proved to be nothing more than a backup in Seattle. Also, I think the Bills' corners can get the job done because they have a great defensive line to make their jobs easier. Plus, they have good, young corners in Aaron Williams and Stephon Gilmore. … Eric in Virginia Beach, Va., wants to know if Dolphins general manager Jeff Ireland bought job security by drafting Ryan Tannehill. Possibly. But if the team goes 3-13, his job will be judged and judged harshly, particularly if Tannehill doesn't play. … Brian in Hollywood, Fla., is intrigued by discussions about the 18-game schedule. He offers the compromise to increase the cap so players can earn more money for fewer seasons. We're on the same page. By 2015, I think the NFL will make such a proposal. For now, though, the players are saying no. A lot can change in a couple of years. … To Jeff in Newark, N.J., regarding Marshawn Lynch and his DUI case: Unless he's convicted or pleads guilty this year, I don't think he will be suspended. … Connor in Flagstaff, Ariz., believes people are underestimating the importance of the running back in NFL offenses. He noted that two of the final four teams in the playoffs had elite running backs last year. Still, the quarterback remains the more important position. … Ramon in Irvine, Calif., has followed the Dez Bryant alleged assault on his mother and wonders if it will lead to a suspension. If his mother doesn't back up the charge and press it in court, I can see it getting to Roger Goodell's desk. But no suspension. … Dan in Cleveland thought the Browns overdid it drafting Josh Gordon in the second round of the supplemental draft. He loved their draft, considering it one of the team's best ever. The Browns needed to speed up the acquisition of receivers. That's been one of their weakest positions.
Q: What is the point in having a deadline to sign players who were franchised to a long-term deal when they can be signed to a long-term deal afterward? I keep hearing talks about Wes Welker and his deal negotiations still at a standstill.
Jordan in York, Pa.
A: Players don't like the franchise tag because it keeps them off the free-agent market and gives the team leverage in getting deals. The reason there is a deadline is because the franchise tag is collectively bargained. Deals are done on deadlines in this league. It used to be if a long-term deal wasn't reached by April 15, teams had to wait until July to do a long-term deal. They could do a long-term deal, but they would lose the ability to franchise other players for the length of that contract. That system changed when everyone realized fewer deals were getting done. In keep the franchise tag, owners had to settle on a time period in which it could negotiate a long-term deal. Both sides signed off on July 15 as the date.
With no deal being done on Welker, talks are done until the offseason. That's good and bad. Welker will be an unrestricted free agent unless the team gives him a 20-percent raise to franchise him again. The bad is Welker is now in this 30s and might not get an offer equal to the $9.5 million he's making as a franchise player.
Q: Heading into camp, what can the defending Giants do to improve their offensive line play? Despite winning a championship, the Giants were at the bottom of the league in rushing and it seems they have done nothing to improve this.
Josh in Phoenix
A: I don't see that they can. Will Beatty has injury concerns at left tackle. James Brewer is raw at right tackle. Chris Snee and David Diehl are getting older at guard. If either tackle goes down, they could be in trouble because they will just be patching the position. The Giants won their first Super Bowl behind Eli Manning because of the continuity and strength of their offensive line. They won last year's Super Bowl despite problems on the line. The line is one of the reasons I don't see them going back to the Super Bowl.
Q: Could you explain the draft rules for a guy like Brandon Weeden? Couldn't he have just signed with any team as a free agent since he's been out of high school for three years instead of entering the NFL draft?
Wun in Seatac, Wash.
A: No, because he was playing college football last year. Because he was playing college football, he has to enter the draft like any other eligible college prospect. Sure, he's 28 and has been out of high school since 2002. By signing a letter of intent at Oklahoma State, he had to stick in college at least three years to get into the NFL. As a former first-round baseball prospect, Weeden wouldn't have drawn interest as an NFL prospect because he had no football résumé for the pros. Once he developed that in college, he became a potential first-round pick.
Q: Your reactions to offseason upgrades or moves make no sense to me. The major players every year never make big moves, or moves in general. Your example of the Bears being over the Lions is one that also makes me wonder. The Bears got a troubled WR Brandon Marshall and RB (Michael Bush) and RB Matt Forte is coming off an injury. The Lions have two RBs and a huge DT coming back, two who mostly missed the whole year and one who played in a handful of games. I do not see a team's offseason when it brought back 21 of 22 starters as a reason to give them a lower grade. Argument No. 1: The Lions were decimated on defense and an offense that ran most of the year with a below-average RB everyone knew we were going to pass. I am not on everyone's bandwagon with the Bears over the Lions because they signed a WR and another RB. No injury to Matthew Stafford in the second game and they have a sweep.
Shane
A: Marshall, despite his off-field issues, is a potential 100-catch receiver. How can the addition of a potential 100-catch receiver make no sense as an improvement? Replacing a used-up Marion Barber with Michael Bush is an upgrade to the backfield. You bring up the Lions' backfield, but Jahvid Best is still a question because of concussions. Mikel Leshoure hasn't proven himself yet, but he's also out two games with a suspension. As for the cornerbacks, the Lions lost one of their starters, Eric Wright, and cut the next-most experienced replacement, Aaron Berry. The Lions are a legitimate playoff contender. Chicago is, too. Their records will be close by the end of the season. I just believe the additions of the Bears will trump the Lions' inability to add much to the roster.
Q: I recently went back and watched every snap Tarvaris Jackson took last year for Seattle; yes, I am a glutton for punishment. I saw absolutely zero reason to keep the guy. He still makes mistakes that we rarely see from rookies. Do you think Pete Carroll and John Schneider blasting the Vikings organization for (criticizing) Tarvaris the whole time he was in Minnesota has any bearing as to Tarvaris still being on the team? It seems as though the Seahawks want to keep Tarvaris around long enough so that everyone can see that Tarvaris lost his job fair and square.
David in SoCal
A: First, I applaud your dedication. Jackson plateaued as a quarterback in Minnesota and hasn't gotten much better. Sure, he's a good leader. Sure, he has a good arm. But he's not very good in fourth quarters. He had an all-star team for years in Minnesota and couldn't get them to 10 wins, which is why he lost starting jobs to Gus Frerotte and Brett Favre. I still believe Matt Flynn will win the starting job in Seattle. The team will cut Jackson if he doesn't take a paycut from his $4 million salary.
NFL senior writer
Senior NFL writer and commentator
Joined ESPN in 1995
Member of the writers' wing of the Pro Football Hall of Fame in Canton, Ohio
SPONSORED HEADLINES
MORE NFL HEADLINES
MOST SENT STORIES ON ESPN.COM
The NFL on ESPN.com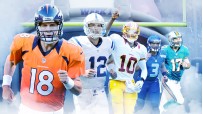 CLAYTON/FOX/SCHEFTER
MONDAY NIGHT FOOTBALL
WEEK 1 PICKS
BOUNTY BANS OVERTURNED
FINAL WORD
2013 NFL DRAFT
MORE NFL COVERAGE