Commentary
Bengals look ready to pounce
They've added new weapons and are ready to build on playoff experience
Originally Published:
August 7, 2013
By
John Clayton
| ESPN.com
CINCINNATI -- The Cincinnati Bengals are indeed ready for prime time. This goes beyond their debut Tuesday in HBO's "Hard Knocks."
On paper and even in person, this looks like one of the best Bengals teams I've seen in a couple of decades. This roster has it all. Offensively, the Bengals have some of the best skill-position players in football. A.J. Green is one of the best receivers in the game.
Adding first-round choice Tyler Eifert to go with Jermaine Gresham gives the Bengals one of the top three tight end tandems in football. Mohamed Sanu can be a force from the slot or the outside, and Marvin Jones isn't bad as an outside threat.
Second-round pick Giovani Bernard joins BenJarvus Green-Ellis to give the Bengals a great one-two punch in the backfield.
The Bengals have a great defensive line, decent corners and adequate linebackers. Simply stated, the defense should be good.
Though the Bengals have been to the playoffs the past two years, it's not clear that they are ready to move ahead of the Baltimore Ravens and the Pittsburgh Steelers in the AFC North. That's still a big step. Those two teams have controlled the division for more than a decade. Even at the times the Bengals won the division, it wasn't considered a big deal. The Ravens and Steelers believed they could pass them in the playoffs.
This Bengals roster is young. Anything less than a division title and some playoff wins would be "Hard Knocks" for the people putting the roster together.
Here is what I learned at Bengals training camp.
1. Training camp position battles: Although the starting fullback job is a little uncertain, the Bengals have two options: converted tight end Orson Charles and John Conner. Kyle Cook has taken back the starting center job from Trevor Robinson, but head coach Marvin Lewis could feel good with either snapping the ball to Andy Dalton. On defense, the best battle is at strong safety. Technically, it's a three-way battle among George Iloka, third-round choice Shawn Williams and Taylor Mays. Iloka has the starting job for the moment. Mays is fighting to make the roster. I was surprised at the depth of the Bengals' roster. They are five deep with decent cornerback options. They have depth along the offensive line for backups. All of a sudden, an AFC sleeper is waking up with a chance to be formidable.
[+] Enlarge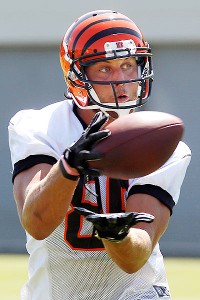 David Kohl/USA TODAY SportsThe addition of Tyler Eifert gives the Bengals a powerful tight end combination.
2. Eyes on Eifert: One of the best things I've seen during this training camp tour is first-round pick Eifert. His presence is eye-opening. As a tight end, he does most things well. His hands are exceptional. He runs good routes. He has the ability to get downfield quickly. He's a star in the making at a position that has become only more valuable around the league. Those watching try to come up with tight end comparisons. Some say he looks a little like Owen Daniels of the Houston Texans. Others say he has some qualities of an early Tony Gonzalez. All I can say is he is one of the most impressive rookies from the 2013 draft. An Eifert-Gresham tight end duo gives the Bengals close to what the Patriots had with Rob Gronkowski and Aaron Hernandez and what the Colts have with Coby Fleener and Dwayne Allen.
3. Cedric Who? Two years ago, the Bengals depended on Cedric Benson pounding running plays in the middle of the field. Putting Bernard into a backfield rotation with Green-Ellis puts Benson's name in the Bengals' past. Bernard is a compact runner at 5-9 and 208 pounds, but he has power and elusiveness. Green-Ellis, known as the law firm, was solid but not spectacular as the starting running back last season. Green-Ellis, who was undrafted coming into the league, doesn't have explosiveness. Bernard does. Offensive coordinator Jay Gruden will have to sort out how to use this duo. Last year, he hoped to get by with Green-Ellis and Bernard Scott, but Scott was hurt so Green-Ellis was a solo act. Bernard appears to have the pass-catching ability to be a third-down option, but he will have to show that he can block to be able to add to what should be a 50-50 split at the position.
4. Impressive group of defensive linemen: Lewis has plenty of different shapes and sizes along the defensive line, but most are impressive. The anchor of the line is Geno Atkins, who is almost unstoppable from the defensive tackle position. His ability to get by interior blockers is almost unmatched in the NFL. Short-but-powerful Domata Peko is the perfect nose tackle to Atkins' left. Then there are the pass-rushers. Michael Johnson is a tall, powerful pass-rusher from the right side who got the franchise tag. Carlos Dunlap can rush from the left side and earned a contract extension worth close to $8 million a year.
Mike and Mike
ESPN NFL Insider John Clayton covers the QB competitions for the Eagles, Jets, Bills and Jaguars, Riley Cooper's future, some key injuries and more.

Robert Geathers is a backup, but he's a third option to rush the quarterback. Though he isn't expected to play much, 6-8 draft choice Margus Hunt is a big body Lewis can develop over the next couple of years. Overall, the Bengals' defensive line can beat opponents from numerous angles.

5. Pressure on Dalton: During his first two years, Dalton was blessed. The Bengals made the playoffs in each year and Dalton went to the Pro Bowl as a rookie. A second-round pick, the red-headed right-hander sneaked up on opponents. Not anymore. Because the Bengals are so loaded with offensive talent, Dalton could be criticized if his numbers don't come close to those of some top quarterbacks in the conference. Dalton can't be expected to put up numbers like Tom Brady and Peyton Manning, but he needs to show he can come close to the stats of Joe Flacco and Ben Roethlisberger, two quarterbacks who clearly have more talent than Dalton. At least you know that Dalton will work at his craft. He has spent a good portion of the offseason trying to improve his footwork and worked with Gruden on downfield throws. Dalton didn't shy away from throwing downfield early last season, but he completed only 15 of 57 passes that sailed at least 21 yards in the air. Dalton also has to show he has the confidence to control the players on this offense.
NFL senior writer
Senior NFL writer and commentator
Joined ESPN in 1995
Member of the writers' wing of the Pro Football Hall of Fame in Canton, Ohio
SPONSORED HEADLINES
MORE NFL HEADLINES
MOST SENT STORIES ON ESPN.COM
THE NFL ON ESPN.COM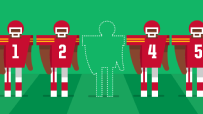 How many good or elite players away from Super Bowl contention was your favorite team?
EDITORS' PICKS
Russell Wilson delivered a TD pass late in the first half to tie it back up.
Game Day Live

Aaron Rodgers secured his place in NFL history by becoming the ninth player to win multiple MVP awards.
Demovsky »

Patriots pastor Jack Easterby is a "godsend" whom many players say is a big reason the team has thrived.
Wickersham »