Woodson backs Aaron Rodgers
Updated:
August 19, 2013, 1:43 PM ET
By
Rob Demovsky
| ESPN.com
At least one of Aaron Rodgers' former Green Bay Packers teammates doesn't understand the criticism he has received from receivers Greg Jennings and Donald Driver.
[+] Enlarge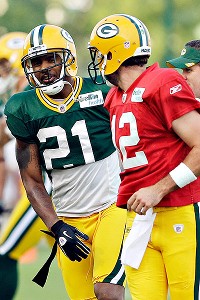 AP Photo/Morry GashCharles Woodson, left, played with Aaron Rodgers on the Packers from 2006 to 2012 and praised the quarterback for his leadership and for carrying those teams.
In an interview with ESPNWisconsin.com this past Friday, veteran defensive back Charles Woodson, who played with Rodgers in Green Bay from 2006 to 2012, reacted to recent comments made by Jennings and Driver that questioned Rodgers' leadership skills.
Jennings, who signed with the Minnesota Vikings in the offseason, did so in an interview last month with the Minneapolis Star Tribune. Driver, the Packers' all-time leading receiver who retired in the offseason, echoed those sentiments this past Thursday on ESPN Radio's "Mike and Mike" show.
"I would say this: There's been times throughout my career there when defensively we put a piss-poor product on the field, and we've been in games and won ballgames solely on the arm of Aaron Rodgers and the legs of Aaron Rodgers and what he's been able to do throwing a ball to a Greg, a Donald, a Jermichael [Finley]," said Woodson, who was released by the Packers in the offseason and signed with the Oakland Raiders.
"A couple years ago, we were 15-1, and if we have any other quarterback other than Aaron Rodgers, we're 7-9.
"Aaron's job is a tough job. You've got a stud wide receiver in Greg Jennings -- and make no mistake, Greg is a great wide receiver -- but you have to keep him happy. You have Donald Driver, you have to keep him happy. You have Jermichael Finley, you have to keep him happy. You have running backs on the team, and you're trying to find where they can get carries and keep them happy. You have an offensive line, they don't just want to pass set all the time; they want to run downhill and run block, and you have to keep them happy. You have to keep James Jones, who wants to be on the field, you have to keep him happy. And we haven't even talked about a Jordy Nelson, or a young Randall Cobb. And who does all that fall on? It falls on the quarterback."
Mike and Mike
Super Bowl XLV champion Donald Driver dishes on Greg Jennings' criticism of Aaron Rodgers, what Rodgers is like, the top WRs in the NFL and more.
In the interview, Woodson praised Rodgers' leadership, especially during the 2010 season, when the Packers won Super Bowl XLV.
"Don't get me started on the Super Bowl run," Woodson said. "I mean, how brilliant was that guy during that run? There was no question about his leadership then."
One of Driver's complaints about Rodgers was that the quarterback didn't take the blame when there was a miscommunication and a receiver ran the wrong route.
"I think whatever you do -- if you run the wrong route and you're a receiver, or if you're a quarterback and you throw an interception -- it's up to you as an individual to say you messed up," Woodson said. "I don't think A-Rod has to be sticking his neck out to say I told him to do something if that's not what happened. If A-Rod needs to take the blame for something, I'm quite sure he does."
When asked about Driver's comments last week, Packers coach Mike McCarthy said: "We can talk about Donald Driver's comments ... I didn't understand it. And frankly, I think Aaron manages his job responsibility very well. To answer your question specifically, accountability is throughout your whole football team. The quarterback position, we take a lot of pride in the way it's coached. That's the most overly criticized position on our whole team internally."
Driver, meanwhile, took to Twitter this past Thursday afternoon to clarify his comments to ESPN Radio.
Tweeps: Listen I can't believe people would think I'm talking about Aaron. Aaron is a great person and a good friend. He will tell you that

— Donald Driver (@Donald_Driver80) August 15, 2013
I've always told him never forget where you came from. He knows that. But the issue is between him and Greg. I love them both. Great friends

— Donald Driver (@Donald_Driver80) August 15, 2013
ESPN Green Bay Packers reporter
Covered Packers for Green Bay Press-Gazette from 1997-2013
Two-time Wisconsin Sportswriter of the Year as selected by the National Sportscasters and Sportswriters Association
THE NFL ON ESPN.COM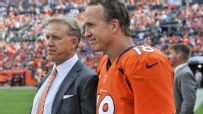 Peyton Manning bought into the Broncos' Super Bowl vision with a $4 million pay cut.
EDITORS' PICKS
Mastery of the salary cap's intricacies, with its spending limits and minimums, is a necessity in today's NFL.
Ashley Fox »

How much does the combine matter in draft analysis? Look at Kevin White's surge up Mel Kiper's board.
Mock 3.0

Durable, fiery and talented, Ndamukong Suh would thrive on any NFL team. We size up his leading suitors.
Dominik
Nike Men's Home Game Jersey Green Bay Packers Aaron Rodgers #12 Shop »

MOST SENT STORIES ON ESPN.COM