Von Miller: 'Ongoing process'
Updated:
August 20, 2013, 4:28 PM ET
By
Jeff Legwold
| ESPN.com
ENGLEWOOD, Colo. -- Denver Broncos linebacker Von Miller said Tuesday afternoon he has not heard from the league about the length of his suspension and that he continues to hope for "speedy, fair resolution.''
[+] Enlarge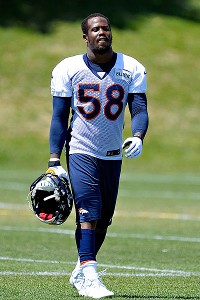 John Leyba/The Denver Post/Getty ImagesThe Broncos' defense relies on the comeback of Von Miller.
Miller has been suspended by the NFL for a violation of the substance-abuse policy, a suspension NFL Insiders Chris Mortensen and Adam Schefter reported will be at least six games, pending discussions with the NFL Players Association and Miller's representatives, according to league sources.
Miller met with NFLPA officials in Washington, D.C., this past Thursday and tentatively had an appeal hearing scheduled with league officials Tuesday. But Miller was on the practice field with the Broncos on Tuesday and continued to work with the starters in practice as he has throughout the preseason.
The Broncos, perhaps preparing for Miller's expected absence, signed veteran linebacker Paris Lenon on Tuesday. The 35-year-old Lenon had 103 tackles for the Arizona Cardinals last season. Lenon, who has also played for the Green Bay Packers, Detroit Lions and St. Louis Rams, has 810 tackles, 12 sacks, 10 forced fumbles and five interceptions in 175 career games. He signed after working out for the team earlier Tuesday.
Miller, citing confidentiality, kept his responses basic and optimistic.
"I'm blessed to be in the situation I'm in, I'm blessed to be with the Denver Broncos, blessed to have great teammates,'' Miller said. "I'm just taking it one day at a time.''
On the recent reports about his suspension, he called it an "ongoing process."
Legwold: Life Without Miller

How he emerges from all of this, how he handles himself, who he surrounds himself with moving forward will have a lot to say about whether Von Miller reaches the heights people believe he can, Jeff Legwold writes. Blog
• Vote: Should Broncos be worried?
• Football Today: Impact on Denver


• PFF: Can Broncos cope?

"I'm just taking it one day at a time. I've heard reports about it, but I haven't heard anything," he said.
And on waiting for a resolution, he said he remained hopeful.
"I'm just trusting the process, hoping for a speedy and fair decision whatever that may be … Hoping for speedy, fair resolution," he said.
In the test that triggered the suspension, multiple sources told ESPN that Miller was flagged for a "diluted sample." It happened after Miller was asked to provide a test before an offseason workout/practice and the sample was spilled, by Miller, before it was given to the collector. Miller was then asked at that time to provide another sample and he could not.
He then participated in the workout, drinking fluids throughout the activity. Miller then provided a sample that was used in the test following the workout.
Miller has maintained he has "done nothing wrong,'' when news of his suspension first broke as training camp opened and consistently expressed confidence the suspension would not be enforced after he presented his defense.
Mike and Mike
ESPN NFL Insider John Clayton covers Robert Griffin III's health, Von Miller's status, the QB competitions in Buffalo, New York and Philadelphia and more.
But he has faced plenty of time in the headlines since. He was also arrested Aug. 11 on a warrant for failing to appear in court for three violations from a traffic stop last October. Miller was flagged for the outstanding warrant when he tried to make a purchase at a Centennial, Colo., gun shop near the Broncos' practice facility.
Miller has a court date later this month related to that arrest.
"I've just got to grow up and be more mature and handle my business,'' Miller said Monday.
And this past Friday, Miller was listed among a large number of possible witnesses for the prosecution in a trial of a man facing the death penalty for allegedly killing five people in Denver last year.
The witness list was made public Monday and obtained by KUSA, Denver's NBC affiliate. Miller is on the list as an acquaintance of a friend of the defendant, Dexter Lewis. On Monday, though, Miller said; "I didn't have anything to do with that, never even seen the guy. I could just go ahead and dismiss that right now ... I had no knowledge about that.''
ESPN Denver Broncos reporter
Covered Broncos for nine years for Denver Post and Rocky Mountain News
Previously covered Steelers, Bills and Titans
Member of Pro Football Hall of Fame Board
of Selectors since 1999
THE NFL ON ESPN.COM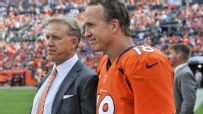 Peyton Manning bought into the Broncos' Super Bowl vision with a $4 million pay cut.
EDITORS' PICKS
Mastery of the salary cap's intricacies, with its spending limits and minimums, is a necessity in today's NFL.
Ashley Fox »

How much does the combine matter in draft analysis? Look at Kevin White's surge up Mel Kiper's board.
Mock 3.0

Durable, fiery and talented, Ndamukong Suh would thrive on any NFL team. We size up his leading suitors.
Dominik

MOST SENT STORIES ON ESPN.COM