Richie Incognito had another incident
Miami Dolphins guard Richie Incognito, no stranger to altercations, was involved in another notable one before training camp.
More From ESPN.com

The Dolphins simply have to hope for the best in light of Richie Incognito's latest incident, writes James Walker. Blog
The incident, which happened June 10 at Club Liv nightclub in the Fontainebleau hotel in Miami, involved a fight that included Incognito and a hotel security guard.
According to the police report, Incognito and a group of friends were trying to get a closer look at an on-stage performer, at which point the security guard asked the group to back up.
A member of Incognito's group then pushed the security guard, which started a fight. Incognito told police he tried to break up the incident.
Incognito refused medical treatment for minor facial injuries, according to the report.
League sources said Incognito punched and knocked out the security guard, though the police report makes no mention of this.
One person who knows Incognito says the Dolphins guard was punched first.
Incognito briefly made a statement about the incident Thursday but wanted to focus on football.
"You know, I'm not going to touch it," Incognito said after Thursday's practice. "We've addressed it as a team. We've addressed it with me and we've moved on. We're focused on Tampa Bay right now."
There is videotape of the incident, but the hotel is unwilling to turn it over and the NFL has not yet seen it -- and might not because it is the hotel's property and the Fontainebleau prefers that attention not be brought to the issue.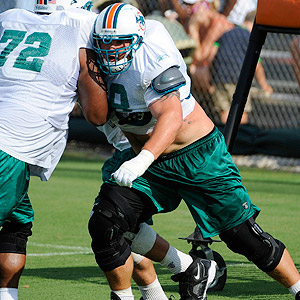 Doug Murray/Icon SMIRichie Incognito, right, was involved in an incident before training camp in which he knocked out a security guard, according to sources.
The Dolphins have been aware of the incident because, as one source said, "They've done everything to bury it."
The NFL declined comment. The league knows it cannot police all altercations involving NFL players, though this one happened in public, with witnesses. It is premature, but Incognito's altercation could be a violation of the NFL's personal-conduct policy.
News of Incognito's confrontation comes in the same week in which Texans defensive end Antonio Smith was suspended one regular-season game for swinging his helmet at Incognito, a longtime rival. Their disagreements date back to when Smith and Incognito played in the NFC West, Smith for the Cardinals and Incognito for the Rams.
Cardinals players such as Smith and Darnell Dockett were known to dislike Incognito for the way he played. "They HATE each other," one person familiar with the two players' battles texted Tuesday. Smith felt as strongly as he did because he felt Incognito pinched players on the bottom of piles and delivered late hits when players weren't looking.
A video replay of Saturday night's incident shows Incognito sticking his hands under Smith's face mask then shoving the Texans defensive end before Smith ripped off Incognito's helmet and swung it in anger, drawing the suspension that the NFL announced Wednesday.
Coaches who looked at the film said Incognito did nothing wrong on the play.
ESPN NFL Insider
Joined ESPN in 2009
Former president of the Pro Football Writers of America and the author of four books
THE NFL ON ESPN.COM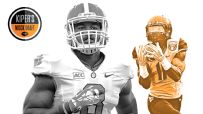 Kevin White's combine performance vaulted him into the top five in Mel Kiper's latest mock draft.
EDITORS' PICKS
With Marshawn Lynch signed and happy, Seattle cleared a major hurdle in its challenging offseason.
Blount »

Expect Chip Kelly's Eagles to stay busy when free agency begins. We predict each team's activity level.
NFL Nation »

Mike Maccagnan has devised an aggressive plan aimed at making the Jets winners today -- and beyond.
Cimini »

MOST SENT STORIES ON ESPN.COM