Category archive:

Tampa Bay Lightning
April, 9, 2010
04/09/10
3:39
PM ET
Much of our focus will be on the playoffs during the next two months, but let's take a look at the teams that were eliminated from postseason play (as of Friday) and the work that lies ahead of them.
We'll catch up with them again at the NHL draft in June, when there could be fireworks involving these very teams. Here are the Eastern Conference nonplayoff teams. I'll be back with the West later today.

Toronto Maple Leafs: Let's get the ugly stuff out of the way so we can move on to more interesting matters. Yes, a 29th-place finish is a PR nightmare; this year's first-round pick was one of two shipped to the Boston Bruins for dynamic winger Phil Kessel this past September. The Bruins have a 67 percent chance of ending up with either Taylor Hall or Tyler Seguin depending on Tuesday's draft lottery.
"I would do it [the trade] again tomorrow," Leafs general manager Brian Burke told ESPN.com on Thursday.
In the meantime, Burke's rebuilding squad took some strides this season despite its finish. The massive turnover, which is far from over, has revealed some promising young building blocks in the likes of center Tyler Bozak, forward Nikolai Kulemin, forward Christian Hanson, goalie Jonas Gustavsson, forward Viktor Stalberg and defenseman Carl Gunnarsson. Sophomore blueliner Luke Schenn recovered from a shaky first half with a solid ending, and highly touted junior forward Nazem Kadri is on the way next season.
The trade for Dion Phaneuf remains a coup for Burke, who solidified his blue line moving forward. But the offense remains a major issue. Kessel needs help, and that's the priority this offseason.
"Our draft is July 1. We're going to go after a free agent, we're going to try and land a top-six forward," Burke said. "We might also do it in advance of July 1 through a trade."
That trade would no doubt involve veteran blueliner Tomas Kaberle, who has one year left on his deal at $4.25 million, a cheap salary for a player of his caliber. Kaberle's no-trade clause will drop this summer, so although Burke says he's not shopping him, the fact that he'll once again have a window with the no-trade clause gone compels him to at least see what is out there.
"We're going to listen," Burke said. "He's a good guy, a good player, and he's at a good number. Those are three good reasons to keep him. But I have to listen [to offers]. We're not going to shop him, but we're going to listen."
The Leafs have about 16 players returning for next season, so there's not actually that much cap room to play with. But just like that, a guy like Jeff Finger (two more years at $3.5 million per) could be dumped in the minors to create cap space. Burke understandably is taking heat for the Kessel deal, but I don't think you can say his team isn't headed in the right direction. Leafs fans certainly hope so. This is Toronto's fifth straight season without a trip to the postseason.

Florida Panthers: Nine straight seasons out of the playoffs. Believe me when I say GM Randy Sexton is on a mission. There will be changes this summer.
Although Sexton would not comment when I asked him about goalie Tomas Vokoun, other league sources believe the Czech goalie will not be back in Florida next season. Vokoun has one year left on his deal at a $5.7 million cap hit. He also has a no-movement clause, but it's expected he will waive it for a chance to win elsewhere. His trade this summer will open up room for highly touted Swedish goalie Jacob Markstrom, the 31st overall pick in the 2008 draft. If he's not ready for the NHL next season, my guess is the Panthers will have Scott Clemmensen share the net with a veteran stopgap like Manny Legace or someone of that nature while they await Markstrom's debut.
Although Sexton didn't want to speculate on his goaltending situation, he did address his problems up front; as of Friday, the team was ranked 28th overall in goals per game.
"We need more consistent scoring," Sexton told ESPN.com on Thursday. "[Stephen] Weiss could end up with 30 goals this year, [Nathan] Horton has scored 30 in the past and [David] Booth has scored 30, so we think all things being equal, those guys come back and give us a solid first line. But we need to add some scoring on our second line. We don't score goals easily."
Booth has been hit hard by two concussions this season, and that has to be a question mark moving forward. Let's hope he can fully recover.
My take? The goal in Florida is to get younger, bigger, more physical and faster. Easier said than done, but that's the goal.

Carolina Hurricanes: The season was lost in a hurry by a brutal start, but the second half of the season revealed what most of us suspected: This was a much better squad than what it showed in October and November.
All it did was make GM Jim Rutherford begin the youth movement a few months earlier, and that will remain the goal during the offseason.
"We'll continue our transition into a younger team," Rutherford told ESPN.com on Thursday. "We have a lot of good young players, and we had planned on doing it this fall regardless of how this season ended up. We started the transition a little earlier than we expected halfway through the year, but in some ways, it's been good for us because we've gotten a look at some of the young players, and they've done real well."
Rutherford moved out several veteran faces before the trade deadline but retained winger Ray Whitney, who is set to become an unrestricted free agent July 1.
"He's been a great player for us for a long time," Rutherford said. "We'll have to take a good look at that in the offseason and see what he wants to do. I still feel he's a good player, so we'll have that meeting sometime in the next few weeks."
In the meantime, the Hurricanes will hope for some luck in Tuesday's draft lottery.
"I'm pretty comfortable anywhere in the top eight," Rutherford said. "We'll get a good player whether we pick anywhere from one to eight."
This team is going young but with good players. Be excited if you're a Hurricanes fan.

Atlanta Thrashers: One playoff berth in 10 seasons is a tough sell on even the most loyal fan. But I truly believe the Thrashers are on the right track with the young players they are building this version of the team around, most notably Evander Kane, Ondrej Pavelec, Niclas Bergfors, Zach Bogosian and Bryan Little.
"The one thing we really like is the direction we're going with the youth of our team, and we're going to continue that," Thrashers GM Don Waddell told ESPN.com on Thursday. "We've got six guys under the age of 24 and another seven guys under the age of 29. We have other young guys who are close and who will compete for jobs next year. We're going to hang in there with those guys and let them grow together here."
Waddell did the best he could with a brutal situation: star winger Ilya Kovalchuk refusing to sign an extension that could have afforded him enough money to buy a small island. So, Waddell got the best possible deal out of New Jersey, and Atlanta actually rallied after Kovalchuk's departure to fall just short of a playoff spot.
Waddell also has four key UFAs to address: defenseman Pavel Kubina and forwards Maxim Afinogenov, Colby Armstrong and Jim Slater.
"The hope would be to sit down and talk with them over the next few weeks," Waddell said. "If there's something that makes some sense, we'd like to bring them back."

Tampa Bay Lightning: I didn't think it was wise to reach out to Bolts GM Brian Lawton because who knows whether he'll be back next season under new owner Jeff Vinik.
This team is enigmatic. Despite having big-time offensive contributors in Steven Stamkos, Martin St. Louis, Vincent Lecavalier and Steve Downie, the Bolts ranked 23rd in NHL offense as of Friday. Bizarre. What's not surprising is where they ranked defensively: 28th in goals against per game. The blue line and goaltending aren't up to snuff, and no matter who is the GM, that's where you start.
But first, Lawton's future.
"Speculation has been rampant since new owner Jeff Vinik took over that general manager Brian Lawton will not be back next season," Tampa Tribune hockey writer Erik Erlendsson wrote to me via e-mail Friday. "Lawton's contract expires on June 1, and by virtue of the fact he has not been given a contract extension, at this point it's not a question of if, but when he will officially be let go. In his two years at the helm of the Lightning, Lawton has found some success with the likes of Downie, Antero Niittymaki and Kurtis Foster.
"But when he's missed, it's been a Reggie Jackson-esque spinning whiff with the acquisition of Andrej Meszaros for Filip Kuba, Alexandre Picard and the first-round pick previously acquired from San Jose for Dan Boyle. And it's difficult not to point at the oustings of Jussi Jokinen (30 goals for Carolina this season), Radim Vrbata (20-goal scorer for Phoenix) and the buyout of Vinny Prospal, who will count against the Lightning salary cap for five more years following a season in which a lack of secondary scoring was a season-long issue."
Coach Rick Tocchet has one year left on his deal and would be in limbo if Lawton is gone. A new GM usually wants his own man.
Downie has had a breakout season and is the key restricted free agent who needs a new deal along with Foster. Niittymaki, who outplayed Mike Smith in net this season, will be a UFA. Meanwhile, my colleague Erlendsson believes that whoever is in charge of the Lightning needs to also look ahead to two players who are one year away from free agency.
"Tampa Bay would be wise to begin extension talks for both Marty St. Louis (unrestricted) and Steven Stamkos (restricted) and not let either of those players go through the season without a contract beyond next season," he said. "St. Louis, in particular, while still productive at age 34 with the third 90-point season of his career, continues to be the heart and soul of the team and a real driving force, not only on the ice but in the locker room."
No shortage of work this offseason in Tampa.

New York Islanders: For the fourth time in five postlockout seasons, the Islanders failed to reach the postseason. It wasn't a surprise this season, as the team focused on a youth movement that has showed signs of promise.
Star rookie John Tavares had a solid first campaign, and his supporting cast is building in strength, led by Kyle Okposo, Matt Moulson, Frans Nielsen, Blake Comeau, Josh Bailey, Jack Hillen, Trevor Gillies and more to come up from the farm system. This on top of a possible good draft pick in June depending on Tuesday's draft lottery.
The key question for the Isles is in goal. Martin Biron will be an unrestricted free agent, Dwayne Roloson has another year left but will be 41 in October and Rick DiPietro played just eight games this season, once again felled by injury (knee). This is GM Garth Snow's biggest offseason decision: who plays goal for him next season and beyond. (Snow did not immediately return a call from ESPN.com.)
Otherwise, believe it or not, Isles fans, the future looks bright (wherever the team ends up playing).
March, 11, 2010
03/11/10
4:50
PM ET
TORONTO -- Steven Stamkos still has his own bedroom at his parents' house just north of Toronto, a bedroom that still has a picture of Sidney Crosby in it.
"It's not autographed, though; we need to get it autographed somehow," his father, Chris Stamkos, joked Thursday while watching his son practice at Air Canada Centre.
It's a reminder, perhaps, that less than two years ago, Steven Stamkos was just a Canadian kid and a big NHL fan. He looked up to "Sid the Kid." Now, the Tampa Bay Lightning star is chasing down Crosby and Alex Ovechkin for the NHL goal-scoring lead.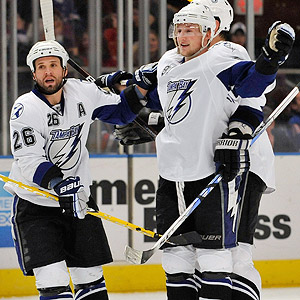 Paul Bereswill/Getty ImagesSteven Stamkos' father says Martin St. Louis, left, has had a positive effect on his son's play.
With 42 goals in 66 games this season, Stamkos, who turned 20 last month, has a shot at becoming the third-youngest player in NHL history to reach the 50-goal plateau (Jimmy Carson and Wayne Gretzky were 19).
"It's surreal when you think about it, but I'm not quite there yet," Stamkos said Thursday. "Maybe if I reach it we can talk about it more.
"It's tough not to think about it, especially since I'm asked about it all the time, but it's definitely in the back of your mind," he added. "But that's not my main focus right now. If I get to it while helping this team make the playoffs, then it's an added bonus."
Just 18 months ago, Stamkos stood in the same spot where he stood Thursday in the visitors' room at the ACC, but the scene was drastically different. The hometown junior star and first overall pick in the 2008 NHL draft had to explain to hordes of media why he hadn't recorded a point in his first seven NHL games.
"I do remember that," Stamkos said, recalling that morning of Oct. 28, 2008. "I've learned a lot since that time. I've matured a lot as a person and as a player. I just try to keep improving every day."
In fact, he recorded only four points in his first 17 NHL games, struggling to gain ice time under former coach and current ESPN analyst Barry Melrose.
"It was kind of tough," Chris Stamkos said. "I probably took more phone calls than normal. But I just told him to stick with it and stay positive, that being a rookie you had to wait for your opportunity."
After Melrose was fired and Rick Tocchet took over behind the bench, Steven Stamkos took off in the second half of last season, collecting 32 points in his final 39 games. Dating back to Feb. 17, 2009, Stamkos has scored 58 goals in 92 games; only Ovechkin has scored more during that span.
"It's kind of a surprise, at least to me, that he's got more than 40 goals so far this season," Chris Stamkos said. "I know he finished strong last year and had a good World Championship [11 points in nine games for Team Canada], and he was feeling strong coming into the season and was pretty positive.
"But to have 40-plus goals right now, my expectations were probably around 30 to 35 for the whole year. Good for him. He worked hard in the offseason with Gary Roberts. A lot of it has to do with confidence, and he's playing with, in my mind, one of the best players in the league in Marty St. Louis."
Roberts, a former NHL star, got to know Steven Stamkos last season, his last in the league. This past summer, Roberts oversaw Stamkos' offseason workouts north of Toronto, which Stamkos said was huge in helping him achieve his success this season.
"It helped me a lot," Stamkos said. "I learned a lot about what I needed to improve on. There are certain aspects of my game that have improved because of that, and I'll be there again this summer working hard. It definitely gave me that extra jump for this season."
Roberts is starting a business in which he'll be working with 17- and 18-year-old hockey prospects, helping them work on specific training routines. On hand Thursday at the Air Canada Centre to say hello to Stamkos, Roberts said the big thing was making Stamkos' legs and back stronger.
"Any young player at that age, it's usually what's lacking and what's going to get them to the next level, to increase their strength in that area," said Roberts, known as a fitness freak during his NHL career. "Steven was already a fast skater, but the key was to make him strong without make him slow."
Roberts, 43, said had he known what he now knows about what he believes is proper training for hockey players, he would have done things differently during his own career.
"You know, over the course of my career, I trained to be strong but not fast," Roberts said. "The game is about speed and explosiveness, and that's how you have to train your athletes now, and we did that with Steve last summer. We did a lot of speed and explosiveness training and tried to keep away from the bike or too much endurance work. Because too much endurance work makes you slow.
"That's why hockey is such a tough sport to train for, because you need speed, you need explosiveness, you need strength and you need endurance. It's the toughest sport in the world to train for, I think. You have to be real careful about what you do in order to become a better player on the ice."
Stamkos also returned here to Toronto during the Olympics to spend time with family and friends. It was bittersweet; he had a strong case to make Team Canada.
"Obviously, it was tough; I thought I had a chance to be there," Stamkos said. "I'm actually more disappointed Marty [St. Louis] wasn't there. I thought we both had legitimate chances. But you can't really complain when they bring home a gold medal. I was just another Canadian fan enjoying the Olympics and watching them bring home the gold."
Again, another mature answer. His birth certificate has to be a forgery. There's no way he's only 20.
"He's a grounded kid," Tocchet said. "His practice habits, everything he does, I've played against those types of guys like [Steve] Yzerman and [Joe] Sakic, those guys were professionals. And he's got that pedigree."
His father credits the influence of St. Louis, his linemate for the better part of a calendar year.
"Marty St. Louis has so much heart, and his practice ethics are unbelievable," Chris Stamkos said. "I think that's kind of rubbed off on Steven, as well."
His parents deserve some credit, too. His upbringing is clearly a factor in the fact that he is a delight of a player to be around.
"I spent a lot of time with him last summer," Roberts said. "He's a great person from a great family. It was a real pleasure to be around him. He came to work out every day at my home, and our whole family looked forward to seeing him every day because of the type of person he is."
January, 23, 2010
01/23/10
11:59
PM ET
There was a fresh new wave of Vincent Lecavalier trade rumors last week, with the New York Rangers again linked to the star center. But the owner of the Tampa Bay Lightning wants everyone to know there's absolutely nothing to them.
"We have never talked to the Rangers about Vinny," Oren Koules told ESPN.com on Saturday morning. "And by the way, Vinny has 50 points; he's not having a bad year. He's having a great year."
As I've written before, Lecavalier has a no-movement clause, so he alone will decide his NHL future, not the Lightning. There's no point worrying about it until then.
In the meantime, Koules made an interesting point about Lecavalier's production. When he had a slow start in October, Lecavalier was largely written off, and it certainly didn't help when Team Canada skipped over him for the Olympics on Dec. 30. But Lecavalier has come on of late. He entered Saturday's play 15th in NHL scoring, ahead of the likes of Zach Parise, Corey Perry, Ryan Getzlaf, Rick Nash, Anze Kopitar, Alexander Semin and Jarome Iginla.
Lecavalier is on pace for 82 points; still, not really worth the $10 million he's earning this season, but certainly not a bad year at all.
Meanwhile, I also asked Koules about the reports regarding the team's financial problems. While he confirmed the league is assisting him in actively trying to find a buyer or investor, he denied that the Lightning has been forwarded an advance share of revenue sharing to help pay the bills.
It's clear the league wants to find a buyer/investor ASAP for the Lightning.
Toronto traders
The 28th-ranked Toronto Maple Leafs will be sellers ahead of the March 3 trade deadline, but they'll be in a unique position compared to any other club in the NHL. They've got cap space to sell, but more importantly, budget room.
In other words, they may be sellers and buyers at the same time. Confused? Unlike, say, Carolina or Edmonton (teams that solely want to shed salary like traditional sellers would), the Leafs are ready to take on huge contracts if the deals include draft picks or prospects in the process. And that's exactly the message being sent to the buyers around the league right now by GM Brian Burke and assistant GM Dave Nonis.
Burke has had this financial muscle at his disposal all along, but has been waiting for the right time. That time is coming.
For example, pretend you're a Cup contender. You want to make a deal to help your team March 3, but you don't have enough cap room. The Leafs are telling those types of clubs they'll take a contract off their hands for a pick or prospect. No other seller, in all likelihood, will offer that scenario to buyers because no other seller is willing to park big money in the AHL to make these deals happen. This is where the Leafs hope to start recouping some assets, especially after dropping a pair of first-rounders to Boston for Phil Kessel.
In the meantime, the Leafs are getting feelers for pending free agents, such as Alexei Ponikarovsky and Matt Stajan, and even guys under contract past this season like Niklas Hagman (two more seasons at $3 million per). A handful of the free agents will almost surely be moved out. Ponikarovsky, hot of late, could be a fetching pickup for a team looking for second-line offense.
The Leafs' pro scouting staff, led by vice president of hockey operations Dave Poulin, met Friday and Saturday in Ft. Lauderdale, Fla., to prepare for the March 3 trade deadline. Burke joined them Saturday. The staff ranked every player on all 30 teams over the two-day period so Burke and Nonis can quickly pull up those individual reports once trade talks heat up.
Know this: The Leafs' desire is to be extremely busy from now to March 3. We'll see if they find willing partners.
Hurricanes listen
Any player headed for unrestricted free agency is available in Carolina, but the Hurricanes are getting lots of calls on a player that's under contract for next season.
Joni Pitkanen has another year on his deal at $4.5 million for next season. The Canes like him a lot and are not trying to move him in any way. Yet, the interest from other teams is so high for the puck-mover, one wonders if Carolina will be able to say no before March 3 if the offers are too good to resist. The 26-year-old leads all NHL players in ice time per game, averaging just over 27 minutes. There won't be many top-four defensemen moving before March 3, so the high interest in Pitkanen is reflective of a barren marketplace for that position.
One player who will very likely move if he allows it with his no-trade clause is winger Ray Whitney, as I mentioned last week. To me, Pittsburgh and Calgary are screaming for this kind of move, as both clubs need offensive help and a boost to their power plays.
Here's the thing: He's cheaper to acquire now than on March 3. If the Hurricanes could unload him now, they'd save on their payroll. Come March 3, there's only five and half weeks left on Whitney's $3.55 million salary, so the Hurricanes wouldn't be saving nearly as much. In the meantime, teams will be scrambling for his services that day and the price will go up. Either way, the Hurricanes are hoping to recoup a first- or second-round pick and a prospect for Whitney.
Flyers-Rangers fallout
The Rangers, understandably, weren't happy when their star player, Marian Gaborik, got beat up by Flyers agitator/tough guy Daniel Carcillo on Thursday night. I don't blame them. I can just imagine their anger Friday when these Twitter posts were sent out by the Flyers:
From: @NHLFlyers
Sent: Jan 22, 2010 1:06p
In case you missed it, here's video of the Carcillo/Gaborik fight from last night.
http://bit.ly/5akcFO
sent via TweetDeck

From: @NHLFlyers
Sent: Jan 22, 2010 9:44a
Check out last night's media availability following the game, inc. Carcillo's "licking his chops" comment (video): http://bit.ly/71Pv6V
sent via TweetDeck

"I can't say I was aware they were doing this," NHL deputy commissioner Bill Daly told ESPN.com via e-mail Saturday. "It's not in violation of any existing policy we have."
There are no rules against it, but it's in poor taste, in my mind.
This and that
• The phone calls keep rolling in to Atlanta with inquiries about Ilya Kovalchuk, and it's going to get more serious over the next two weeks. Meanwhile, a source described contract talks with Kovalchuk as "pretty quiet" of late. I think a trade is inevitable at this point.
• Had a chance to touch base this week with Finland Olympic GM Jari Kurri. The former Oilers great said he couldn't believe it when both Saku Koivu and Teemu Selanne went down with injuries in back-to-back games recently. But Koivu is slated to return this week, and Kurri said he was confident the "Finnish Flash" would also be ready for the Olympics. "He should be OK," Kurri told ESPN.com. "Our understanding is that he'll be back in time, but it's going to be close, for sure."
• The Phoenix Coyotes are on the lookout for cheap offensive help; they can't take on too much of a payroll bump. Ideally, they're looking to make a dollar-for-dollar move. That's not an easy thing to do in this market right now, although that's exactly what Minnesota and Montreal pulled off in the Guillaume Latendresse-Benoit Pouliot deal (both players are earning the exact same salary).
• The New York Islanders continue to cast their fishing lines around the league in an attempt to move goalie Martin Biron ($1.4 million salary, UFA July 1). The Isles are pretty open to what they'd want in return: a draft pick, a defenseman or a left winger. Any one of those three apparently will do.