My first blog ... and Eric Staal and St. Patrick are smiling
September, 11, 2008
09/11/08
3:42
PM ET
This is pretty darn exciting. My very first blog posting for ESPN.com in what is actually my first blog,
period
.
Perhaps the pertinent question is why the heck the world's biggest sports media empire hired a redneck from Northern Ontario this summer and let him have his very own NHL blog. Talk about a risk!
In all seriousness, I'm pumped about this new gig, and I believe hockey is on the upswing in the United States. So let's have fun together this season.
[+] Enlarge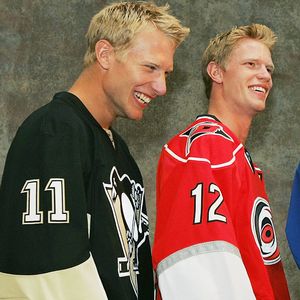 Mike Stobe/Getty Images/NHLThe pride of Thunder Bay: Eric Staal, right, has a new deal, but will brother Jordan have one before the end of the 2008-09 season?
Eric Staal re-signs
What better way to kick things off then to chew on a very important development Thursday, Eric Staal's $57.75 million, seven-year contract extension in Carolina? The 23-year-old center is a franchise player, and perhaps history played a part in the Hurricanes securing his rights long-term.
"I remember Ron Francis in Hartford," Hurricanes GM Jim Rutherford told ESPN.com. "The Whalers decided they weren't going to spend the money it took to keep him, and look what happened. He goes to Pittsburgh and wins two Cups. And look at what happened to the Whalers after Ron left."
The Hurricanes, who moved to Raleigh, N.C., from Hartford more than a decade ago, were smart to act fast on this one. Staal has one year left on his current deal that pays him $5 million, and he would have become a restricted free agent July 1. That's a situation that would have begged for an offer sheet.
"This was tremendously important for our franchise," added Rutherford. "Even more so for a smaller-market team risking potentially losing a player of this caliber to a bigger-market team."
There's always a risk with these long-term deals, which are all the rage in the post-lockout NHL. But with Staal, he's shown himself to be quite durable so far in four NHL seasons -- he's missed only one game.
But what about Jordan?
Big brother's future is secure. But what about Jordan Staal? Was it just me, or was it not interesting to see how the Pittsburgh Penguins took care of some core players this summer -- such as Evgeni Malkin, Marc-Andre Fleury and Brooks Orpik -- but enter the season with Staal entering the final year of his entry-level contract?
My sense is Staal will probably play out the season and see what happens. He'll be a restricted free agent July 1.
No doubt Jordan will be careful about how he handles this issue all season, but I'm guessing in the back of his mind he'd love a chance to play with Eric in Carolina. That's only going to happen either via trade or offer sheet, but food for thought, nonetheless.
[+] Enlarge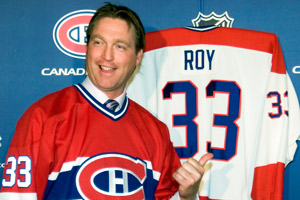 AP Photo/Ryan RemiorzHappier times for Patrick Roy, who again donned the bleu, blanc et rouge at a press conference Tuesday in Montreal.
St. Patrick's return to Montreal
Just under 13 years after Patrick Roy forced his way out of Montreal and a blockbuster trade to Colorado, we were reminded again that time does indeed heal all wounds with the announcement that the Canadiens will retire No. 33 on Nov. 22.
I don't think many of us will ever forgot Roy charging off the ice (after finally being pulled by then-coach Mario Tremblay) during a 12-1 loss to Detroit and whispering to former team president Ronald Corey (who was sitting behind the Montreal bench) that he had played his last game. That was December 1995. Bitter feelings between the Hall of Fame goalie and the famed organization would linger for years.
Some Canadiens fans, meanwhile, blamed Roy's forced exit for what turned into a decade of futility. Roy addressed those fans at Thursday's news conference in Montreal.
"It was more difficult than most people might think to leave Montreal," Roy said. "I had a lot of friends in the city and still do. At the time, yes -- I would have liked to leave on a different note. But there's nothing we can do about that today. The message I want to send is that it's time for me to move on, and I hope it's the same for them."
Some will argue he doesn't deserve the honor because of the way he divorced himself from the franchise. There will also be critics in his native province who will argue the Canadiens should not retire Roy's jersey for his part in a junior hockey brawl that grabbed headlines throughout North America last year (interestingly, Roy's jersey number announcement comes a day after the Quebec Major Junior Hockey League announced new measures to curb violence in its league).
Personally, I would have waited for more time to pass on both fronts, but I understand the Habs were under a time crunch given the parameters of their 100-year anniversary.
Timing aside, no one can argue No. 33 should not hang in the rafters at the Bell Centre. Roy's goaltending heroics from 1986 to 1995 kept the Habs in a place of prominence at a time when the team no longer developed top offensive players. Stanley Cups No. 23 and No. 24 came on the back of No. 33. His number deserves to hang up there with the No. 1 of Jacques Plante and the No. 29 of Ken Dryden.
The rebuilding Leafs
I had a chance to sit in on an informal chat with Toronto Maple Leafs GM Cliff Fletcher and franchise COO Tom Anselmi, along with a dozen other media types at Air Canada Centre.
Two things that struck me:
1. The Leafs aren't sugar-coating this season. "You don't have to be a Rhodes Scholar to know there's going to be some tough days ahead," Fletcher said. The Leafs, who almost surely will miss the playoffs for a fourth consecutive season, are at least giving the impression they finally get it. The quick fixes, they say, no longer work.
"It became apparent when I took over last March that under this system [the collective-bargaining agreement] that radical changes needed to take place here," Fletcher said. "There had to be a different philosophy here. It's a painful, slow process."
While I think it's a breath of fresh air for this team to be talking this way, the reality is Fletcher is still in a caretaker role. Until the team's new GM is hired, we won't really know for sure what direction this team will take long-term. This is more of a transition year than it is rebuilding.
2. Anselmi is more involved on the business side of things with one of the NHL's most powerful franchises. And what he said raised eyebrows in the room. In market research done by the team in 2006-07, 69 percent of respondents said they were "big fans" of the Leafs. Last season, that number dipped to 51 percent in the same survey.
Pretty surprising stuff for a market that's akin to Cubs baseball in Chicago and Cowboys football in Dallas. Having a non-playoff team for three straight seasons is one factor. But another possible factor is also interesting. Toronto is one of the most multicultural cities in the world, and apparently, not all of the new Canadians arriving here are taking to hockey.
The NBA's Raptors and MLS' Toronto FC soccer team are popular options for sports fans. Anselmi says it's estimated that, by 2018, 50 percent of Toronto residents will be visible minorities. So the Leafs are going to put more effort into grassroots projects to reach out to new, younger fans.
Let's not get carried away here -- every single Leafs game will be sold out this season at one of the most expensive ticket prices in the NHL. But the point is, the Leafs say they're not taking it for granted that they're always going to be king in their city.