Hossa to Detroit? Why Crosby was surprised
September, 12, 2008
09/12/08
4:05
PM ET
If you are among the hockey fans who were shocked to see
Marian Hossa
end up in Detroit this offseason, you're not alone.
[+] Enlarge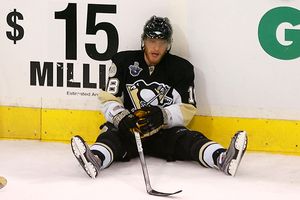 Jim McIsaac/Getty ImagesMarian Hossa signed a one-year, $7.45 million deal with Detroit this past summer.
Sidney Crosby was equally stunned, especially after bumping into Hossa at a Bahamas resort in June and going home convinced he was going to get his star winger back in the Penguins' fold.
"When it did first happen, I was pretty surprised," Crosby recently told ESPN.com. "I thought he was coming back. There wasn't a big question in my mind; I was looking forward to playing with him again. It was just a matter of how long was he going to sign for. But then, as things developed, I found out other teams were in the mix. So when he didn't sign, it's nothing personal."
(After being acquired by the Pens at this past season's trade deadline, Hossa signed a one-year, $7.45 million deal with Detroit this summer.)
"For me, I had a great time playing with him, and I would have loved to play with him for five years or whatever. But he had a right to go to any team he wanted to. I have a lot of respect for him."
I doubt Hossa was trying to make the Penguins look bad, but when the Slovak star told the Detroit media he signed with the Red Wings because he wanted to win a Cup, you have to wonder how that made the captain of the Penguins feel just weeks after Pittsburgh lost to Detroit in the Stanley Cup finals.
"I thought about the same thing, but I think the most important thing when you hear that is you have to put yourself in his shoes," Crosby said. "He's looking at a team that won the Stanley Cup, which isn't losing anyone, and then adds himself -- a world-class player. And they just beat us. So really, if you look on paper and you had to answer the same question, which team would you pick? That's fine. All [the] other 29 teams don't go into the season saying Detroit is going to win. It's not the way it works.
"But if you're looking for a straight odds-on favorite for next year, I think everyone would tell you Detroit. I think that's thinking realistically. But are we saying, 'He went to Detroit so they're going to win'? No. We're going to try and get back there and win."
Here's guessing Crosby won't have to pump up his teammates for their Nov. 11 game in Detroit. Penguins players won't say it publicly, but I can't imagine they don't feel somewhat betrayed.
Players' union fighting for pensions
An announcement by the NHL Players' Association on Thursday is worth making note of.
The players' union is going to court to clear up whether or not former players who played in the league before 1986 are getting short-changed on their pensions -- specifically the death benefits for their families.
Former Bruins defenseman Brad Park brought this to attention of the NHL's Pension Society last year. The 59-year-old has more than $600,000 in his pension plan, which he hasn't yet started to collect, but realized his wife would not see all of it if something should happen to him.
"If I die before I take my benefits, my wife will only get $200,000," Park told The Toronto Star. "Why should she get only $200,000 if there's over $600,000 set aside for me? Those are the guidelines that were set up back in the 1970s.
"Right there, there was a flaw."
The NHL wanted the matter resolved through arbitration, but the NHLPA's four pension trustees, with the backing of the union, decided going to court was the better option.
"You look at Brad Park's discrepancy, that's a terrible blow to take if you haven't made the right decision," Glenn Healy, the NHLPA's director of player affairs, told ESPN.com today.
Healy, a driving force behind this cause, believes it's a highly important issue that needs to be addressed immediately so that widowers and families can get proper compensation.
"If there is somebody that has a chance to take their pension now and they're in a situation where health is of any consequence and it's going to affect them at the end of the day with a death benefit then I want the right answers so that they can make the right decisions.
"And the only way to do it effectively and quickly is through a court and an expert. And it's the judge."