No news is good news (sort of) after BOG meeting
September, 16, 2008
09/16/08
7:51
PM ET
As I told you folks yesterday, the NHL's movers and shakers met here today in Toronto for the league's annual preseason board of governors meeting.
Today's meeting didn't deliver a big story, as NHL commissioner Gary Bettman said afterward: "Sorry, no breaking news."
Still, a few interesting angles:
[+] Enlarge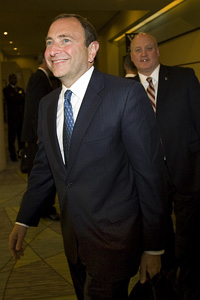 AP Photo/Nathan DenetteNHL commissioner Gary Bettman said Tuesday that it's too early to tell whether or not the struggling economy will affect league business.
Economics
The news: Just a day after what happened on Wall Street, the NHL owners couldn't avoid touching on the economy and the possible concern of how it's going to affect the league's business.
"I can only speak for Edmonton, but I can say, yeah, these are very interesting times, what the stock market is doing and the impact on our major clients -- which are businesses," Edmonton Oilers CEO Pat LaForge said. "We all have to be mindful that these are tough times."
Bettman said it was too early to predict how a slowing economy would affect the NHL.
"Interestingly enough, based on the projections that we're seeing and based on the data that we're getting with respect to things like season-ticket sales, we're actually running ahead of last season -- which was a record for us," Bettman told about a dozen of us after the meeting. "We haven't been experiencing any material, short-term effects. But everybody is of course cognizant of what's going on with the economy."
Still, it appears governors got fairly good news on the business front.
"I would say there's a very optimistic mood about the game and how ticket sales are going," Montreal Canadiens president Pierre Boivin said. "Generally speaking, if one can be optimistic these days with what's happening in the financial world, I think we're all optimistic for a good season."
My take: Season tickets may not have been affected, but I suspect single-game ticket sales will definitely take a hit if the economy continues to go in the toilet. There are better things for a struggling family of four in St. Louis to do than go watch the Blues play the Nashville Predators in December.
The salary cap
The news: The real question with the softening economy is whether it ultimately affects the hockey business enough to finally slow down the rising salary cap, which has climbed from $39 million per team in 2005-06 to $56.7 million for this season.
Will the cap finally go down or at least flatline?
"You have to think it's going to do that at some point," Nashville Predators GM David Poile said. "The rise has been higher than I think anybody predicted. So it's reasonable to say, at some point in time, it's going to level off. But business is good. Speaking for ourselves, our season tickets are going to be at least if not more than last year. And speaking to other teams, interest in hockey is at an all-time high right now."
The fact that the Canadian dollar has suddenly begun to slide a little is another hugely important factor. The six Canadian NHL teams are among the top 10 revenue-grossing franchises in large part because of the Canadian dollar's rise over the past few years. If the Canadian dollar tumbles, the six teams will have lower revenues and that also affects the league as a whole.
"If the Canadian dollar keeps dropping, there's a possibility that that would change," LaForge said when asked about the salary cap not going up again. "The Canadian dollar has had a huge uplift on the situation so far. But who knows. I'm praying that the Canadian dollar stops where it is and stabilizes because it affects our business big-time. I'm not a banker, but the Wall Street pages are full and so is the Toronto stock market.
"It's not a pretty picture."
Bettman didn't seem to think the cap would go down as a result of the economic slowdown.
"I would be extremely surprised if the slowdown in economy was severe enough that it got to that point," he said. "I think it's too early to speculate on what the impact will be. But we're keeping an eye on it."
My take: I think the players should be more worried. If the salary cap goes down next season, they'll have to hand over big chunks of money in escrow payments because it will have probably meant they ate up more than the 57 percent of the revenue pie they were allowed to take home. Don't forget that.
From Russia, with love
The news: The governors got a report from NHL deputy commissioner Bill Daly on the latest with the league's continuing battles with Russia, more precisely, Alexander Radulov's decision to go play in the new Kontinental Hockey League even though he was under contract for one more season with the Nashville Predators.
"We've made a formal request for binding arbitration to the Kontinental Hockey League on the matter," said Daly. "They came out of their meeting with the IIHF last Saturday and seemed to suggest that they were ready to arbitrate the matter. We requested arbitration maybe Monday or Tuesday of last week, but we have not got a response yet. So, at this point, we're just waiting."
Bettman picked up on Daly's comments and went further.
"I don't think that the way the KHL or the IIHF have handled the Radulov situation is either fair, appropriate or in good faith," he said. "And that's the reason that we have, to say the least, reservations about doing business with the KHL going forward. What they did here was wrong. And they know it. They've acknowledged that they know he has a contract with Nashville.
"This will sort itself out, but it's not something that keeps us awake at night. The best players in the world will continue to play in the NHL."
Added Predators GM David Poile: "I've not talked to the player, but yes, I do believe he wants to come back. I've always believed that he wanted to play in the National Hockey League and I think this was somewhat of a spontaneous decision and if he could have it back he would change it. He's a top player, he's young, he's going to get better and I think he wants to be in the National Hockey League. … I was flabbergasted when he signed over there and I know he wants to come back to the NHL."
My take: Until the NHL, IIHF and all European leagues and federations can finally agree on a new player transfer agreement that properly regulates signings, I think you'll see more of this.
The new KHL has money and it doesn't care what anybody thinks. It may, however, care if and when the NHL decides to get nasty and announce that Russian NHL players can't participate in the World Hockey Championships, or, even better, that the NHL will definitely not participate in the 2014 Winter Olympics in Russia because of the way the KHL has conducted itself in these matters. I'm not saying that's going to happen, but it's food for thought.