'Now it's time to get Marian signed'
September, 17, 2008
09/17/08
3:55
PM ET
There's a compelling power play acting itself out in Minnesota these days. It revolves around the Wild's attempt to sign star winger
Marian Gaborik
to a contract extension.
The Wild did a good job of locking up core players such as Brent Burns and Pierre-Marc Bouchard.
[+] Enlarge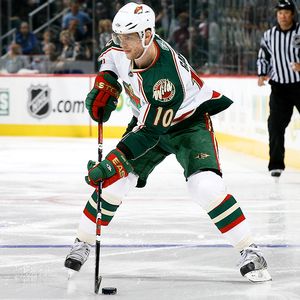 Michael Martin/NHLI via Getty ImagesMarian Gaborik had 42 goals and 41 assists in 77 games last season for the Wild.
"So now it's time to get Marian signed," Wild GM Doug Risebrough told ESPN.com on Wednesday. "We've had some specific negotiations that are getting down to that point. And clearly it's my impression that there's no reason a decision can't be made relatively soon.
"Ultimately, we'd like to get it done before the start of the season," Risebrough added.
Risebrough would not comment any further. But reading between the lines, I think you get the distinct impression that if a deal is not agreed upon before the start of the regular season, the Wild will seriously contemplate moving Gaborik, who is slated for unrestricted free agency July 1. And you know what? That's what they'll have to do if they can't get him locked up. They can't afford to let this play out all season long. Too many distractions for the team (see Marian Hossa in Atlanta last season), and there's the obvious threat of losing him July 1 and getting nothing in return. He's too valuable an asset. If I'm Risebrough, I'd put him on the block next month if he isn't signed.
"We can't control anything they do," Gaborik's agent, Ron Salcer, told ESPN.com on Wednesday. "We control the fact Marian is going to play and he's ready and he's focused. They've expressed an interest in signing him to an extension. We've expressed our interest that we're willing to go down that road and see if that can happen.
"No one has given me any deadlines, though."
The decision for Gaborik is obvious -- take the money now and stay in Minnesota, one of the NHL's most stable and well-run franchises. Or …
"You have a player who theoretically could be 27 years old and a total unrestricted free agent coming into the prime of his career and is a franchise-type player," Salcer said. "That doesn't happen very often. So, we know that option is out there, but we've also been very forthright with Minnesota and told them if we can get something worked out, Marian is prepared to make a commitment to stay there."
Stay tuned. We might get some early-season drama here.
Checking in with the Cup champs
There's no drama in Detroit. The Stanley Cup-champion Red Wings open camp locked and loaded.
I chatted with coach Mike Babcock today and made the mistake of mentioning the "short summer" every Cup champ deals with. Babcock made it clear he won't accept that as an excuse this season.
"You know what I did because everyone kept telling me it was a short summer?" Babcock told ESPN.com. "I said, 'OK, let's do the math.' I said to [assistant coach] Paul [MacLean], 'How many days did we have off last year?' He said, '113.' 'How many this year?' '106.' 'OK, then, don't anyone tell me it was such a shorter summer.' We had seven fewer days. Who cares? So let's gas that thing right away so we don't have to hear about that anymore.
"The two things I think our team is going to hear about all the time is, 'The summer was short,' and every time something goes wrong, it'll be because of the Cup hangover. Well, last year, when we didn't win in February because we had injuries, was it because of a Cup hangover? Stuff just happens.
"So what I'm saying, and maybe I'm nuts, is that we're going to create normalcy. We're going to go up to training camp and we're not going to have a love-in. We're going to get our work ethic and our structure re-established because I'm a big believer they don't carry over from year to year. And we have a great collection of players. But we have to become a great team. The reason we won in the end last year was because we worked harder and had more determination than the other team. Otherwise, you don't win."
Drop the puck! I'm ready!