Will Hossa feel like odd man out tonight in Detroit?
October, 9, 2008
10/09/08
2:59
PM ET
DETROIT -- I always wondered how it felt to be a new guy on a defending Cup-champion team on opening night when the banner was raised.
You didn't have anything to do with it, but you still have to stand there on the ice and take part. Kind of like going to a wedding when you don't know the lucky couple, right?
[+] Enlarge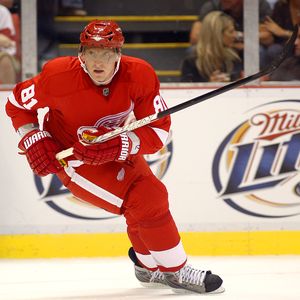 Claus Andersen/Getty ImagesMarian Hossa signed a one-year, $7.45 million deal with the Red Wings this summer.
That was much of the focus today after the morning skate with new Red Wing Marian Hossa.
Curtis Joseph knows how Hossa would probably feel, having joined the Cup-champion Wings in the summer of 2002 after leaving Toronto and then watching the banner go up in October.
"It is strange because everyone has a tremendous emotional feeling and memories and everything, and you're just kind of sitting there … it's a little odd," said CuJo, who is in town with the Toronto Maple Leafs. "But we're professionals, right? You get over that stuff."
For Hossa, it's even stranger since his former team, Pittsburgh, was the last victim for the Red Wings. I'm thinking that banner won't bring up warm and fuzzy feelings for him.
"It's going to be a bit awkward because I was on the opposite side last year," said Hossa. "Obviously, the fans are going to enjoy it, the guys are going to enjoy it. I'll just have a focus on the hockey game."
At least Hossa won't be alone. Backup goalie Ty Conklin is another Penguin who bolted for enemy lines this summer.
"Well, at least we'll have a bit of camaraderie on the bench when they're raising that thing," Conklin said with a laugh. "It was nice to have a familiar face coming here. But it's a pretty welcoming group of guys here."
I think Conklin is a sneaky signing by Wings GM Ken Holland. Conklin helped save the Penguins' season last year when Marc-Andre Fleury was hurt. He played so well, I remember fans in Pittsburgh were actually debating whether Conklin should remain the starter when Fleury came back. With Dominik Hasek retired (we think for good, this time), Holland plugged a nice hole with Conklin, who is a reliable option if something were ever to happen to Chris Osgood.
As for Conklin, signing here was a no-brainer.
"It really wasn't a hard decision once I found out that was an option," said Conklin. "I was excited by the option and it's the one that appealed to me most. In all honesty, it wasn't a real difficult decision at all."