Gaborik in play; what's on tap for GMs meeting Thursday
October, 22, 2008
10/22/08
5:38
PM ET
Doug Risebrough should prove to be a popular man at the NHL general managers' meeting Thursday in Chicago. The
Minnesota Wild
GM has begun the process, we can confirm through NHL sources, of seeing what's out there for star winger
Marian Gaborik
.
I see Risebrough taking his time and building up a market before going ahead with this blockbuster. And, by the way, stranger things have happened than Gaborik changing his mind and deciding to accept one of Minnesota's lucrative offers.
[+] Enlarge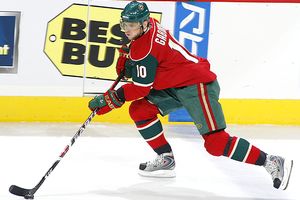 Bruce Kluckhohn/Getty ImagesMarian Gaborik can become an unrestricted free agent on July 1.
But if Gaborik remains unsigned for another month, I think he's gone.
"Why would he want to sign? He goes out on the market, he'll get $10 million," an NHL GM told ESPN.com on Wednesday.
I agree with that, except when it comes to the Kings. I think Los Angeles is a place Gaborik and his L.A.-based agent Ron Salcer would strongly consider next July 1. So why not now?
But I suspect the Kings will only make the blockbuster trade happen if Gaborik agrees to sign an extension now.
Plenty of teams will get involved in this one. Should be interesting, to say the least.
Update on Thursday's GMs meeting
I mentioned a pair of items in my weekend blog that would be addressed Thursday at the NHL's GMs meeting: One is a discussion of the NHL's combine health test, in light of Rangers prospect Alexei Cherepanov's shocking death in Russia, the other is Blues GM Larry Pleau's rule change idea regarding delayed penalties.
Here's a few other things that will be on the agenda Thursday:
Discussion of goalies being captains;

Review of hockey operations;

Ice issues;

Training camp and regular-season dates for next season;

Discussion of Thermablades (new skate product), as well as goalie equipment and equipment overall;

Standard update from NHL Central Scouting.

The goalies-as-captains discussion stands out for me. I can't figure out why we still have the old rule in place that doesn't allow goalies to wear the "C." Change it, boys!

Sabres lose Rivet
The Buffalo Sabres have done the smart thing with veteran defenseman Craig Rivet, who is undergoing arthroscopic surgery today. No point in Rivet risking further injury throughout the season and then not being available come playoff time.

The Sabres' captain is expected back in two weeks.

"It's bothered him for a while," Sabres GM Darcy Regier told ESPN.com on Wednesday. "So the decision was, get it done and get him back. He was almost playing on one leg out there and he's played well for us, but it bothered him increasingly more from day to day. So, we'll get it taken care of and [get him] back on the ice."

By George!
His biggest impact is usually with his fists, but Anaheim Ducks tough guy George Parros already has two goals on the season, matching a career-high.

"Get used to this boys," Parros joked to his teammates in the dressing room Tuesday night after a 3-2 win over the Toronto Maple Leafs.

He scored a beauty on a breakaway Tuesday night, ripping a wrist shot by Toronto's Vesa Toskala. Parros had all of two goals in his first two seasons with the Ducks. He had a two-goal season with the Los Angeles Kings in 2005-06.

"Any time you can actually beat a goaltender with a shot, usually I'm just chipping it in behind the goal line, so that was pretty good," Parros said.

Watching him in person Tuesday night at Air Canada Centre, I have to say he's come a long way. He's earned a regular shift.

"The thing is with George Parros, you never have to tell him something more than once," said Ducks coach Randy Carlyle. "He's involved in the game. And he takes pride in his positioning on the ice, he takes pride in defending his teammates, he's a tough customer.

"But you have to be able to trust those players to put them over the boards. Because in today's NHL, with the new rules, if there's an icing, you can't change," Carlyle added. "That player will have to defend against some top offensive lines. He's been good along the wall, he knows his responsibility, he keeps his shift length to a minimum so he can play at a high pace. We always knew he had a big-time wrist shot; he's been working at it."

Parros told me he takes pride in trying to evolve his game.

"Absolutely. I'm always happy to be able to play the game and be a guy that's thought of as someone who can hold his own out there. I don't like to be pushed [onto] the ice and just fight. The more minutes I get, the happier I'll be. I like my role on this team."

But George, there was no big celebration after your goal Tuesday night.

"Save that for the NFL."