QOTW answers: Boston (surprise) and Dallas (bust) are on your early radar
November, 19, 2008
11/19/08
12:00
PM ET
Hockey is back in Boston, folks. The red-hot Bruins absolutely dominated talk in our latest Question of the Week, where I asked you puckheads to name your surprises and disappointments so far this season. Let's take a look:
[+] Enlarge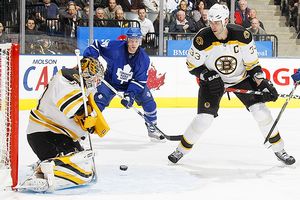 Dave Sandford/Getty ImagesThrough Nov. 18, Tim Thomas leads the league in GAA (1.78) and save percentage (.944).
jdsilva67: I'm a Bruins fan, and even I'm surprised, not at [Tim] Thomas' play, but the overall play of the team to this point. I think a lot of us were expecting the team to improve step by step as the young guys continued to gain experience and [jell] together, but I never thought they would look as complete as they do this early in the year. They seem to have a tremendous confidence and chemistry about them from top to bottom. Even with Ryder remaining pretty quiet, they find new guys to get it done night after night in a variety of ways. It could be Kessel's speed, Savard's creativity, Chara's smarts or physical contributions from Lucic or Thornton that does it, but it seems that, night in and night out, somebody steps up at a key time, and the team responds. And when they go at you full-tilt, be afraid. Maybe it's something about that building that fosters great team play and intensity. These guys are a legitimate team.
rupamsom: Biggest surprise would be the Boston Bruins in 1st place in the Northeast Division. I am a die-hard Bruins fan, season-ticket holder and jerseys galore, and seeing them in first place as of right now is something I was hoping for, but never expected. They are bringing hockey back in Boston with their great team play and never-say-die attitude. Biggest disappointment would be Tim Thomas not on the All-Star ballot. What does the guy have to do?! He's the Rodney Dangerfield of hockey -- No respect, No respect I tell ya!
gaff1313: ... Hockey is BACK IN BOSTON ... as a die-hard fan from Beantown, I haven't been this excited about a Boston sport since the Curse was Reversed in 2004. The emergence of Tim Thomas has been unbelievable for the Bruins and he keeps them in every game. It's a great situation for the B's; in case a goaltending issue arises, they have proven starter Manny Fernandez who seems to be getting the hang of things. Surprising? Maybe not. Perhaps with a healthy Patrice Bergeron in last year's playoff, the Bruins and revitalized Phil Kessel could have stormed passed the Habs. It seems as though the Bruins' young nucleus of Kessel, Krejci, and Lucic could be the team's foundation. Along with veteran leadership from Chara, Ward, Savard and Sturm and the backbone of Thornton and Yelle could send Boston fans for a long and wild ride through the playoffs starting this year and leading on to several more.
My take: We'll deal with Thomas later; but first, his team. I have to admit, when I picked the Bruins in preseason to make a return to the playoffs, I was thinking more of a lower-bracket seed (which, of course, could still happen). But right now, they're playing the best hockey in the Northeast Division, and last Thursday's 6-1 rout of Montreal was a huge message. To me, the best part of all this -- and, interestingly, there wasn't much mention of it in all of the Bruins posts -- is Claude Julien is showing yet again that he's a great coach. Why two great organizations like New Jersey and Montreal failed to see this is beyond me. Julien is a huge part of why the Bruins play the way they do -- smart, disciplined, two-way hockey. Good for you, Claude. And great to see a hockey buzz again in Beantown. It's been far, far too long. Montreal-Boston again in the playoffs next spring? Bring it on!
---
box_o_hammers:Anyone who thinks Tim Thomas (last year's All-Star Game-winning goaltender) is a SURPRISE clearly has his or her head firmly planted up their rear end -- and/or has been living underground ... with no outside communications for the past 3 years. The only SURPRISE is the fact he is not on this year's All-Star ballot. Thomas has clearly established himself as a quality No. 1 starting goaltender for the B's. Biggest disappointments? The All-Star ballot, Barry Melrose and the Lightning brass, and the Dallas Stars.
morne91: I think it is disgusting that Tim Thomas has been left off of the All-Star ballot. The mere fact that he was an All-Star last year should have at least triggered someone to look at his stats and quality of play this year. If they did that, he would have been placed on the list immediately! IT IS NO SURPRISE that he is playing well. Last year, he brought this team to Game 7 of a tough 1st-round playoff with Montreal. If the Bruins had a little more scoring punch at that time, they would have beaten Montreal and maybe gotten into the Eastern Conference finals!
My take: OK, at the risk of getting hammered by Bruins fans, let's come back down to earth a little with our lovable Tim Thomas. If you don't think it's a surprise that he leads all NHL goalies in both goals-against average and save percentage at the quarter pole of the season, then you're smoking something that I'm pleading with you to share with me. Listen, I've long ago bought in that Thomas was a legitimate No. 1 goalie; I'd done stories on him three seasons in a row at my old job. He's certainly come a long way from being the Quebec Nordiques' ninth-round draft pick in 1994. Oh, and remember those seasons with AIK Solna in Sweden and Karpat in Finland? Late bloomer, indeed.
But good for him; he's a good soul. Best goalie in the NHL? Sorry, no. Top 10? OK, I'm in. He definitely deserves to be on the All-Star ballot. Strange the league messed that up, since he was already in the All-Star Game last season. Usually, you get back on the ballot after that. But he's a guy that will always struggle to get respect, in large part because his "unique" style of goaltending makes scouts and goalie coaches cringe. But you know what? It works!
---
fortitudine617: Biggest surprise: Thomas not on the All-Star ballot. Disappointment: The prospect of six Canadiens suited in the staring lineup for the Eastern Conference. Seriously, I know we are all bowing down to the supposedly great Habs this year, but this sham election is going to further hurt the reputation of a game lots of people find gimmicky.
My take: Just goes to show, we shouldn't let you fans get involved in this kind of business! Seriously, fan balloting has always been a joke to me, and this season just dramatically underlines it with the possibility that six Habs may start for the East. I agree it's unfortunate. But, then again, those who know me in the industry also know I'm not a big fan of the All-Star Game. It's a complete waste of time, as far as I'm concerned. Some of the players don't even want to be there. I know young hockey fans, particularly ages 8 to 18, love this event, and you can't ignore that. But quite frankly, I can't possibly get too cranked up about any All-Star related controversy. Who cares!
Pengwin7: Surprise: Minnesota Wild. If somebody had told us that Gaborik would not be playing this season, would any of us have put them in the playoffs? Amazing. Disappointment: Dallas. I picked Marty Turco last week in one of my pools, hoping that he could get a couple of wins last week ... against Los Angeles ... yucky yucky yucky.
My take: I honestly thought the Minnesota Wild would be in jeopardy of missing the playoffs this season. Shame on you, LeBrun. And that was before Marian Gaborik got hurt. About two weeks before the season began, I chatted with Wild GM Doug Risebrough. One thing that sticks out to me is what he said when I mentioned the losses of Brian Rolston and Pavol Demitra. Risebrough said he wasn't concerned because he believed some of his younger core players, notably Mikko Koivu, would step up and fill the void. That's been bang on so far.
---
IowaStateRyan: Biggest surprise: Devin Setoguchi. His on-ice skills have DRAMATICALLY improved over last year. He's playing like an All-Star. Biggest disappointment: The Ottawa Senators. They're my team and I'm sad to see them play with no heart and soul.
My take: Let's focus on the struggling Sens. I had them pegged as a bubble team, but they've managed to be much worse than that. As one reader said the other day, can't blame Ray Emery this season! Maybe we shouldn't be so surprised. This team has one great forward line, but not much else depth-wise up front, an average blue-line and less-than-average goaltending. I know GM Bryan Murray is working the phones trying to make a deal or two. He needs to. This team needs a shakeup.
---
jsb383: To me, the biggest surprise of this young season is the first-place New York Rangers. I thought they would do well this year, but I don't think anyone could have expected this great of a start. What's even more promising is that they are showing no signs of slowing down. The Rangers have the right mix of veterans and youth in the locker room, and also have, in my opinion, the best player in the league playing for them every night, Henrik Lundqvist. If he continues playing like his has, King Henrik is going to finally make the leap from Vezina finalist to Vezina winner. He might even lead them to the Cup!
My take: It's amazing to me what the Rangers have done out of the gate. Usually a team that makes so many offseason changes takes time to find its identity and develop chemistry. Perhaps the trip overseas at the start of the season helped fast-forward that process. I know that's what the Rangers were hoping. But another possibility is the departures of veteran stars Jaromir Jagr and Brendan Shanahan may have created room in the locker room for Chris Drury and Scott Gomez to take their rightful place in the leadership group. Don't underestimate that. It's their team now. Coach Tom Renney has once again done a great job. He's had his Rangers in the playoffs every season after the lockout and now he's looking for more than that. Enjoy it, Rangers fans!
---
SID8791: Sorry, Bruins fans, but you have a good team, but YES, THE PENGUINS ARE DOING IT AGAIN! Let's take Chara and Wideman off the Bruins' defense, say, until January and see if they are 10-4-2. Probably not, and I didn't expect the Pens to be where they are at without Gonchar and Whitney; and now, they will have more depth on defense when they return, considering Goligoski and Letang are getting plenty of ice time. The Bruins are very good, but too early to say who is best because March is a long way off.
My take: Great point, SID8791. I remember leaving Stockholm in early October after the Penguins split their opening two games with Ottawa and wondering whether Pittsburgh could survive without Sergei Gonchar and Ryan Whitney. Gonchar, in particular, leaves a tremendous void. He played the most minutes last season for the Pens and always matched up against the opposition's top forwards. His first pass is always the right one -- critical to the Penguins' transition game. Oh, and he's OK on the power play. But the Pens have indeed survived, and much of the credit goes to rookie Alex Goligoski. The pickup of Philippe Boucher will also help bridge the gap until Whitney and Gonchar return. And when they do, watch out. The Pens will challenge Boston, Montreal and the Rangers for the conference title.