Boyle gets his due … and a visit with the other Backstrom
January, 8, 2009
01/08/09
9:59
AM ET
Finally,
Dan Boyle
got his due.
[+] Enlarge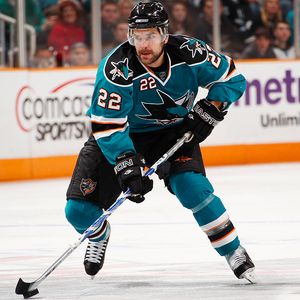 Don Smith/NHLI/Getty ImagesDan Boyle signed with the San Jose Sharks this past offseason.
The 11-year NHL veteran, among the league's top defensemen for at least half that time, was selected to play in the All-Star Game for the first time.
"You know what, I had been in this situation before, where I had a good start to the season but didn't go, so I wasn't thinking about it too much, to be very honest with you," Boyle told ESPN.com. "But when I found out, it is a bonus. It's not a goal I set every year. I've got bigger and more important things on my mind.
"But it's only human nature to feel good about it. It's nice to get recognized."
While we don't care much for the All-Star Game itself, we know how much it means for guys like this. Boyle was never drafted and had to fight the odds to become an NHL star. This is a long time coming.
The nifty puck-mover, tied for the NHL lead for points among defensemen with 32 in 38 games, made the Western all-star team alongside Sharks teammate Joe Thornton. But other deserving Sharks were left off, the NHL having to try and spread the love.
"That's bittersweet," Boyle said. "I was disappointed that Nabby [goalie Evgeni Nabokov] was left off. Patty Marleau is also having an amazing season and maybe our best player all year. But I know what those guys are feeling, I guess."
The All-Star game is in Montreal, a 90-minute drive from Boyle's hometown of Ottawa.
"It's a short drive for my family to come down, so I'll get to see a lot of people when I'm there," Boyle said. "The most important thing is just to enjoy it."
The other Backstrom
We had some fun earlier this week with Washington Capitals star center Nicklas Backstrom about having to share a name with another NHLer.
So, what the heck -- we figured we'd call up the other Backstrom, the Minnesota goalie named Niklas, since he was selected to the Western Conference all-star team.
"We get mixed up every now and then," the goalie told ESPN.com before ramping up to his punch line. "And I can tell you, as a Finn, we don't like to be mixed up with a Swede."
In all seriousness, the 30-year-old Backstrom was proud to get picked for the All-Star Game.
"You don't really think about it, but for sure it's a big thing," Backstrom said. "Just look at who else is there. It's a big honor."
There's been so much focus on his injured teammate, star winger Marian Gaborik, and his contract situation, it's easy to forget the Wild's No. 1 goalie is also a pending unrestricted free agent July 1. Talk about good timing with the All-Star nomination!
Backstrom sounded uneasy when asked about his own contract situation.
"For the moment, it's easier just to focus on the hockey," he said. "I have an agent [veteran Don Baizley] who can deal with these things. It's tough enough to make the playoffs in the West, so you can't have too many distractions. You need to be at your best every night.
"But this is a place that I like," Backstrom continued. "I like my teammates and the team, and the fans are great. For sure, it's a good place for a hockey player. We're happy here, but like I said, I'm not thinking too much about [the contract]."
Our prediction? Gaborik is gone, but Backstrom stays.