Another glaring issue in Ottawa? The lack of a transition game
February, 2, 2009
02/02/09
3:14
PM ET
Zdeno Chara
.
Joe Corvo
.
Tom Preissing
.
Andrej Meszaros
.
Wade Redden
. Those are five puck-moving defensemen, obviously of varying degrees of talent, but nevertheless five players who help key the transition game in the NHL.
All five have left the Ottawa Senators over the past three and a half years, none of them really replaced by a comparable puck-moving blueliner.
[+] Enlarge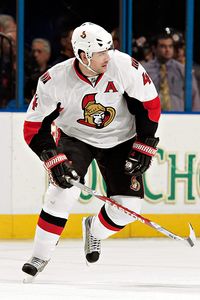 Mark Buckner/Getty ImagesSenators defenseman Chris Phillips can move the puck, but he's known more for his shutdown abilities.
The result?
"That is the worst part of their team right now," an NHL executive told ESPN.com on Monday. "They've lost every puck-mover they've ever had and that's killing them now."
We are not totally absolving Craig Hartsburg in the wake of his firing as Senators coach on Monday, but clearly he was not the only issue with this team.
How does a team go from first overall in goals per game last season to 29th this season? Transition, transition, transition -- or lack thereof.
Star forwards Dany Heatley, Jason Spezza and Daniel Alfredsson are having subpar offensive seasons, but don't lay all the blame on them.
"They're not getting the puck," said the same NHL executive. "Their transition game is nil. Absolutely nil."
Let's examine the two most recent Stanley Cup champions to underline the importance of a puck-moving blue line. Scott Niedermayer, Chris Pronger and Francois Beauchemin were instrumental in Anaheim's transition game in 2006-07. And we don't need to say much more about Detroit last spring other than mentioning Nicklas Lidstrom, Brad Stuart, Niklas Kronwall and Brian Rafalski.
The best team in hockey right now, San Jose, has Dan Boyle, Rob Blake, Marc-Edouard Vlasic and Christian Ehrhoff keying its transition game. The Boston Bruins have been the beasts in the East and they have Chara, Dennis Wideman and Andrew Ference.
In a game that's more than ever about puck possession, a blue-line corps that can direct the flow is paramount. The less time a team spends in its own end, the better. But that takes defensemen who can make the right outlet pass. The Senators just don't have what it takes in that area.
Chris Phillips is the only Ottawa defensemen we would argue is a decent puck-mover (and even then, he's more known for his shutdown abilities); Anton Volchenkov is a shutdown guy and shot-blocker; Jason Smith is a physical presence, but slow-footed and not great with the first pass; rookie Brian Lee is supposed to be a puck-mover, but has struggled all season; Filip Kuba is an average player; Alexandre Picard shows flashes of being that puck-mover, but like Lee, has been hugely inconsistent; and Brendan Bell has struggled to stay in the NHL.
"Listen, we don't have a Mike Green," Sens GM Bryan Murray told ESPN.com on Monday. "We have to adjust our game plan accordingly in terms of how we play."
Murray himself predicted to us in a conversation we had in September 2008 that this would be the area that would hurt his club. Much to his chagrin, he has been proven prophetic. It's not like he didn't try. He spoke to Tampa Bay about Boyle last summer, but the star blueliner picked the Sharks (ah, good choice). Murray also looked at Brian Campbell on July 1, 2008, dabbled in talks with Michal Rozsival and Ron Hainsey, and thought he made a good enough offer to Mark Streit. He lost out on all four free agents in large part because he couldn't match the money. And with Spezza, Heatley, Alfredsson and Mike Fisher all under new, expensive contracts, there's only so much money that could go to the blue line this season.
Murray knows this is an issue. That's why he's been on the phone all season long trying to acquire a puck-moving blueliner. But when he asked about 24-year-old Tobias Enstrom in Atlanta, he was told only 39-year-old Mathieu Schneider was available. There were talks with Columbus and the Islanders, as well as several other clubs, but the fit just wasn't there.
Going forward, this is where Murray will continue to try and improve his club. The competition will be fierce for unrestricted free agent Jay Bouwmeester on July 1, so that might be a reach. But with Kuba ($3 million) and Martin Gerber ($3.7 million) coming off the books this offseason, Murray does have the cap space to spend on at least one high-end blueliner.
The Sens need it.