'I have more goals than Iggy, Geno and Sid ... and you'll never guess who I am'
March, 17, 2009
03/17/09
5:05
PM ET
"Hello, I'm wondering if you can guess who I am?
"Before Tuesday night's games, I had more goals this season than Jarome Iginla, Phil Kessel, Evgeni Malkin, Alexander Semin, Vincent Lecavalier, Henrik Zetterberg, Sidney Crosby, Pavel Datsyuk and Martin St. Louis. But I'm pretty sure if you ran into me on the street, you wouldn't know who the heck I was. Which is fine, because I don't crave the attention.
[+] Enlarge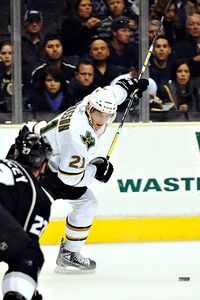 Harry How/Getty ImagesLoui Eriksson has 32 goals and 55 points in 70 games so far this season for the Dallas Stars.
"My name is ... Loui Eriksson."
OK, we admit we made up that entire quote, but not the part about his 32 goals being better than all those big stars.
"He's an unknown around the league," Dallas Stars coach Dave Tippett told ESPN.com.
That's heady company the 23-year-old is keeping in the NHL goal-scoring statistics, where he was tied for 11th on Tuesday with two-time 50-goal scorer Dany Heatley.
"Of course it's pretty cool, when you talk to friends back home and they tell me those kinds of things," Eriksson told us. "It's really fun and really it's unbelievable, actually."
But the low profile around the league? So be it.
"It doesn't matter to me," he insisted. "I'm a pretty quiet person, so that's fine with me."
Eriksson, who will be looking to add to his season tally Tuesday night at Vancouver, was a second-round pick, 33rd overall, of the Stars in the amazingly deep 2003 NHL draft. After spending two more years in Sweden, the Goteborg native made the trek to North America, where he put up 60 points (31-29) in 78 AHL games with the Iowa Stars. By then, Tippett was getting word of this young winger's talents.
A timid, 19-point, 59-game NHL rookie campaign in 2006-07 was followed up last season with 31 points (14-17) in 69 games. Then, this year's explosion -- 59 points and counting.
"I have scored some goals lately and that comes with confidence," Eriksson said. "I've been having a lot of opportunities and getting a lot of ice time, too."
He's improved every single year since crossing the pond.
"He's starting to get recognized because of his stats, but he should be recognized more for his all-round play," Tippett said. "To me, he should be up there with the Selke Trophy people. He plays a game very similar to Jere Lehtinen, who has three Selke Trophies, playing both sides of the puck as well as production.
"He's got a similar personality as Lehts. He's a very quiet and unassuming player. But what he does in the game is just so good for his team."
Eriksson confirmed the defensive part of his game is just as important a focus for him, as underlined by his plus-15 ranking.
"If you play good defense, you create good offense off of that," he said. "That's how I've tried to play."
He had better look carefully around GM Place on Tuesday night. After all, there's a chance he'll be there for two weeks next February.
"You never know, but there's a lot of good Swedish players in this league and we have some back home, as well," Eriksson said. "It's really hard [to make that team], but it would be awesome to play in the Olympics."
Either way, Eriksson didn't figure having a hard time walking around the streets of Vancouver, Calgary and San Jose this week on the Stars' crucial road trip. He's not a household brand just yet.
"Ha, ha. I don't think anyone will recognize me," he said. "I think I'll be fine."
Sorry, Loui, but the word is getting out. You're the real deal.