QOTW answers: Which player gets your MVP vote?
March, 25, 2009
03/25/09
2:44
PM ET
Well, well! Thank you, ESPN.com puckheads, for setting a record for responses in the Question of the Week. Who knew you felt so strongly about the Hart Trophy race! Let's take a look at a sampling:
[+] Enlarge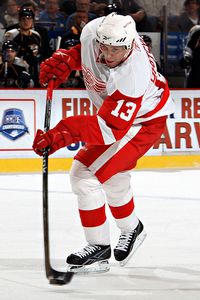 Dave Reginek/Getty Images
THE PAVEL DATSYUK DIVISION

JusticeAndRule: People saying that taking Datsyuk away wouldn't stop the Wings from winning have not been watching enough Red Wings hockey. They are not playing "shut-down" hockey like they were last year. Hossa and Zetterberg have both been injured, and Zetterberg suffered while away from Datsyuk. The defense has been suspect along with the goaltending. Without Datsyuk's play, we'd be in the middle of the standings, fighting against Columbus.
SINYEAH12: hey dfish4545, I'm not an OV supporter, but your argument that OV doesn't play defense doesn't hold to much water. I'm assuming, and trust me, just assuming you mean Sid and Geno do play defense. Look at the numbers:
Malkin 104 pts/+19 rating, that's kind of low for 104 pts
Sid 95 pts/+7 No defense
OV 94 pts/+10 again, no defense
Datsyuk 89 pts/+33 That's defense
Parise 88 pts/+30 More defense.
Your argument just doesn't add up. I'm a flyers fan and can't believe some of the stuff Datsyuk does. He should be MVP.
mustngz: I realize that Ovechkin is THE best scorer in the game, Malkin is pretty much the reason why Pitt will make the playoffs, same with Steve Mason, but when you tune into a Red Wings game you will see the best puck handler, passer, and defensive forward in the game in Pavel Datsyuk. Every night he will do something that you just have to look at and laugh because of the ease at which he moves the puck around. Just going to watch his warm ups will leave you on the edge of your seat waiting to see what he'll do during the game.
To say that he is pretty good is an understatement. He IS the best player on the Red Wings, and that's saying a lot considering you have Zetterberg, Lidstrom, Hossa, Franzen, Rafalski, and so on. If you can get 100 points on a team where there are 6 or more players that have 20 goals means that you have got to be a good distributor. I believe that if you removed him it would have the same effect as if you removed any one of these other players. Plain and simple, he's the best player on the best team in hockey which is why Datsyuk should finally be given the credit and be awarded Hockey's MVP.
coolarbiter: Pavel Datsyuk for MVP ... Most complete player on the planet bar none. He plays PP/PK (Malkin doesn't play pk). He's on the ice a full 3 minutes less than any other candidate (which someone mentioned earlier would amount to an equivalent of 13 less games played.) btw ... you give datsyuk 13 more games don't ya think he would be pretty close to Malkin in terms of points? Nobody better not buy the "he plays on detroit" argument. The Red Wings spread the points around like nobodys business. If you let Datsyuk run the show by himself, I guarantee you he would have +100 pts or more by now. Datsyuk is 2nd to the league in takeaways(i believe he is 2 or 3 down to malkin, but malkin has 3 games in hand ... correct me if i'm wrong someone) His takeaway to giveaway margin is way more impressive than any of these candidates..... That all being said (doesn't even scratch the surface) I would take Malkin over Ovechkin any day of the week if it came to it. But Datsyuk for MVP!
My take: Pavel Datsyuk decidedly deserves consideration. The man has no self-promotion in him, though. No English, no PR. But his play continues to speak for him. He is the NHL's best two-way player (hello, a plus-33!), and don't let anyone tell you otherwise. He's surrounded by great talent, which always hurts his MVP case, especially when Henrik Zetterberg wins the Conn Smythe Trophy as playoff MVP like he did last spring. Datsyuk also doesn't play as many minutes as the other Hart contenders, ranking only 49th among NHL forwards before Tuesday's games. Still, I believe Datsyuk has carried the Wings at times this season and that deserves to be recognized.
[+] Enlarge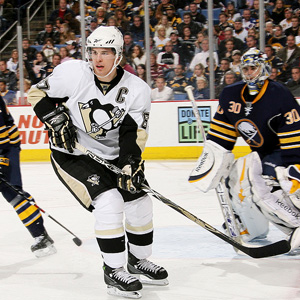 Bill Wippert/Getty Images
THE SIDNEY CROSBY DIVISION

mattras272799: My vote:
1) Crosby
2) Ovechkin
3) Parise
4) Malkin
5) Zetterberg
From a former DI College hockey player, I say Sidney Crosby because until two weeks ago, he was skating with Pascal Dupuis, and a fill in right wing (Cooke, etc.). He skates against every other team's first lines, takes every big draw, gets banged around by every team, plays deep in his own end, and plays in every situation with enormous expectations. Ovechkin, yes, best scorer, best shooter (Kovalchuk may argue), bar none. But he plays with two very solid players in Backstrom and Semin, and is not asked to do anything in his own end. Malkin, also, amazing, yet played against the other teams 2nd and 3rd lines all year, with proven wingers (Sykora, Fedotenko, etc.) all season. Parise, Zetterberg, Richards and Koivu ... next level, and are guys that do anything and everything. Team players in every situation, and the hardest workers on each of their respected teams, and don't get the recognition because their numbers are not quite on par with the top 3.
My take: It's quite amazing how little support the Penguins' captain received from our readers. There were very few posts picking him for the Hart, a trophy he deservedly won two seasons ago. I think the lack of support is more a reflection of his teammate Evgeni Malkin's amazing season more than a knock on Sid's game. He played hurt this season and was also knocked out of a few games, which hurt his case. But it's funny how perception plays tricks on you. The general feeling about Crosby is he had a disappointing season. OK, is it just me, but are we forgetting that the guy will finish second or third in the NHL's scoring race? Crosby is having another great season, just not as great as one of his own teammates, and that will no question cost him in the Hart voting.
[+] Enlarge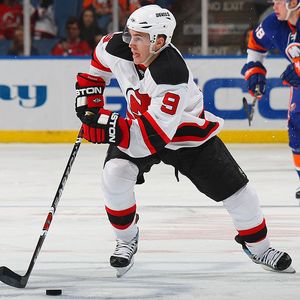 Bruce Bennett/Getty Images
THE ZACH PARISE DIVISION

jeffallendrake: Everyone thought the Devils were in serious trouble in early November when Brodeur tore his bicep, and they had reason to be weary considering he has been their franchise player for 15 years. When Scott Clemmensen came in he did an amazing job for a back-up goaltender, but in 40 games he only had two shutouts and a GAA of 2.39 with a record of 25-13-1. Without Zach Parise's 88 points the Devils would not have handed the team back to Marty in 1st place in their division and 2nd in the east but instead would be fighting for a playoff spot if not worse. Zach Parise is my MVP vote with Mason as a second choice because he has made Columbus a dangerous playoff team for the first time. But in the end Zach Parise's play has set the Devils up as serious contenders in the playoffs with a high seed and the best goaltender of all time, who is usually over played and tired towards the playoff run but is now well rested making NJ very dangerous.
enfueg013: Considering the Devils should have floundered in a Brodeur-less season, I have to give the nod to Zach Parise. With the next best skater on his team being Patrik Elias (not on the same line), and having Jamie Langenbrunner (however you spell it) and Travis Zajac as his linemates, Parise has simply amassed the 2nd most goals in the league, 4th most points, and 7th best +/-. The MVP is defined as the most valuable player to his team, and I have to give the nod to Parise. This Devils team would be lucky to be sniffing the playoffs if it weren't for his offensive production.
Too often this award is linked to most points/goals, because it is a nice quantitative measure, or the player perceived to be the most skilled (much like awarding golden gloves based on reputation alone in baseball). This is how we end up with Malkin being in the conversation. Malkin's team, last time I checked, is a bottom rung playoff team, while the Devils still have a shot at the number 1 spot in the east. Malkin and Crosby are virtually interchangeable. How can Malkin, then, be the most valuable to his team? I can accept arguments for Ovechkin, because he doesn't have any equals on his team, like Malkin has. But ultimately, I think the fact that Parise achieved nearly as much as Ovie, with less supporting talent, tips the scales in his favor.
MetallicBuck:
1) With no Brodeur and Brian Gionta struggling to score, the kid steps up and has a season 10 times better than anything else he's done.
2) He's 4th in the NHL in points and 2nd in goals on a team that's notorious for not being able to score.
3) He plays on a line with Travis Zajac and Jamie Langenbrunner. They have chemistry, but neither of his linemates would get a second glance for an All-Star team selection.
4) He's 9 points from setting the Devils record in points in a season, which was set in 2001 by Patrick Elias as part of the A-line (arguably the best line the Devils have ever had)
5) He's 8 goals from setting the Devils record in goals in a season, which was set in 2006 by Brian Gionta as part of the EGG-line.
6) Patty Elias and Parise's linemates aside, he has 34 points more than any other Devil. If we're talking about value to your team, the Devils wouldn't be anywhere near the top of the standings without Parise.
not_a_fan_of_eli: Parise should definitely win MVP. The devils are scoring more now than ever. They were without Brodeur. He makes everyone else around him better. Langenbrunner is having the best statistical season of his career. Parise is very underrated. He has confidence and no one ever thought that he would ever be this great. He at least deserves a nomination. He should win but there are a lot of great players in the NHL. IMO he is not the most well known player and he is shocking the hockey world.
SeanMurphy90: The nature of the MVP award is very different from the scoring title, though many people often put the two together.
Evgeni Malkin gets a lot of love for MVP and rightfully so, but the truth of the matter is that he is on the same team as Sidney Crosby. Crosby and Malkin are two of the best five players in the league, which makes it difficult for one to really outshine the other. Losing Malkin or Crosby for a small amount of time wouldn't completely devastate the Penguins for that reason.
Ovechkin has 50 goals on an offensive team. He is the most exciting player in the game, bar none. However, his team also has a lot of offensive depth. Semin is a top ten player when healthy, Green might win the Norris, and Backstrom has proven he is an elite center. Without Ovechkin, though, this team just doesn't jell.
Datsyuk, too, is phenomenal talent. The guy is stellar in every aspect of the game. He could win the Lady Byng, the Selke, AND the MVP. That's saying a lot. But this guy has more help around him than anyone else on this list and for that reason alone, I cannot say he should win the MVP.
To me, Zack Parise should have MUCH consideration for MVP. He played on a defense first team with only one other player that produces a point per game. He can score goals and set up plays on elite levels. He is fast, dangerous, and skilled. When Brodeur went down, everyone assumed the Devils would also go down, but Parise proved otherwise. Sure, Clemmensen played well, but Parise was key.
My take: Looks like my dark-horse pick is getting more and more attention. I've been touting Parise all season long. I mean, where exactly would the Devils be without him this season? Martin Brodeur was out for most of the season and the Devils didn't miss a beat. Top five in goals and points, and coach Brent Sutter told me earlier this season Parise is the hardest-working player on his team. If you look at the actual definition of the MVP award, Parise has a heck of a case.
[+] Enlarge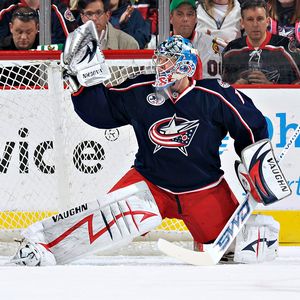 Jamie Sabau/Getty Images
THE STEVE MASON DIVISION

GAlker: Everyone is too biased to THEIR OWN TEAM. Detroit, Pitt, NJ, and for the most part Washington are all capable of putting up the W without Datsyuk, Crosby/Malkin, Parise, and Ovie. I'm not saying that they aren't deserving, but their teams can win without them. So let me give my biased two cents and say that Richie and Carter should both be seriously considered as well ... but do I think they deserve it more than others? Not necessarily.
Your league MVP is supposed to be the player in which a team cannot do without. The race is obviously going to come down to Malkin and Ovie because of their stats ... BUT ... this should not be the case. Do I think they deserve the award more than another? Ovie more than Malkin ... BUT ... I think the award HAS to someone else. That someone else HAS to be Steve Mason of the Blue Jackets.
This is going to be the first season where the Blue Jackets make the playoffs. If it wasn't for him they wouldn't even be close. Again, the award is SUPPOSED to go to the player deemed most valuable to his team. If the Jackets lost him they would easily be 20 games under .500. Hopefully, the Professional Hockey Writers' Association understands that and doesn't agree with the general public.
ahorrocks15: Mason would be the MVP hands down if everyone remembered that it stands for most valuable player. Leading the blue jackets to their first ever playoff appearance by stealing games at home and on the road. However he probably won't win because he is a rookie goaltender and people have no idea just what he has done for Columbus. He will get his vengeance in the playoffs when goaltending is all important.
Patsman93: Pierre, this is a really hard call this year. Ultimately tho it comes down to Malkin, Ovie and surprisingly Steve Mason, at least in my opinion. Do you go with a guy like Malkin who makes everyone around him better, Ovie who can singlehandedly win a game and does often, or do you go with Steve Mason, whose lights out play in goal has Columbus on the verge of making the playoffs for the first time ever. I think that's the major reason Ovie won the MVP last year, he took his team who was in last in December and got them to the playoffs. I think that without Mason, the Jackets are nowhere, and to me that's the definition of an MVP ... Mason's contributions have been too large to ignore.
My take: I love this kid and I hope he wins both the Calder and Vezina. But I'm sorry, people who have followed my media career know I cannot support a goalie for the Hart. I just believe the Vezina is such a prestigious award, like the Cy Young for pitchers in baseball, that goalies don't need the Hart, just like pitchers don't need the AL or NL MVP awards. That's just me folks, sorry.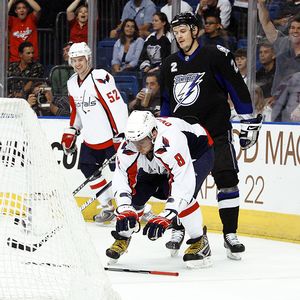 AP Photo/Mike Carlson
THE ALEX OVECHKIN DIVISION

jaguar0413: Ovechkin has to be the Hart winner. Look at the Capitals record when he scores (they almost never lose!). I know that Malkin has been the best player in the league this season but that is not what the Hart Trophy recognizes. It recognizes the "player judged to be most valuable to his team." Malkin has been stellar all year but only recently have the Penguins began to make a push to the playoffs (no doubt because of the return of Gonchar, the coaching change, and the deadline moves).
That being said, Ovechkin has produced at a similar pace and has been the driving force behind the Capitals run to the top of the Eastern Conference. There is no doubt that both players have tremendous supporting casts, Crosby, Guerin, Stall, etc. for Malkin and Backstrom, Semin, Green, etc. for Ovechkin, but Ovechkin means more to his team than Malkin does. His impact comes not just from scoring but also from his physical game and the energy he brings to the ice. These are things that should also be factored into the award because he boosts his team with these elements of his game. I think that he should ultimately win the Hart.
avischecter: OVI does backcheck, maybe not as often but last week he made a sick diving play without drawing a penalty to stop a breakaway. As far as goal celebrations go I am all for them I do think it was a very cheesy display and he definitely could of choreographed something much better but the league needs his personality and passion its not like crosby doesn't strike his pose when he scores a goal. Without OVI the caps do not make the cut maybe in a few years they could but without him they wouldn't this year MR THIRD PERIOD, MR CLUTCH like no other. I do believe goals are more valuable than assists not by much in fact by very little but still finishing to me is better than setting up. and OVI has a better balance to goals and assists than Malkin or Crosby, he gets 'em both. ALEX OVECHKIN IS THE MVP.
Dasnell8: Without Ovie laced up for a game, the Caps are nothing. Look at the games he missed for proof. He generates so much pressure for defenses across the league. When he is on the ice, he creates major opportunities for everyone else, regardless of whether he receives a point for the goal or not. I would think that we all agree that he is the most head-hunted player in the league, meaning that when he is on the ice, all attention is on him. Yet he still has 50 goals! I don't think his previous MVP should impact the voters, telling them to spread the wealth. Give it to the "Most Valuable Player!" That Clearly is Alexander Ovechkin. Put him on any team and he is their front man.
My take: I have to say, I was surprised Ovechkin didn't get as many votes from our puckheads as Malkin; because, in the end, I'm convinced it'll between those two when the official ballots are counted from the Professional Hockey Writers' Association. But, on this message board, Ovie wasn't on par with Geno in the Hart debate. I will reiterate a point I made from my Faceoff blog with Scott Burnside, well, because I think it's a smart one. If Ovechkin doesn't repeat as Hart Trophy winner, that is a tremendous compliment to the Caps' organization. It means the writers are saying the Caps are no longer a one-man team. And you know what? That's the truth. Alexander Semin, Nicklas Backstrom, Mike Green, Sergei Fedorov, Brooks Laich, Michael Nylander, Tomas Fleischmann -- there's some talent around the game's best goal-scorer.
[+] Enlarge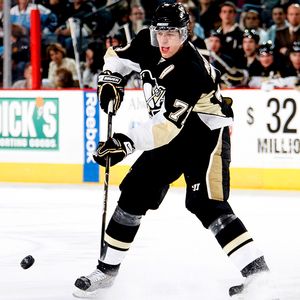 Gregory Shamus/NHLI/Getty ImagesThe Penguins are looking to stay in the playoff hunt behind the heroics of MVP front-runner Evgeni Malkin.
THE EVGENI MALKIN DIVISION

dacook1822: For the second straight year Malkin has worked through a Crosby injury and put the team on his back to ensure a berth in the playoffs. All the talk this year and most of last year was about finding line mates for Sid, no one has ever said anything about finding someone who is needed for Malkin. Geno and Sykora have gelled since day one due to their past play experiences, but even without #17 Geno has consistently racked up the points. He makes everyone around him a better player, including Sid, and he has a knack for taking over the game when it's most needed! Ovechkin won last year on the glitz and glamour of being the only 50 goal scorer, but his team went nowhere. Malkin on the other hand carried the Pens to the finals playing with whoever he needed to, and once again this year the Pens have made the playoff push thanks to his determination and the natural ability of making everyone around him better.
poobear1433: Anybody who watches the players knows it is Malkin. He is a much, repeat much, better passer and defender than Ovechkin! He can score just about as well, though has lower goal totals because he makes plays for his teammates. Look what he means to the Pens, when he slumped late in the Philly series and through the Detroit series the Pens struggled. Crosby and Ovechkin have been great, but Malkin has been at another level.
JP_Sousaphone: I think the big problem here is that regardless of how the MVP award is described, every voter (either actual voters or fans) seem to have their own version of its definition. Is it the best player in the league, or the player that meant the most to his team? If it TRULY was the player that meant the most to his team, then players like Lidstrom who come from deep teams could never win. But Gretzky played with Messier and Kurri and Coffey and Fuhr and maybe one of the deepest teams of all time, so clearly being on a deep team, which therefore diminishes each players value to that team, is not a deal breaker. And really, why should it.
I think the better way to look at the VALUE TO YOUR TEAM aspect is whether or not your dominance mattered. For example, were you amazing but your team still missed the playoffs by a mile. Then, no, you shouldn't be MVP. Had the Caps missed the playoffs last year Ovechkin might not have been MVP, although they would have so barely missed it I think he still could have because he carried that team. The flip side of that is that a player should NOT be precluded from winning because his team dominated all year. In fact, I think the best way to consider the award is the best player in the league playing for a contender.
That said, I give the award to Malkin. Centers have a LOT more responsibility than wingers. Only in extreme cases, like Ovechkin last year, do I give it to a winger. They essentially play 2/3s the ice. Malkin is MVP.
robringer: Malkin has lead the league in points for basically the entire season. He splits time as a fellow superstar to Sidney Crosby who is an MVP candidate in his own right. He leads the league in assists (the true quality of a LEADER) He has stepped up all season when the Pens need him. He has carried the team (and played even stronger) when Crosby was out with an injury. If you are foolish enough to think that Ovechkin deserves the MVP because he is leading the league in goals you are sadly mistaken. Ovechkin is not a leader, he is INCREDIBLY talented no doubt, but if he wasn't showboating around so much and passed the puck in some of those more difficult situations instead of taking a shot for the sake of taking a shot he would be leading the league in points. It would be a sorry shame if Geno didn't win MVP this year.
Pengwin7: Malkin. If the season ends today, Malkin, no doubt. Here's the argument against the two other "popular" choices.
Ovechkin -- Nooo way. +10 = not good enough. Ovechkin has been surrounded by WAY more talent this season (Linemates = Backstrom & Semin + Green) than Malkin (Sykora & Fedotenko, Gonchar injured for 75% of season). Malkin is +19. For those casual hockey fans, that is a sensational number considering the absence of Gonchar and the fact that Geno does NOT normally play even strength with Crosby. Malkin is also a center. Ovechkin is a wing. Big responsibility difference there. Tie goes to the center and it is nowhere near a tie.
Mason -- no way. OK, Columbus is in the playoffs and yes, a large part is due to Mason. However, they could have been there before with better goaltending. Here's the numbers for the day:
Shots on goal against:
2006-2007
New Jersey 28.4
Columbus 28.6
2007-2008
New Jersey 27.5
Columbus 27.4
2008-2009
New Jersey 29.1
Columbus 28.0
Now, most people do the "ra-ra" New Jersey is good because they play a defensive system. Well, looks like the Blue Jackets have a pretty good "system" too. IMO, if you put Brodeur or Luongo or Henrik or Thomas in net for CBJ, they are exactly where they are right now. Mason is great, comparatively to CBJ with Leclaire - but not MVP. Malkin = MVP. (and this is from a Flyers fan)
gjb140: No one player is so much above the rest this year for anyone to say "it's definitely him." That's the bottom line. Most of the players being mentioned are worthy candidates for the award. The award is for who is most valuable to their team THIS YEAR, the entire season. Not part of the season, not for the last playoff push, not for past playoff runs or previous Cups, it's for this regular season.
Given all of that, I say Malkin. He's leading the league in points and assists (and PP points, I think) all while playing mostly without Crosby (except PP), without missing a game, while doing it on a team many would accept as less talented than last year. I think Mason, Parise, Ovechkin, Datsyuk, and Thomas should be looked at carefully. Each play on quality teams, and I'd argue that each team has played better this year than last, except for the Pens, which makes Malkin's achievement even better. I ordered them above in the order I think they helped their team this year. There are plenty of arguments for and against each of them. But the person who has been the most consistent all year has been Malkin, and it shows in the points scoring. Without him and his 105 points, the Pens are hurting. That's my view, take it or leave it.
My take: My colleague Scott Burnside will be so happy to see the love on the message boards for Malkin and the Hart Trophy. He was by far the clear-cut winner among Puckhead Nation. Whether he is at the Professional Hockey Writers' Association remains to be seen, but I'm sensing that will probably be the case with Malkin edging Ovechkin in a close vote.
My only knock on Malkin is I find it so hard to separate him from an equally talented superstar in Crosby and elevate him above No. 87 for the Hart. But this season, there's has been a bit of separation with Malkin, the wire-to-wire NHL scoring leader and consistent performer at both ends of the ice. I have no issue with Malkin winning it. But I will say it one last time, because Parise is a big underdog. By the true definition of the award -- Most Valuable Player to your team for this season -- Parise is a heck of a choice.