Maurice, Hurricanes one of NHL's surprise second-half stories
April, 2, 2009
04/02/09
9:23
AM ET
Our colleague from the Vancouver Province, Ed Willes, wrote last weekend that Carolina's turnaround under coach Paul Maurice was the most underreported story in the NHL this season.
ESPN.com teammate Scott Burnside actually touched on Maurice and the Hurricanes in his 5 Things column March 16; but, overall, we agree with Mr. Willes that not enough attention is being paid to a remarkable turn of events in Raleigh.
[+] Enlarge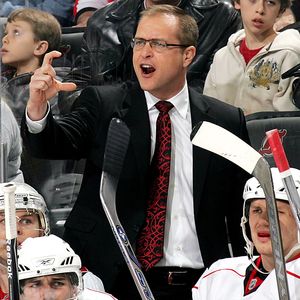 Andy Marlin/NHLI/Getty ImagesThe Hurricanes rehired Paul Maurice as coach on Dec. 3.
Carolina, which hosts the New York Rangers on Thursday night, is 30-17-5 under Maurice, and very much in the hunt for the fourth seed in the Eastern Conference after spending most of the first half of the season outside of a playoff spot.
"He came in, had a pretty good pulse on our team and what we needed to do to improve defensively, which has carried on to the offense," Carolina star center Eric Staal told ESPN.com on Wednesday. "He's a good coach. He knows the game well systems-wise; he just has our team playing the right way."
It actually didn't happen overnight after Maurice's Dec. 3 hiring. The team was 15-13-3 in his first two-plus months on the job.
"We've played pretty well since the middle of February," said Maurice.
Try 15-4-2 since Feb. 15.
"You get a little confidence when you're winning, and it's been good," said a humble Maurice.
So why the turnaround? Maurice was quick to praise former coach Peter Laviolette in saying "there were a lot of good things here" when he arrived on the scene. But the team, in Maurice's view, needed to tighten up.
"The goals weren't coming as easily for them, but they continued to try and push for that offensive mindset," said Maurice. "When you're not scoring, you end up cheating a little bit. It wasn't out of laziness, it was cheating out of frustration from not scoring.
"So we wanted to give our goaltender a chance to win us some games. We just changed the way we played when we didn't have the puck," he added. "I know it sounds basic, but it's a truism of hockey: Put a little bit more accountability and an onus on what we do when we don't have the puck, and we really tried to keep the good offensive things that were here. Lo and behold, you play a little better without the puck and you start to score more goals."
The proof is in the pudding. The Hurricanes rank 10th in the NHL in goals against per game (2.71). When Maurice took over, Carolina was 17th at 2.91. But don't confuse these guys with the 2002 Hurricanes that went to the Cup finals during Maurice's first tour of duty. Different time, different game.
"When I left here before the lockout, we were all defense all the time -- clutch and grab, that was the game that was played," said Maurice. "I came back with a more open game. We didn't change a lot that was here this year, but just put a bit more of a focus on the defensive part of the game."
The carrot for Carolina with five games left is obvious -- the fourth seed. The Flyers and Penguins are tied for fourth with 92 points, one head of the Hurricanes.
"That would be huge," said Staal. "Going through the playoffs in '06 and winning, home-ice advantage was huge. If we can do that and finish strong over our last five games and get the 4-seed, that would be huge. But right now, we're just focused on the Rangers."
Ah, yes, the Rangers ... seventh in the conference, but only two points behind Carolina. That's the flip side of the chase for fourth. Don't forget the teams behind you. No. 8 Montreal is only three points behind Carolina, while No. 9 Florida is four.
So despite a superb run, the Hurricanes can't afford to slip up against the Rangers.
"Even with the February and March that we've had, the team that loses this game now has those two teams, Florida and Montreal, right behind, now you're right in their sights if you lose this game," said Maurice. "As it should be when you're down to the last five games of the season. This will be huge."
The Staal brothers
Marc Staal of the Rangers was slated to pop over to older brother Eric's house in Carolina on Wednesday night on the eve of their game against each other. These are strange times for all three Staal brothers in the NHL, with Jordan and the Penguins also battling the Rangers and Hurricanes in the tight Eastern Conference standings.
"It's been interesting the last week or two," Eric Staal told us. "Our teams are all bunched up. We don't want to be too happy for each other. It's kind of a weird thing. I guess I hope we all get in the playoffs, but if we all don't get in, as long as it's not my team that doesn't miss out."