The playoff slide? The injuries? The future of Lemaire? Minnesota faces many issues
April, 3, 2009
04/03/09
12:01
PM ET
The knives are being sharpened in Minnesota these days. The Wild are four points out of a playoff spot with five games remaining, including Friday night's home contest against Calgary. They likely need to win at least four of those to get in.
But the frustration from fans and media in the market is beginning to show. This might be the most interesting offseason in Wild history. But first things first: They've still got a shot. They were dynamite in a win at Edmonton last Sunday and got robbed in a 2-1 home loss to Vancouver on Tuesday night. Their level of play is keeping their GM encouraged.
[+] Enlarge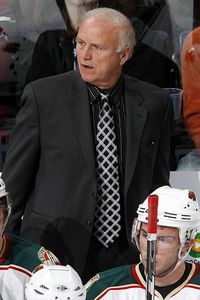 AP Photo/David ZalubowskiWill Jacques Lemaire return as Wild coach next season? Time will tell.
"Even at this late stage, when you're in our position -- out but trying to get in -- you still take a lot more comfort in how the team plays," Doug Risebrough told ESPN.com. "You know time is running out a little bit. But at the end of the day, you also know that if you ever have a chance, it's how your team plays. Then you hope the results are there.
"And you're hoping, I guess somewhat, that you don't have another night like Tuesday where you outplay somebody and lose the game. I don't think you're tearing your heart out; you're just saying that the only way you'll get in is if you keep playing well. I think that's happened over the last two games."
As has been the case all season long, the Wild don't have their full lineup. Among the hardest-hit teams all season by injuries, Minnesota currently doesn't have star blueliner Brent Burns or key forward Pierre-Marc Bouchard, both felled by concussions. They were without top scorer Mikko Koivu for a week (he did return for the Edmonton game) and, of course, missed the services of star winger Marian Gaborik for most of the season.
"Where the injuries have hurt us is that we're putting young guys in the lineup," Risebrough said. "Whether that's [James] Sheppard or [Cal] Clutterbuck or [Colton] Gillies, they're growing up hard, they're growing up tough, so to speak. They got to be it all the time now because of the injuries."
But the kids, for the most part, have responded.
"A guy who's stepped up big-time for us over the last week is Sheppard," Risebrough said.
The Wild are on the playoff bubble. Is that an achievement or a disappointment?
"We competed all year without Gaborik," Risebrough said. "We're battling for a playoff spot now, mind you, on the outside looking in, and we haven't had Burns for quite a while and we haven't had Bouchard. Guys are still doing it; you just need more results from what they're doing, and you're hoping that's going to happen if they keep playing like this."
It's impossible to replace the immensely talented yet oft-injured Gaborik, but Koivu has had a breakthrough season in leading the team with a career-high 62 points (18-44) in 74 games and providing leadership on and off the ice. It's his team now.
"Mikko has emerged as our engine," Risebrough said. "It's obvious to the team now, it's obvious to the fans, it's obvious to the general manager, that he's the guy. How has that happened? It's happened because Gaborik's been out, and not just that he was out, but the fact that Mikko was the guy we've had to go to all year because he was out. It's been him every night, and he's had a heck of a year under those circumstances."
But aside from the Koivu feel-good story and despite all the injuries, judging from comments from Minnesota fans on the Web, there has never been this kind of angst in that market in the Wild's ninth NHL season. This is one of the best markets in the NHL, one with great media coverage and sophisticated fans who care deeply about the game. They don't seem happy.
"I think that's a statement of their passion," Risebrough said. "I do think that some of the things I've talked about are obvious to people, too [injuries, young players stepping up]. That's where I think people will find comfort in the stretch drive, how the team is playing. I think they'll find comfort in where the plan's going."
This week, in a sign of things to come, Mike Russo of the Minneapolis Star-Tribune questioned the future of coach Jacques Lemaire. It won't be the last time that will happen over the next few weeks. The rumor all season long has been that Lemaire might step down.
"Jacques has been a guy that hasn't made a lot of comments about his time frame or his career," Risebrough said. "He goes about his own business. For sure, the last two years, there's been more of that because even Jacques has said, 'I got to wait until the end of the year to figure it out.' I have no doubt that Jacques will pick his own time.
"But to presume that he's made that decision now I think is wrong. Because I know he doesn't think like that."