A little Heatley perspective for Oil Nation
November, 27, 2009
11/27/09
11:16
AM ET
Luckily for Dany Heatley, Joe Thornton does most of the puck carrying. In fact, the puck usually touches Heatley's stick for about a millisecond before he launches his one-timers into the back of the net.
Not much time for the angry folks in Edmonton to get their boos in, right? Either way, no doubt they will be giving it to Heatley every chance they get Friday night.
"Should be noisy in there," Heatley told ESPN.com this week.
[+] Enlarge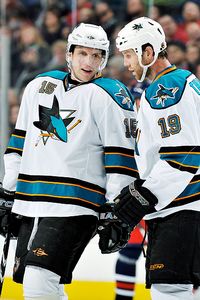 Jamie Sabau/NHLI/Getty ImagesDany Heatley has 29 points in 26 games so far this season for the San Jose Sharks.
The star winger and his San Jose Sharks will be playing in Edmonton, almost five months after he passed on a trade to the Alberta capital.
Heatley understands Oilers fans' frustration. He knows that, from their point of view, all they see is a big star saying "no" without knowing all the other details. He gets why some of them will choose to boo him Friday night.
"They're entitled to that," Heatley said. "They're paying to go the game, they're passionate about their team. Edmonton is one of the most passionate hockey cities. You can understand why they're upset, from that point of view. But like I've said, there's more to this story, from my point of view. I just thought it wasn't right to jump in at that point. I wanted to wait. But they're passionate fans, and they're entitled to boo or do whatever they want."
In Edmonton and Ottawa, Heatley's side of the story has been a tough sell. He was vilified all summer in both cities.
Some perspective …
Heatley's camp, led by veteran agent J.P. Barry and longtime family friend and agent Stacy McAlpine, specifically warned the Senators not to make the trade with Edmonton only to see Ottawa do just that on July 1. Ottawa owner Eugene Melnyk wanted no part of paying Heatley's $4 million bonus, which kicked in at midnight July 1. So you'd better believe the mercurial owner was putting heaps of pressure on Ottawa GM Bryan Murray to make the Edmonton deal even if everyone involved knew it likely wouldn't fly.
Why was Murray so fixated on the Edmonton deal? Because the package of Dustin Penner, Andrew Cogliano and Ladislav Smid was the best offer on the table. I don't blame Murray for wanting to make the deal. If only it were that simple.
Because Heatley had a no-movement clause in his deal, it gave him the right to control his trade destiny (another little fact that seems to get overlooked in all of this). As a GM once told me about no-movement clauses, "You can't trade him where you want, you can't waive him, you can't demote him, you can't say boo to him."
A player with a no-movement clause is essentially like a free agent: he chooses his next locale, and he's in the driver's seat. Do I like it? No. I think the clauses should be banished from the next collective-bargaining agreement. But, right now, they're legal, and it was a powerful tool for Heatley.
Of course, if I'm a player in Ottawa, I'd definitely ask for a no-movement clause, given Melnyk's history. This is the same owner who oversaw the sign-and-trade of Marian Hossa to Atlanta in August 2005. Hossa never saw it coming.
Heatley and his camp made sure to arm themselves with a no-movement clause. So, given that, you knew the Senators' attempt to make a trade that Heatley's people had warned them not to make wouldn't work. And, of course, it's going to put the player in the "bad guy" position of having to publicly reject it. Not to mention that the rejection came after Heatley received visits to his summer home in Kelowna, B.C., from Oilers president Kevin Lowe and GM Steve Tambellini. This is probably the part that put most Edmonton fans over the edge -- the Oilers brass went hat in hand to the player and still couldn't get him to budge.
Here's where a little Edmonton Oilers history is important to remember, because it also will have a place in Friday night's emotional rendering.
Heatley is not the first player to reject the Oilers; he just happens to be the latest. Edmonton's inferiority complex began when stud blueliner Chris Pronger forced a trade out of Edmonton in the summer of 2006, shortly after he led the Oilers to the Stanley Cup finals. Since then, the likes of Paul Kariya, Michael Nylander and Hossa, among others, also have said "no thanks" to the Oil. Edmonton's dry spell in unrestricted free agency got so bad in the summer of 2007 that it felt forced to slap offer sheets on restricted free agents Thomas Vanek and Penner. (Speaking of Penner, his emergence this season at least makes the Heatley non-trade a little more manageable for the Oilers.)
But back to July 1.
Put yourself in Heatley's shoes that night he found out Ottawa had traded him to Edmonton pending his approval. You asked for a trade in June, which is every player's right via the CBA, and because you have a no-movement clause, you asked the Senators to look at a few trade options. Instead, the next time they come to you, they have only this one trade.
It's confusing because, by now, you know for a fact San Jose is interested in you. And you're pretty sure the Sharks made an offer in late June to the Senators. So, you're thinking, what happened to them?
"At the time, all I could say is that I knew there were other teams out there, and there were, obviously," Heatley said. "I just wanted to wait and see what else could happen. I wasn't ready to jump in and make a decision on a trade at that point, and that's why I waited."
The Sharks were always going to be the best fit. San Jose assistant GM Wayne Thomas played hockey with Heatley's dad at Wisconsin, and they remain great friends to this day.
"Wayne's been a family friend and a great friend of my dad's for as long as I've known him," Heatley said. "He's just a great guy, and he's another factor in making this transition easier, as well."
On the ice, San Jose was also a good fit because GM Doug Wilson wanted to shake up his roster after this past spring's disappointing first-round playoff loss to Anaheim, and adding a talented winger such as Heatley was just the tonic.
But until the Sharks were willing to include Milan Michalek in the deal, Ottawa wouldn't budge. It took all summer until the two teams finally consummated a deal at the start of training camp: Michalek, Jonathan Cheechoo and a second-round pick for Heatley and a fifth-round pick.
"The minute I came in, Doug Wilson just said, 'Just worry about playing and working hard. We'll take care of everything else,'" Heatley said. "That's really how it's been. The organization has really taken care of me and treated me well. The team has been great; they're a great bunch of guys. It's an easy room to come into. It's a really tight group that really made me feel welcome."
Heatley certainly hasn't disappointed; his 18 goals, second in the NHL, put him on pace for a career-high 56 goals. Playing with Thornton since Day 1 was the obvious matchup, but just because it looks good on paper doesn't mean it'll work.
"We were aware of that, too," Heatley said. "Everyone was like, 'You score goals and Joe makes plays, so it should just work.' But you and I know there's more to it than that. Our focus right from the start between Jumbo and I was just to play, work hard, skate, and things would work out. It's been fun."
Hey, I don't blame fans in Ottawa for being angry that Heatley wanted out, and Edmonton fans for feeling jilted because he didn't want in. But there's more to the story. It's a cautionary tale on no-movement clauses in the NHL.
Heatley was hardly the first big star to want out, and he won't be the last. The NHL is a business. I recommend everyone in Ottawa and Edmonton move on with their lives. Heatley certainly has.