Boston, Chicago, Philly defend their moves
March, 3, 2010
03/03/10
6:05
PM ET
Judging from the reaction on our ESPN.com message boards, the angriest hockey fans in North America on Wednesday lived in Philadelphia and Boston.
And the puckheads in Chicago were a little disappointed the juggernaut Blackhawks didn't improve in goal, which, quite frankly, was never going to be easy given Cristobal Huet's massive contract.
[+] Enlarge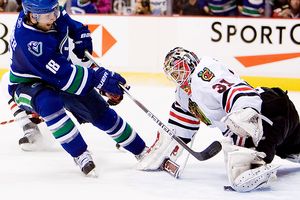 Bob Frid/Icon SMIAntti Niemi is expected to carry most of the load in net for the Blackhawks down the stretch.
Did the Blackhawks make a phone call?
"We talked to a lot of people about lots of things, not necessarily about that, but just nothing made sense," Blackhawks GM Stan Bowman told ESPN.com on Wednesday evening. "It takes two to tango. Sometimes you want to do something and they don't, and sometimes they want too much and that's why deals don't get made.
"It never really got too heated up on any one front, to be honest," Bowman added. "That's just the way it went."
Bowman would not get into specifics, but from what I was told elsewhere, the Hawks and Panthers did have a brief conversation Wednesday about Tomas Vokoun. But there was no way Florida would take Huet's contract in return. In the end, it never got close with Florida. And so it is rookie Antti Niemi in net for the playoffs in Chicago.
Worried? Not Bowman.
"It's hard to be second in the league in goals against and say you're worried [about] your goaltending or your goals against," Bowman said. "It just doesn't really compute. People obviously don't see it that way, but I can't control that."
All season long, the Blackhawks have led the NHL with the fewest shots against per game, and that's why they believe they can survive without the best goalie in the league in net for them.
"That's not changing. It's not like all of a sudden the team will start to allow a lot of shots," said Bowman, whose key trade came before the Olympics, when he acquired veteran blueliner Kim Johnsson. "We don't intend to start giving up 40 shots a game. We're going to keep playing like we have been playing and it's worked for us to this point. We've got 87 points in the standings and we're doing something right."
Let's get to the Bruins and the Flyers, where the ticket buyers were frothing at the mouth for action on deadline day. In Philly, fans were hoping for a goalie upgrade on Michael Leighton, especially since Ray Emery is out for the season. In Boston, fans were screaming at their computer screens hoping the team would pick up offensive help. In both cases, it didn't happen.
"We've been trying to get a scoring forward, and while there were a couple available, for this reason and that reason, there wasn't a fit there," Bruins GM Peter Chiarelli told ESPN.com after the deadline came and went.
While Chiarelli refused to go into names, other NHL sources confirm the Bruins inquired about Raffi Torres (who went to Buffalo on Wednesday), Clarke MacArthur (who went to Atlanta) and Alexei Ponikarovsky (who went to Pittsburgh on Tuesday).
Instead, Chiarelli saw a chance to improve his defense and believes he's done that in the Derek Morris (out) and Dennis Seidenberg (in) transactions. Chiarelli complimented Morris for having a nice season with the Bruins, but believed Seidenberg brought a better overall game to the back end.
Still, the Bruins GM realizes it's not what the average Bruins fan was hoping for.
"Listen, it's not news to me that we're offensively challenged now, and for us to go out and do something on defense may not look like we're trying to address the problem," said Chiarelli. "We felt that at the end of the day, if all we could do is improve the makeup of our defense, we felt that would help our offense."
And here's the rub -- something I've mentioned a few times over the past month to Bruins fans on message boards: The team is not one player away from winning a Stanley Cup. This isn't last season. This is a team that's life and death to make the playoffs. Giving up too many assets for a rental player doesn't really make sense if you're not knocking at the door for the Cup.
"You know what, that's part of it, that's a big part of it," said Chiarelli. "I still think we have a chance to make it and have some success in the playoffs, but right now, I wasn't willing to sacrifice all that needed to be sacrificed for a rental. While it would be nice to add one of these guys that would help us in scoring, we weren't in the position to do it as far as where we were in the standings."
I will say this: In the long run, Bruins fans may want to thank Chiarelli. Some of the worst trades are made with short-term thinking on deadline day. Some GMs who are thinking about their jobs more than their team's long-term health make deals that improve the team for four months, but do no good in the overall picture. Chiarelli was willing to make a move for a few forwards, but was not going to panic and overpay. I credit him for that. And let's remember, he has Toronto's No. 1 pick in June, and that could very well turn into Taylor Hall or Tyler Seguin.
The Flyers? Going into the playoffs with journeyman Leighton in goal is a tough sell to the passionate fans. The question Flyers fans all want to know: Did Philly at least try to get a goalie?
"A lot of teams called and were fishing around, but I wouldn't really say we really tried," Flyers GM Paul Holmgren told ESPN.com late Wednesday afternoon.
From what I'm told, there were indeed talks between the Flyers and Panthers regarding Vokoun. When the Panthers asked for Jeff Carter (and hey, why wouldn't they?), the answer was a quick and polite no from Holmgren.
One of the big problems for the Flyers is they had no cap space. They needed to clear up more than $5 million to fit in Vokoun, and prospects and cheaper players would not have fit the bill.
So, Leighton it is. And to be fair, he's actually played quite well for the Flyers this season, going 13-3-1 with a 2.18 goals-against average and .926 save percentage.
"You can't argue with his numbers," Holmgren said. "Since he's been here with us, he's played great."
That may be true, but Leighton's playoff history (zero NHL games) has to make you feel nervous in Philly.
On defense, Holmgren confirmed the team's interest in Dan Hamhuis, but that deal never really got close either with Nashville GM David Poile.
"We like our defense, we've liked it all year. When we're healthy, we think we're very good," said Holmgren. "We talked to Nashville [about Hamhuis] a couple of times like everybody else, but nothing really made sense there. At the end of the day, I'm not sure David really wanted to move him that bad, anyway."