Montreal back in battle for East playoff spot
March, 11, 2010
03/11/10
11:39
AM ET
Many of us media types have left the Montreal Canadiens for dead many times this season.
Like the time when their best player, defenseman Andrei Markov, ripped his Achilles tendon in the 2009-10 opener and was lost for half the season. "See ya later, Montreal," many thought. Or at least I did.
Or when the Canadiens got waxed 7-1 in Vancouver early in the season. Or won only four of 13 games in January. And when the Philadelphia Flyers swept a home-and-home with the Habs before the Olympic break.
And yet, just like they have each and every time after those pitfalls, the Canadiens have again come back from the dead.
[+] Enlarge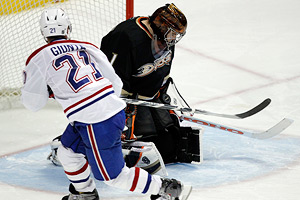 AP Photo/Alex GallardoBrian Gionta has 20 goals and 36 points in 47 games this season for Montreal.
The Jekyll-and-Hyde Habs have picked up eight of a possible 10 points coming out of the Olympic break and carry a five-point cushion atop the danger zone entering Thursday night's home date with the Edmonton Oilers.
It's been quite the roller-coaster season.
"Obviously, we've had injuries, although that's not much of an excuse," Canadiens sniper Brian Gionta told ESPN.com on Wednesday. "I think our inconsistency is what has hurt us all year. We're very good at times and we're not a very good team at other times."
Right now, they're darn good, helped in part by the NHL's second-rated power play. Montreal is playing the best hockey among the group fighting for the final two spots in the East: Boston, the New York Rangers, Atlanta, Tampa Bay and Florida.
"It's desperate times," said Gionta, who has 36 points (20-16) in 47 games this season, his first since leaving New Jersey for Montreal via free agency this past offseason. "There's only 14 games left. Points are real important, and the races are real tight. Every game is basically a playoff game right now."
A road trip out of the break to Boston, San Jose, Los Angeles and Anaheim produced three wins, and the lone loss (against the Sharks) came after a late-game collapse. Then, the Habs went home and easily handled the Tampa Bay Lightning on Tuesday night.
"I think that trip added a lot of confidence in our room," Gionta said. "We came out of the break with four straight road games and we really could have got all eight points out of that trip. But getting the six points was good at this time of year, and it really carried over to last night's game."
Gionta's line with Scott Gomez and Benoit Pouliot has been on fire of late, producing a combined 18 points in the five games since the Olympics.
"I think it's just a matter of everybody playing well and playing desperate and knowing what's on the line right now," Gionta said. "This time of year, we need to make an impact in order to help the team win."
Star winger Mike Cammalleri, out since Jan. 30 with a knee injury, is expected back within the next two weeks. Once he rejoins Tomas Plekanec and Andrei Kostitsyn, the Canadiens will have two pretty dangerous scoring lines.
But the real story all season has been in net. Jaroslav Halak has been excellent, Carey Price has been good and the two have combined to give the Habs one of the best one-two punches in the NHL.
"Both of them have played extremely well for us," Gionta said. "I think they've pushed each other."
All the while, the Canadiens are buoyed by the NHL's most vibrant crowd. The players honestly feed off it, Gionta said.
"Oh absolutely, it's been that way since the beginning of the year," he said. "It's one of the loudest and best buildings to play in in the league. You might have a game where you come out flat, but the crowd gets you into it. It just carries you; it's nice to have them behind you.
"And when you're winning, they're extremely loud and intimidating to the other team."
Right now, it's shaping up like a first-round playoff series with the powerhouse Washington Capitals or the reigning Stanley Cup champion Pittsburgh Penguins. I don't like Montreal's chances against those two teams, but counting them out is just what the Habs want us to do.
Canucks finally go home
Hats off to the
Vancouver Canucks
, who not only survived their record 14-game road trip, but also posted an 8-5-1 record and gathered 17 of a possible 28 points. They return home with a five-point lead atop the Northwest Division.
"I knew we were a good road team," Canucks coach Alain Vigneault told The Vancouver Sun. "I knew this was going to be a challenge, but our guys would be able to step up and get it done. Everything considered, we did a pretty good job."