Top things to ponder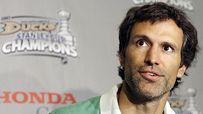 Bucci recaps the past week and spends a few minutes with Blues rookie blueliner Erik Johnson.
Editor's Note: As promised, here is Bucci's weekly Mother of All Mailbags. This section of his column appears every Thursday on ESPN.com, while his regular rants and raves appear on Tuesday.
Bucci,
I know it is too soon for you to discuss the outdoor rink you build each year.
Jeff Dan
No, it is not. Now is the time to install the brackets and boards before the ground suddenly freezes and you are toast. I keep my boards up year-round in my backyard for street hockey purposes, so I save the construction and tear-down labor. I just bought my liner to drape and clasp in my rectangle of 2-by-6s. I bought all of my stuff (boards and brackets) from www.nicerink.com seven years ago and it is still going strong. A new liner is my only year-to-year expense. I don't really notice a major up-tick in the water bill. If you plan on putting in a backyard rink, and I highly recommend it, now is the time to plan and purchase. You won't regret it.
---
JB,
Those new Reebok uniforms ... STINK! Some of the teams now look like they are wearing roller-hockey type uniforms.
Why does the NHL continually tinker with this great game? I mean, the NHL jerseys (pre-Reebok) were the coolest of the four major sports. The NHL should have gone back to a more "retro" look to the uniform.
One more thing -- how come you never use a Rolling Stones song when you write one of your prediction columns? Maybe you can find one for the playoffs?
Thanks for you time,
Tom Brown
Saw The Rolling Stones at Madison Square Garden a few years ago and I was shocked at how good they sounded.
---
John,
I completely agree with your assessment of the new jerseys. Frankly, I think they are a huge embarrassment to the NHL. They are just another reason for a non-fan to make fun of the NHL (i.e., they are more likely to drive fans away than attract them). What can we, the fans, do to get the NHL to drop these ridiculous looking jerseys?
Thanks,
Mark
What can you do? Don't buy one.
---
John, John, John,
Jersey is a cow, Jersey is a state, Jersey is even a city. There is no such item as a hockey "jersey." Those pull-over thingys are called sweaters. Don't start the season looking like Gary Bettman, who doesn't know diddly about the sport he is in charge of.
Dave G
Colorado Springs
I think it's time we all moved past that hockey commandment. "Sweater" sounds nice, and if you want to still use it, that is fine. I won't begrudge you. But it really is a jersey. It in no way resembles a sweater. In fact, some of the new uniforms, like Edmonton's, resemble a teddy.
---
Hi John,
You probably know that U2 is reissuing "The Joshua Tree" next month in honor of the album's 20th anniversary. (Can you believe it's been 20 years!?)
On "@U2," we're putting together a compilation of quick commentaries/reviews from well-known figures such as yourself, and we'd love to have you included in the article! What we're looking for is just a short paragraph, 2-3 sentences, giving us your "Joshua Tree" album review, or perhaps a quick story about what the album meant/means to you.
If you can type up something quick and e-mail it back to me, we'd be very happy and grateful for your involvement!
Thanks in advance,
Matt McGee
I hope I die a slow death. A death that gives me time to recollect my life. One of my last thoughts will be about the fall of 1987. Senior year in college. Falling in love. The ache, brilliance and power of Tracks 4, 5 and 6 on "The Joshua Tree." The last three songs I will listen to in this world. And, the first three, I will listen to in the next one.
---
Bucci,
Please share this with Steve from Rochester, N.H., if not the entire world, the wonderment that is NHL Center Ice online. It is the same thing as what's offered on TV, but done through NHL.com Plus, you can always hook the computer up to play over a TV. When I signed up for this, I instantly made about 20 new best friends. Come over and we'll watch the games. Care to share your username and password. Just don't tell my professors (class until 8 p.m., home around 8:30 doesn't do much for watching 7 p.m. games) that what I'm staring at so intently isn't notes, but Jordan Staal scoring yet another goal or Ovie completely dominating. Shhh!
Alicia Krawitz
Television is a passive medium and it's nice to lay on the couch and shove fried food down our heads while we watch the game. But, if you have the energy, everything you need concerning the NHL is on the Internet. Games, highlights and quality baby-naming.
---
John,
I am a very concerned season-ticket holder for the C-Bus Blue Jackets. The Wednesday night game with Phoenix only drew an announced 11,000-plus in attendance. As Skip Caray always used to say, "a lot of them were dressed in their empty-seat suits." This is before OSU basketball has started and in the middle of a drab OSU football week (Kent State).
During the offseason, I had many conversations with the season-ticket staff and I'm afraid they don't get it. They are aiming their loyalties toward the casual, once-a-year fan, not the real hockey fanatics. The nonsense that goes on during one of our games is nauseating. The losing is unappetizing enough.
You're an Ohio boy -- farm out some ideas before we turn into the Hamilton Blue Jackets.
Kevin Cox
Westerville, Ohio
Wednesday night against Phoenix is your answer. Why would you spend $60 on that? The Jackets will be fine. I agree the incessant sense battering of certain NHL arenas is mindless overproducing and I've written about it often in this space.
---
Hi John,
The events of today with the reassignment of Bob Pulford could be a watershed moment for both the Hawks and the NHL overall. I'm one of the fans who gave up hope long ago and stopped paying attention, and I can't explain how much my attitude is changing about the Hawks in less than a week. If Rocky Wirtz keeps this up, this could change overnight. This is like the perfect storm -- combine Rocky taking over with a team that appears to have some exciting young players. Getting the Hawks back as a viable franchise again would be huge for the NHL. Mark me down as cautiously optimistic. Let's see the next few steps.
Take care,
Joe Gleeson
Hoffman Estates, Ill.
Patrick Kane and Jonathan Toews are must-watch young stars. They are special, special players.
---
John,
The NHL is too watered down in one important area -- broadcasters. They make Bob (10 years past due date) Cole seem like Foster Hewitt. Growing up listening to announcers like Foster, Bill Hewitt, Ron Hewat, Danny Gallivan and Dave Hodge with analysts like Dick Irvin, Brian McFarlane, Bob Goldham, Howie Meeker and Red Storey may have spoiled me, but I've heard broadcasters doing junior games who were better than most of the stiffs I've heard on Centre Ice so far.
Gary
Ajax, Ontario
I would have to say I disagree with you, Gary. There may be a team or three that has questionable carnival barkers, but, overall, I think every NHL game is a professionally produced product that is exciting and enjoyable.
---
Mr. Buccigross,
I feel terrible that I'm not going to mention hockey at all during this e-mail, but in a column last year, you wrote about your love for Band of Horses. They came out with a new album on Tuesday and it is superb. It's on iTunes. Give it a listen!
Go Ducks,
Cameron Cramer
Loved the last Band of Horses. Quality winter music.
---
Bucci,
OK, my wife and I are die-hard Radiohead and Penguins fans. First things first -- Radiohead, if you have not already heard, are doing something revolutionary. They are allowing their fans to set the price for their new record "In Rainbows" (with the exception of a $1 transfer fee). Basically, you can pay a dollar for it if you want. Finally, a group is saying, "Hey, here is some music. If you like it, pay for it; if you don't, then don't, or whatever. Thanks." For this reason, and the fact that Radiohead has stayed away from corporate, I happily laid down 17 euros ($24.99), which is about what one would pay for a new CD at the music store. Give Radiohead a try, if you haven't already. You will not be disappointed ("Weird Fishes" is a favorite).
Now, for Marc-Andre Fleury and his goaltending, I had thought that [Gilles] Meloche was working on technique with him all preseason. If this is true, then maybe Fleury is just trying some new things out. If this is not true, I know it is very, very early and that he does not have the best defense in front of him. But I will start to wonder. I have watched Fleury in every game thus far, and I see angle problems. Fleury is not straight to the shooter. This is just what I am seeing; but like I said, it is early. I am very hopeful he improves before November, or I will wonder about this once "wunderkind".
Your thoughts on any of the above?
Take care,
Kevin Novak
I downloaded the new Radiohead and chose to pay nothing for it. I despise the registration online process and the whole exchange rate thing makes my ears bleed. I have the entire Radiohead catalogue, so I purchase the CD when it is pressed and released. I like holding music in my hand. As far as the new disc, it is outstanding. I hear subtle U2 and Elliot Smith influences, to name two, in certain places.
I believe in Marc-Andre Fleury. He won games for the Penguins last season. He has lapses in concentration; that needs to improve and I think it will. The Penguins still might wonder what the price is for Ilya Bryzgalov in Anaheim. Perhaps, Ducks GM Brian Burke will keep him all season and let him walk when he hits free agency, but I would think Burke would deal Bryzgalov if he can get a first- or second-round pick, or a decent depth prospect in return. Goaltending has great value for good teams like the Penguins, who may decide they need it.
---
John,
My 3-wood is also a club I can't do without, but mine's a Callaway. When I read an e-mail about a 4-club tournament at a local course, "3-wood" was the first thought that popped into my head. I'm still having trouble deciding on the other three clubs!
Brad B.
Findlay, Ohio
If I played in a 4-club tournament, I would use a 4-iron, 7-iron, sand wedge and putter.
---
Bucci,
I'm a huge Minnesota Wild fan and finally the team is doing well. Last season, they had the lowest goals-against average and went to a franchise record of 104 points. This season, they're off to a hot start with two shutouts. The defense is jelling and they're undefeated. My question is, where's the love? Some hockey pundits place the Wild in the Top 5 of the rankings, but ESPN seems to think very little about the team from the State of Hockey. I say again, where's the love?
Harrison Sklar
The story of the Wild, their success and their popularity is probably the most underreported national story by the mainstream media. Like the Boston Red Sox and Fenway Park, the Wild and their rink provide an exciting, electric setting every single night. This energizes the team and its base. Those are key ingredients to an organization's success. With that in mind, the Wild are on the cusp of Stanley Cup success. They continue to build brick by brick. We'll have to see if those bricks help the Wild get better or stay the same.
---
Bucci,
Made it to my first Pens game last night where Jeff Jimerson sang the anthems. The hockey season has officially begun.
Paul
Pittsburgh
P.S. -- You're good at naming babies. Keep it up.
OK!
---
John,
I have been waiting for many years to write this e-mail and the day is finally here. It is time for you to name my firstborn. My name is Kris William Hull and my wife is Holly Michelle Hull. No relation to Brett, but my brother is named Bobby. I am a graphic designer and my wife is a teacher. We don't know the sex yet, so we are going to need a male and female name. Have at it.
Thanks!
Kris Hull
San Diego, Calif.
Clark Joseph Hull
Heather Josephine Hull
---
Hey John,
I was wondering if you collect hockey cards or anything like that? I collect cards and just had a son. I bought him his first pack (see photo). He seems to love them!
Chris Thorne
John Buccigross is an anchorman for "SportsCenter" and ESPNEWS. For questions, comments or crosschecks, e-mail him at john.buccigross@espn.com. To check out his new book, "Jonesy: Put Your Head Down And Skate," click here.