Last Friday afternoon, I was sure of two things:
1. You will never, ever, ever, ever, ever, ever, ever, ever, ever, ever, ever, ever, ever see me in a pair of Crocs.
2. Jeremy Roenick would never say no to anything media related.
The first will forever hold true. But, much to my surprise, while Roenick was answering your e-mails over the phone, he told me that media exchanges like this will be few and far between this season.
STOP THE PRESSES!
Mr. "I'll tape a 'Best Damn Sports Show' segment after the morning skate, give Jim Rome some time on the way home before my afternoon nap and then do a phoner with Mike and Mad Dog in New York City on my way to the game tonight" Roenick?
Yes-indeedy-do.
After 18 NHL seasons, the 37-year-old Roenick is settling down. Playing with the Stanley Cup-favorite San Jose Sharks this season, "JR" is content with just fitting in. His next goal will be the 500th of his career and, in my mind, his ticket to the Hockey Hall of Fame. His next shot at No. 500 is Wednesday night at home against Mike Modano and the Dallas Stars.
Just think, we could have Modano break Phil Housley's record for most points by an American-born player and have Roenick net No. 500 in the same game! Roenick told me what he is going to do with puck No. 500, however I am sworn to secrecy; but it's pretty cool.
Instead of settling in to retirement and spending his golden years hitting golf balls on the range in Arizona, Roenick signed a one-year, $500,000 contract at the request of Sharks GM, and former Blackhawks teammate, Doug Wilson. In his best days, Jeremy's paychecks used to be $500,000 every two weeks.
Although he is eight years younger than Chris Chelios, the tread on JR's tires is worn. He has lived hard, on and off the ice. That changed a bit this summer, and a lighter, fitter Roenick is suddenly on a 25-goal pace. Fitter, happier.
Fitter, happier, more productive, comfortable, not drinking too much
Regular exercise at the gym, three days a week
Getting on better with your associate employee contemporaries, at ease
Eating well, no more microwave dinners and saturated fats
-- "Fitter, Happier" by Radiohead
But the tread on Jeremy's tires is worn mostly because of his reckless, X Games style on the ice. Over the past 20 years, few players have been more fun to watch than Roenick was in the early '90s. In 1993-94, Roenick had 100 points and 100 penalty minutes. And how about his playoff stretch from his first full season – as a 20-year-old in 1989-90 -- to his third full season (1991-92)? He had 26 goals, 22 assists and 48 points in 44 playoff games.
When I would interview young hockey players in the early 1990s (back when I was just starting out in this business), those young players aspired to be like Roenick. He was talented and tough. And although talented players are popular and attractive, tough players are loved.
Who is the greatest American-born player of all time? This is a difficult question. This is certainly my team:
F -- Mike Modano
F -- Jeremy Roenick
F -- Pat LaFontaine
D -- Brian Leetch
D -- Chris Chelios
G -- Mike Richter
I lean toward LaFontaine because his numbers are just off the chart and he had 400 career goals at age 30. Many steer toward Modano because of his three-zone game, durability, Stanley Cup courage (playing with a broken bone) and the ring that came with it.
But if you vote for Roenick, you should not be embarrassed. From his wrist shots to his fearlessness to his board-rattling hits, JR brought it every night. Some call him an attention-garnering monger, but I call him someone who loves the hell out of life. He's had a good life. He's a great athlete and has money coming at him at every angle. He has no reason not to be in a good mood every day.
I'm not canonizing Roenick. I'm just saying sports are fun and Jeremy is fun. And, in a season when JR is going to put a filter on his love of all things media, he always has time for you, the fan.
Roenick will now answer your e-mails.
Your questions, their answers
Question from Rakhee Kulkarni: Known for your rambunctious "Boston Towny" personality, how are you handling playing for Team Teal in San Jose, where people eat sushi while watching their sports? Congrats on your Red Sox, by the way!"
Answer from Roenick: Red Sox Nation rules! It's an easy way of life here in Northern California. We have tremendous fans here because of the intensity of the crowd. It's sold out all the time and they leave you alone when they see you are in public. Plus, I love sushi!
Question from Jon (Chicago): How do you feel you left things in Chicago? Do you regret the way things ended?
A: The days in Chicago were my glory days. I accomplished a lot in Chicago for myself and for the Hawks and the city. It might have seemed that we left on bad terms, but I wasn't the first to have a contract disagreement and I won't be the last.
Question from J.R. Martin (Holland, Mich.):: As I recall, you were cross-checked in the playoffs by somebody on the Blues -- either in your rookie year or during the Cup run in the season before you were "officially" a rookie. Didn't you lose a couple teeth on that one? Seems like you came back to score that game, but maybe I am embellishing the story. Anyway, who gave you the nasty hit and wasn't that a great rivalry with the Blues in the old Norris?
A: The old Blues-Hawks, Norris Division rivalry was a great one. Playing in the old St. Louis Arena was always intimidating. Glen Featherstone knocked my teeth out and didn't have to because he was so much bigger than me. He could have done it the old fashion way.
[Bucci note: Roenick was slashed by the Featherstone during the 1989 Norris Division finals. Roenick scored the game-winning goal on the ensuing power play.]
Question from Diddles (Boston): You are the single most dominant NHLPA '93 player of all time, it's not even close (as immortalized in the movie "Swingers"). I used to rack up 17-0 victories with the Blackhawks and you'd walk away with 17 goals. It was so unfair, my buddies and I created the "no Roenick rule" to even the playing field.
My questions are a) Did you know how dominant you were in video-game form? b) If you did know, is that something you hold over fellow real-life teammates/opponents? c) Does it make you sad that you never scored 17 goals in an NHL game?
A: My biggest claim to fame is my '93 Sega Genesis "domination." I have more people compliment me on my video-game ability than my actual real-life ability. People tell me they have gotten through college by being JR and the Blackhawks and wagering on the games. I have also heard about the "no Blackhawk rule."
Question from Brad Skinner (Waterloo, Ontario): How was it playing for Wayne Gretzky? What kind of coach is he?
A: Wayne is very quiet in the locker room and on the ice. He watches and he critiques and he views from afar. Maybe he is not as hands on as he should be. He could maybe do a little more instead of delegating so much. It's the early stages of being a coach and having an inexperienced team. He's a great guy and an inspiration just by being in a room.
Question from Jordan: I'm a Philly resident now living about a mile from the United Center. I was at the game when your Sharks played the Hawks last month and enjoyed it thoroughly. My question is, which NHL team did you/do you enjoy playing for the most? Try to be honest.
A: Chicago was my all-time favorite place to play, followed closely by Philadelphia. I was a kid in Chicago. I was having fantastic years and having a fantastic time. Phoenix was a great place to live and I now make it my home. I loved the fan support and athletic knowledge of the Philadelphia fan.
Question from Addison Smith (Hanover Park, Ill.): I really enjoyed your years here in a Flyers jersey and wished you would have stuck around for longer. What do you miss most about playing in Philly and what was your best memory as a Flyer?
A: I have a couple of great memories from Philadelphia. Certainly scoring the overtime winner against and in Toronto in 2003 was probably my best moment; it was my first game in Philadelphia as a Flyer. I also really enjoyed dressing up as Bob Clarke for Halloween.
Question from Jo: Humor me, Jeremy. Humor me and let me know if a second season in San Jose is possible if the 2007-08 season goes well? You know how I will hate to get only one year's wear out of my latest Roenick jersey!
A: I am not counting myself out for another year, Jo! I am dedicated and motivated to playing this year and making sure Doug Wilson's decision to sign me was not a mistake.
Question from Anson Murphy (Mechanicsburg, Pa.): A lot of athletes have trouble playing in Philly because of both the fans and the press. Tell me, are we really that bad?
A: Yes, you are. But not to me! I loved it. I loved the expectations. I love the "Philly tough guys" and how tough the media is and how everyone demanded perfection. It was a real treat.
Question from Eugene (Philly): Which hurt more and why -- losing in the finals to Pittsburgh or losing in the East finals to Tampa?
A: Great question, Eugene! Certainly the finals hurt because it was the finals. But, I tell ya, that Flyers team could have easily won the Stanley Cup and probably had a better chance than my Blackhawks team. If our blue line wasn't hit by injuries, I think we would have won the Cup.
Question from Todd (San Jose): I'm sure glad you decided to sign with the Sharks. I think it is a great fit for you and the team. What are some things you've learned about your new teammates that you didn't expect? What do expect out of yourself this season? Do us a small favor -- light the lamp for No. 500 at home in the first or third period! (Loyal fan in Section 109.)
A: I didn't know Milan Michalek was as dominant as he is. I didn't realize how fast Patrick Marleau was. I didn't realize how low Joe Thornton's blood pressure was when he plays. I didn't realize what a first-class organization this is.
I just expect to live up to expectations the Sharks have for me and the modifications put on my personality for the good of the team. I'm just concentrating on hockey and I've really enjoyed it. I'm focused on doing less media and making things like this few and far between. I always have time for the fans, though.
Question from Doug Nielsen (Phoenix):What were a few of your favorite golf courses while playing in Phoenix?
A: The best is my club, Whisper Rock. It's my Eden of tracks. It's an invitation-only club with an average handicap of eight.
[Bucci note: Whisper Rock, the Lower Course, was designed by PGA Tour player Phil Mickelson and architect Gary Stephenson and opened on March 1, 2001. The Upper Course, designed by Tom Fazio, opened on Jan. 21, 2005.]
Question from John Buccigross (South Windsor, Conn.): How many hole-in-ones?
A: Two. On the same hole! No. 13 at Willowbend Golf Club on Cape Cod. 155 yards, 8 irons.
Question from Chris (Reno, Nev.): As a lifelong Sharks fan, I was thrilled when you signed with the team as you seem to be the missing piece that the Sharks needed for a run at the Stanley Cup. I was wondering, though, why did you switch your number back to 27 from 97?
A: I didn't want any extra attention. I wanted to be more of a team guy. The higher numbers kind of stand out, you get attention drawn to you. I didn't want that. No. 27 is the number I started in the league. I want to bring back those old feelings and just fit it. I want to grab the middle of the rope; not the front or the back, but the middle.
Question from Sean (North Babylon, N.Y.): You're commissioner for a day. What two rules would you immediately change or implement?
A: I would change the instigator rule and give us a day off for American Thanksgiving.
Question from Rachel Beyler: As you approach the end of your career, you must be thinking about your legacy. What will be your legacy as a player and your impact on the sport? And what about getting 500 goals?
A: I think I will be known as someone who spoke his mind and was verbally brash. I'd like to be remembered as someone who always laid it one the line, someone who gave everything he had on the ice every night, a "warrior" who brought it every night. No. 500? It's going to be very special to get No. 500. It's something I never thought I would achieve, considering the guys who have reached 500. I also would like to add that I appreciate and love all of you fans out there. I'll always make time for you guys and gals.
Attention, puckheads!
Next week, send your e-mails for Cammi Granato, Ray Ferraro or both. Cammi is receiving the Lester Patrick Award in New York on Wednesday, and she and Chicken Parm will take your e-mails.
Mini-Me Mailbag
John,
How about some more good names to add to the list:
Radek Bonk
Steve Konowalchuk
Jeff Beukeboom
Miroslav Satan
Stephane Yelle
Stankislav Neckar
Roman Hamrlik
Bob Beers
Darren Puppa
Kelly Chase
Bob Boughner
Espen Knutsen
Tony Twist
My favorite, Ron Tugnutt; not as good as NASCAR legend Dick Trickle!
Bryan
Charlotte, N.C.
Nice Puppa.
---
Last week, after an e-mail from Sweden, I wrote the following: "Welcome, Anders Cedhamre, the official Swedish correspondent of this column. Get me some Hakan Loob news, Anders! STAT!"
Well, Anders came through big time, and I had to respond to this top-notch e-mail in italics where I saw fit.
Mr. B-Gross,
I can help you in many ways, more than you can imagine. Where do I start?
Ahhhh, you can probably stop there. But try me.
First off, he (Loob) is the general manager of the team (Färjestad) of my hometown (Karlstad). Secondly, he was my idol as a kid, and I met him once, in the late '80s, when I was the ball boy at a soccer game and Hakan was there shooting penalties on the grass.
I had that same recurring dream after eating some bad catfish at the Mingo Junction KFC in 1979.
You want more?
Catfish? I'm not sure that would be a good idea.
OK. My brother-in-law, who was a hockey prospect a few years ago (Tapi Andrén), once got beat out by Hakan's son, Niclas Loob, on a tryout to a national tournament, "The TV Puck."
Yes, it's not what you know, it's who you know, especially when you're talking about his Loobness.
To finish, Mr. Loob is now very much under fire after sacking Färjestads coach Roger Melin and replacing him with an old buddy, Tommy Samuelsson.
Loob does what Loob wants. No one should question Loob. Ever. There is no theory of evolution. Just a list of animals Hakan Loob allows to live. This includes Chuck Norris.
Loob now goes by the name "The Godfather" in some parts of the media in Sweden. Very entertaining and highly comical.
This surprises, like, anyone? This is Loob we are talking about. He was hand picked by NBC and Johnny Carson to replace Carson on "The Tonight Show". Loob turned them down. Jerry Seinfeld was originally called Loob before Loob backed out. Brian Williams should thank his lucky stars "The NBC Evening News with Hakan Loob" did not go on as planned.
To boot, he speaks with an odd accent since he is from Gotland, the bigger of the two island off the eastern coast of Sweden. It's almost impossible to understand, but very charming.
There is no need to understand what Loob is saying. It's all genius and/or hilarity. So, the actual words are insignificant.
This will be the first of your weekly "Hakan Loob fix."
Sincerely,
AC
Loob and I would expect nothing else, Anders. Rock on my Swedish brutha, and next, e-mail add some heavy metal Swedish bands we can check out. Loob, out.
---
John,
As a season-ticket holder for the Penguins, I had been eagerly anticipating opening night this year. I guess I wasn't the only one who was anticipating it. At about the 10-minute mark of the first period, my girlfriend started to feel labor pains. We left the game and went to the hospital. Before midnight that night, my son, Jordan Robert, was born. I still had the jersey that I wore to the game with me and they used it for the newborn picture. I didn't find out the results until one of the nurses came in later that evening, but I didn't care at that point what had happened at the game.
Bob S.
Allison Park, Pa.
Now playing, Pen and Yeller.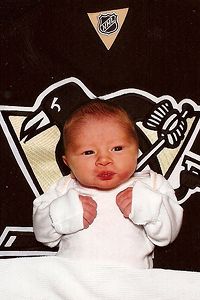 There's more mailbag where that came from! Check out Bucci's Mother of All Mailbags every Thursday at ESPN.com.
John Buccigross is an anchorman for "SportsCenter" and ESPNEWS. For questions, comments or crosschecks, e-mail him at john.buccigross@espn.com. To check out his new book, "Jonesy: Put Your Head Down & Skate", click here.