Sideburns, Gordie and blogs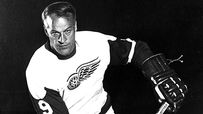 How is today's game different from that of years past? John Buccigross says you should grow out those sideburns and tap into your inner Gordie Howe before reading his latest in-game blog.
Editor's Note: As promised, here is Bucci's weekly Mother of All Mailbags. This section of his column appears every Thursday on ESPN.com, while his regular rants and raves appear on Tuesday.
John,
What do you think next year's schedule will look like? Also, do you think the divisions and conferences will change next season? On that topic, I'm sick of hearing about Detroit moving to the Eastern Conference. Don't people realize that if Detroit moves to the East, Chicago would be without its biggest rival? That would also mean Chicago would be the only Original Six team in the West. A big problem in Chicago is the fact we don't play the other Original Six teams. Last season, two of the biggest draws were Toronto and Boston.
Steven Luft
Chicago
I see no reason to move Detroit to the East. The Central Division is a good travel division for the Red Wings. Their rivalry with the Hawks, which will get heated again now that Chicago is returning to prominence, is another reason. The Ohio-Michigan, Blue Jackets-Red Wings dynamic should be cultivated more; same thing with the Blues and Predators.
The schedule is clearly going to change. There will be fewer division games. Sidney Crosby will visit more rinks. There will be "wild-card" games, which is a euphemism for "games that can get higher television ratings."
---
John,
As a Habs fan, despite my bias, I think there are a couple of oversights on your future Hall of Fame list.
1. Carey Price. I know it's early, but you've got Erik Johnson, Patrick Kane and Toews on there. Based solely on his exceptional 2006 season -- Calder Cup, Calder Cup MVP, World Junior Championship, WJC MVP -- Price is 5-1-1 in his first seven NHL starts and displays poise beyond his years. He will, barring injury, be in the Hall one day.
2. Saku Koivu. A hockey legend in Finland, he's within the top 25 (will probably finish within the top 15) in scoring in Habs history with 460 points in 569 games. That's especially amazing given he's a playmaker and has never had a bona fide sniper to setup. He's been the Canadiens captain since 1999, Finland's captain since 1998, has beaten cancer and survived several injuries that have no doubt limited his overall points totals. He's won three Olympic medals (two bronze, one silver), a silver at the World Cup of Hockey and a gold and two silver at the World Championships. All of those medals were won when he was either the first or second most important player on the team. By my criteria, he's a lock, but likely will only get in if he manages to win a Stanley Cup.
Adam
I agree with you on Carey Price. He certainly has a calmness and talent that indicates he could be a 400-500-win goalie since he is so young. Saku Koivu is a great story, a great man, a great leader. But he's nowhere near a Hockey Hall of Famer.
---
John,
What do you think about the "delay of game" penalty for shooting the puck over the glass? In the Anaheim-Dallas game on Wednesday night, Dallas was given a two-man advantage for consecutive delay of game penalties and scored two power-play goals. It was clear that the Ducks intention was not to shoot the puck over the glass (Travis Moen shot the puck while falling over, just trying to clear the puck from himself after taking a blocked shot).
Your thoughts?
Brendon
I have no problem with the rule. I like things to be clear cut. The glass is high enough. It makes the players attempt to clear the puck via the ice. That makes it harder and it favors the offense. The game is too defensive. I'm all in favor of anything that helps the offense. I understand your thinking and there are times that the puck rolls, but I would say train the players to attempt to clear the puck no higher than board level.
---
John,
Jordan Staal, Sergei Gonchar and Marc-Andre Fleury for Martin Brodeur, John Madden and Jay Pandolfo. Would you do it? As a Devils fan, I say yes.
Gary Carlson
Hey Bucci,
As a lifelong Devils fan, I've got to say no on the Brodeur-Madden-Pandolfo trade idea. The idea is sacrilege to me, like trading Ken Daneyko. I'd rather see the Devils at the bottom of the league for a few years than see Marty in another uniform.
Ken
New Jersey
---
John,
Evgeni Malkin over Dany Heatley in the top 5 "What if ... " free agency list? Preposterous.
Scott
Newark, N.J.
I agree. My bad.
---
John,
As a lifelong Sabres fan, I can't help but think that the current season's troubles could have been prevented some time during last season, when Chris Drury and Daniel Briere were open to contract negotiations. As Phil Collins' "Throwing It All Away" plays over and over in my head, I wanted your take on the demise of the mighty Sabres from 2005 to 2007. Was it management issues? The recurring emphasis on defense in the NHL? Personnel issues? Will this team ever find that level again?
Nick
Boston
We picked the Sabres to make the playoffs in this space and we are sticking to it. They are not the Sabres of the past two seasons, and won't be. No team would be the same after losing two unique, top-flight talents like Drury and Briere. But that is old news. To quote Rick Pitino, "They are not walking through that door."
So, the Sabres must go back to Sabres hockey with a few tweaks. It starts with Ryan Miller in net. He has to be great. From there, the Sabres have to be a little more careful in their own end than in the past. From there, they need to have the puck more than their opponents. Lastly, they need to have confidence and creativity in the opposition's end. They still have enough speed, skill, scoring, coaching and goaltending to be a good team. It is obvious management will not do them any favors as past actions have shown.
If they Sabres tighten things up a bit and stay healthy, I see no reason they should just finish ahead of Boston, the N.Y. Islanders, New Jersey and Montreal. Just finishing ahead of three of those teams should be enough to make the playoffs.
---
John,
Do you see a problem where the NHL is headed in terms of the decrease in scoring? And second, how do you solve it (or can it be solved, for that matter)?
John
Erie, Pa.
I don't think it is a major problem. Intensity, effort, up-and-down skating, electric fan bases, competitiveness, good broadcasters and production elements are crucial for good entertainment. The only way to increase scoring is with a bigger net or with fewer people on the ice. Take a player off the ice on each side and fewer passing and shooting lanes are clogged, allowing for more passing and shooting. I've been an advocate of a slightly larger net to compensate for the bigger and better equipment, larger goalies and greater skill level. More offense produces more offense. Low-scoring games are a product of more defense. High-scoring games are a result of greater risk-taking and more scoring. The heart of hockey is not scoring -- it's competitiveness and degree of difficulty. It should be hard to score. That's part of the joy in scoring a goal. It's difficult. I just think it's too hard right now.
---
John,
Something to consider about college hockey vs. the NHL; protection of the player from hitting from behind is something we have taken a very strong stance with and the press conference with Patrice Bergeron calling for stricter enforcement reminded me how far we've come.
A few weeks before Bergeron had his press conference, one of our conferences (the CCHA) suspended a player for two games (which are in addition to the one-game suspension the penalty called on the ice required). This effectively took the player out of two weekends of play (the penalty occurred in the first period of a Friday night game).
Two years ago, we had some serious discussion about lessening the penalty and allowing officials some middle ground. The committee decided to take away any doubt and made a strong statement that there is no place for hitting from behind in the game -- regardless of intent, etc. Would love to talk with you on this and hope it might make its way into your column. I also hope the NHL wakes up and takes this kind of thing seriously.
Hope you're doing well and thanks for taking the time to read this.
Ty Halpin
NCAA, Associate Director for Playing Rules Administration
---
John,
I would definitely recommend that you check out a British band called Porcupine Tree though. My friends and I (all working musicians) tend to refer to them as the best band nobody has ever heard of. They're amazingly versatile songwriters and musicians. There's a lot of pop sensibility involved, but also a ton of other influences to keep things interesting. They're even touring Sweden as we speak!
Derek
Lewisville, Texas
VHS or Beta is dominating my car CD player right now. "Can't Believe a Single Word" and "Bring on the Comets" are two songs I would download right now.
---
Hi John,
I'm writing to you from the increasingly colder Russia -- it's supposed to be minus-8 Celsius this morning and it's only mid-November! I guess I'm supposed to say something like, "I can't wait for the pond to freeze so that I can lace up my skates and go outside," but the truth is, I can't picture myself giving up three nights of competitive hockey a week in nice arenas with boards and lights for the pleasures of recreational hockey outside.
Ha det bra!
Greetings from Moscow,
Alexey
Ha det bra is Swedish for "take care." Do not give up your inside play, my Russian brutha. Playing hockey without your lungs freezing is a good thing. But you must get outside a few times! After an outdoor skate in the open air, the hot cocoa tastes better, the game looks better on TV and life itself is better. The shorter the walk from the ice to the fireplace is also highly recommended.
---
John,
Is the Central Division the strongest in the NHL right now? Can the teams keep it up the entire season?
John L.
Bloomingdale, Mich.
The Central and Atlantic are my picks for the two deepest divisions, but it's not by much. The talent is spread out pretty evenly right now.
---
Hi Bucci,
I just had to write after reading all the positive comments about the NHL Network last week. I am really frustrated. I live in Colorado and I pay for NHL Center Ice so I can watch my favorite team (Red Wings), along with checking out other teams around the league. Last week, I got home after a long day of work, expecting to watch the Predators/Red Wings game, only to find out I couldn't get it because it was on the NHL Network. My cable system is not carrying that channel. Tonight, I wanted to watch Edmonton and Vancouver and I have the same situation. I am irritated because I pay a lot of money for Center Ice and now I can't watch all the games that I would like because of the NHL Network.
Thanks for letting me vent,
Caitlin Magee
If the NHL is taking games off of the Center Ice package and putting them on the NHL Network as a way to get people to call and complain about getting the NHL Network, then it should reimburse you for every game they take off. That's bush league. The NHL should not practice anything that ticks off its loyal fan base that has been through two lockouts and astronomical ticket-price hikes.
---
John,
I'll start by saying I need to pick up "Jonesy" (please insert your plug here). The idea of you and Jonesy together is just gold.
Kevin
You can stop there. By the way, Flyers broadcaster, 610 WIP-AM personality and Versus analyst Keith Jones will be appearing at the Barnes and Noble in Deptford, N.J., to sign copies of his book, "Jonesy."
Keith will be at the store from 12-2 p.m. on Saturday, Dec. 1. Buy many copies for you and your friends for the holidays. Let's make "Jonesy" (currently the No. 1 hockey book on Amazon.com thanks to YOU) the No. 1 sports book! Also, send your e-mails in to "Jonesy" for next Tuesday's column. Ask him about the book or any other topic.
---
Bucci,
I finally talked my uncle into sacrificing his tennis court so my cousins and I can have a backyard rink this year, but he still thinks the notoriously unstable Pittsburgh weather will ruin our ice, if it even freezes. Can you convince him otherwise or should we quit while we're ahead?
Jennie L.
Pittsburgh
Pittsburgh might not be the best climate for a backyard rink. The key is to have a lot of trees to provide enough shade to help keep the ice firm on those sunny days. Wet snow and sleet is the enemy of outdoor ice. But just five skates outside makes it all worth it to me. It's even up in the air in Connecticut; some years, we've had three skates and others we've had 30.
---
John,
Attached you will find a picture of daughter Kira. Note the far-away, sad, dispirited look in her eye. Yup, she's ready for life as a Toronto Maple Leafs fan. Can anything be done with this team? I'm at the end of my 30-plus years of patience. Sure, the first 25 were bad enough, but the last five have just been insult to injury.
Hope all is well,
Brendan Christie
Toronto
This year, the Leafs are putting the tragic into The Tragically Hip.
"your beautiful thing
it'd be
a beautiful thing
to see
that beautiful thing
continuing
your beautiful thing"
-- "A Beautiful Thing" by The Tragically Hip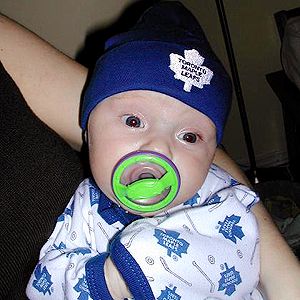 John Buccigross is an anchorman for "SportsCenter" and ESPNEWS. For questions, comments or crosschecks, e-mail him at john.buccigross@espn.com. To check out his new book, "Jonesy: Put Your Head Down And Skate," click here.