Not Just About $$$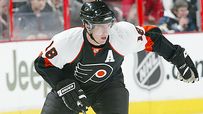 John Buccigross didn't think Rick DiPietro's monster deal was a bad move. He feels the same way about Mike Richards' 12-year contract extension. The benefits for these deals go way beyond money.
Editor's Note: As promised, here is Bucci's weekly Mother of All Mailbags. This section of his column appears every Thursday on ESPN.com and his regular rants and raves appear on Tuesdays.
Hey John,
I liked your predictions for Team USA for the 2010 Olympics. For us Canucks, can you give us your picks for Team Canada?
Steve
Last week's Team USA predictions generated many dissenting e-mails (see below). Predicting the 2010 Canadian Olympic team is a sure way to get hundreds of Canadians to call you vile names and claim that you, like most Americans, know nothing about hockey, Canada or The Tragically Hip. Nonetheless, I march on. Keep in mind that a lot can change in two-plus years. Players can drop off or surge, sometimes suddenly and without warning. And, don't forget, my grandma was born in Newfoundland.
GM: Steve Yzerman.
Coach: Mike Babcock.
Goalies: Roberto Luongo, Martin Brodeur and Jean-Sebastien Giguere (as usual, the deepest goaltending in the tournament).
Four lines:
Rick Nash-Sidney Crosby-Jarome Iginla
Daniel Briere-Vincent Lecavalier-Dany Heatley
Ryan Getzlaf-Joe Thornton-Eric Staal
Brad Richards-Mike Richards-Paul Kariya (Kariya back in Vancouver is too sentimental for me to pass up).
Six defensemen:
Chris Pronger-Dion Phaneuf
Jay Bouwmeester-Wade Redden
Ed Jovanovski-Brent Burns
Keep an eye on Mike Green of the Capitals. The dude has offensive game.
John,
Two glaring omissions on your 2010 U.S. Olympic team: Chris Higgins and Mike Komisarek.
Casey B.
I had Higgins on the team and then made a late change. I certainly could see him making the team ... and it's exciting for anyone from Avon Old Farms (Conn.) to make the list. The U.S. roster is relatively open. Komisarek also has a great chance to make the team.
Dear Mr. Buccigross,
I just read your mailbag on ESPN.com and I liked your picks for the U.S. team. However, how do you leave out Brian Rafalski? He is one of the best offensive defensemen in the league and is an incredible skater.
As I remain,
Connor, N.J.
Rafalski will be 36 going on 37 in 2010. I could still see him making the team with his great outlet passing and power-play game, but I was just a little concerned with his age as a smaller player. Two years is a long time.
---
John,
My wife and I are expecting child No. 1 in July. As always, a baby name would be most appreciated. We are leaning toward Holden Michael if it is a boy.
Jon Michael
Greensboro, N.C.
Holden Michael is excellent. Holden Cameron Michael. Or Holden Michaels Michael. He'd be an excellent skater.
Hockey fact: Most points by a goaltender for a career? Tom Barrasso, 48 points.
John,
We're expecting a little girl and would like some "expert" help with coming up with a good name. We have a tricky last name though -- Prockiw (pronounced Pro-ski). Thanks for the help!
Cameron
Nice name. Poetic. Sophia Emma Prockiw.
Hockey fact: Most career game appearances by a goaltender? Patrick Roy, 1,029 games.
---
Hi John,
I was just reading about the proposed European hockey league to rival the NHL. As much as the idea of more hockey appeals to me, I'm worried that a new league might draw away NHL depth players and hurt teams (like my Red Wings), who make their living scouting in Europe. I'd like to hear what you think.
Ben King
Kalamazoo, Mich.
As emerging hockey markets continue to sprout and grow across the world, it will be inevitable that the NHL will either lose players to Europe and Russia or work toward an NHL division in those areas. I'm actually surprised it has taken this long to seriously discuss NHL teams in Europe. The NHL brand name, along with the allure of the Stanley Cup, would seem to make perfect sense around the world. The NHL is in position to offer the first true world championship in major professional team sports.
But back to your first question. These long-term NHL contracts we are seeing also protect teams from losing players, especially Europeans and Russians from bolting to their homelands.
---
From Norway with peace, John!
I've seen a few suggestions that the NHL should consider increasing the size of the rinks to the size used in the Olympics and Europe. My take on this: Never, never, never, ever do that! Please!
It will take away much of the intensity we love in hockey and the game will appear slower. There is a reason I love the NHL and don't care much for Norwegian hockey. It's not necessarily the skill level (well, OK, that too), but the intensity of your game! Bigger rinks will be a big mistake! I actually believe that European hockey eventually will switch to NHL-sized rinks.
Roy Kvatningen
Oslo, Norway
(PS: Check out the Norwegian bands, Midnight Choir and Minor Majority.)
We've been sticking to the "bigger is worse" mantra in this space. I don't think low scoring is a major issue, but I do think a couple more goals a game (within the context of an exciting contest) are needed. A slightly bigger net would accomplish this. I would also like to see the AHL go to four-on-four for half of a season to see what the result would be. Remember, long ago, hockey used to be seven-on-seven (counting the goalie). Then, it became six-on-six. It is time to at least contemplate four-on-four to open up more passing and shooting lanes.
---
Dear John,
As a lifelong Dallas Stars fan, I need to say something. After letting the initial dust settle on the firing of former GM Doug Armstrong and making Les Jackson and Brett Hull co-interim GMs, my reaction is this: Brilliant move. I, like many fans, thought Armstrong needed to go. After the move, Hull gave coach Dave Tippett all the latitude he needed. Now, the move looks like it has started a fire under Marty Turco and Mike Smith (one of the top three goalie tandems in the league), revitalized Mike Modano and jump-started a very stagnant franchise as a whole. What do you think?
Adam Eisen
Cleveland, Ohio
I never understood taking the "C" away from Mike Modano and I wrote about that in this space. That move can have a negative affect on a player, even if he is the most unselfish, thick-skinned player in the world. I think getting stripped of the captaincy took away a little percentage of Modano's mojo and the regime change helped boost his morale and energy.
I have questions on Brett Hull's dedication and commitment to the job. Maybe, one day, he will wake up and that will change; but, for now, he's lucky Jackson is there running the ship.
---
John,
I started a new job recently and much of it involves being on the phone. Today, my new boss complimented me on how clear my voicemail messages are. He also said, "I don't understand why everyone doesn't leave their phone number at the beginning of the message like you do." I had no idea where I picked up that habit until I finished reading yesterday's column, and I remembered your old column mentioning that. So, thanks for the great hockey stuff, but for also making me a better business person.
Erik Harkrader
Other business tips in my upcoming book: "Leave Your Number First! This, And Other Common Sense Tips To Get You Ahead In Business" by John Buccigross. Foreword by John Spano.
1. Whenever working on Microsoft Word or something similar, save your document after every few paragraphs. You never know when the power could go down or you inadvertently press the wrong key. I've saved this e-mail bag two or three times for safety. I'm going to do it again now.
2. Don't call your boss or anyone, "Dude."
3. Don't kiss the boss' butt. Respect the job, respect every job, but don't act like you have to have the job. Because, you know what, you don't.
4. If you are scheduled to work, work. Don't call in sick.
5. Buy two really nice suits. That's all you need. A dark one and a light one. Five shirts, 10 ties and you are all set. Pay a little more than you normally would. Buy two really nice pairs of shoes and wear them for three years.
6. Don't wear cologne. Just shower every morning and wear deodorant.
7. Carry mints and/or gum with you at all times in the inside pocket of your suit.
8. Expect every e-mail you send from work to be used on a billboard in Times Square. If you have a company phone, expect every text to be read on "The Today Show." This cannot be emphasized enough. If what you want to say is racy or confidential or sensitive, use it on a personal cell phone or say it in person. Don't leave a trail. Don't lose focus on this.
9. Every time you go into life's corners, come out with the puck. That is done with smarts and desire.
10. This one is optional. Personally, I don't put personal items in my cubicle and/or desk. No pictures, no school projects. Don't bring that part of your life to work. I'm the most sentimental nerd in the world ... but not at work. If you absolutely need to take a quick glance at your kid, put a picture in your cell phone. Otherwise, always be prepared to leave your current job. A cubicle with bare walls sends a message that you are ready to leave at any time for a better job. Don't be the worker who always threatens to leave and complains or whines. Have an empty cubicle and shop your services while you continue to muck and grind.
---
John,
Am I way too biased as a Caps fan or is Mike Green an All-Star in the making? He looks like the fastest player on the ice every night and his end-to-end rushes are pretty exciting. Does anyone else in the NHL think he's pretty good, or are we 17 Caps fans just getting carried away?
Victor M. Kazanjian
I love Mike Green's offensive game as I wrote above. He just turned 22 and may need time to mature, especially after looking at his picture on his ESPN.com player page. Flock of Seagulls meets Ed Grimley. Consistency doesn't usually come until the most important thing in a person's life is preparation and focus. I just hope the Caps keep giving him lots of ice time and keep demanding a lot from Green. He made a beautiful pass to Alexander Ovechkin in Detroit that Ovechkin should have buried to win the game for Washington.
---
John,
Just finished your mailbag. I'll admit that I am the biggest Minnesota hockey homer ever. Phil Housley has to be part of the Olympic coaching staff, and replace Joe Corvo with Keith Ballard.
I'm getting married shortly and going to Phoenix for the honeymoon. My Cleveland born-and-raised fiancée, who knew nothing about hockey until she met me, has agreed that we can go to a Coyotes game while we're there. We can see the Coyotes play the Blackhawks, Sabres or Predators. Which game should we go to?
Josh
St. Paul, Minn.
You have to watch Patrick Kane in person.
---
John,
As a fan of the NHL, I read Bucci's column each week. But as a professor of music, I felt inclined to write in his defense regarding the recent "just-throw-a-few-drummers-on-the-wall sentence," which seemed to have raised the ire of several readers.
I have heard this topic many times and, over the years, have found there isn't any one correct answer, or even a correct list. Personally, Neil Peart was the musician responsible for me becoming a drummer, and the New York Rangers were the team that made me a fan of the game. Though highly competent in the world of progressive rock, I can't say with any real conviction that Neil Peart can ever be considered the best drummer, just as I don't believe Mark Messier, even with his heroics during the 1994 Cup run and his numbers worthy of a Hall of Fame induction, is the best NHL player of all time.
Just as the game of hockey has been refined over the years, so has the world of drumming. The argument over who is the best drummer, or a list of them, is comparable to making similar statements about an NHL player or team, past or present. Today's game has many highly capable players, several seem to be destined for the Hall of Fame, yet most will never reach Gretzky-like numbers. The same can be said for the world of drumming; there are different players, styles of music, techniques, both past and present.
It's all too mind-boggling of a task. And even if there was such a list with one individual sitting on top, fanaticism usually clouds any levelheaded judgment, just like some of the players on this year's All-Star Game ballot.
Jeff Calissi
Willimantic, Conn.
OK, THAT was the last drumming e-mail.

---
John,
You said, "I still think the team needs some more sandpaper and growl on the back end" and 99 percent of Red Wings fans would agree with you. That, and a big, physical second-line winger. If you were Ken Holland, what moves do you make to complete this team?
Neil Dunn
Lincolnshire, England
Ed Jovanovski, Adam Foote, Rob Blake. Big money there, but maybe something could be figured out. Detroit is obviously VERY good, but the questions they have to ask themselves are:
1. Do we have enough secondary scoring?
2. Do we have enough toughness and stamina for a two-month tournament this spring?
3. Should we be bold and look to add both back-end toughness and a top 4 forward?
All organizations have to constantly evaluate their team. Jiri Hudler's ice time has varied wildly this season. At times, he looks like a top 4 forward who can really elevate the Wings; but will he become a consistent, dependable three-zone player for a Cup contender or will he be a tease? Would the Wings look to a team like Pittsburgh with Ryan Malone and do something with Hudler?
It's going to be interesting to see how the Wings manage their team; will they stay put and go with what they have, or try to pull something off? Looking at the Tigers and Marlins' megatrade involving Miguel Cabrera, you know owner Mike Ilitch is always for being bold and going for it. The big difference, of course, is baseball does not have a salary cap and the NHL does.
---
John,
If you could, what three hockey players would you interview (past or present), and why?
John
Erie, Pa.
1. Maurice Richard. I interviewed him when he was 77, about 16 months before he died. I would have liked to have interviewed him when he was 25, especially if I was fluent in French.
2. Jacques Plante. People who focus 100 percent of the time are fascinating to me because I was not blessed with the ability to do that. I need breaks.
3. Terry Sawchuk. "Tell me about your childhood. Everything."
---
Hi John,
Attached are some pictures of my co-workers and I wearing our Rangers jerseys at work. Everything started out all well until we started fighting over who the biggest Rangers fan was. Of course, I won (unless some of them read your column, then they might disagree). Thanks again for sharing your passion of hockey with the rest of us addicts!
Bryan
New Jersey
"And this one will last a lifetime!"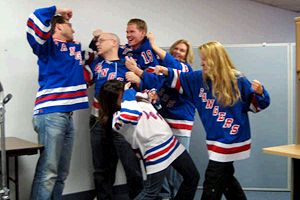 John Buccigross is an anchorman for "SportsCenter" and ESPNEWS. For questions, comments or crosschecks, e-mail him at john.buccigross@espn.com. To check out his new book, "Jonesy: Put Your Head Down And Skate," click here.