It's mid-March and Easter is early this year, so let's spring forward by resurfacing the brain and starting anew.
Shot of the Week
You know how it works. We present an NHL photo, and Bucci provides a caption. E-mail him your suggestions (include your name and hometown/state), and we will use the best ones and provide a new photo the following week.
LAST WEEK: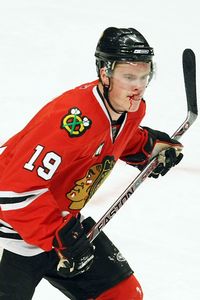 Must. Find. French Fries. (Getty Images)
Your captions:

"I hope my mom doesn't lick her thumb and rush onto the ice to clean my face again!"
-- Keith Shocker (York, Pa.)
"Mike Tyson was right. Those ears are tasty!"
-- Mike Shovlin (Beaver, Pa.)
"A defenseman once tried to check me. I ate his liver with some fava beans and a nice Chianti."
-- Joe Reiter (Erie, Pa.)
"An outdoor game in Chicago? But there might be sun!"
-- Jonathan Willax (Buffalo, N.Y.)
"What do I have to do? Bite the head off a bat to get on local TV?! Oh, oops. Sorry!"
--
Howard Freedland
THIS WEEK: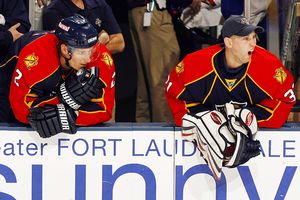 Every day is Groundhog Day when Craig Anderson is the backup goalie. (Getty Image)
It's time to flush out all the winter sludge, Zamboni the brain cells and clear out our heads for the final weeks of the regular season and the start of the playoffs.
Here goes a whole lot of nothing:
• Chris Pronger and Chris Simon both got shafted. See below.
• Mike Liut won the 1981 Lester Pearson Award, given to the league's most outstanding player as voted by his peers. Mike Bossy (68 goals), you may now proceed to break any fragile object that is in your vicinity, including Liut's Lester Pearson trophy.
• The Penguins have to at least consider and discuss trading Evgeni Malkin this summer if he is looking for an Alexander Ovechkin-type contract ($9-10 million per season. Term doesn't matter. You always will be able to trade a great player if he is healthy), and the team concludes that paying a combined $17 million for two players on their roster will greatly affect their Stanley Cup plans.
NHL teams will have to look at things as NFL teams do. You won't be able to fall in love with players, and you can't talk about being a contender for 10 seasons. You have to look through smaller windows. Otherwise, you could have a very good season, then be mediocre for the next five. You have to keep looking forward, keep building.
That said, don't keep bringing up Tampa Bay and its big three players. Tampa Bay got bad fast because it drafted badly, traded badly and signed free agents badly. The Penguins can have Sidney Crosby and Malkin, and then have young players and veterans on short-term contracts playing with them. These gigantic contracts for young players enable teams to acquire good veteran players at cheap prices and a manageable term.
• Please ... for the love of God ... do not go to the net camera when a player is attempting to score on an open net. It is self-indulgent directing. Keep the live camera shot on the game angle when a player attempts to score on an open net. I want perspective. It's fun to watch the puck sail down the net as the camera pans and follows the puck. Don't take that joy away from us. The cut to the goalie cam is jarring and doesn't work. Show it on the replay.
• Phil Collins might be the most underrated rock vocalist of all time.
• For the 58th time: The Marian Hossa trade was a great trade by the Penguins. The guy is one of the best players in the NHL. There are 387 Colby Armstrongs on the planet and 587 Erik Christensens. The magic Crosby and Hossa will create will be mind-boggling. Hossa is a Hall of Fame talent. Gary Roberts would be a great fit on that line if he gets healthy and skates well enough to keep up. He could be back in the Penguins' lineup in 10 days. I would wait and bring Crosby back that same day.
• If things stay the same in the Western Conference (and I think they will), I will have gone 7-for-8 in my preseason predictions. If Buffalo catches the Bruins and the Panthers (winners of seven straight as of Tuesday morning) catch the Flyers, I could go 7-for-8 in the East. But 6-for-8 seems more likely. We'll revisit the preseason predictions when we look ahead the playoffs.
• Yes, I'm TiVo-ing the "John Adams" series on HBO. That's right up my history alley.
• Joe Thornton is playing the best hockey of his NHL career. He has never played with this much desperation and urgency. He is a major force on the ice. The only thing he can't do is a shoot a puck. I don't understand it. A guy as big and smart as he is can't have a bad shot. Can't he practice 500 shots a day in the summer and get better? Thornton will be a major playoff performer. I envision a Conn Smythe Trophy in this man's future. Why wasn't there a Bruins employee who had the courage to stand up and say, "You idiots! Why are we even discussing trading Joe Thornton?!" I knew the instant the trade was made that it was -- and would be -- horrible and damaging to the Bruins. How could that have been allowed to happen?
• The Canadiens have the most wins in NHL history. The Bruins are second.
• The NHL was founded in 1917. There were four teams; each finished the first season after playing 22 regular-season games. The next season, it was 18 games. The NHL then played 24 regular-season games for five campaigns. In 1924-25, it went up to 30 games, then 36 for a season, and then 44 games for five more. In 1931-32, it was 48 games; the schedule stayed that way for 10 seasons. In 1942-43, the NHL added two games, and the 50-game schedule continued for three seasons. The 1946-47 season had a 60-game schedule for two seasons after Maurice Richard scored 50 goals in 1944-45's 50-game season. It was 60 games for two seasons before 10 more games were added for the 1949-50 season. Ted Lindsay, Sid Abel and Gordie Howe were 1-2-3 in scoring, respectively, that season.
The NHL stayed at 70 games for the next 18 years until the league expanded from six teams to 12 for the 1967-68 season and added four games. The NHL went to a 78-game regular season in 1970-71, the season Phil Esposito scored 76 goals, Bobby Orr had 102 assists, Johnny Bucyk had eight penalty minutes and Gerry Cheevers drank 348 cases of Narragansett. You'll win most bar bets from Sarnia to Steubenville if you ask, "Who was the first player to reach 100 assists in an NHL season?" They probably know in Parry Sound, Ontario. Orr was the first. Expanding the league and regular season was the reason why.
The NHL played four seasons of 78 games before adding two games for the 1974-75 season, when Orr won his second scoring title and had 101 PIMs. Talk about a fantasy player juggernaut. The NHL played 80 games before going to the 84-game format in 1992-93. The schedule stayed that way until the lockout-shortened season of 1994-95, when the Sutter brothers spent the fall of 1994 cleaning out the silo and punching each other during supper just to keep their edge before the NHL returned for 48 games. Out of that lockout, the NHL went to 82 games. This season is the 12th with 82 games.
It's 2:16 a.m. now. I hope you appreciate all that I do for you.
Mother of All Mailbags
Bucci,
With the recent resurgence of the Wings coinciding with Nicklas Lidstrom's return, what are the chances that No. 5 takes home the Hart?
Chris,
South Bend, Ind.
Nicklas Lidstrom will have a difficult time becoming one of the three Hart Trophy finalists because voters (I am not one, even though I watch more games than anyone) favor forwards and/or goalies. The last defenseman to win the MVP was Chris Pronger (1999-2000). Before that? Bobby Orr! (He won three straight Harts from 1969-72.) Before that? Babe Pratt in 1944! That's a joke! Everyone who watches Mite hockey knows that oftentimes the best and most important player is a smart, fast, puck-moving defenseman. That's why we can safely assume that the force and telekinetic game of Ovechkin and his vibrant and infectious personality likely will land him the Hart Trophy. There is time for things to change. That's why they play 82. I'll hand out my postseason awards in next week's blogumn (blog + column).
---
Bucci,
How much better does Malkin have to play with Crosby out of the lineup for people to realize he's the MVP this season? I realize he has a lot of talent around him (Jordan Staal, Ryan Malone, Petr Sykora, Sergei Gonchar and now Hossa, just to name a few), but he literally carried the Pens during Crosby's absence, and I think his stellar play has allowed Crosby to take it slow with his comeback. I've heard Ovechkin's name in the conversation for the Hart more often than Malkin's. I realize Washington wouldn't even be close to the playoffs without him, but if the season ended today, the Caps would be out of the playoffs. And with Crosby missing over a quarter of the season, I think you could say the Pens wouldn't be in playoff contention (or at least contention for home-ice advantage) without Malkin. Do you agree?
Terry
San Jose, Calif.
Considering his plus size, his plus playmaking skills, and his A-plus shot, Malkin has to be considered for the MVP award, especially if the Penguins win the East. Playing on a bad team (or a good team, for that matter) shouldn't hurt a player. I've been writing here all season that Malkin is a top-10 player, and he is still just a boy. Imagine what he'll be like when he is 25 with 15 more pounds and some wisdom. Ten years, $80 million, Ray Shero! Get that extension done this summer. Don't sleep on Pavel Datsyuk's career year in Detroit either, people.
---
Bucci,
How do you feel about the sentiment that Ovechkin will have less of a chance at winning the Hart if the Caps don't make the playoffs? On a side note, I've been married almost three years and my wife has never seen me in playoff-intensity mode, because the Capitals have been playing mostly for pride during this time of year. She got a sneak peek at how emotional I can be while watching important games during the Caps/Pens game on NBC last weekend. I think she's scared. My marriage may be in trouble if the Caps make the playoffs.
Steven Liu
Atlanta
Unless it is written in the rules that you can't vote for a player whose team does not make the playoffs, I don't subscribe to that theory. 'Til sudden death do you part.
---
Hey Bucci,
I wanted to know your take on the proposed Winter Classic at Yankee Stadium. As an Islanders and Yankees fan, I couldn't have been more excited when I heard the idea of an Islanders-Rangers game at the Stadium. But I am shocked and appalled the NHL and NBC would prefer Rangers/Bruins. No offense to the Bruins, but I don't see the draw there. There's much more history between the Islanders and Rangers. The Islanders-Rangers rivalry is the best in sports. Having been to those games many times, I would say it's even better than Yankees-Red Sox, but without the media circus. The intensity of the crowd during Islanders-Rangers games is somewhere between mayhem and total chaos. The animosity in the air is palpable. Taking it outside would make for a legendary showdown.
Phil L.
Long Island
The Rangers-Islanders rivalry is definitely one of those rivalries that creates a sizzling arena experience. It rivals the five minutes before you are waiting for your favorite band to begin a concert.
Red Wings-Blackhawks, Penguins-Flyers, Oilers-Flames, Canadiens-Maple Leafs, Red Wings in Nashville on a sold-out night, and others, including Islanders-Rangers, bring out that excitement. Now that the NHL has realized the ratings potential of an outdoor game, it will look to maximize it by choosing teams with markets that draw well.
New York City is the largest television market in the United States, and the Rangers' local ratings dwarf the Islanders' and Devils'. The Rangers are the natural choice when picking a U.S. team with big ratings potential. And a game in Yankee Stadium should create enough casual curiosity to draw a strong ratings number in greater New York City and across the nation, especially with a strong marketing buildup that would begin this summer. Whom the Rangers play is probably of little ratings consequence.
The Bruins makes television sense because of the New York-Boston dynamic driven mostly by baseball and, to a lesser extent, this past February's Super Bowl and the Patriots-Jets rivalry. Also, with Boston-based sports teams, you can draw from six states. Now, I understand that the Bruins presently have the pop-culture relevancy of Henry Winkler, The Garden Weasel and Kajagoogoo (*) in New England, but for an outdoor hockey game over the holidays in Yankee Stadium, they would be relevant for a day or night.
Ratings research has shown that New England cities like Providence, R.I., and Hartford, Conn., do well for big hockey events and they would draw good ratings for a Bruins-Rangers outdoor game in Yankee Stadium. The Red Sox, Patriots and Celtics (now that they are good again) all rate well nationally because they do VERY well in the six-state New England region. Add in team success, big personalities, transplants and bandwagon jumpers, and you have a "Dancing with the Stars" ratings winner.
Television networks like ESPN do exhaustive research on who watches television and when, and two facts remain strong: 1) Most of the people in the United States still reside in the Northeast corridor from Washington D.C. to Boston; 2) People in the Eastern time zone watch sports on television more than people in the West. (Weather and tradition may be the reasons for this.)
A Detroit-Chicago game in Wrigley Field also would be a big television ratings winner. The Red Wings rate well locally and have good national appeal in NHL terms. You would have a big Blackhawks curiosity factor in Chicago's massive market (third largest in the country). There also would be solid ratings support in New England and good NHL ratings in markets like Pittsburgh, Buffalo and Minnesota, even though their teams aren't playing in the game.
[ (*) I want a Kajagoogoo Dolls world tour and I want it now.]
---
Bucci,
Great article and follow-up on the Stars using "Caddyshack" clips as part of their in-game presentations. Here's one more for you: Whenever two players drop their gloves and square off, you can play the "So what?! SO LET'S DANCE!"
TP
And when Erik Johnson scores a goal for the Blues, they can blare Sandy McFiddish screaming "Gophers?! Where?!"
---
Hey Bucci!
The Pittsburgh Post-Gazette recently ran an article on the possibility of trading Sidney Crosby. Of course, it would never happen (would it?), but I was wondering what your take is on the idea. In a "what-if" scenario, who would be the best suitor in a trade-for-Crosby deal and what would be the ideal offer?
Also, I thought you'd like to know (if you hadn't heard already) that Toledo, Ohio, has renamed its hockey franchise, formerly the Toledo Storm, as the Toledo Walleye. The new hockey franchise is being run by the Toledo Mud Hens organization and will be housed in a brand new downtown arena within walking distance of Fifth Third Field and the Hens. There is quite a bit of controversy regarding the nickname. (Folks around here think it's too "goofy.") You stay classy, John Buccigross!
Shawn Selders
Toledo, Ohio
I LOVE the name Toledo Walleye. LOVE IT! Imagine the Trucker hats one could produce! Minor league sports are supposed to be goofy! That's the whole point! Why do I keep using exclamation points! Shawn, you'd better smuggle in a walleye and throw it on the ice when the Toledo Walleye score a goal in their new arena. If the organization wants me, I'll show up and throw out the first fish.
As far as trading Crosby, the Post-Gazette would have served its readers more aptly with a 10-part series on the career of former Steelers wideout Weegie Thompson. If I ever did make a trade, I wouldn't fall into these 37-for-1 trades you see involving big-name players. I would make it a simple 2-for-1 with a draft pick. I don't understand why GMs across all sports go for volume when they trade icons. Crosby to the Blackhawks? Patrick Kane and Jonathan Toews and a No. 1. Crosby to the Kings? Anze Kopitar, Jack Johnson and the Kings' No. 1 pick. Simple. Quality. Not a whole bunch of nothing.
---
Mr. Buccigross,
I'll start off with a hockey question: How do you feel about the Pronger suspension? I'm sure you'll cover this in your column anyway, but I think eight games are about right. It wasn't as heinous as Chris Simon, but there was a definite stomp that took place.
Next is the real question: In order to graduate, my school requires that I complete an internship with a company that matches my major. I am a broadcast journalism major, so I have some interesting options. There is a small-town public television station that would let me do hands-on work and I would get to present a story on-air every week. I can also do an internship at Fox Sports. Although they have the bigger name, I would not get the same hands-on experience that I would at the smaller station.
Cameron Cramer
Go to the smaller station every time. All you'll do at the national network is go and get Ron Burgundy's take-out dinner from Applebee's. "Keep the 78 cents, Cam! Who won the Avalanche game, anyway? I was watching 'Deal or No Deal!'"
Go to the smaller station, take the camera, shoot all day, make music videos, interview local athletes and construct profiles. Do play-by-play of a T-ball game. Life is about reps. And applying the same four values that we talked about 4½ years ago in this space in describing a hockey player and why Cam Neely should be a Hall of Fame inductee. Still waiting to hear from that Cam for our years of work. Those values are heart, courage, mental toughness and artistic expression.
Don't be limited by fear, Cam. Make up your own definition of a good life. Chance will furnish you what you need. You will stumble upon something that, like a flash, will exemplify who you are right to your core. And it will fit like a CCM glove.
Back to our regularly scheduled hockey column:
I like the Pronger suspension mostly because his $600,000 lost salary fine goes to the players' Emergency Assistance Fund. I hope they buy 30 retired players in their 60s a nice new Buick LeSabre and a VHS collection of the Dean Martin Celebrity Roasts.
In terms of a pure suspension, I'm OK with it. And I would have been OK with a game -- or three. I do believe Pronger was trying to free his leg from Ryan Kesler's mini-figure, four-leg lock, and Pronger knowingly stepped on Kesler's shin guard, understanding he wouldn't injure him. But what if he missed and Kesler moved and Pronger sliced an exposed area behind his knee or on Kesler's upper calf? We can't have kids watching NHL players put their skate blades toward another player on purpose. Kids copy fights, Ovechkin's goal celebrations and Dominik Hasek's snow-angel saves. They will copy kicking, too.
Kesler "asked" for it by "pinning" Pronger's foot to the ice, but Pronger should have just wriggled himself free. I GUARANTEE that was the first time I have EVER typed the word "wriggle."
When I hear "wriggle," I think of Sting's lyrics from "Be Still My Beating Heart": "And I wriggle like a fish caught on dry land."
I also think Pronger's move was SIGNIFICANTLY more dangerous than Chris Simon's skate stomp. Simon stepped on a well-protected skate. He knew what he was doing and knew he wasn't going to injure Jarkko Ruutu. There was NO chance of injury and there wasn't one, either. I like all the positives that Kesler and Ruutu bring to the NHL and their teams, but, in these situations, I would suspend them a game or two, as well, for provoking these actions.
---
John,
While babies seem to take up lots of picture space in your column (and I love it), I thought I would add a different one for you. My husband and I got married a year ago, and he had never been to a hockey game of any kind (backyard, high school, NHL). Poor guy married a girl who loves hockey and grew up in the State of Hockey! We moved in together the weekend of the 2007 Anaheim Ducks Stanley Cup run, and he's been learning/enjoying the game ever since. He programs all the games he can find on TV (Versus, NHL Network and, thankfully, now NBC) for me to watch and he made it to his first hockey game a few months ago. Go Wild and GO ARMY!
Erica
Army wife
Currently stationed in Calif.
Girls gone Wild!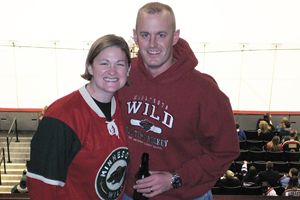 John Buccigross is an anchorman for "SportsCenter" and ESPNEWS. For questions, comments or crosschecks, e-mail him at john.buccigross@espn.com. To check out his new book, "Jonesy: Put Your Head Down & Skate," click here.