Shot of the Week
It's back. You know how it works: We present an NHL photo, and Bucci provides a caption. E-mail him your suggestions (include your name and hometown/state), and we will use the best ones and provide a new photo the following week.
LAST WEEK: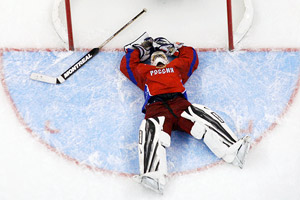 Vladimir the Snow Angel Goalie gets beaten again top-shelf. (Courtesy: Getty Images)
Your captions:

"284 ceiling tiles, 285 ceiling tiles, 287 ceiling tiles, wait … dang it! One ceiling tile, two ceiling tiles … "
-- John Bejarano (San Mateo, Calif.)
Shortly afterward, the NFL called to inform him that it was fining him $10,000.
-- Dan Franko (Annapolis, Md.)
"Wake me up before the faceoff. Wait. How'd that get in there?"
-- Jeff Feliciano (Alexandria, Va.)
"Man, that cloud really looks like Patrick Roy."
-- Paul Kelley III (Boston)
"Ah, Siberia's South Beach!"
-- Kirk Madsen
THIS WEEK: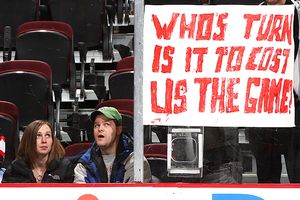 Senators fans 2, Grammar 0. (Courtesy: Getty Images)
There are 4,251 words in this week's e-mail bag. This column prides itself on giving you, the ESPN.com consumer, more bang for your buck. Please read them all. We will give our ESPN.com editors a break and keep this week's column an e-mail-bag-only column.
Next week's column will focus on the Buccigross Backyard Rink, which is up and running. It will include pictures. I chose to wear a special hockey sweater for the first skate in the backyard rink this season.
That's next week. Here's this week.
Weekly Tribute to Jack Falla
The following is an excerpt from Jack Falla's "Home Ice." Falla passed away Sept. 14, 2008. We'll honor his memory each week with a few lines from one of his classic books:
I began writing about hockey in the 10th grade, and by my senior year of high school, my decision to enter college as a journalism major with the intention of pursuing a career in sportswriting had sent legions of relatives, teachers and guidance counselors into fits of hand-wringing despair … But we all have to find our own answer to the most fundamental question of life, that being, as Emerson put it: "How are we to earn a blameless livelihood?" To which essayist John Burroughs later appended an even tougher requirement -- by means "congenial to our nature."
The Mother of All Mailbags
John,
I was gutted to read about Jack's demise in your column. Only 200 miles away, yet almost a planet.
I had the office next to his for three years. (I taught quantitative methods at BU, then switched careers -- we had a hockey interest in that my nephew was captain of the U.S. under-18 side at the start of this decade, then played for Michigan and nine games for the Devils, currently Minnesota Wild property).
I'd see Jack taking photos at women's soccer games, and would talk about his daughter's prowess in field hockey, traveling up to Northern Vermont to see her play. He was probably the most self-effacing person I've ever met. They say "still waters run deep." Well, that characterized Jack.
Our takeaway is to live in the moment, as our moments are few and precious.
With my best,
Thomas M. Bodenberg, Ph.D.
"Nothing can bring you peace but yourself. Nothing can bring you peace but the triumph of principles." -- Ralph Waldo Emerson (1803-1882)
---
Bucci,
As a linesman, I've found that yelling on close calls is a good way to emphatically sell your call and show that you wholeheartedly believe in your decision. It can be just as important and useful as posture. It happens in other sports, too! Baseball's "Striiiike 3" or "You're out!" Yelling makes things more believable in most aspects of life … just ask Samuel L. Jackson. He's made a living at it!
Adam
"I'm sorry, did I break your concentration? I didn't mean to do that. Please, continue, you were saying something about best intentions. What's the matter? Oh, you were finished. Well then, allow me to retort. What does Marsellus Wallace look like?"
John,
Totally dead on with the offsides yelling by refs. Baseball has a fair or foul call. Foul calls are verbal. Fair calls are simply the umpire pointing to fair territory. All kids are, supposedly, taught to run until they reach base or hear the umpire yell. If an umpire yelled "FAIR!" it would confuse the base-runners. And it's even more ridiculous to yell for onsides when you have a whistle to stop the play and make the call. Sheesh.
Scott Friedman
Linwood, N.J.
Bucci,
Longtime reader, first-time writer … LOL. I am sure you will get thousands of e-mails about your linesmen question, but I thought I would throw my two cents in. The linesmen do that to let the players know they are offside and need to touch up to negate the offside. That way, the players know the call without having to look back at the linesmen, which could put them in a compromised position and lead to all kinds of problems.
Colin McKinnon
Sussex, New Brunswick
I love you readers because I get so much reaction from an elementary observation such as linesman screaming like a cast member of "Braveheart."
"Sons of Scotland! I am William Wallace!"
Now, I have no problem with the screaming linesman picture Colin paints above. Linesmen screaming on a delay offside situation has a function. I do like that scream as it contributes to flow by letting the players know what the situation is. Same as waved-off icings. The defense needs audio help there.
I guess the two instances that always make me wonder why linesmen scream are the elementary rushes into the zone by two or three offensive players and when the point man on the power play is able to just keep the puck from leaving the offensive zone. Play is going on, players are playing. They will still play until they hear that evil, piercing whistle that signals playtime being temporarily over. There really isn't a need to scream. An official who is in good position and gives an emphatic safe call is believable enough.
Listen, we hockey fans understand how incredibly efficient NHL linesmen are. NHL linesmen are incredible skaters, they're in great shape and have great energy, and have a great love and pride of their craft. They are the best in all of sports. The NHL has the best on-ice officials because it has the most athletic officials. Baseball umpires are overweight; football officials are generally too old; and NBA officials … well, we won't go there.
I've officially spent too much time on this topic.
"If we all worked on the assumption that what is accepted as true were really true, there would be little hope of advance." -- Orville Wright
---
Bucci,
If the iconic Lindy Ruff 'stache had a brawl with the Quenneville Q-Stache, who would win?
Matt
Chicago
My goodness, the Ruff-Stuff is no match for the Q-Stache. Third-round TKO for the Q-Stache. Then, he would celebrate by going out for a late-night walk and killing a wolverine for supper. Also:
The Q-Stache once got blackjack with one card.
The Q-Stache ordered a Big Mac at Burger King -- and got one.
If at first you don't succeed … you are not the Q-Stache.
The Q-Stache counted to infinity. Twice.
---
Hey Bucci,
What was your take on the Canadian fans booing the American kids during the entire World Junior tourney? I found myself so upset that I wrote my congressman a letter asking him to speed up the process of building a border fence. Any true Canadian hockey fan should be embarrassed.
Tait
Arizona
I think it's a great sign for Americans when other countries such as Canada boo athletes from the United States. When they stop booing, I'm moving to Costa Rica.
---
Hey John,
I just stumbled upon this TampaBay.Com Lightning blog:
"The team wants the 6-foot-1, 184-pound rookie forward, last summer's No. 1 overall draft pick, to strengthen both his upper body and lower body. To do so, Stamkos will hit the weight room more, have one-on-one on-ice training sessions with assistant coach Wes Walz, especially on days when Tampa Bay has several clustered off days. But Stamkos also may sit out games to make that schedule work."
Melrose took so much heat -- especially from the Canadian media -- when he said Steven Stamkos wasn't ready for the NHL. I never took his statement to mean that he wasn't a good player, just that he looks like he needs a bit more seasoning.
Melrose pretty much nailed this, and it will be interesting to see if any of the media that scolded The Mullet will vindicate him. I'm gonna go out on a limb and say no!
Jon
As we wrote a few weeks ago, no more Melrose in Tampa mentions here. He's back here at ESPN and we are pumped to have him, and Matthew Barnaby gives really fun and entertaining hockey talk.
As far as Stamkos, let's look at Eric Staal:
Rookie year (age 19): 11-20-31
Lockout season in AHL (age 20): 26-51-77
Second NHL season (age 21): 45-55-100
Staal's second season, in 2005-06, probably will go down as his career year. (Jonathan Cheechoo had his Brady Anderson, 56-goal season that same season). But you see the point.
Like Stamkos, Staal entered the league as a boy. He lacked the proper explosiveness and strength. Sidney Crosby had explosiveness as an 18-year-old, and thus posted 102 points his rookie season. Alex Ovechkin was 20 years old and had 52 goals and 106 points. Evgeni Malkin was also 20 years old and scored 33 goals and 85 points.
Patrick Kane played his rookie campaign primarily as a 19-year-old and had 21 goals and 72 points; but he played the wing and has a superior IQ, skill and quickness that will always be the foundation of his game. Kane's experience will increase his IQ, and his physical maturation will increase his quickness and strength. His numbers are up this season. Kane was also in a great situation last season; he was surrounded by other good young players, a team with a couple of good defensemen and an organization that had a great energy.
Back to Stamkos. The Lightning's decision to work on his strength and development now is actually a good one. He doesn't have the NHL jump right now, and he has yet to wow me with his playmaking skills. As I have said before, I see him as a Phil Kessel-winger playing with a playmaking center (John Tavares?) and a rugged front-of-the-net winger like Ryan Malone. Kessel is 21 and could hit the 40-goal mark because of his release and the fact he's playing with one of the best playmakers in the game.
When Stamkos is 21, and if he has similar players around him, I would expect him to have similar numbers. If he built core and leg strength to mirror Kessel's explosiveness and did 14,000 wrist curls to get Kessel's wrist shot, Stamkos could be a 40-goal player in two seasons, as well. Bottom line: I like what the Lightning are doing now with Stamkos. It's smart. In the end, Stamkos will be a star in the NHL, the kind of guy to build a franchise around.
I stated a month ago that I think it would be best if the Lightning traded Vincent Lecavalier to Montreal, not only for Tampa Bay but for his career. Maybe even Martin St. Louis, as well. Last week, we heard some media rumblings, including from our own Pierre LeBrun, about the Vinny possibility. It's going to be interesting to keep an eye on that.
---
John,
This year's Winter Classic proved (to me) that a divisional matchup makes for a better show than two random teams brought together to praise two kids. Why won't the league revisit the notion of Islanders-Rangers?
John Muir
That's a great point. I continually say the outdoor game works because the game counts. And when the matchups are considered, the NHL should consider rivalries and, as it did this year, keep the Classic as the second game of a home-and-home. Good move.
Dear John,
I absolutely adored the Winter Classic at Wrigley. The Winter Classic was almost too good. The All-Star Game becomes totally pointless now, for sure. I have played shinny outside. Something is missing once you move the game inside. It almost highlights what the indoor game lacks. Do you think that the NHL could ever pull off some type of a doubleheader?
By that, I mean, have everything set up in the New York City area for a New York Islanders game on Thanksgiving Day, or the day after, have various colleges or high schools or lower levels use the facilities for the interim and then conclude with a Rangers game on Jan. 1.
James A. Geither
Cleveland
I think the possibilities are endless. When I thought about the Fenway Park game, the thought of a Boston College-Boston University game saucer passed in my melon.
John,
Other venues? I can't believe no one is seriously talking about a Penguins-Flyers matchup at Beaver Stadium in State College. It would be the all-time greatest sporting event. One side (50,000) in orange and black, and the other side (50,000 more!) in gold and black. Start this now and let's get it done for 2010.
Charley DeBow
Imagine a whiteout at Beaver Stadium. I would make that game a night game. And the hate factor would be there, as well.
"Determine that the thing can and shall be done, and then we shall find the way." -- Abraham Lincoln
---
John,
Do you really have a Secord game-worn jersey?
Jeffrey Yot
No, but I do have Al Secord in my closet.
---
Yo Bucci,
So, I just moved from Philly to the L.A. area about a month ago, and I went to see the Flyers play in Anaheim and L.A. back to back last week. It was awesome. But I gotta say, watching a hockey game out here is nothing like going to a Flyers home game. At times, the crowd just seemed completely uninterested. In Anaheim, they actually set a record for attendance because the place was packed with Philly fans. The Ducks killed off eight consecutive minutes of penalties in the third period of a tied game.
I thought the momentum was gonna totally swing in their direction. But they didn't have the right crowd support ... sad. The worst part was I was wearing a Flyers jersey and didn't even hear any trash-talking. So, my question is, how would you rank the top hockey towns? Is Philly near the top? Obviously, the Canadian cities will be up there, too.
Mike
In terms of passion and priorities, no American city can probably match any of the six Canadian cities. But, as I've written in this space many times, I believe Philadelphia is the premier hockey city in the United States in terms of the personality of its fan base. I think it's the most loyal, passionate and supportive. A big reason for this is that the Flyers are a five-star organization in terms of how they treat players and chairman Ed Snider's desire and passion to win.
The Flyers had a bad stretch in the early '90s, but other than that, they have always had good and spirited teams. It's just a very interesting vibe when you see a Flyers game in person. You can feel the fans' presence make its way down to the ice.
St. Paul, Minn., certainly would be among the top cities because it is the epicenter of hockey passion in the United States. Nowhere is the culture of hockey participation greater than Minnesota. It is practically Canadian in that regard. From an NHL fan standpoint, fans there have bought every ticket to every Wild game despite not having a face of the franchise and playing a style that is, well, pretty boring. But I'm gonna give Philly the nod because the Flyers have been around longer and their history has been so compelling and interesting.
With that mind, let's go with:
1. Philadelphia
2. St. Paul, Minn.
3. Everybody else tied for third.
That shows the strength of the NHL right now. Washington's crowds have been awesome; San Jose is hard to beat; Boston fans have a high IQ; Chicago fans have great civic pride; Buffalo and Pittsburgh might have the most intimate relationships with their teams; Rangers fans, except for people like my buddy, Chandler the golf pro, tend to be Rangers fans more than hockey fans, if you can understand that; Detroit and Michigan have a long line of hockey success at the NHL and amateur level. And the rest of you fans have all proved at one time or another to be great when your teams have a good product on the ice.
---
Bucci,
I just wanted to say a quick thanks for your point about televised hockey in your recent column. The notion that hockey doesn't play well on TV or is hard to follow has been proliferated for years by those who aren't fans of the sport and are just looking for an excuse. The problem is, like the saying goes, if you repeat something enough times, it becomes the truth, and now you've got people connected with the game offering the same explanation. It makes me sad. Hockey is a beautiful game of speed and power, in person or on the tube. Thanks again.
Jim in Columbus
---
Hey John,
Just read your fresh-off-the-server column for this week. As usual, it was rich and compelling, as Mr. Burgundy would say. I have one gripe, though. On your Top 11 Power Rankings, you had this to say about the Washington Capitals: "Like one of those giant cement balls on 'The World's Strongest Man.'"
Well, I was fortunate enough to be the on-site emcee for 2008's version of WSM, which was filmed by ESPN and the UK's Channel 5 in beautiful Charleston, W.Va. The "cement balls" are called Atlas Stones and it's beyond impressive to watch those massive athletes handle them with (relative) ease.
Matt Gajtka
You said Atlas Stones.
---
Bucci,
I am an Islanders fan. With that said, what do you think of the top prospect class in this year's draft, most notably the No. 1 pick?
Frank
Brooklyn, N.Y.
I think it's a safe bet that the Islanders will be among the three worst teams, ensuring they won't pick worse than third overall. The top two picks of June's NHL draft will be John Tavares and Victor Hedman, and it is going to be very difficult to decide between the two.
A lot of it could come down to the depth at each position for the team with the first pick. Tavares is going to be an offensively productive center because he has great instincts and a nose for the net. He is not an explosive skater, but he loves the game; that's an underrated "skill" when judging athletes. How much one loves what one does and how important it is to win cannot be judged by a stopwatch.
Hedman is a 6-foot-6 Swedish defenseman who was born in the same city as Peter Forsberg. In terms of size, he looks like Chris Pronger or Zdeno Chara on the ice because he is so much taller than everyone else, and, right now, his mobility is better than both NHL veterans. If he learns to play with the snarl of Pronger and Chara, and I believe one can learn snarl, he will win Norris Trophies. Hedman, like Tavares, will play right away in the NHL.
As I said, it is a tough decision. I think I almost would prefer to pick second. If I am the Islanders? Wow. They need that offensive star to market. Those kinds of players are hard to find. Tavares could bring back memories of Mike Bossy for Islanders fans. Hedman is a giant who will be a defensive force and make a healthy Rick DiPietro a better goalie. I am leaning toward Hedman because I am so impressed by his skating and poise on the power play, not to mention his massive size.
---
Mr. Buccigross,
I'm a fan of your column and I, as a longtime hockey lover, have to say that I respect your voice and perspective on the changing times of the NHL more than any current writer. This is why I wanted to drop you this message. It seems many reporters are forecasting the demise of the NHL All-Star Game (most notably following the success of the recent Winter Classic), and I realize that interest has been falling and ratings are down, but it seems like there are solutions out there that could help revive the popularity of this NHL tradition.
The NFL recently announced a change in the scheduling of the Pro Bowl to help drive interest, and there is no reason the NHL can't learn from its example, or even improve upon it. My thought is moving the All-Star Game to the beginning of the following season. Stick with me here. The timing would allow for a grand kickoff to the season, a day that all die-hard hockey fans pine for all through the offseason.
Chris Brock
Detroit
The NHL All-Star weekend is not dead. I love watching the skills competition and seeing the players interact. We talked about the other positives, as well, in previous mailbags. But I like that kickoff idea. It would provide a kickoff to the season, and the preseason-game intensity would not be as glaring as it is in the regular season.
Going from the preseason style of play to the All-Star Game style of play would have a nice flow to it. It also would help the media get all the players, front-office and NHL personnel in one place to accumulate lots of information for better media coverage. Also, a YoungStars game works well before the season because it gives us a chance to meet these players before they take part in an NHL game. There is a lot to that idea, Chris, and I think it warrants further discussion.
---
John,
My wife bought me "Jonesy" for Christmas. I read it in a day and a half. Excellent read, great stories. I especially loved the stories about being a mover and the third-longest game in NHL history (I was in the building all the way 'til 2:35 a.m.). It was worth every penny, and then some. I'll be looking forward to the Shjon Podein book.
Jeff Eiben
Pittsburgh
Thanks to everyone for all of the kind words about "Jonesy." I've proposed a book idea to Podes, and he seems open to it. If you have yet to buy a copy of "Jonesy," please consider buying 14 copies. That's my one book plug for 2009. Forgive me.
Hockey fact: The top three all-time plus/minus players are (1) Larry Robinson (plus-730), (2) Bobby Orr (plus-597), (3) Ray Bourque (plus-528).
---
John,
I'm a longtime Bruins fan having lived in New England my whole life. To be honest, the Chara signing was disappointing (I wanted a forward) and the [Michael] Ryder signing was even worse. I predicted that the B's would be the eighth seed again. Clearly, I have to eat my words, but my question to you is, did you ever expect them to do this well this year and can they keep it up? I watch every game and they look unstoppable. Claude for Coach of the Year? What do you do with Fernandez and Thomas come the offseason? Thanks!
Aaron
Amherst, N.H.
I certainly thought the Bruins were a playoff team, and they were among my top eight in the East in my preseason predictions:
"The Bruins were the only team that made the playoffs this past spring that gave up more goals than they scored. That could categorize Boston as a fluke. It also could reveal the grittiness of the team. There is something about this team that I like. I sense a positive vibe around the Bruins."
Kessel's ascension to elite-winger status has been the biggest difference for the Bruins.
Here are the others:
David Krejci's developing into the ideal No. 2 center. Responsible, smart and dependable. And a point-per-game player. The Bruins never give teams a rest because they have two scoring lines.
Blake Wheeler; they couldn't have expected the 25 goals he probably will get this season. I was told by Wheeler's college coach, Minnesota's Don Lucia, that Wheeler would be a prototypical NHL right winger, and Lucia was dead on. The Bruins' offense keeps the ice tilted on most nights.
Goaltending. This shouldn't be a surprise. Manny Fernandez and Tim Thomas have proved to be very good goaltenders. Boston won't be able to keep both after this season as both are set to become free agents. They will both be 35 when the 2009-10 season begins. One would think Fernandez would be the one to get the higher offer on the open market.
The Bruins will have major cap issues next season. Kessel will go from a $2.2 million cap hit to probably $5 million, and Krejci likely will go from $883,000 to about $2.5-3 million. This means the Bruins will have to find a taker for Marco Sturm and/or Chuck Kobasew. Boston might have to consider giving away Patrice Bergeron for little if he comes back to his normal level of play, or even buy him out if he continues to have issues. That's the cold, hard business of the salary cap.
---
Hi John!
Continuing on the legacy of the Canucks, I have basically baptized our baby girl, Gianna, into becoming a full-fledged Canucks fan. Who knows -- maybe in her lifetime she will get to witness some Canuck glory!
Ramzi Ghurani
Amman, Jordan
You'll be a lady soon but until then
You gotta do what I say
You nodded off in my arms watching [hockey on] TV
I won't move you an inch even though my arm's asleep
One day you're gonna want to go
I hope we taught you everything you need to know
-- "Gracie" by Ben Folds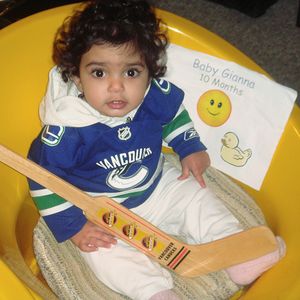 John Buccigross' e-mail address -- for questions, comments or crosschecks -- is john.buccigross@espn.com.