Shot of the Week
It's back. You know how it works: We present an NHL photo, and Bucci provides a caption. E-mail him your suggestions (include your name and hometown/state), and we will use the best ones and provide a new photo the following week.
LAST WEEK: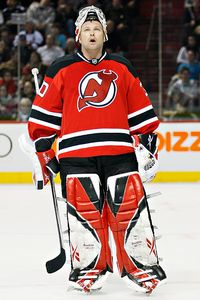 Martin Brodeur announces his retirement moments after seeing the NHL's new "bigger net." (Getty Images)
Your captions:
"I see Blue ... he looks glorious!"
-- Theo (Philadelphia)
"Look, up in the sky ... it's a bird ... it's a plane ... no, it's actually a sellout at The Rock!"
-- Mike Wisnewski (Beachwood, N.J.)
Martin Brodeur reacting to the announcement that Patrick Roy has come out of retirement.
-- Jenn Hollabaugh (Aldan, Pa.)
"Oh, man, they're right. These new HD Jumbo screens do add 10 pounds."
-- Gary (Cambridge, Mass.)
"Look at the size of Bucci's head -- it's ginormous!"
-- Doug Bates (Wilmington, Del.)
Martin waits patiently for the coupon for discounted pizza to drift down from the motorized mini-blimp.
-- Howard Freedland
THIS WEEK: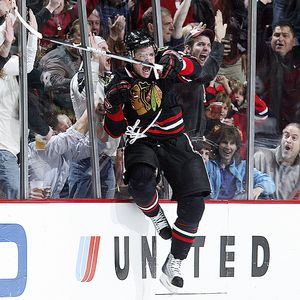 NHL customers display their disgust at another NHL player throwing himself against the glass in excitement. (Getty Images)
E-mail and text messaging sometimes get a deserved bad rap, and, sometimes, an undeserved one. I harp on my kids to spell out all their texts and to attempt to write in complete and clear sentences.
I don't want: "At mall w buds. bot 4-teen cin-bons and 300th b-ball lid. pik up at 7 k?"
I demand they text: "I'm at the mall with Bruno and Pedro. So far, I have eaten 14 Cinnabons and purchased a Hartford Whalers throwback baseball cap. Please pick me up in front of Ruby Tuesday at 7 p.m. Thank you."
(And I demand they save me a Cinnabon, else they walk home. Incomplete and confusing thought and lazy vocabulary are the negatives of 21st century communication.
The one positive of e-mails and texts is that they have brought us back to 18th and 19th century openness in our communication. There were no texts, e-mails or telephones when John Adams wrote his wife, Abigail. Writing letters was the way people communicated, the way they flirted and, if you were Ben Franklin writing to a friend in France, the way they hooked up. They bared their souls.
Throughout history, many people have been extremely more open, frank and courageous when they write, as opposed to when they speak to someone one-on-one. This holds true especially when that person is (a) a Russian model; or (b) 6-foot-5 and 235 pounds with a Chris Neil disposition.
My closest friends throughout my life were ones with whom I was pen pals. My history might be off, but I think letter writing was just about extinct by 1990. At that point, communication was all landline phones and screaming over MC Hammer music at the local club. Then, like wildfire, e-mail and, later, texting became the primary forms of communication.
Thanks to e-mailing and texting, it is much easier to get to know someone or rekindle old relationships. Relationships develop at a much quicker pace, and a conclusion can be reached much sooner. Relationships also can be strengthened through powerful and heartfelt phrases that most of us cannot construct over a Coors Light and a Katy Perry song. I think, overall, this is a good thing. I think it evens the playing field of communication and, when used positively, gets people writing and thinking again.
What does any of this have to do with a hockey column? Well, I'm a master of overexplanations, and all of this was to get to the point that I get a lot of e-mails because my e-mail address is available at the end of this column. At times, I get overwhelmed.
I get about 700 to 800 e-mails a week and enjoy reading the views and opinions you have. I receive most of the e-mails the first two days after a column is posted, then a consistent trickle the rest of the week. I love when I am up at 1:28 a.m. on a Friday preparing for a 2 a.m. "SportsCenter," and I get an e-mail from some dude in St. Louis discussing the relevance of T.J. Oshie. Only in hockey. But like a light left on in an empty room, a full inbox makes me feel guilty and lazy if I don't do something about it.
I read every e-mail and answer as many as I can. Just think: Say I have 500 e-mails in my inbox. To read and respond to every one of them takes at least a minute, and that's being conservative. But let's say it takes 60 seconds for each read and response. That's 500 minutes. That's more than eight hours. If I didn't have that pesky TV job as well as this column, maybe I could read them all and answer more thoroughly.
(For those of you who live in Canada, France, Italy, Japan, Australia and other countries who read this hockey blogumn and don't have or have never seen American television, I am a wildly popular and successful television sports anchor on a show called "SportsCenter." People know me. The TV job is 45 to 50 hours a week of mostly late nights. Please keep this in mind when a word is missing in this space or the sentence structure is not at its best.)
For weeks, I've been staring at a big inbox number. It would get down to 252. Then, I would go home, then come back to work, and it would be back up to 379. During the weekend, when e-mail traffic is the slowest, I might get it down to 190 or so. Then, I would write a new column during my "weekend" of Monday and Tuesday or Tuesday and Wednesday, I'd return to work and -- BAM! -- it would be up to 642 again. So, this past weekend, I decided to come into work early and get 'er done. As a result, I found lots of great e-mails and a backup of sweet photos that I always enjoy opening. So, this week's column is an all-e-mail column with two extra "fan photos" at the end.
844 words later.
Weekly Tribute to Jack Falla
I'm not going to sugarcoat it. Building and maintaining a rink is hard work in cold weather. But worth it? It is when I go out for an early morning skate, when Barbara, leaving the rink light off, skates beneath a spray of winter stars, and when, in winters past, we watched our children and their friends lose themselves in the joy of impromptu hockey games. In two or three years, we hope to see our first grandchild -- born a few weeks before this chapter was written -- take his first wobbly skating strides here at the Bacon Street Omni. Worth it? As Barbara said: "Anyone can love summer, but to love winter, you have to carry sunshine around with you." Our rink lights up our life.
Bucci note: We are winding down to the end of "Home Ice" after a season-long series of excerpts. There are two regular-season columns left, thus, two excerpts left from Falla's classic hockey book.
The Mother of All Mailbags
John,
Have you heard much about Marc Savard's challenging Sidney Crosby to a fight but saying he wouldn't because Crosby was wearing a visor? After which Crosby returned to the bench, removed the visor and returned to the ice. At that point, Savard backed down. I feel Crosby gets no respect, and this type of action shows he's a true hockey player and a great leader.
Tyler
Grove City, Pa.
I made a phone call (old school!) and a Penguins team source tells me at least some of this happened in the March 15 Bruins-Pens game. Savard made a comment about Crosby and his visor. Crosby then went to the Penguins' bench and had equipment dude Dana Heinze remove his visor. Heinze told my source he had never had such a request. Now, as far as Savard's "backing down," my source could not confirm whether there were any more verbal exchanges between Savard and Crosby for the rest of the game.
Crosby's shield is so small, and he wears it so high on his face that I'm not sure why he even bothers to wear one. Maybe his family and agent demand it. I commented on this when I saw Crosby playing in one of his first NHL games. This was from a column 3½ years ago:
"Sidney Crosby wears his helmet and visor high on his head and face. If I were Craig Patrick or someone in the Penguins' brass, I would suggest that Crosby pull it down. If he doesn't, he risks getting injured in and around the eyes."
So far, Crosby has escaped without a major eye injury. Given how physically he plays around the net and how low he plays to the ice, he should wear more eye protection. I recall watching a Wild-Flames game this season, because, well, that's what I do. There was an offside call on the Wild as they entered the zone, and everybody kind of relaxed. A Wild player, and I don't want to speculate who it was in case I am wrong, shot the puck high and toward the net. I thought it was a bit reckless and strange, because he shot it well after the whistle, but maybe he didn't hear it. The puck hit Dion Phaneuf square in the visor and was deflected. Phaneuf was standing at the top of the crease about 30 feet away.
You could see Phaneuf's shock after it happened because he had relaxed after the whistle and the puck came out of nowhere. It was so random. The announcers never mentioned it, and there was no replay, but to me, it was one of the more profound things to happen in that game. I kept rewinding the TiVo to make sure I saw what I thought I saw. That puck was headed right for Phaneuf's eyeballs. Because of the visor, it was as if nothing even happened. If Phaneuf hadn't worn a visor, he could have suffered a major injury.
"Be careful when you fight the monsters, lest you become one." -- Friedrich Nietzsche
Bucci,
As you probably know, the Penguins' longtime organist, Vince Lascheid, died this week. He was a true original and brought style and class as well as some good-natured musical ribbing (he played "Three Blind Mice" after the refs made a bad call) to Penguins games for decades. He also played [the organ] for the Pirates and just about every other sports team in the Burgh. A unique memory from my childhood was attending a Penguins game Saturday night, then chatting with Vince the next morning "backstage" at St. Bernard's Church, where I was an altar boy and he played for Sunday morning services. I felt like I was talking to a celebrity, which, in fact, I was. I'm sure you remember Vince from the Penguins games of your youth and thought he deserved a special mention in your column.
Tim Mulkeen
Chicago
I always liked the music Vinny Lascheid played when Dave Parker -- the "Cobra" -- came to the plate at Three Rivers Stadium.
---
Bucci,
I was wondering what your thoughts are about the Blackhawks' recent slide? The Hawks have played themselves out of home-ice in the first round by earning only eight of the past 20 possible points. Losing Patrick Sharp to injury has definitely hurt their offense, but I'm more concerned with Cristobal Huet. He seems to be giving up too many soft goals lately. Should the Q-Stache abandon the goalie rotation and stick with [Nikolai] Khabibulin?
David Jones
Chicago
A note to nervous Bruins, Sharks, Flames and Blackhawks fans: Last season's Stanley Cup champions, the Detroit Red Wings, finished February by losing 10 of 11 games before winning five in a row. They then lost back-to-back games to Nashville and Columbus. From there, Detroit won seven of its last nine.
In 2007, Anaheim lost seven of its first 10 February games. In 2006, Carolina had a 4-7-0 stretch in March. Carolina also lost four of its last five of the regular season. Anaheim and Carolina also went on to win the Stanley Cup during those seasons.
The Hawks, Bruins and others have proven throughout a long stretch of the season that they are teams that could win the Stanley Cup this spring. Health, goaltending, special teams and team unity/toughness will be the keys to the postseason for the B's and Hawks, who have had no recent playoff success on which to build. I would be more worried about the Hawks because of Huet's play of late and his small sample size of playoff numbers (which are not great).
Your goalie has to be GREAT in the playoffs. Luckily for the Hawks, they have Nikolai Khabibulin, who has proven he can win a Cup. If I were a Bruins fan, I would have faith in Tim Thomas.
---
Dear John,
I'm a hockey fan from Italy -- better, an NHL fan -- because that's the brand of hockey I really like, the one with the smaller rink, lots of hits and players who are not shy about showing some emotion.
The reason I'm writing to you for the first time is I'd like to comment about the reactions following Ovechkin's 50th goal. Look, I'm not even a Caps fan, I'm a Panthers fan, but one of the main reasons I'm glued to the TV almost every night/morning (thank God for ESPN America) is because of players like Alex the Great. I love everything about the guy; he's incredibly talented and he shows some emotions. That's exactly what I look for in a hockey game. Yeah, I love fluid passing and great goals, but I love when people show they enjoy what they're doing as much as we enjoy watching them. I don't wanna see robots!
And that's why I don't understand what the big fuss is about Ovie's celebration of his 50th goal. What's the big deal? Why does Mike Green have to state that he didn't want to be part of that? I'm sure he wouldn't have minded defending a teammate involved in a nasty fight. Why does hockey have to be so stuck-up? Why don't they acknowledge that they're in the 21st century and people no longer wear suits for dinner?
So you wanna tell me that fighting is OK because it's in the unwritten bylaws of the game, while overthought celebrations are not because regular folks from the Canadian prairies might be offended?
No wonder the NHL is and always will be considered a third-tier sport. (Don't delude yourself, John; we know it's not a major sport -- football, basketball and baseball are. Then there's NASCAR, golf, then some college sports, then maybe hockey, and only in a few markets.) Nor is it a surprise why so many potential young fans are steered away by their parents because of this. Ask yourself this: Would you rather see a guy celebrating a very important mark, even if it's a bit "over the top," or see a couple of guys who can barely skate fighting 40 feet away from play for no apparent reason?
I say grow up, learn to accept cultural differences and, most important, relax and have fun. It's just a game.
Filippo Fortini
Viterbo, Italy
I love getting e-mails from all over the world. There are many good points in this one from Italy.
I probably could write 2,000 words on this topic, and maybe someday I will. It is complex and wrought with contradictions. For now, here are some random bullet points that I suppose are a rough outline of that kind of column:
1. My guess is Don Cherry's vague "Canadian Way" argument is partly this: In a group exercise, which hockey is, a celebration should be all-inclusive and group-oriented. I actually can get behind that. A defenseman who takes a hit in the corner to clear the puck up the wall is partly responsible for a goal scored at the other end of the ice. My point on Ovechkin's celebrations is that they are explosive and abrupt and always end with a sincere and heartfelt group hug. The "stick on fire" move on his 50th goal still attempted to include the group.
2. Ovechkin is a young man in a foreign country. Even though his disposition is wonderful, his life appears to be an ongoing spring break. He still must feel a little uneasy as he works in America. He has plenty of money to enjoy every possible form of entertainment, but the hockey rink still must be his favorite place. Evgeni Malkin gives off the same vibe. Ovechkin and Malkin are so productive because they play every game so hard. I think this is because of their youth and in part because the rink is their favorite place in the world.
I bet some NHL players, deep down, don't feel the same way. For different reasons, Tiger Woods is most comfortable wearing a hat and playing golf. He looks 18 in that hat and doesn't have to talk to impress while golfing. He celebrates like Ovechkin. If boards and glass were to surround putting greens, Tiger would throw himself against them after a big birdie putt.
3. Every form of hockey entertainment that Ovechkin sees includes showmanship AND craftsmanship, the same things Cherry shows on "Hockey Night In Canada." Cherry often shows very subtle and detail-oriented examples of video to sell a point he wants to make. This is when he is at his best. Cherry knows what he is talking about because he watches all the games. That is obvious. But if he truly wanted to reflect the Canadian way, he wouldn't do it in a purple suit. He is in the entertainment field, as is Ovechkin.
4. There is a fine line. The most important thing on the ice is the game. The celebrations and the celebrity take away from the soul of the game and bring into play the spirit of one-upsmanship as opposed to the spirit of competitiveness. I don't mind NFL end zone celebrations and skits, and no over-the-top goal celebration during a close game has ever moved me to anger. That being said, my favorite athletes always have been the somewhat physically understated and ultracompetitive, those who understand people and how to interact with them most effectively.
Chris Drury, Larry Bird, Willie Stargell and Pedro Martinez have almost nothing in common culturally. They all grew up in different worlds. But they all understood people and were so focused that they didn't really have the energy for any extra physical movements. I like watching those kinds of athletes best. The other stuff doesn't bother me at all. It doesn't make me watch, and it doesn't make me turn off the TV.
---
John,
I am a Minnesota native, but I go to school in Madison. What are your thoughts regarding the possibility that some of the best young players not currently in the NHL will represent their respected nations in Vancouver in 2010? Do you see guys like Victor Hedman, John Tavares, Jordan Schroeder, etc., gathering serious interest for the Olympics?
Bob
The Olympics are less than a year away, so roster fluctuation will be minimal. There still is time for someone to make a move and a statement in the next three months and early next season. Tavares will not be on the Canadian Olympic team. There are too many great and experienced NHL players from Canada. Although Schroeder is super skilled, he is only 18 and undersized, so we would have to rule him out now. I do see Hedman having a chance to play for Sweden. He is 6-foot-6, 230 pounds and a great skater. Whichever team gets the first pick in the NHL draft in June should select him.
---
Bucci,
I know a lot of writers, yourself included, have already given their lists for potential Team USA members for 2010 in Vancouver, but none of them mentions Joe Pavelski. I get to watch this guy in San Jose on a nightly basis playing his heart out on every shift. He centers a very dangerous second line that is often the Sharks' most consistent line. He blocks shots and kills penalties. He has 20 goals and 28 assists and is a plus-5. His faceoff percentage is 55.5 percent, slightly better than Joe Thornton's. He has championship experience from Wisconsin. People in San Jose talk about Pavelski as future captain material. Will he even get a look for Team USA?
Steve
San Jose
Of course he will. As I have written here this season, Pavelski has a lot of Chris Drury in him. He is a winner. His skating is not his best asset, and there will be all kinds of speed at the Olympics, but playing on NHL ice may help Pavelski's chances. Hockey coaches at all levels tend to favor the player who can skate over the guy who can play, and I always have a hard time with that.
---
Mr. Buccigross,
Reijo Ruotsalainen was a Finnish defenseman who won two Cups with the Oilers. I remember announcers complaining about his name being such a mouthful. If only they knew. Ruotsalainen was named after his father. All those years, they should have been calling him Reijo Ruotsalainen Jr. Risto Siltanen was another Finn on the Oilers' blue line who, like most Europeans, had a great snap shot. He should have changed his name to Wristo. That would have put him in Loob country, an icon in the name game.
Still loving your column, but beg to differ with you on the new U2 album. For me, "Magnificent" is one of the greatest songs the band, or anyone else, has ever recorded. Cannot get enough of it.
Richard Gizbert
London
As I said, I am a slow learner, and it sometimes takes me a long time to appreciate a piece of music. I need the music to infiltrate and become a part of my experiences. Today in the gym, I listened to "All That You Can't Leave Behind" and "How to Dismantle an Atomic Bomb" to revisit those CDs as I still try to digest "No Line on the Horizon." I'm still trying to find songs on the new disc that give me the feeling of some on the previous two releases. "Unknown Caller" remains my favorite song on the album so far. "Moment of Surrender" continues to grow on me. I've had multiple e-mails celebrating "Magnificent," but it just hasn't knocked me over the head yet. I'll keep listening and living.
---
Good morning, Mr. Buccigross:
Your analysis of the Sedin twins made me think to ask if you ever thought about becoming a GM?
Shawn Liddick
Sayreville, N.J.

If asked, I will serve.
"The first step to getting the things you want out of life is this: Decide what you want." -- Ben Stein
---
John,
I was just watching the Pens-Thrashers game in which Geno Malkin had a penalty shot near the end of the game, and I heard the commentators mentioning that the shooter has scored on only 19 out of 45 penalty shots this season. I know you have talked about this before, but do you think the NHL will ever allow the coach to decide between a shot or a power play in this situation? In this game, the Pens already had three PP goals, and taking a power play may have been a good choice.
Drew
Pittsburgh
I would LOVE for the NHL to adopt such a rule. Sports are more interesting when there are choices. Should a golfer go for a green in two? Should an NFL coach go for two when his team is down by one with four seconds to go in the game? Should an NBA or college basketball team foul when up by three with a few seconds to play to avoid the tying three-point field goal? Should a manager tell his batter to bunt? That's what makes the shootout fun when it goes into extra rounds. Whom will the coach pick? I'd love for that rule to be adopted. The NHL needs more clear choices that fans can argue and debate. Baseball and football talk radio are the best types of talk radio because there is so much to debate from decisions made during the game.
---
Bucci,
Following up on your Picabo Beukeboom letter … you do realize that if former MLB pitcher Larry Luebbers has a daughter who marries Hakan Loob's son, we would have a lovely Luebbers-Loob wedding? And what if "Oil Can" Boyd were to marry one of Loob's offspring? The possibilities!
Matt Sammon
Tampa Bay Lightning radio network
If South Carolina quarterback Chris Smelly were to marry Bruce Shoebottom's daughter, Shelly, and she would decide to keep her last name, she would be Shelly Smelly-Shoebottom.
Johnny B & the Mailbags
---
Bucci,
I just had to let you know that the spell-check suggestion I got for "Ovechkin" was "overcooking."
Eric Siegel
Providence, R.I.
---
Hi Bucci,
Reading your column every week is my favorite way to procrastinate at work. Earlier this year, I joined a men's league and was placed on a team with a bunch of random guys who didn't know one another. We have really come together during the season despite not really playing together before and are competing now for our league championship. Everything is going great, except we have a league-assigned team name. We all will play in the summer league as well, and are debating some ideas for our team name. Do you have any suggestions for a funny or fear-inspiring team name?
Will
Waltham, Mass.

1. Hakan and the Loobs
2. Lucic and Chong
3. Cam Neely's Fist
4. Cash
5. MRIs R Us
6. Groin Pull
7. Latvian Sauna Brothers
---
Bucci,
I need a name for my pro shop I am opening in Palatine, Ill. My partner and I are big Hawks fans, but we thought "Hawkee Shop" (as suggested by friends) was kind of lame. Can you help us out? You give such great kids names; I'm hoping you can do the same for my shop.
Ted
The Hockey Shed
The Shed
Bill and Ted's Hockey Adventure
Pucks
Nothing But Nets. Actually, We Have More Than Nets
Hockey Heaven
Chicago Stadium
Teddy Ballgame's
Everything But a Zamboni
The Hockey House
---
Hey John,
Now that Patrik Elias has surpassed John MacLean as the all-time leading Devils scorer, the question posed was, "Will No. 26 go to the rafters at The Rock?" My question is, however, is he bound for the Hall? I don't know whether his numbers are typical of those of other honored players, but every coach who has ever been through New Jersey (and there have been many) has said he's one of the smartest and most defensively responsible superstars he has ever seen. Your thoughts?
Adam
N.Y.
I love Patrik Elias. He is smart and talented and an ideal team player. He deserves to have his number retired. He is a two-time Stanley Cup champion and has a better point-per-game average in the playoffs than he does in the regular season. I love that. But he is a little bit short of the Hall of Fame.
---
John,
Do you think the Islanders are playing well right now because they have no pressure of making the playoffs or because they are finally getting their young talent out there on the ice? And what's your prediction for them next season? Thanks.
Christian Schefer
Floral Park, N.Y.
The Islanders have been playing good and exciting hockey. They have a good, young coach who is perfect for what the Islanders need to do. Mark Streit was a terrific signing by GM Garth Snow. The Islanders have more wins than the Lightning and their bloated payroll.
Next season? Things should be better. The Islanders should finish this season in place to get the first or second draft pick, which means they will get John Tavares or Victor Hedman. If they end up with the first pick, I think they should draft Hedman. Either way, they can't lose.
Can Rick DiPietro return healthy and be among the top 10 goalies in the league? If he can, he is a great buy at $4.5 million a year.
The Islanders have loads of cap room and can offer contracts no other team can offer, but I think they should continue looking for players such as Streit, a player other teams might undervalue a bit. Otherwise, they should keep drafting and developing and looking for other players in the NHL who could fill holes. A player such as Marco Sturm would be a good fit. He has two more years on his contract at $3.5 million. That is a reasonable salary for only two years, and the Bruins have to shed some payroll with Phil Kessel and David Krejci becoming restricted free agents in the summer and Blake Wheeler and Milan Lucic in the summer of 2010.
The Islanders are in good shape for the future. Almost too good for Islanders fans. The team has up-and-coming players and a low payroll, and it could add a big-time player this summer. That also is the recipe for relocation if an arena deal can't be reached on Long Island.
---
Bucci,
Reading your piece on the Canucks and the Sedin twins, I became curious about your thoughts on the Blues. It's been a phenomenally fun season here in St. Louis, even if the team doesn't make the playoffs. I'm curious what you think the Blues should do with their cap space, what little of it they might have with Manny Legace, Dan Hinote and Keith Tkachuk leaving. What's notable is that $10 million worth of salary (in the form of Paul Kariya and Jay McKee) will be coming off the books after next season. Do you think they're still two years away and should wait until the summer of 2010 to make their big move?
Justin M. Weinrich
St. Louis University School of Law
I suppose they could squeeze someone in next season, but unless they make a trade, things will be tight. Assuming Erik Johnson returns strong and Alex Pietrangelo makes the team, the Blues will have an expensive blue line. I would think they would look to trade Jay McKee's $4 million salary next season. The Islanders, as we noted above, would like that kind of trade because it would be the last year of McKee's deal.
The Blues need to score more goals and keep developing young players. How Paul Kariya returns from injury is important. I'm sure the Blues would love to plop Marian Hossa in the middle of their group of young forwards, but so would a lot of other teams.
We do know the Blues are competitive and will be looking to build on their good finish.
---
Bucci,
The Q-Stache was the recent topic of conversation for the youth roller hockey program at the YMCA of Redlands, Calif. One of the boys, about 12 years old, was knocked down during the course of the game last week, an event that drove the young lad to say something I'll probably never forget in my life. He picked himself up off the ground and skated to the bench where he promptly told me in the most determined way, "If my mustache was bigger, I wouldn't have fallen down." I almost died as my mind immediately ran to the Q-Stache and your subsequent columns detailing its accomplishments. I asked him whether he knew of the Q-Stache. He replied, "Yeah, my brother said he read it counted to infinity twice."
After reading about the challengers to the Q-Stache, I think I might have found a few: Teddy Roosevelt and Frank Zappa.
Matt Miller
Redlands, Calif.
Terrific opponents. Maybe the finest so far. But remember, only the Q-Stache survives.
---
Bucci,
How's Ken? I haven't heard anything from Ken in a while!
Michael Coats
Ken is spending his time donating his body hair to those who can't grow a manly 'stache on their own. It's a cutting-edge business that has tremendous upside, as the 'stache seems to be making a comeback. Ken always is a step ahead. He also has told me he thinks the Flyers will win the Eastern Conference finals and get swept by the Wings as they did in 1997. Ken will do stats for me as I call the Northeast Regional of the NCAA championship this weekend in Manchester, N.H. You can watch BU take on Ohio State on ESPN2. Nashville fans can watch future Predator Colin Wilson play for Boston University. BU has a host of future NHL players on its team, which is why it is the favorite going in.
---
Buccdizzle,
Yup, that is your new name. We have a bromance, and you just don't know it yet. (I already made up our own handshake.) Your quote, "Thou shalt not covet thy brother's goal crease," killed me; honestly, I was in tears laughing when I read that. Awkward? Yes, maybe.
Love, in a bromance way,
Scott
Scott, if loving you is wrong, I don't want to be right.
---
Hey John,
I was down at my local rink last week buying my first brand new pair of hockey skates ever. I always got stuck with the leftover figure skates that my sisters didn't want whenever we tried to play hockey as kids. I've been playing roller hockey the past few years, and it has renewed my interest in ice skating/hockey. As I was walking out of the pro shop fumbling with my car keys and my new skates and wading through a crowd of people who had come to watch a local high school hockey game, I noticed a familiar face. I almost dropped the skates and keys on the floor when I realized it was you. My girlfriend, who was with me at the time, does not watch "SportsCenter" with the same level of dedication I do and did not recognize you. Thus, trying to save embarrassment for everyone, I calmly walked out to my car. When I closed the door, I told my girlfriend that I had just seen a sign from God telling me that I should play hockey all the time. She called me a dork, and we drove off into the sunset.
Joe Futtner
South Windsor, Conn.
If you don't say "hi" next time, Joe, I will punch you in the face and take your girl.
---
Hey John,
We all can agree that hat tricks are cool, right? I also think that we can agree that when they are natural, they are better. But when was the last time you saw a hat trick quite like this? Tyler Scofield of Bemidji State University, a Division I NCAA hockey school, scored a power-play goal, regular-strength goal and short-handed goal, all in the second period of a 6-4 win over Robert Morris on Saturday night at the John Glas Field House in Bemidji, Minn. I would just like someone to acknowledge this nationally.
Carl
What Seth Avett is to the Avett Brothers, Tyler Scofield is to Bemidji State.
---
Hi John,
I need to hear your take on the NHL's deciding not to televise Marty's making history on NHL Center Ice, or any TV channel save for the NHL Network. What genius decided hockey fans don't deserve to watch history being made? As a longtime Devils fan who pays for Center Ice every season to watch my team, I found it unfathomable that I was unable to see neither Marty tieing the record nor breaking it!
Phil Price
Angry in New Jersey
Sometimes I am shocked at the decisions adults make. I agree, Phil. That move was wrong, counterproductive and indefensible.
---
Good morning, Bucci!
My hands and throat still hurt from cheering last night. I was there at The Rock to witness two most important milestones. The first one, everyone knows about. And with how quickly Brodeur got to 300 and then 400, given his playing time, we knew 552 was going to happen eventually. The media has that one covered.
As for the other, it was at the 16-minute mark of the second period when I sent my dad a text saying, "One of these has to go for Patty, it's his name day." He had at least four quality chances to that point for No. 702. I just kept hoping and hoping that I would get to see it, I needed to be there to see it broken. It always has bothered me that MacLean retired a Ranger, and it would mean the world for the record to be broken by someone who would retire a Devil. After the lockout, when Elias came back with Hepatitis A from playing in Europe, it didn't look as though he would play much at all, and then his set-up man, [Scott] Gomez, went to the Rangers. So when he feathered that pass to [Brian] Gionta for a short-handed goal, I felt the whole of my hockey pride explode in celebration. And I was not the only one. For the rest of the period, the building chanted "Patty" and "Elias" and "Patrik Elias" so loud and long it didn't seem to matter that the Hawks scored.
It wound up being the game winner, and that green bowler that Patty skated out with when introduced as the No. 2 star was perfect. Although 552 will mean a lot for a long time, the final number that Marty puts up will be far more impressive. Last night for me always will be Patrik's Day.
Jonathan
North Plainfield, N.J.
---
Hey John,
After celebrating St. Patty's Day in Pittsburgh this past weekend, I was driving through the city to get to the highway on my way back to Cleveland ,when I happened upon the new Penguins arena. Currently it is just a steel structure with very little definition, but I couldn't help but feel a little sad.
I remembered reading an article you wrote during last year's playoffs about sneaking into the Civic Arena when you were a kid, and it brought back memories: the Pens' losing to the Panthers in Game 7, Lemieux's first last game against the Flyers when he scored right near the end (my hand can be seen pounding the glass right where he stops to celebrate), his first game back against the Maple Leafs when he had an assist 60 seconds in and later was set up right in the slot by Jagr. (I will never again feel that kind of energy.) The arena has character and has been witness to some truly remarkable events!
First Three Rivers, and now the Civic Arena; it just kind of seems as though my childhood memories are all being imploded and turning into parking lots. Anyway, thanks again for the columns and for helping me to remember these fabulous moments.
Brody Day
It's the natural order of things, but it is true. You can't replace your childhood home. No place will ever be as warm and safe.
"I'm fulfilled in what I do. … I never thought that a lot of money or fine clothes -- the finer things of life -- would make you happy. My concept of happiness is to be filled in a spiritual sense." -- Coretta Scott King
---
Bucci,
My son's team, the Hatfield Ice Dogs, just returned from Lake Placid and a Can/Am hockey tournament. What an experience! Lake Placid is a wonderful little town with so much history (especially for a bunch of rink rats and puckheads). We played four games in three days and had the honor of playing two of those games in the 1980 Rink/Herb Brooks Arena. I'm not sure who was more excited, the players who have knowledge of the "Miracle on Ice" from the movie "Miracle," or the parents, who lived through the 1980 Olympic Games. (Most could tell me where they were when they found out the final score of the USA-USSR game.)
Our boys fought long and hard, but came away from the tournament with no wins and four losses. After our last game of the tournament and season, many of the kids were very sad that this would be the last time we'd be together as a team. Some are moving up to squirt, some are staying in mite, and one or two just won't be back. Sadness turned to joy upon arriving back at the hotel. We noticed kids on Mirror Lake skating. Soon we had nine players, some siblings, parents and even a couple of kids we didn't even know playing hockey on that frozen lake. We played for about an hour, and I've never seen such smiles. I know this was the first time skating on a nonrefrigerated rink for many of these kids. It was hockey in its purest form and a memory I will never forget.
Steve Carpenter
Glenside, Pa.
My boys have played multiple tournaments in Lake Placid, and they loved every minute of it. It is truly a special place. I actually think its true potential as a hockey destination goes untapped. There will never be another 1980. I know and respect that Minnesota is America's home of hockey, but if I were USA Hockey, I would strongly consider moving the U.S. Hockey Hall of Fame to Lake Placid. I'm sure it already has been discussed. Plenty of traffic, and a great way to educate.
---
Bucci,
My apologies for not reading your book "Jonesy" any sooner, but I hope I have a good excuse. I also just finished "Home Ice" by Jack Falla. I was waiting for the perfect time, perhaps when I would be far away from the rinks and need some "Serenity Now" to bring me back and remind me of the better times in my life when I was at the rink. The need for that in my life is now. I am in the Air Force deployed in the Middle East, far from the sounds of skate blades cutting the ice and slap shots hitting the posts. And that smell of the locker room. Ugh, that smell.
I have been quite fortunate in that I started playing hockey at a young age and found time to coach, referee, go to a couple of NHL All-Star Games, work at an arena, drive the Zamboni for a minor league team and work for an NHL team. And I feel as though I still have more to experience and give to hockey and our youth hockey players. Some people will never understand the niche passion involved in hockey.
In my opinion, non-hockey fans should comprehend and appreciate how difficult and unique hockey is to play. That level of athleticism weeds out the weak ones. I don't think hockey is a mainstream sport, and it may never be. So let's accept it and enjoy it. If hockey were such an easy sport, they would call it basketball, baseball or football. Thank you for your columns and bringing me to my serenity over here.
Dave "Killer" Ouimet
Staff Sergeant, USAF
386 ELRS/LGRA
Stay in touch, Dave.
---
Bucci,
I've been a loyal reader for several years, and the time is finally here for me to ask for your assistance. My wife and I are expecting our first, a baby girl in August. We are both all-in with your suggestion, so pick a winna winna chicken parm dinna! We are both die-hard Pens fans from a small town in western Pennsylvania.
Andy
Bedford, Pa.
Mary Sidney.
Hockey fact: In the 1971 draft, Montreal's first-round pick (first overall) was Guy Lafleur. Montreal's second-round pick was Larry Robinson.
---
John,
I don't know how they did it, but they did it. Mozzarella cheese stick-flavored Pringles.
Sean Skehan
Mount Saint Mary's, 2010
This column will now end with pictures. I'm off to Stop & Shop.
---
Hey John,
There is nothing that means more to me and my buddies than the U.S. Pond Hockey Championships in Minnesota. Five of my friends and I played at Middlebury College in Vermont and now represent Vermont Transit every January on frozen Lake Nokomis. This tournament is the purest form of hockey there is. Of the six of us, two live in Chicago, one in Bozeman, Mont., one in Boston, one in New York and one in London. We never miss this weekend, and until they kick us out, we will continue to go back. Lake Nokomis ("the daughter of the moon") bleeds hockey purity.
Andy Campbell
Chicago
Brothers in arms.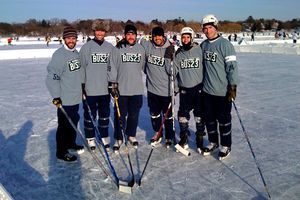 John,
I have attached a photo of my son catching a squirt jamboree in Rochester, Minn. He is decked out in his gopher gear. That night, the Gophers squeezed into fifth place in the WCHA, and the Wild lost to the Kings.
Kyle Knutson
New Kid On The Block Of Ice.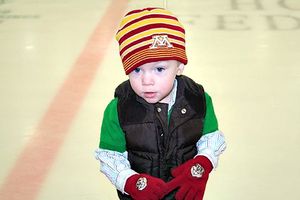 Dear Mr. Buccigross,
We are expecting our third child (a boy) at the end of April and need a name for him. Our 4-year-old twin girls (Jocelyn Yael and Hannah Grace Pollack) already are avid hockey fans of both the San Jose Sharks (my team) and the Philadelphia Flyers (their father's team). Attached is a recent photo of them in their Sharks jerseys -- Jocelyn was playing hockey in the house. Since the teams are in separate conferences, the house is divided usually only once or twice a year, with one girl rooting for the Sharks and the other for the Flyers. It also will be interesting if the Sharks and Flyers ever meet in the Stanley Cup finals. This boy will be the tiebreaker, and we already have enough Sharks and Flyers gear for his entire childhood.
We've been discussing names but haven't come to a consensus yet. Because you come up with some great baby names, we thought we'd ask for your help. We would like to honor our deceased grandparents and choose names for our son starting with the letters A and either an I or R. The baby's last name will be the same as my husband's, Pollack.
Thanks,
Edith Wong
Atlas Ivan Pollack. He is the world.
Hockey fact: The first player ever drafted by the San Jose Sharks, after Eric Lindros and before Scott Niedermayer, was Pat Falloon in 1991. The second pick was Ray Whitney.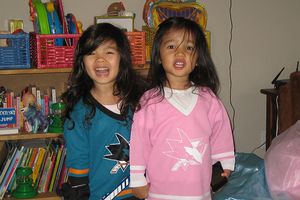 John Buccigross' e-mail address -- for questions, comments or crosschecks -- is john.buccigross@espn.com.